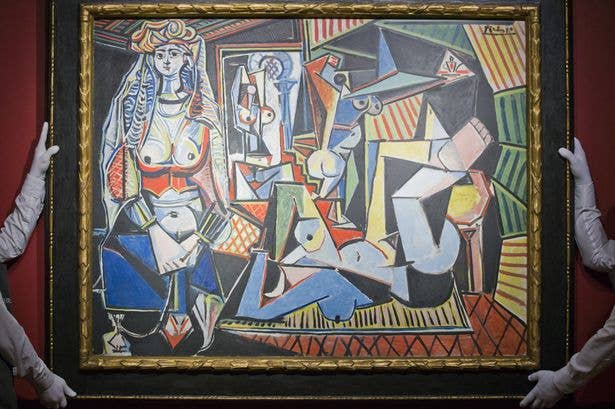 Pablo Picasso's painting Les femmes d'Alger (version O) will go up for auction at Christie's New York​ tonight. It's expected that once the final bid has been made, the painting will have fetched over $140 million dollar before commission, which is roughly 12 percent. If the valuation is correct, the artwork will be the new world-record holder of most expensive painting sold in auction, reports the Mirror.
The current record-holder is a triptych titled Three Studies of Lucian Freud by Francis Bacon, which sold for $142.4 million at Christie's New York in 2013. The final selling price of the Picasso painting is expected to climb to $155 million, beating out Bacon's triptych by over $10 million. 
Les femmes d'Alger (version O) is part of a series of 15 artworks done by Picasso that was inspired by Eugene Delacroix's painting of the same name. Picasso created versions "A" through "O," but the latter version ended up garnering the most notoriety. "With its packed composition, play on cubism and perspective, its violent colors, and its brilliant synthesis of Picasso's lifelong obsessions, it is a milestone in Picasso's oeuvre and one of his most famous masterpieces," Olivier Camu, one of Christie's deputy chairmen, said. The painting has been featured in museums all over the world, including The Museum of Modern Art in New York, The National Gallery in London, The Metropolitan Museum of Art in New York, and at the Louvre in Paris.
While the Picasso will claim the title for most expensive painting sold in auction, it won't hold a candle to the most outrageously priced artwork ever. Paul Gauguin's Nafea Faa Ipoipo (When Will You Marry?) sold for $300 million to the country of Qatar earlier this year. 
The buyer of the Picasso painting is expected to remain anonymous, according to the Mirror. However, we have to imagine he or she is somewhere like:
1.
UPDATE: It turns out that the very high estimate of $155 million was still not high enough for this rare Picasso work. According to the Los Angeles Times, the price of the painting at the bang of the gavel was a cool $179 million (including the auction house's premium). That's $36 million more than the previous record set by Bacon. It would seem that the new record is safe for a long while, but you never know with the way the art market changes.
Meanwhile, we're still angry that the cost of a subway ride was raised 25 cents.