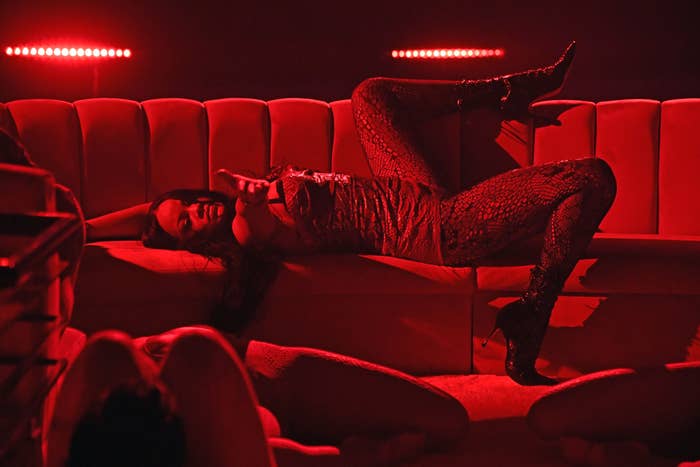 Willo Perron is the set designer behind the Savage x Fenty Vol .3 show, which premiered on Amazon Prime last week. Perron, who also worked on the first and second editions of the show, has worked with others to help Rihanna realize her vision and turn the Savage x Fenty shows into major events that merge fashion, performance, and art.
For the third show, Perron focused on The Westin Bonaventure Hotel, a structure in downtown Los Angeles that was designed by John C. Portman Jr. in 1974. Perron says his goal was to showcase the beauty of the architecture without adding a lot of bells and whistles.
"Well, the beauty of this building is that there's this inherent grandiosity," says Perron. "It would have been easy to add projections and video and like, all these kind of gags. My thing was just to always pull back from people being like, 'Hey, let's add pyro.' But I felt like we needed to just let the space and architecture kind of be and focus on these sort of subtle things like the deeply saturated colors."
Here, Perron, who is known for his work with artists including Kanye West, Drake, and Jay-Z, talks about what he wanted to do differently for the Vol. 3 show, how Rihanna challenges him, and the importance of reinterpreting references (instead of copying them exactly).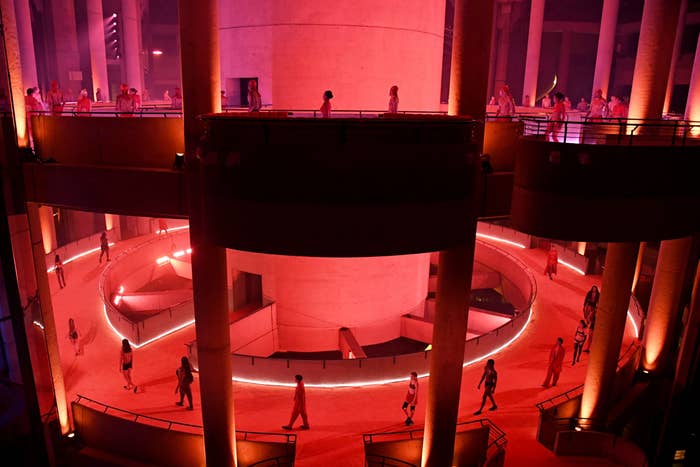 How does the process start? What were you tasked with accomplishing for the Savage x Fenty Vol. 3 show?

It really varies. On the first one they'd done a photo shoot in Morocco I believe. And so I looked to architecture in the Mediterranean and Southern Europe and Northern Africa and they all kind of exchange from each other because there's such proximity. So the first one was prompted by the campaign. For the second one, I was looking at the collection and its different categories. So one was very floral, one was kind of darker, one was sexier. Originally I kind of went with the idea of doing a day in the life for Rihanna, but it was this absurdist, fantasy version of Rihanna going into the office, hence the factory scene and the shipping thing with Travis [Scott] at the end. So it was inspiration from the collection mixed with this fantasy world showing the design and manufacturing process. That was on a soundstage. 
We've changed formats from each one, so I thought we should just keep doing that and go on location this time. I started thinking of my favorite places in LA and we documented three or four places and narrowed it down to the Bonaventure Hotel. And it kind of became the central figure of the show.
You've seen this structure regularly. Had you ever imagined you would use it in this type of way? 

Oh, absolutely not. The funny thing about that place is I've always really loved the building. But I've always been a bit like, "It would be great to be able to redo it and bring it to its former glory." And when it was decided that we would shoot the show there, it was like, "Oh, cool, we get to bring it back to its former glory but in a more theatrical way."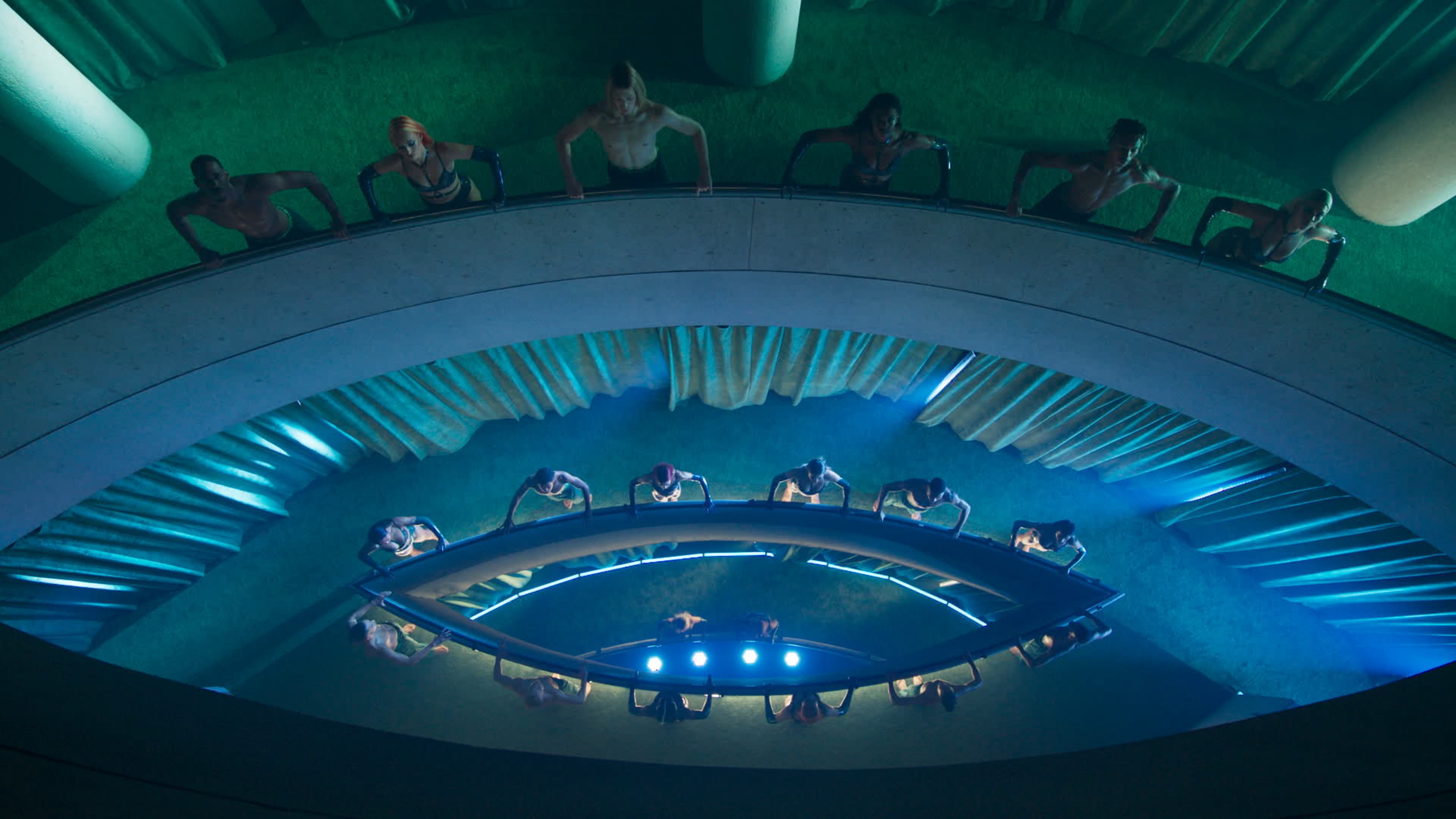 You've said that when you design spaces, you want to create some sort of emotion. What emotion were you trying to create with this structure? The camera shots also really added to everything. 

Well, the beauty of this building is that there's this inherent grandiosity. It's really kind of glossy and overdone. It would have been easy to add projections and video and like, all these kind of gags. My thing was just to always pull back from people being like, "Hey, let's add pyro." But I felt like we needed to just let the space and architecture kind of be and focus on these sort of subtle things like the deeply saturated colors. And there's so much going on. There's a pile of people and choreography and it doesn't need to be cake on cake. It just needs to be a beautiful setting. 
So a lot of it was about restraint, which is funny to say for this ostentatious show. And, the second point in this is to be able to play with scale. Like the beautiful shot overhead of the bridge, using the building as the backdrop, and these massive atriums. And we got these 360 drone shots that kind of amplified the scale of the show. 
I loved how you all used so many different parts of the space and had the elevator as this sort of transitionary space. Was there a narrative you wanted to get across with the hotel/space?

We started with a light narrative. I always love those films where it's like nighttime and you see lots of these downtown scenes and a lot of the saturated lights come from those types of movies. But there was never meant to be a literal narrative. And I wanted it to stay in a space of fantasy. I didn't want it to be like, this is a hotel. It could have been anything. And I wanted to break things up with these intimate moments with a single person. So that's where the usage of the elevators and the vignettes came in. It was like a tempo change device throughout the show.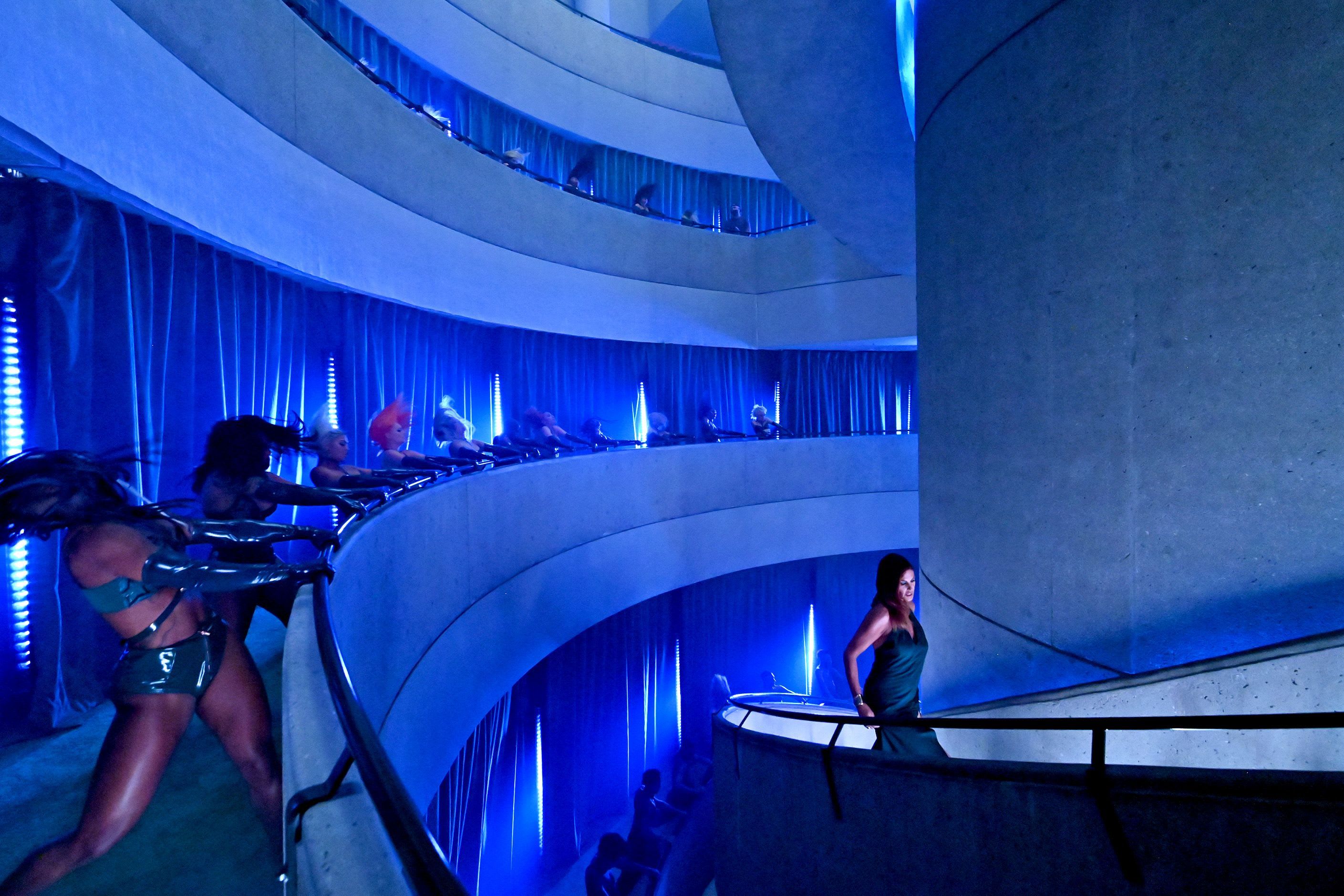 It was also interesting to see each performer in very different settings. Like Nas performing on that big stage, and then Normani performing within that red box, and then Lourdes [Leon] on the bed. Were you deciding on the space design for each artist? 

We kind of build all this stuff and choose where and when people get placed in the show and what makes sense for each track. This is not like an award show where somebody will come in and do their production. People are integrated into the existing show. So the little boxes were meant to be these kind of storefront vignettes we thought about doing. So it's two trains that move simultaneously. It's figuring out who's performing and that's happening as we are building the actual show.  
I don't know how critical you are of your work, but looking back at the other two shows, did you want to do anything differently? Did you see anything that you didn't like?

I'm the most critical of everything I do and I'm like, incapable of taking compliments and there's always 500 things that I would have changed. So to be honest the first show was interesting because we changed the format of the show. It was sort of this hybrid performance and concert and fashion show and we did it in one run-through. I think the second show wanted to do too much. And it's like, here's six different looks. And it was almost like the art direction was too present in everything else that it wanted to do. And I think that was a lesson for everyone because we did the first show and we were like, "Great let's go bigger." And bigger, sometimes it means more. And I think what I'm happy about for show three is that it was like, let's just sort of pull back and not do a bunch of things and work more on subtle things. I think that that's really the lesson from shows one and two. We wanted to work on more singular iconography for these things so people didn't have to make a decision on what was the best part of the show.
How does Rihanna challenge you?

[Laughs.] Uh, man. I think that  on this scale and in the world that we work in is inherently competitive with themselves. So we've already just finished this one, and I'm already like, "What are we going to do next?" How do we sort of ramp up this thing and make it better? And like, what is the thing that I didn't like and how do we kind of course-correct that stuff? And you know, she and everyone else involved sort of expect more and better. It's kind of a constant challenge.
Do you challenge Rihanna?

Oh yeah, constantly. My whole being is to put people in kind of semi-uncomfortable or places they wouldn't think of going themselves and that's what I do. 
I want to talk about references. Because I know for the Savage x Fenty show, you talked about films like Heat and Busby Berkeley movies as reference points. There's a lot of chatter about how people are interpreting references or sometimes copying them exactly. What's your thoughts on it? How do you look to references without being too nostalgic?

You're touching on a subject that's very near and dear. I think trend is the death of creativity. I think that everybody's brand hopping and being in the same moment and at the same thing, and it makes things really, really uninteresting. What's happening, and you mentioned Instagram, is that people are in such dire need and want to be liked, that everybody's kind of doing the popular thing. And I think that if you want to do things that are interesting, you have to be unpopular and you have to go counter-trend. And fashion suffers from this so much. And one of the reasons that I don't work in fashion as much is because I don't really believe in trend machines. 
And I think that inspiration should come from emotion. It's like, what are you reacting to? It could be your grandmother's photo album and you see a photo and that is something that gives you a tremendous amount of emotion and that's personal to you and how that filters through you is important. And it's important that people let their idiosyncratic reactions and emotions be the thing that comes out of you. If you combine that photo you saw at your grandmother's house with other things, it all comes out as one thing. And it's important to also know is doing things one to one. Like doing, "I'm into Motown and I'm going to dress up in that and sing Motown songs." Doing that always feels a little bit like a caricature and clowney and the reference is too obvious and you are not moving things forward.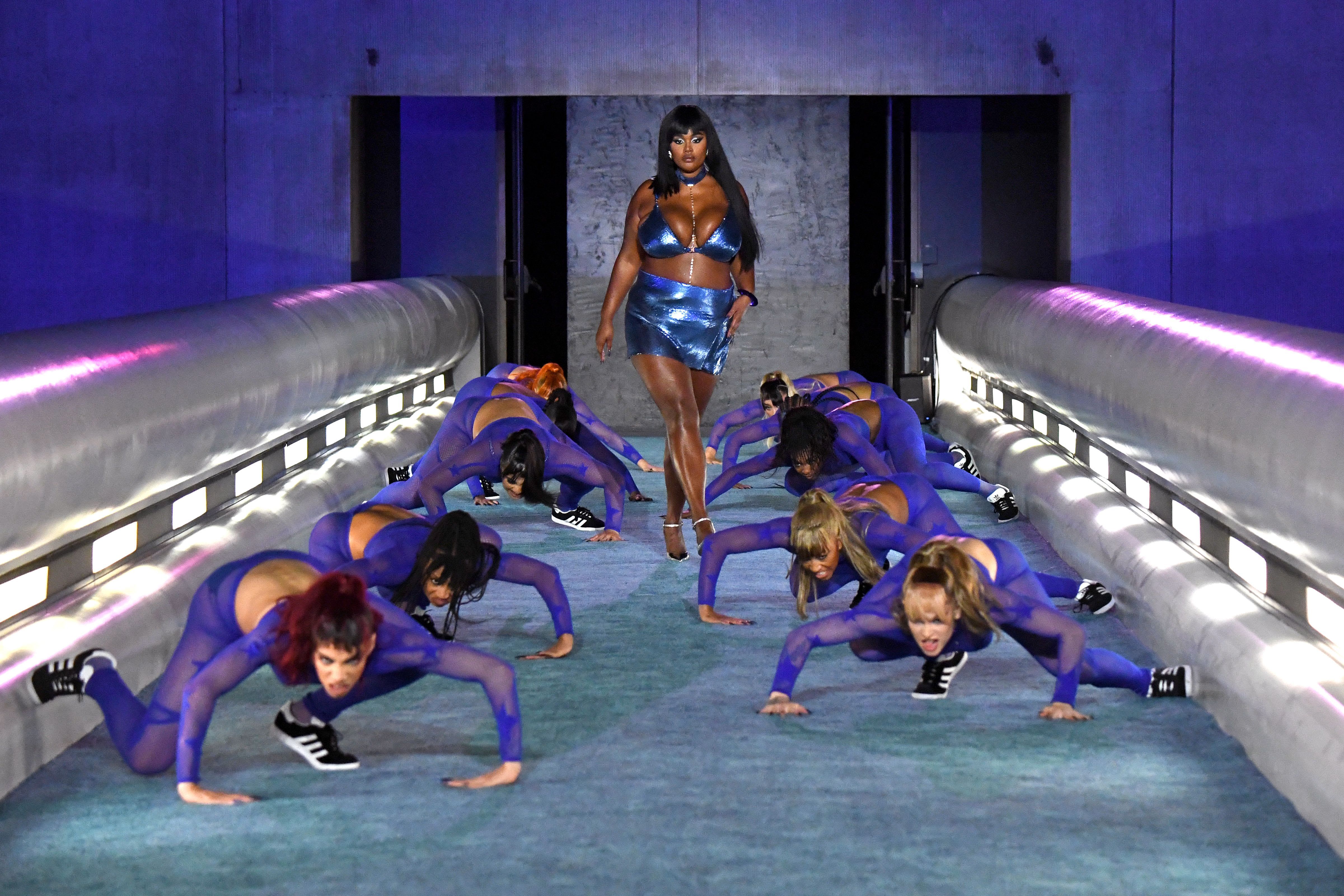 I watched an interview and you said an image of Junior M.A.F.I.A. inspired Rihanna's "Bitch Better Have My Money" iHeart Music Awards performance in 2015. Can you talk about that as a reference point?

The Junior M.A.F.I.A. reference for the helicopter, that moment in mid '90s rap, New York, like height of bravado, you know, spirit that like was embodied in how people were and like, how did they move then? And then it's like, how do you represent that in  a single piece of scenery and in two seconds you get the bravado.
And it was like, oh, you know, I don't know of anybody who's ever put a helicopter on the stage before, you know. Let me see if I can make that happen. You know, just that in itself is a brash move. It's as brash as the song itself. It has the same bravado as the Junior M.A.F.I.A. photo. But you don't want to do it one-to-one. It's important that it doesn't become retro-comedy. And that we are all trying to dress and look like Aaliyah and make songs that sound like her. Or that we are trying to be '90s throwback blah blah blah. And you see a lot of it. Everybody is doing these throwback album covers or videos and they are kind of bad because they're not that interesting. Because they're not moving culture forward. And I think that it's important that if you do take something from the past that you're joining it with something current or future. 
OK and this is unrelated, but it was just interesting to me because I was just looking at old Roc-A-Fella pictures and Jay-Z, Dame, and Biggs in an office. And they would shoot Jay-Z at a desk or in a boardroom. And the office you just designed is the complete opposite of that. It's very warm and welcoming. Can you talk a little bit about that space?

Yeah. The funny thing about Jay is that he's this incredibly successful human being. And he's incredibly ambitious and continues to be ambitious. But his ambition is not singular. His ambition is not just financial. His ambition is as much knowledge, and by knowledge, I mean everything from academic to sort of personal intelligence to emotional intelligence to your environment. The evolution of what you see is this bravado, brash mogul, to the man who is today. And he's a great mentor to a lot of us. And he has evolved. This space is him. I designed the space but I very much designed it for him. It's inviting. He's an attentive and inviting person so it fits very well with how he operates. He's really curious. He loves art and he's gotten more interested in interiors and furniture, and he's realized how your space can affect your emotional state. He's a great person to work with in that way.