Meet NZINGHA, The Makeup Artist Who Helped Elevate Glam in Hip-Hop
NZINGHA helped elevate glam for hip-hop culture and created iconic moments that are still referenced today. Here she describes her journey and her work.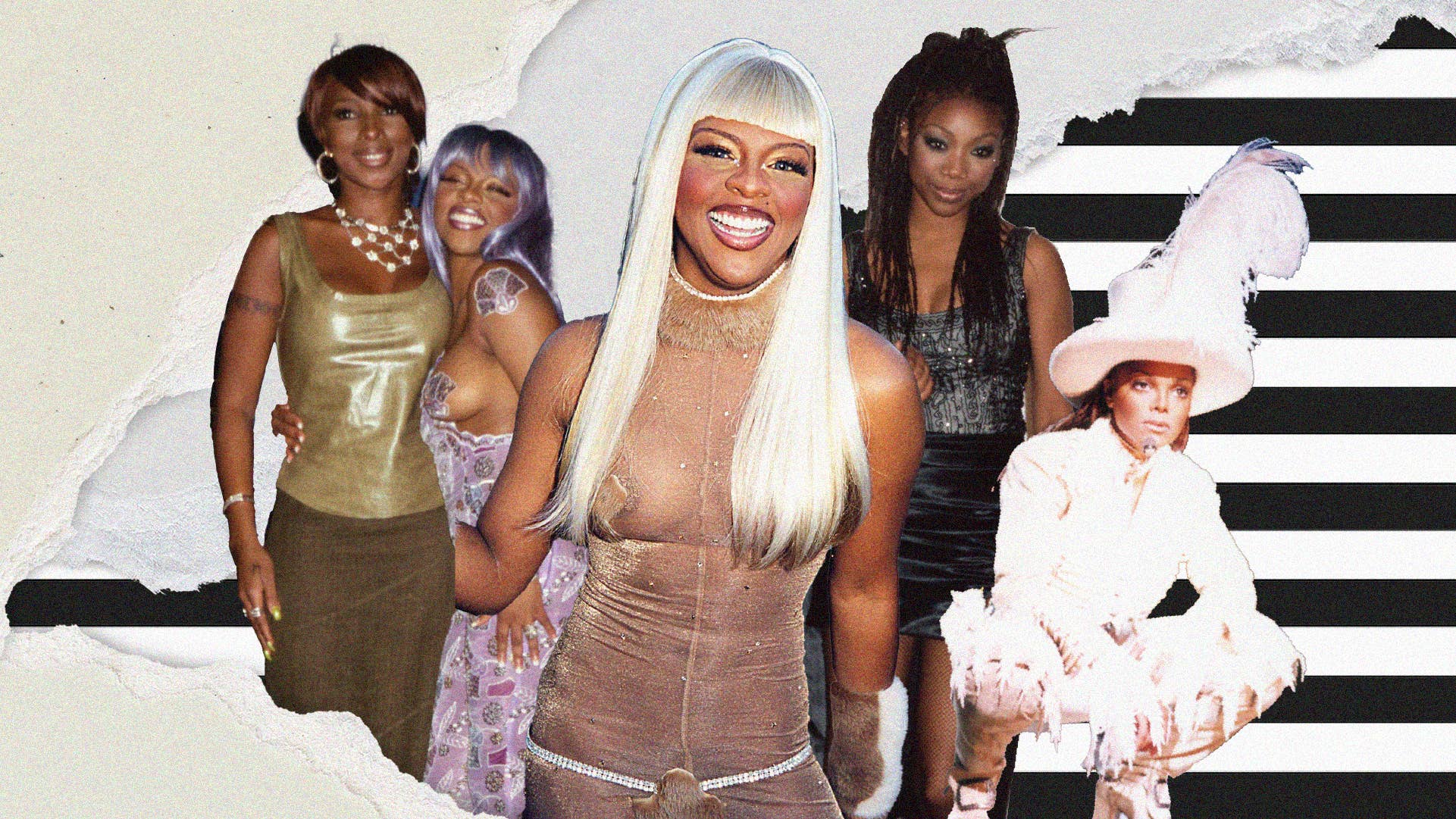 Complex Original
Image via Complex Original
When Lil' Kim was preparing to release her sophomore album, The Notorious K.I.M., which was released in June 2000, NZINGHA, her then–makeup artist, had a few ideas.
First, she thought Lil' Kim should work with David LaChapelle, the famed photographer known for his surreal, bright, and fantastical imagery. NZINGHA was friends with LaChapelle—he was a fan of her work, which was also bright and bold—and NZINGHA believed LaChapelle could capture Lil' Kim as the superhero she always envisioned her to be.
"You know he's a Pisces. So he's kinetic," says NZINGHA in her slightly faded British accent while sitting on a hot pink sofa in her Jersey City living room, wearing a royal blue chiffon dress. "I don't know if they got on immediately, but I guess he hit a cord in her head and she approved." 
After that was sorted, they met about the album art. NZINGHA brought a stack of vintage fashion books and comic books to show her references and present her makeup concepts. One of those concepts was tattooing Lil' Kim's body with the Louis Vuitton logo. NZINGHA says she always liked Louis Vuitton because of its cocoa and beige palette that matched skin tones. She was also a big fan of Dapper Dan. During the '80s, a drug dealer she was dating bought her a top and matching skirt with the Louis Vuitton monogram logo made by Dapper Dan. Everyone approved the makeup concept, including Louis Vuitton. NZINGHA and her assistants spent six hours prepping Kim's body for the shoot, which eventually ended up on the cover of Interview magazine (more on that later).
NZINGHA speaks about this in a laissez-faire way, as if she didn't help create one of fashion's most important images, but maybe that's because this is only one of many ideas she's contributed to the fashion and makeup industry over the last 35 years.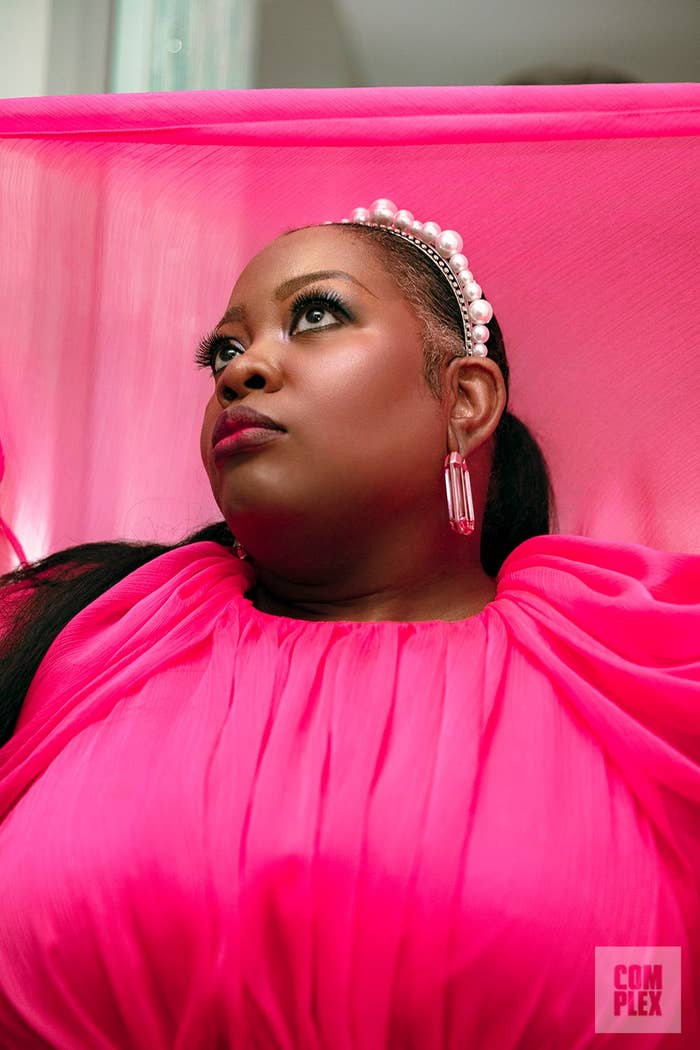 NZINGHA, who was born in the Bronx but was partially raised in the UK, had a life and lineage that prepared her for a career of producing innovative makeup and images that elevated her clients, particularly her Black clients, who were constantly being questioned about what type of image they should present to the world. 
NZINGHA spent her childhood hopping from country to country because, unbeknownst to her, her father, a music teacher and political activist named Charles Peaker, who was also an executive officer for the African Nationalist Pioneer Movement and thus wanted by the FBI. Her mother Jean Gumbs was a part of the Grandassa Models, a group of models formed by her uncle Bob Gumbs, her godfathers Kwame Brathwaite and Elombe Brath in the '60s, and others that formed the The African Jazz Art Society & Studio, which promoted natural Black beauty with imagery, Jazz concerts, and events like a touring fashion show. NZINGHA also had a grandmother who was a seamstress who assisted a woman working in NBC's wardrobe department, and a grandfather who was a professional photographer.
"It's all in the blood," says NZINGHA, who also credits her Caribbean background as a source of inspiration. "How I was raised expanded my visual palette." 
But NZINGHA didn't know that being a makeup artist was a career until she saw the making of Michael Jackson's "Thriller" music video on TV, which featured artist Rick Baker transforming the cast into monsters and werewolves. 
"I was in love instantly, but I didn't know that that would be my path," says NZINGHA.
But NZINGHA did pursue makeup artistry and started working her high school's stage productions. She planned on being a lawyer until she worked as a makeup artist at an Avon event and a more established artist was so impressed with her work that she asked NZINGHA to assist her on a shoot for Black Hair Care magazine. NZINGHA was assisting and working based on natural talent; she had no professional training outside of a two-day course with an artist who worked out of the Il Makiage makeup shop in New York City and used to do Diana Ross' makeup.
Eventually this led her to other jobs, including working with R&B singer Freddie Jackson, grooming Kris Kross, and moving to Minneapolis to work for Prince along with Jimmy Jam and Terry Lewis. The latter work helped her land a makeup artist position on Janet Jackson's Janet tour. Here, NZINGHA speaks about her journey as a makeup artist; the stories behind some of her most memorable work with artists including Mary J. Blige, Brandy, and Erykah Badu; and what she believes is her greatest contribution to the beauty industry.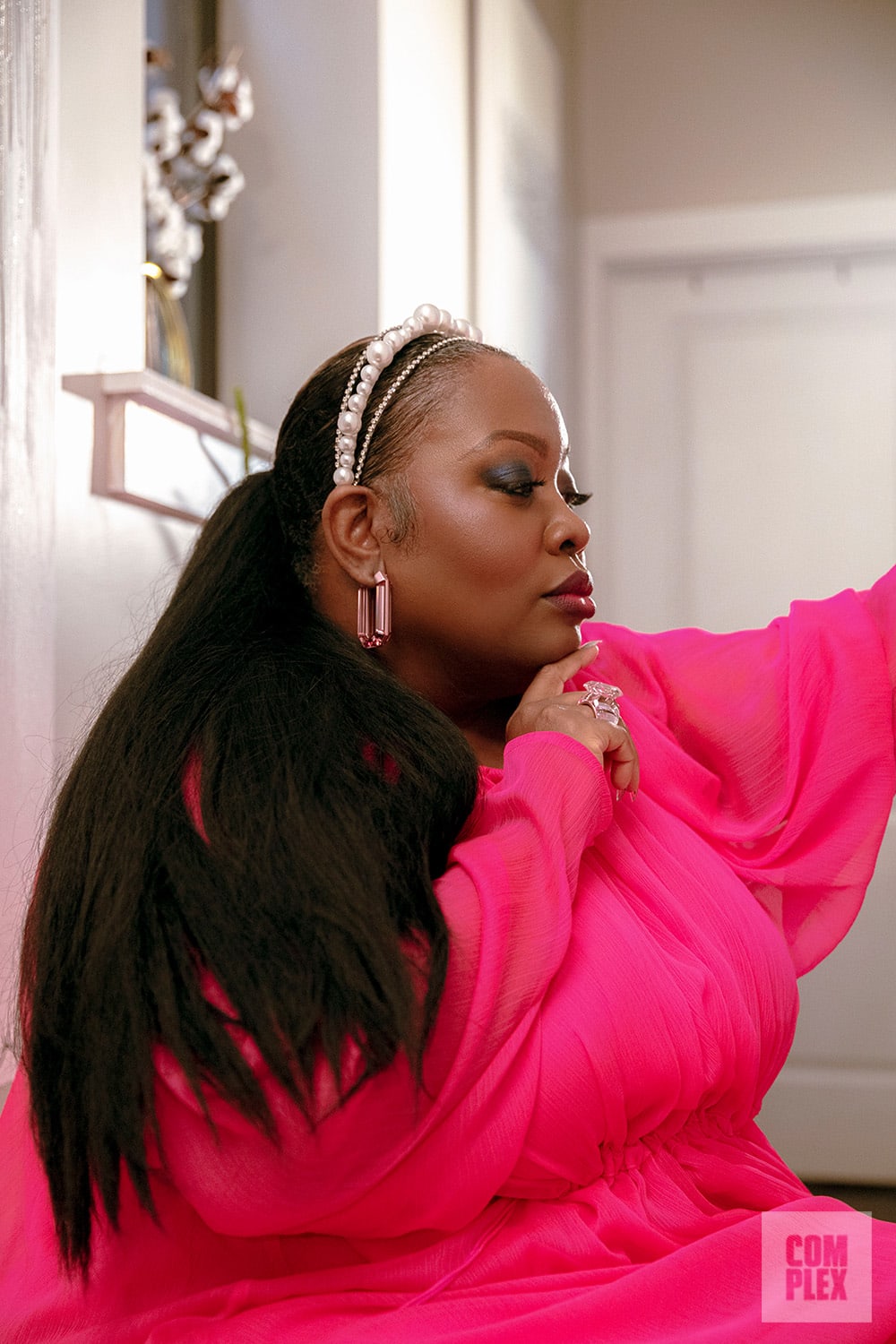 How did you end up working on the Janet tour?
I lived out in Minneapolis for a little while because I was working with Jimmy Jam and Terry Lewis. And I wound up working with Prince. And then Jimmy and Terry started producing for Janet, so someone from her management called me about auditioning as a makeup artist for the tour. I flew to Los Angeles on my frequent flyer miles and went to her house. Everything was all white. I did her dancers' makeup, and then I heard her voice. I was like, "Oh my God, she's here?" Then she came downstairs to her beauty room and said how much she loved my work and asked if I could come back the next day to test and she liked what I did.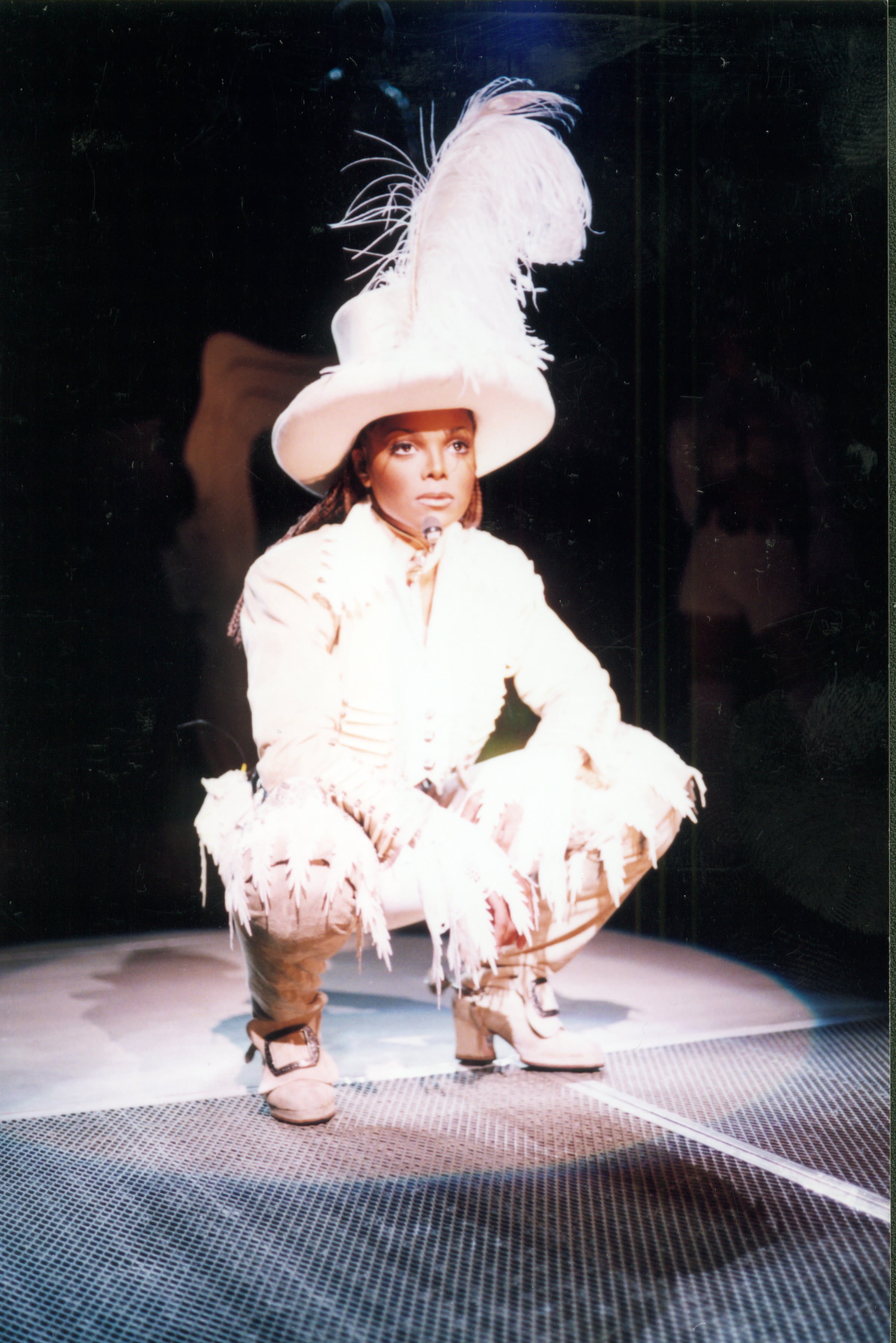 What was the makeup like on that tour? How did Janet like to look?
Makeup on the tour was highly stylized and had to be done quickly yet be spot on for live performance as well as photographs.
Mary J. Blige was also another big client of yours. How did that happen?
I stayed out in LA for, I wanna say two and a half years after the Janet tour, and I was working on Soul Train. I didn't want to come back to New York because I didn't have a job. But I flew back and was staying with my mother and I was so depressed because I didn't have a job. Then I got a phone call from this woman that I had never met. She was an agent for makeup artists, hair stylists and wardrobe people and she asked if I wanted to shoot Mary for The Source. But I knew nothing about her. At the time I was listening to rock and pop. I spoke to Andre Harrell, the founder of Uptown Records, and he was like, "You don't know who the queen of hip-hop is?" So that night he sent me the tunes and then I met her on the photo shoot. 
Mary was 10 hours late because she was getting her hair done. She was getting her hair double-process bleached. And when she got to the photo shoot, the wardrobe stylist, Sybil Pennix, said, "We're doing hats. You didn't even have to do all of that." She liked the work, but I just thought that was going to be the end of it. But the next day I get a phone call from the woman who linked us up. She said, "Mary loves you and they want to take you with them on tour for the next three months." 
Why do you think they were so in love with your work?
I wanted everybody to look like themselves. I didn't want anyone to look at the makeup and say, "That's NZINGHA's makeup." I wanted them to see the individual artist. Because there were makeup artists at the time who did the same look on everyone. It was beautiful, but all of their clients looked the same. I wanted to bring originality and play with colors and I knew how to use colors in a different way. 
What were you looking to for inspiration?
I would look at old films and old magazines. I was very fascinated with the '20s and the '40s and the look of the '50s and a lot of the '60s, because my mom was modeling around that time. Twiggy was modeling when the Grandassa Models came out, so they were neck in neck. So they were my muses. As far as color was concerned, I found out that I had this thing called synesthesia. When I hear music, I see color. When I eat food, I see color. When I dream, I see color, and it's very vivid. Even the smell of fragrance makes me see color. 
During this time, there weren't as many foundation and makeup artists for Black skin, so how were you handling that? Were you mixing products?
Totally. Mixing and praying, which is why I was so big on speaking to the lighting director and the director of photography about how they were going to light these Black women. Because you know if you look at old photographs, you see how flat Black people look.
It seems like you were also creating your own colors by mixing lipsticks and blushes and eyeshadows. Can we talk about Mary's black lipstick in the "Not Gon' Cry" music video?
So Mary was always wearing sunglasses and if you go back into the archives, I did several different lip colors with her because it added a pop of color. 
But the lipstick was unconventional, no?
No it's not. It's unconventional to this culture, but in African culture, which is where I did my research, there's a tribe called the Wodaabe tribe and wearing the black lipstick is a mating ritual. That the men wear it because it shows how white their teeth are, and the whiter their teeth are, it means the more money their family has. So that was my inspiration. Also, the song was on the soundtrack of "Waiting To Exhale," and Angela Bassett's husband was cheating on her and she's devastated, so this is a moment of mourning and grieving for her, but also a sense of freedom once she got through it. So I tied all of that together, and then here Misa came with the scarf, and Mary was wearing her own sunglasses. A lot of what Mary wore back then she owned. And then Dionne did the swoop bang, and the next thing you know all the girls were doing this swoop. But that lipstick color wasn't black. It was eggplant, because I love purple. It didn't exist, so I had to mix it. It turned out to be a fashion thing. And next thing I know, people like Patti LaBelle were calling me asking where can I get that lipstick and I said it doesn't exist. That year Yves Saint Laurent came out with a lipstick of that color. 
How did you start working with Kim?
I saw Kim perform on the Source Awards, and I called Sean [Combs] the next day and I said I want to work with her. I knew she was going to be a platinum artist. I saw her whole future, which is another gift that I have. Back in the day, I used to have a business card that said, everyone we touch becomes platinum. I went to a performing arts high school so I knew what talent looked like.
Well that segues nicely into your work on the "Crush on You" video with Lil' Kim, that was your first project with her? 
Yes. I met with Misa Hylton, the stylist, and Lance Rivera about it. Lance was inspired by "The Wiz" Emerald City scene and wanted us to do monochromatic color scenes. Misa Hylton brought the clothes and I was inspired by them and my mind got going. I decided to do matching lipstick for each wig except for the blue wig. For that I went a little more neutral. My favorite look was the green look. That green wig was everything. Eugene [Davis] did her hair for that video. But we just kind of bounced off of each other. She'd bring in things and something clicked off in my head. Back then they didn't have lipstick with glitter. So I went to the supply store and I added the glitter to her lips and put some gloss on top so it could sparkle off the light. It worked. 
Why was imagery, glam, styling so important at this particular time? 
We were coming out of the '80s, when Tipper Gore had put this Parental Guidance label on all of the albums, so Kim was a hard sell. And the reason why "Crush on You" was so popular was because there were no swear words in it. So mainstream could take it and run with it, whereas all the rest of the material on the album had swear words, which we absolutely loved and we thought the songs were great. But strong visuals were another way to sell the album. And also because we lived in a video age. We were coming out of the '80s when Black artists weren't featured on MTV. They were only on Video Music Box with Ralph McDaniels, who we love. and so rap videos were not a thing on MTV until they decided to look at the numbers and then they started "Yo! MTV Raps."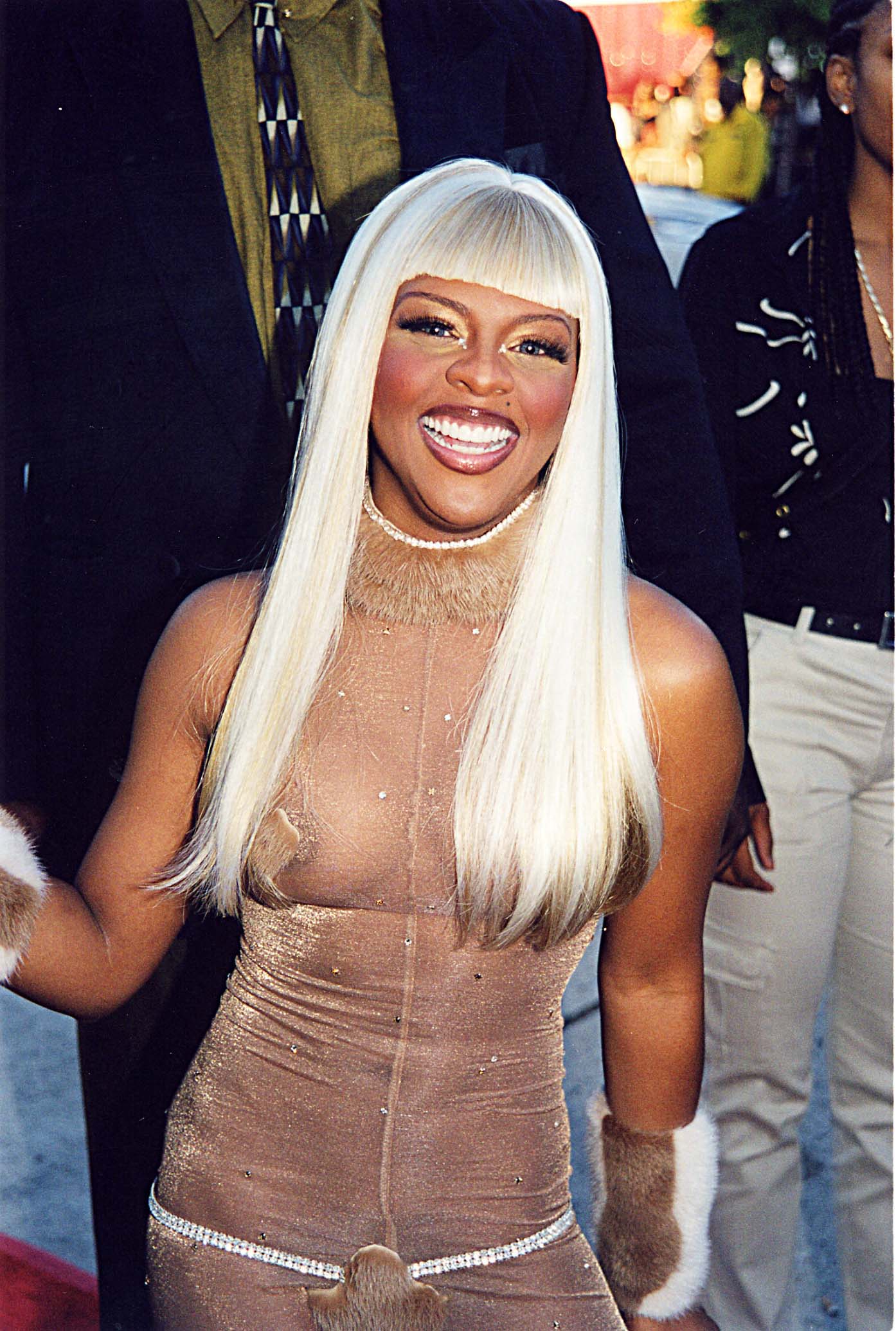 Tell me about your time at Vibe magazine as the beauty editor?

So when I was working, Essence magazine wouldn't hire me because I was so different. I wasn't doing cookie cutter makeup, and they felt like Black people in middle America wouldn't understand that. And I felt like, no, you're taking them for granted. You're taking their visionary abilities from them. And this is just an option. You don't have to look like this.
So when a Mary or a Lil' Kim appeared in Essence you didn't do their makeup?
No. But with Emil Wilbekin, who was the editor-in-chief at Vibe, he embraced me. It wasn't even a position that existed at the time. But I would mostly do makeup for the covers and some of the shoots.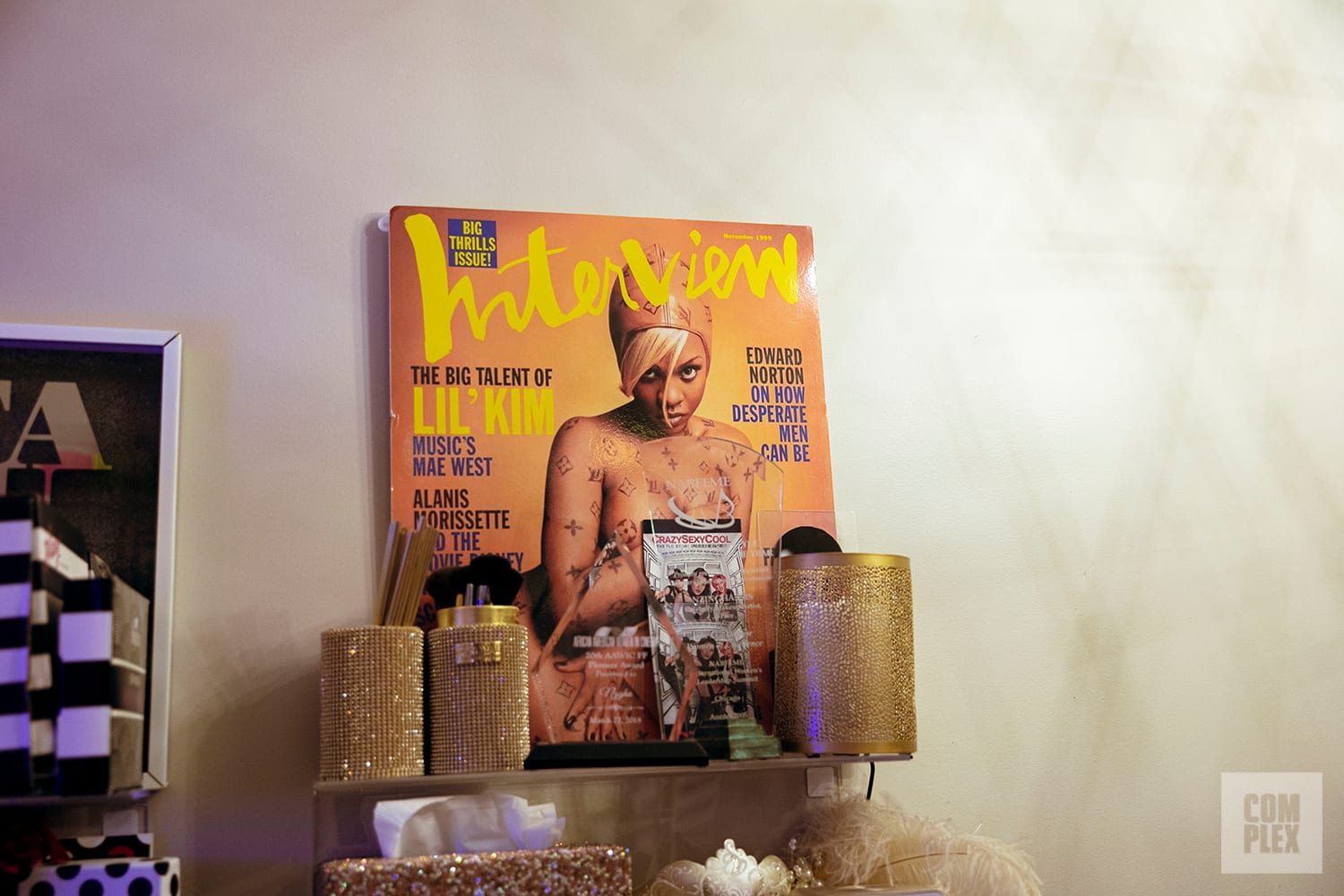 What was your favorite Vibe cover you did?
We did a shoot on the Kings and Queens of Rap. It featured all of my girls on the cover and then it folded out into all of my boys. And that was fun. I also loved Kim's cover, where she's posed like a lion. That was fun. 
Can we talk about The Notorious K.I.M.? That was her sophomore album and art for that was really important. 
I was friends with David LaChapelle. He really got my work because we were both into color. So I pitched him for Kim's album cover. I always saw Kim as a superhero, and I said if there's anybody that can see her how I see her it's David. He's a Pisces. So you know he's kinetic. I don't know if they got on immediately, but I guess he hid a cord in her head. And so she approved.
What was the thinking behind her image for that album?
She was grieving Biggie and she wanted some element of him in there but she had also moved on at the same time. She had to. So the music on that album is different from her first album. It was kind of poppy. But we had a big meeting and I brought loads of references. I brought Bettie Page images because I wanted to go with that for the poses. I brought pictures of Gibson Girls, Storm from X-Men, and Marilyn Monroe with white hair. 
How did that tattoo across her stomach come about on the cover?
I kind of thought it would be kind of like a stamp to remember Biggie, but not a tattoo of him. She's notorious and he's notorious, but he's not here anymore.
You are also responsible for the Louis Vuitton logo makeup she wore for the cover of Interview magazine. Can you talk about that idea?
I'm a huge fan of Dapper Dan. I was one of his clients back in the day. I was dating a drug dealer guy and he bought me a Dapper Dan jacket and matching skirt with the Louis Vuitton logo. I always liked the look of that logo and the color. So we all agreed that we would make it look like we tattooed the logo on her skin. And Louis Vuitton had to approve it because it was their logo. We had a stencil made, and I had two assistants. We made sure her body was all one color and then we had four different stencils and I used an airbrush machine. It took about six hours. For a while I hated it.
Why?

Because I was wondering if this was going to ruin her. Because she's naked. And she's a Black woman. So I was on the fence about it. But when I saw it I was like, well, this is definitely art. But as an artist you grapple with that. If you are pushing the artist into a negative realm or a positive realm. Because you are part of the process. 
But this was supposed to be for the cover of her album, but it landed on Interview magazine. How did that happen?
David LaChapelle leaked the image. Kim's publicist at the time had been pitching her to Interview and they weren't interested in her, but when they saw this image, they wanted to make it a cover.
I saw you posted on your IG account that you worked with Aaliyah's late makeup artist Eric Ferrell. What was your relationship with him?
Eric and I worked together a lot. At one point he assisted me. He always gave me credit for pushing the envelope in terms of color. When you are doing makeup, it's art. So you do have to mix. You do have to blend. Especially to make it work with someone's specific skin tone. So Eric always gave me props and shoutouts.
You seemed to always place a lot of focus on the lashes and the lower lashes. What other techniques did you do that were innovative at the time?
I started using gloss on eyelids. And I was inspired by a picture from the '40s and the lower lashes had small wax beads, because they used to have to melt the wax to use it as mascara. I put highlighter in the corner of Mary's eyelids for the "All That I Can Say" video. At the time everybody was like, what is that? And now here we are.
And you came up with the term 'glam squad'?
I did, because we would be on the set and they would just yell makeup when they needed me. And it was offensive to me. So I thought, we're glamorous. It's a team of us. It's a glam team. Glam group. We're just glam. Yeah. And glam squad landed and they started, you know, saying, "Makeup team, glam squad coming to set!"
You also worked with a lot of neo-soul artists like D'Angelo, Maxwell, Erykah Badu, and Angie Stone. You mentioned how the labels initially had an issue with Erykah Badu's headwrap. Can you talk about that?
The record label was not happy about that whole look because it wasn't mainstream. And I argued with them on it. I was in there fighting for their aesthetic because you're at a table filled with people who don't understand the culture, so you have to present the culture right. But the music was so iconic and the record sales were so good that they eventually relented.
Why did you move out of music and into film and TV?
The music industry changed. When I heard music I no longer saw any colors. I was no longer moved by the music that was coming out, so I got into TV and film. 
What are you up to in film and TV? 
I work on Power, and all of the Power spin-offs, GHOST and Power Book III: Raising Kanan, and now the third season of WuTang: An American Saga. Well, first I'm a bit more regionally stationary. So I'm not bouncing from country to country all in the same week living in five-star hotels or a tour bus. But the major difference is pretty layered in that I help to develop characters' aesthetic  based on what writers write about the character and the actors' input and that may include special effects makeup Special effects makeup is usually hard for beauty makeup artists but I happen to be proficient at both. I like doing film and TV because it's another way to tell a visually interesting story. Whereas with celebrity work you develop only that one person's aesthetic. In film and TV you really get to see how important makeup is to help visually narrate the story.  You have to break down scripts and figure out what makeup is required from scene to scene and execute the concept and most times it's a team effort with other artists.
What do you think is your greatest contribution?
I'd have to say that I'm an influencer that influenced influencers and that my influence helped design an era. I helped to move the needle on Black culture and fashion. I've worked with everybody in music, fashion film and TV, so it's not just hip-hop. But these are the people that I'm known for. And it's fine because the work is indeed iconic. And I'm all about movements. Look at my lineage. Some people will say, "Oh, you will get pigeonholed into only working on Black artists." And to me, that's great! Because if I could help Black people have this image, which has historically been tarnished and not represented in the best light...we are not a myopic monolith. If I can help improve that, then I'm good. I'm fine with that. Give me all the Black shows. I'm OK with that.