Derek Lee is the last surviving member of Aaliyah's legendary glam squad.
He's the sole keeper of the memories and intimate conversations shared between the artist and the team that made her look and feel her best. That team also included hair stylist Eric Foreman, who died in the tragic plane crash that killed Aaliyah in 2001 (he was 29), and makeup artist Eric Ferrell, who passed away in 2020 at age 50.
They all worked together to produce Aaliyah's timeless yet innovative looks. Foreman expanded on her signature side swoop bang with soft waves, curls, and ombre-dyed ends. During an era of over-plucking, Ferrell perfected Aaliyah's arched eyebrows and gave her everyday, relatable glam, but pushed her to be experimental—who can forget the orange eyeshadow, blue eyeliner and orange streaked lip from the "We Need a Resolution" music video? And Lee elevated Aaliyah's tomboy aesthetic by creating custom pieces and utilizing designer items, mixing street with luxury long before it was commonplace for women in the mainstream.
"We were very tight-knit," says Lee. "Synergy is the best word for it. We were all at the right place at the right time. And it's funny. That synergy is like a drug. I chased that thing for a while until I finally gave up on it."
Because of their synergy and Aaliyah's vision, twenty years after her death their work still guides how people aspire to look today. Yes, celebrities like Kim Kardashian, Keke Palmer, and Zendaya have worn some of her outfits as Halloween costumes, but Aaliyah's style choices changed the way women dressed on a day-to-day basis then and now. Her image also still impacts business. MAC released an Aaliyah makeup collection in 2018, and KITH recently partnered with Aaliyah's estate on a capsule collection.
"When you think about the '90s when Aaliyah first came out, there was this reign of super models like Naomi Campbell and Cindy Crawford. Then you had this renaissance of streetwear brands like Triple Five Soul and Ecko. And what made Aaliyah so wonderful is that she stood between those two worlds in a way no one else did," says Kathy Iandoli, author of Baby Girl: Better Known as Aaliyah. "I don't think that half of the young girls today, unless they discovered Aaliyah, realize every stitch of clothing they wear is directly inspired by her."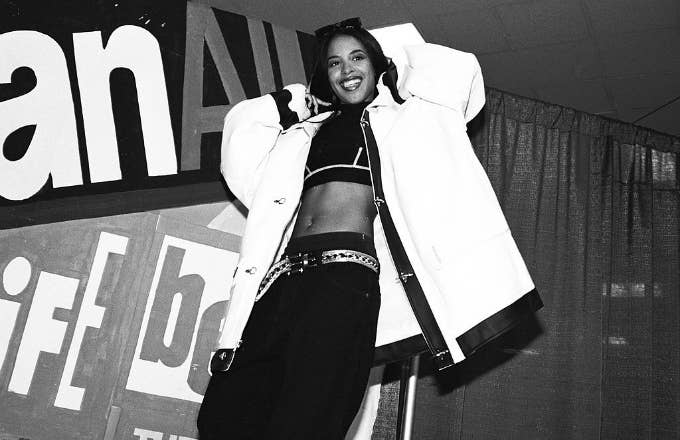 When she first came out in the '90s, Aaliyah wore baggy streetwear silhouettes that other female artists dabbled in. But for Aaliyah, tomboy style wasn't a trendy concept. It was intrinsic to her identity. As she started working on her second album, One in a Million, in 1996, Aaliyah knew that her look had to evolve with her sound. 
"When she stepped back into the spotlight, she had to come as a 2.0 version of herself where she could retain some of the sensibilities that we loved about her from '94, but also bring in a new era," says Iandoli. "Aaliyah could sense talent. It's the reason why she had Missy and Timbaland on her project. She had vision and she saw something in Derek Lee. She knew who to put onto her team and say 'OK, you are going to help execute this vision I have.'" 
According to Lee, that vision included her uniform: baggy jeans, tiny crop tops, and sneakers (what Aaliyah would describe as "street and sweet"). But Lee wanted to take it to the next level, which he did. Lee and Aaliyah tapped into streetwear and luxury fashion pieces in a way her peers didn't and created iconic looks rooted in Black style. But according to Lee, the goal was never to influence. It was to be obtainable.
"Her whole thing was, 'I'm a star, but I need to be a regular girl, too,'" says Lee. "So everything needed to be a little bit relatable because that's who she was. We made things attainable on purpose."
Lee started working with Aaliyah in 1996. He was headed back from Los Angeles to New York after styling Color Me Badd for a shoot and his agent connected him with a young lady who was going to Blackground Records, the label started by Aaliyah's uncle Barry Hankerson. The new Blackground employee asked Lee if he could bring a few pieces for Aaliyah before he flew back to New York.
"Her whole thing was, 'I'm a star, but I need to be a regular girl, too.' So everything needed to be a little bit relatable because that's who she was." -Derek Lee
"My agent said stylists were always bringing her stuff she didn't like because they always wanted to put her in a dress," says Lee. "And once I found out it was Aaliyah, I was like yeah. This is right up my alley."
Aaliyah liked what Lee pulled, so once he landed in New York, he got a call asking if he could immediately fly back to Los Angeles to style the "One In A Million" video. He had to bring completely new pieces and only had a few hours to retrieve them. So he headed to the sex shops on Christopher Street in New York's West Village, the only "clothing" stores open late at night, and asked his stylist assistant in LA to request the motorcycle jumpsuit she wore to be sent from New York to Los Angeles overnight. Lee says he didn't have any direction or a video treatment to reference.
"I knew I was showing up with dope stuff. And I knew she was going to wear it," says Lee. "I was a little bit nervous because I hadn't worked with her in that way before. But I knew that kind of girl. So whatever she wanted, I knew how to elevate it."
Lee grew up in the Lower East Side and his mother, Ionia Dunn-Lee, was a fashion editor at Essence during the late '70s and early '80s while Susan Taylor was the magazine's editor-in-chief. Lee would travel with his mother to places like Paris for Fashion Week or Senegal for photo shoots. Although he was surrounded by fashion, he envisioned himself being a teacher until he learned their salaries and decided to go to school for accounting and French. Through his mother he landed an internship at Essence in its accounting department where he quickly realized this wasn't the path for him. 
"I would go to work in the accounting department wearing orange Willie Smith suits or Patrick Kelly shirts and pants. I looked so different from everyone in that department," says Lee. "But the people in the fashion office who worked for my mom, they looked more like me. So that's when the light went off and I knew I wanted to work in fashion."
Lee joined the fashion office as an intern, which helped fine tune his eye and establish his aesthetic. Growing up in the Lower East Side, Lee says he spent his free time going to punk shows at CBGB, frequenting Caribbean parties in Brooklyn, or going to Union Square to see a Public Enemy show. He took his eclectic set of references to YSB, an African American youth magazine owned by BET that stood for "Young Sisters and Brothers," where he was fashion editor and styled acts like En Vogue before he pivoted to freelance celebrity styling to make more money. But as he progressed through his career he was developing a signature that, unbeknownst to him, would align perfectly with cultivating Aaliyah's style.
"When I started working at Essence magazine, I started opening up my eyes to designers like Jean Paul Gaultier, Paul Smith, and all that stuff, and urbanizing it," says Lee. "So it switched my eye a little bit to take that stuff that wasn't made for us and flip it for us. And that's how my styling career went as well. I wanted to see the R&B dudes in Gaultier and Dolce & Gabbana but they don't have to wear it how it was presented on the runway. We can make it street. So that was always my thing."
This approach would become the foundation of Aaliyah's iconic looks.
We talked about the first video you styled for her, "One in a Million," but can you speak about the process with the "4 Page Letter" video?
That came up kind of quick. I went to North Beach Leather and got some leather and suede pieces. And I put some fringe inside of a crop top. Whenever you see Aaliyah wearing a big oversized men's jacket or coat, they were always mine. I still have that coat.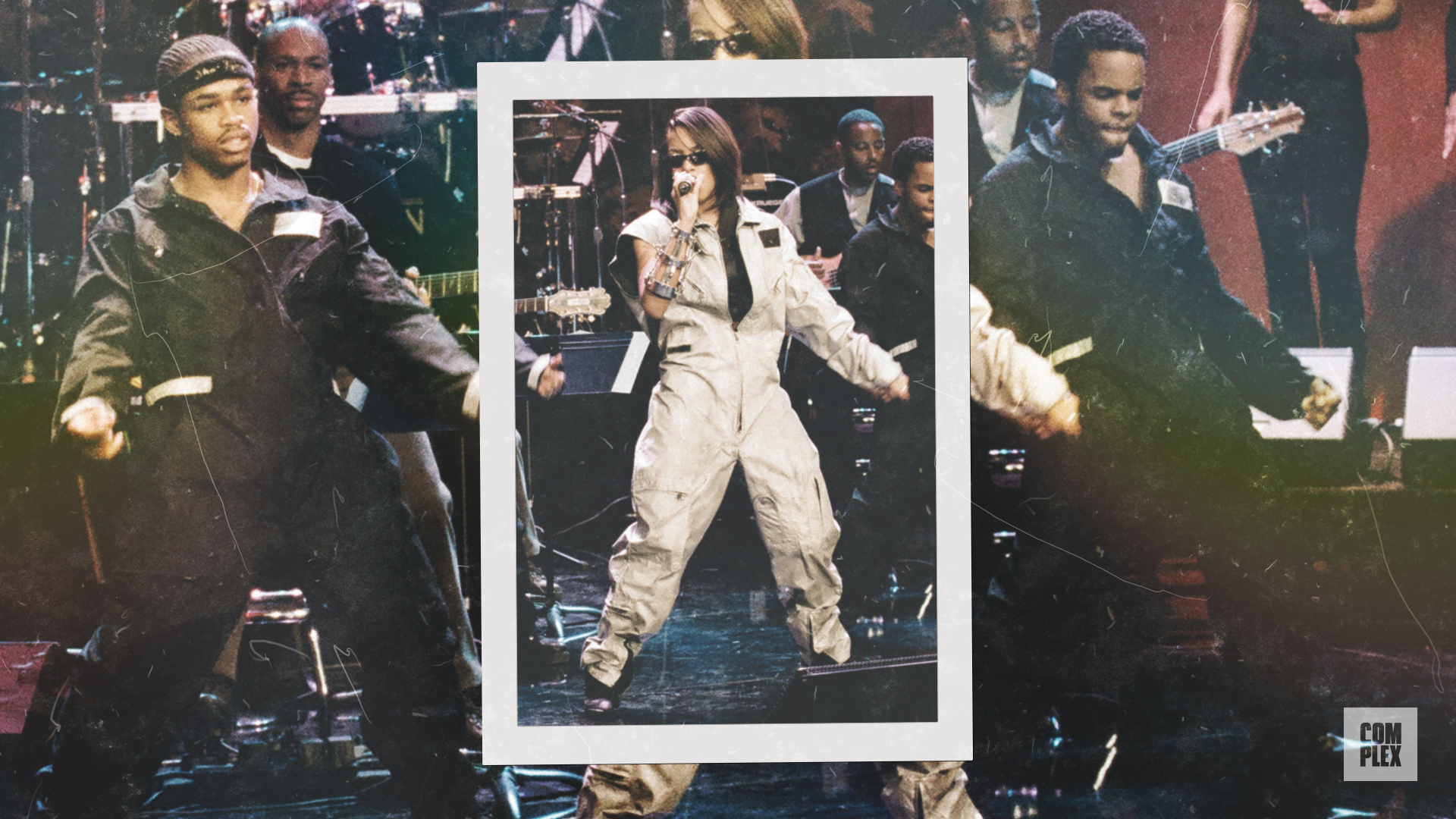 What about this jumpsuit she wore on The Jay Leno Show?
This is actually the second thing I dressed her for. It was a regular black jumpsuit and I spent all night airbrushing silver onto it. Just layers and layers of silver. And then I took the sleeve off. And I knew this dude who made jewelry out of car parts and electronics and nobody really bought it. Because it was an obscure store that nobody went into, but he let me borrow her bracelet. The sunglasses were most likely mine.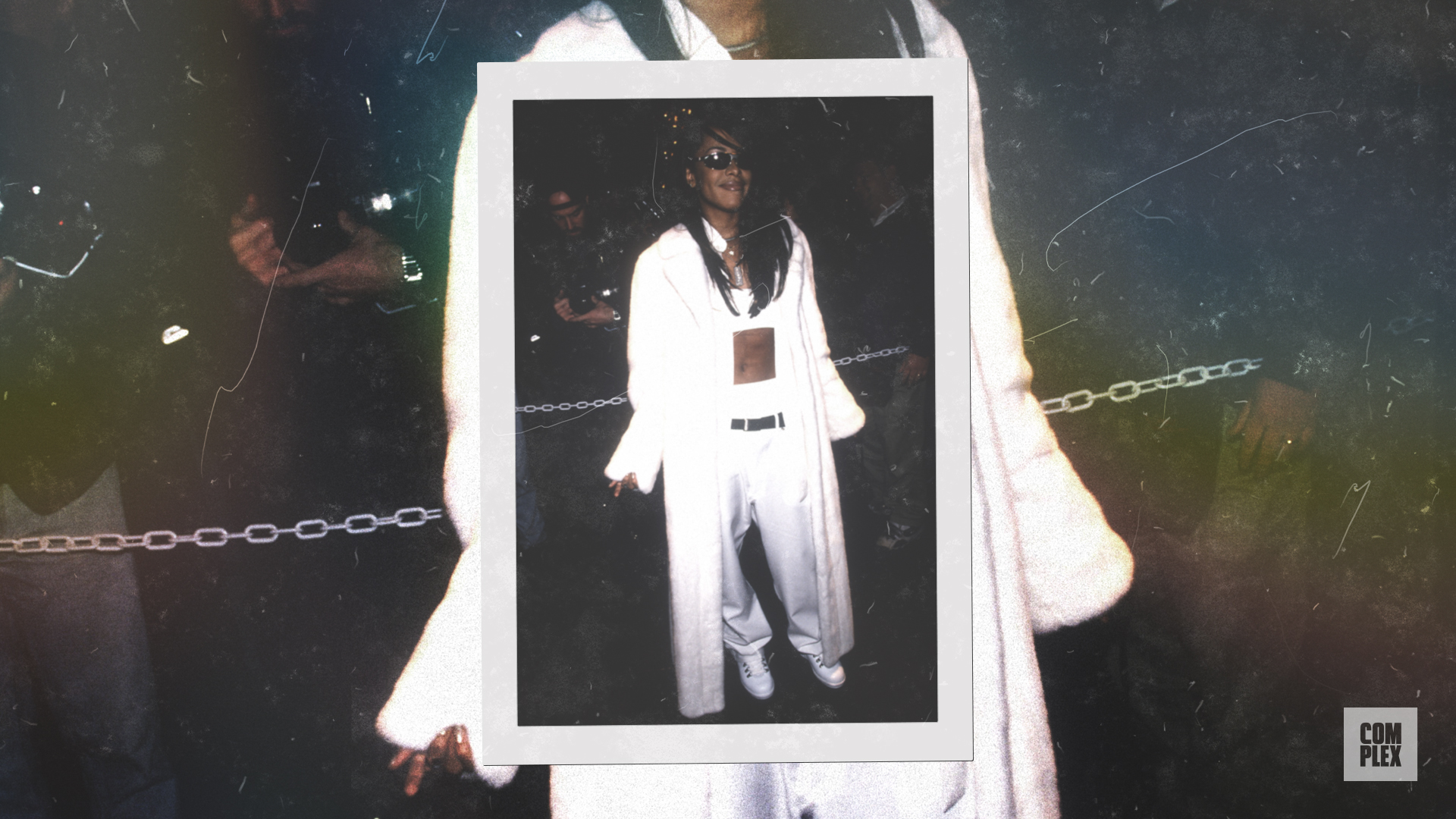 I love the all-white look she wore to this Anastasia movie premiere. Can you talk about it?
That was an Alexander McQueen suit. And that white fur is from the only place in LA that I knew I could get fur coats from. I don't even think it exists anymore. But it was a suit that was made of this nylon type of fabric. And she had on white Timberlands I think. Not the classic kind. But once again it was designer but it didn't scream designer. 
You liked to put her in fur.
I did like to put her in fur. I thought her hair looked pretty on it. Then if she wore fur, it was such a soft thing that I would kind of like her to wear it in a way that's a bit more masculine. And to me that was even sexier.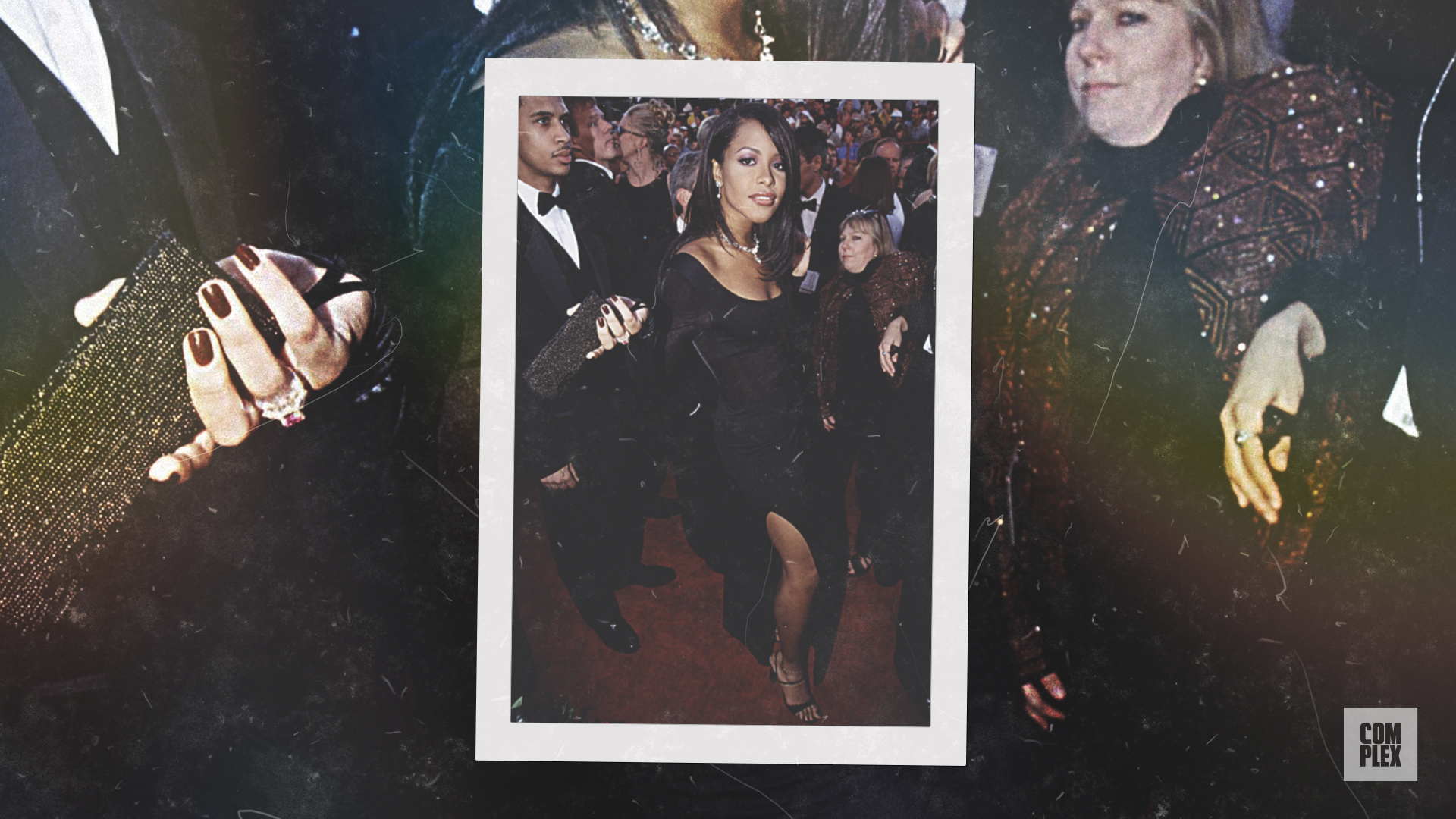 When she went to the Oscars in 1998, this is one of the first times we see her in a dress. I saw a clip of her speaking to Joan Rivers and she said something like, "Oh, this is just off the rack." Can you talk about that look?
I believe that's off the rack Versace. Like off the clearance rack. I really wanted everyone to focus on her. I didn't want the wardrobe or the fashion to outshine her, even though that's what most celebrities do. We like to keep her understated with everything so people could see how pretty she is and she felt approachable. Sweet but sexy.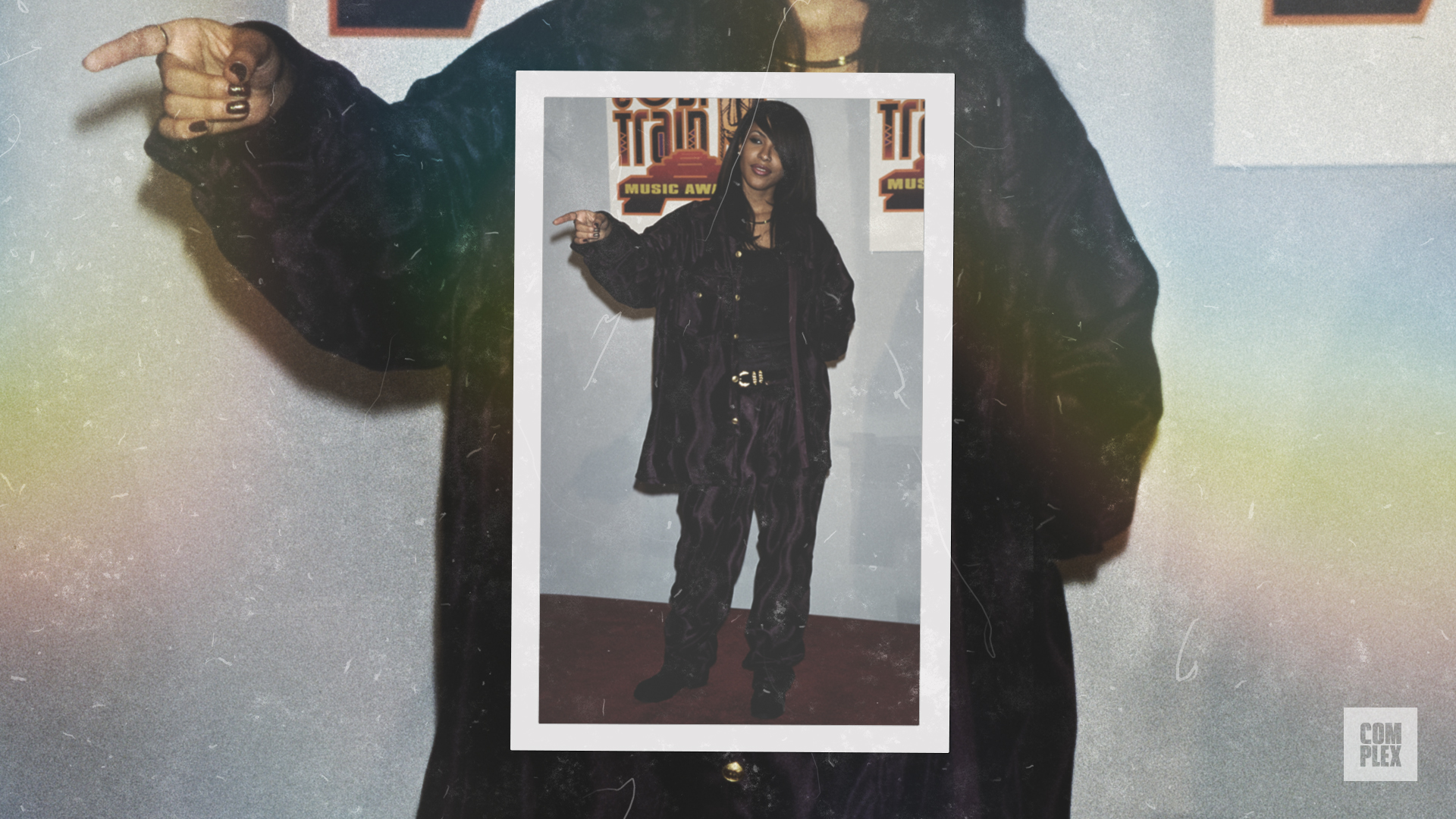 What about this look?
I'm not sure what brand that is. But it's very New York City, though. You could go to a million stores in the city and find a set like this. It's like what an older Black man would wear with some gators.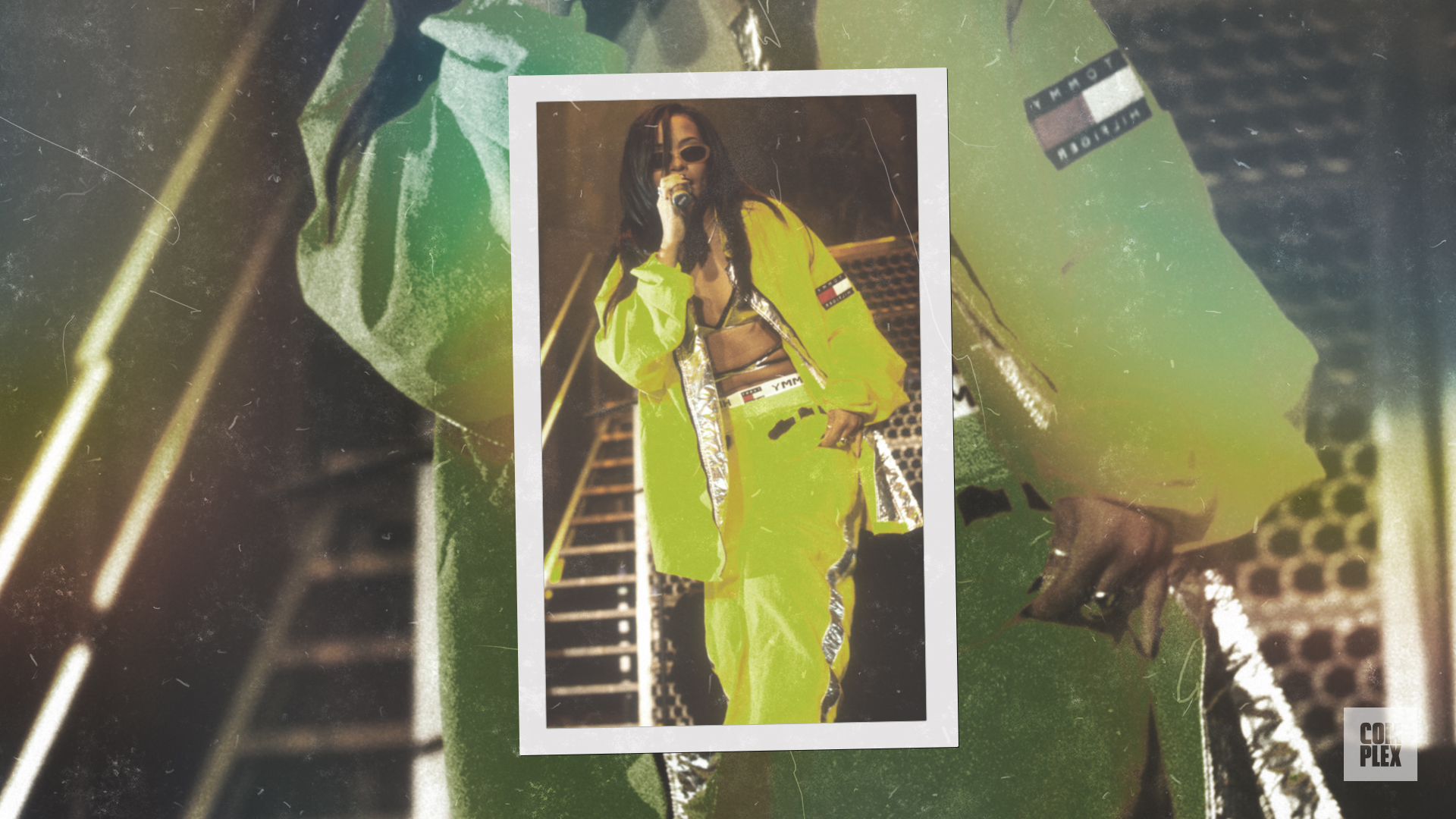 Were you around when the Tommy Hilfiger campaign happened. Was it a huge deal at the time?
I didn't style the campaign but yes, I was around. It was such a good fit. And it was still understated for her. It wasn't in your face everywhere. It was like "Oh, snap check out Aaliyah." But I don't think anyone expected it to be such an iconic thing. It was kind of like a blueprint. And they didn't make certain things for women. Aaliyah was wearing some men's pieces. So that helped them get into that.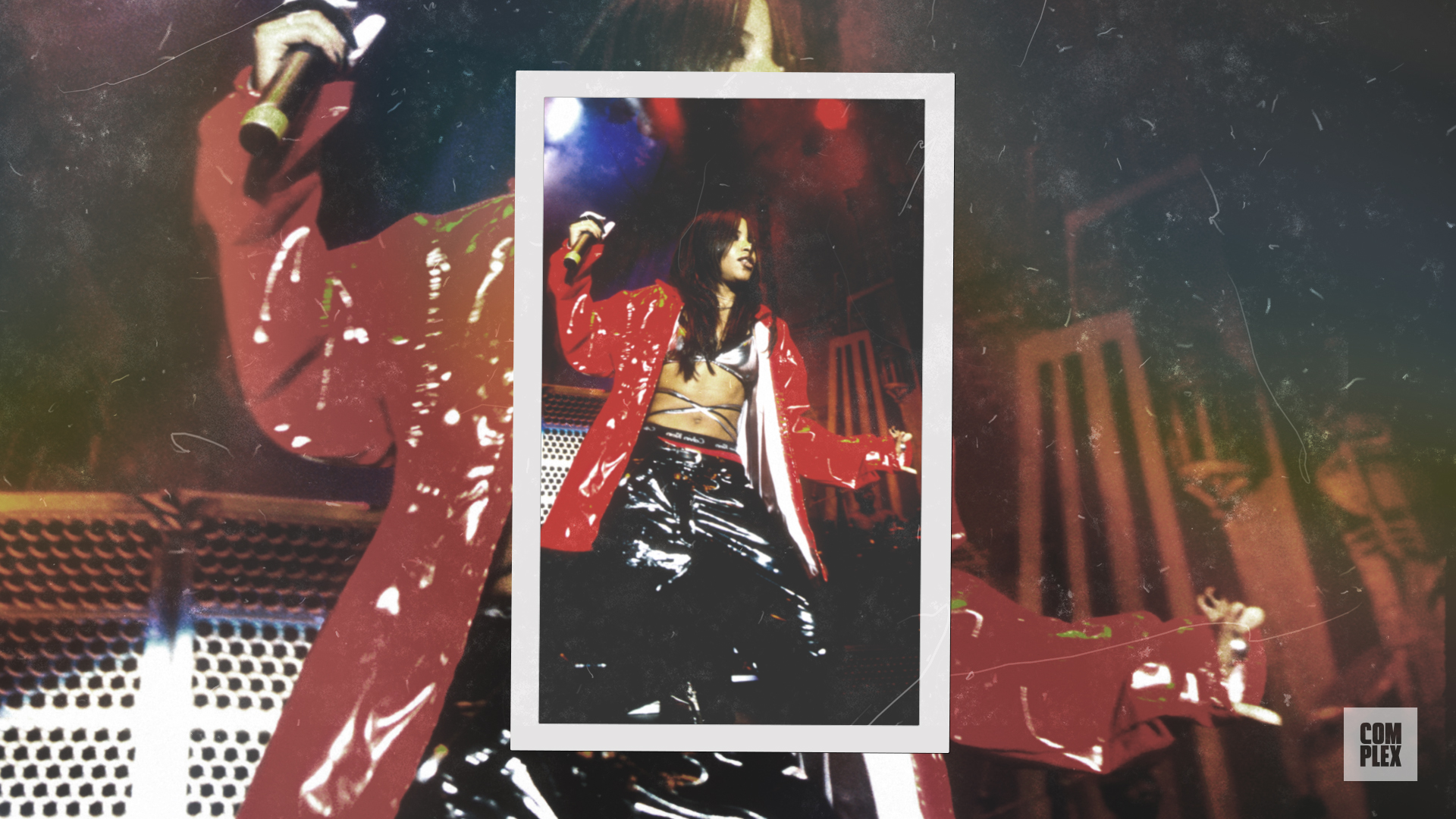 How did you approach performance looks like this one? 
That was a little bit different because obviously it was like a formula for her outfits. I used to really like that Cyber Techy kind of New York streetwear that maybe not every kid in New York City was really wearing. They were still wearing like, their jeans and the Timbs and stuff, but fashion kids would rock these brands, but it's still kind of hood. The pants she's wearing I bought for myself. They were Armani Jeans. And we would pair it with a jacket that was also really big. And those bathing suit tops that wrap around her frame are classic Aaliyah. I found a manufacturer for those and I got two in every color. So that's why you would see her in them a lot. But outside of that most of what Aaliyah wore was menswear.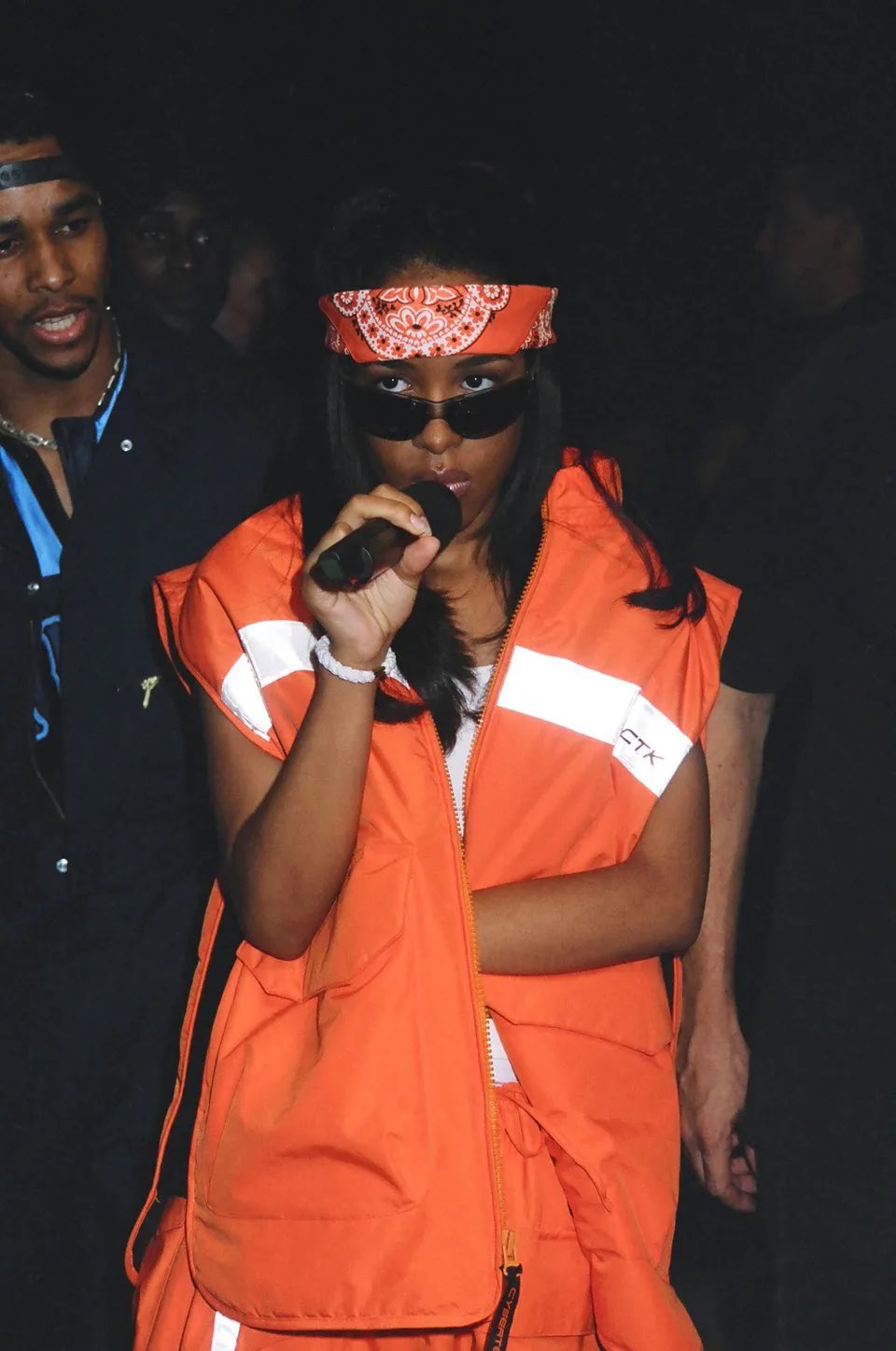 This is another performance look that's so great.
That look was from Cyber Tech. They were a couple blocks away from my mom's office and that's how I found out about them. I always wanted to put somebody in their clothes, and in the beginning of our time working together I put Aaliyah in a lot of Cyber Tech. 
Aaliyah is known for this baggy bottom silhouette with a smaller top. But she didn't start it per se. There were groups like TLC that also did that look. But why do you think Aaliyah having this tomboy style has translated so much and spoken to all generations?
Well, for one, her swag. If I just put her in T-shirt and jeans, her swag really kind of made it. Because honestly if I put anyone else in a lot of stuff I put her in, it wouldn't have translated the same. Her swag and her vibe was exactly that. We nailed that. And then her body shape lends to making that stuff fit a certain way. Because she was thin, the stuff fell on her differently than it did other girls. She wasn't curvy. And the other girls were very sexy and had body, but Aaliyah still owned it with her frame. She was so confident. It didn't matter what she was wearing. The clothes were never wearing her. She always wore them. It was effortless. It wasn't like she tried. And that was very much so on purpose. 
In "Are You That Somebody" I noticed she had her Gucci thong showing. That's such a popular look now but it was a sexy detail. Was that a big deal for her?
No. It wasn't a lot for them because it was $4,000 Gucci bathing suit. It was expensive so yeah, she wanted to show it. And that green look that she was wearing was all Girbaud. The skirt was a Gucci knockoff. I had someone make that and then just add a bit of flair to it. 
As Aaliyah's profile increased, Lee remained her stylist and they formed a strong bond based on trust. Lee says he never tried to put her in anything she didn't want to wear and Aaliyah kept her parents in mind when it came to her image–Lee says Aaliyah's mother was always around. But the label never got involved. "It was all what Aaliyah wanted to do," says Lee. When they first started working together Aaliyah was adverse to heels, dresses, and skirts—she preferred a size 34 men's pant, which happened to be Lee's size, and he would often lend her his clothes to wear—but as time went on and she grew into her womanhood, she wanted to experiment more. 
"I would always bring her what I knew would look good on her, but then I would also bring at least one piece that pushed it. And even if she didn't wear it at that moment, I knew she would wear it when she was ready. She'll get there if I show it to her enough," says Lee. "I was bringing her stuff that she didn't even think of necessarily." 
Aaliyah wasn't interested in wearing the hottest designer item of the moment. Lee says she just liked to have a clean pair of Timbs and Air Force 1s on deck, and he would put her in Clarks Wallabees, a nod to her Jamaican heritage. 
In the early stages of Aaliyah's career, Lee would fly from Los Angeles to New York to do most of his shopping and went to stores like Barneys, Pat Fields for one of a kind pieces, and the sex shops in the Village because Aaliyah wore a lot of black leather looks. He shopped on Melrose in Los Angeles, but mostly avoided the luxury shops on Rodeo Drive because of the uncomfortable shopping experience. He also had more affordable alternatives. 
"With Aaliyah, I didn't have to worry about [something] having to be designer or even real designer. We would use knockoff stuff because a lot of those pieces would be sometimes cooler than the real thing. And I didn't feel guilty cutting it up or making it into something else," says Lee.
Lee would commission custom pieces from Dapper Dan (he made the Chanel catsuit in "More Than a Woman"), 5001 Flavors (they made the leather camouflage pants in "Hot Like Fire") and Joe LaGrand, a tailor he worked with frequently. This allowed Lee to provide Aaliyah with unique items, but it was also a necessity as designer brands didn't loan her pieces initially. 
"There's a segment of the population that didn't know who she was and if they did know who she was, they didn't respect it," says Lee. "They had no idea. But that's how it was. There was a certain point where they weren't giving stuff to Mary [J. Blige] or even TLC. That's why we had to make stuff ourselves." 
But together with Foreman and Ferrell, Lee worked hard to give Aaliyah exactly what she wanted. Lee says there was very little planning involved with Aaliyah's looks and they rarely had fittings. Oftentimes the team didn't know what clothes he had until he arrived. He would shop up until the very last minute to make sure he brought the perfect items for Aaliyah. Then based on those items, Ferrell and Foreman would make different suggestions to complete the look. Lee says because Aaliyah was so loyal to her glam team and paid them top rate, they all went to great lengths to bring their best to the table.
"If someone treats you really well and you all become like family, you will do anything you can for that person. So even if I was 20 minutes late to the shoot, I would grind, grind, grind, until I got the right item," says Lee. "And then the team would say, 'Oh, Derek brought green stuff, so maybe we will do a green lip on you.' That's how we rolled. There wasn't a lot of planning on my end."
"With Aaliyah, I didn't have to worry about [something] having to be designer or even real designer." -Derek Lee
In Aaliyah's MTV Diary episode, which aired in 2001, you see how close the glam team was. While getting Aaliyah ready they sang on toy microphones; after an awards show they beatboxed in their own little cypher; and while in Paris promoting her self-titled album, Aaliyah, they spent their off-day together at a carnival. "They are all really intrinsically good people and I love that… having good people around me who totally have my back. I wouldn't trade it for the world," Aaliyah cooed about her glam team in a confessional.
Over time Aaliyah's budget got bigger and her press appearances increased, so Lee mostly worked exclusively with Aaliyah for six months at a time and then he would take four or five months off to travel Europe. With a starring role in Romeo Must Die, Aaliyah was gaining crossover appeal and traveled to Europe to promote the movie. Aaliyah already had a relationship with Armani, but Lee thought it was the perfect time to approach a few Italian luxury houses. He was intrigued by Roberto Cavalli because he didn't see other celebrities, outside of Lenny Kravitz, wearing it, and he also took to Dolce & Gabbana. One of Aaliyah's most popular looks—a crystal bra top with a matching choker—was made by Dolce & Gabbana. Lee said the crystal bra top offered so little coverage that LeGrand had to add some extra rows of rhinestones so Aaliyah felt more comfortable. And the often-copied look Aaliyah wore to the MTV Video Music Awards in 2000—the yellow tiger print dress with feather trimming—was made by Roberto Cavalli. 
"I was trying to groom her so she could eventually be like a face for one of them," says Lee. "I wanted her to have a partnership with some kind of Italian brand that was forward."
Aaliyah was coming into her own and fashion brands and the industry were taking notice, so much so that certain celebrities were reaching out to Lee asking for Aaliyah's look.
"People started hiring me specifically to give them her," says Lee. "Famous people were like, 'Yeah, can you do that for me?' And I was like, 'I can't do that. I don't trust you like that.'"
I want to talk about "Back in One Piece" because I love all of the looks. Who made the snakeskin set?
It was python and it was pricey. I can't remember the Black designer who made it but I told him what I needed and he made it. The embellished jeans were Roberto Cavalli. And that was a straight-up purchase. It wasn't even like, "Hey, can I borrow?" I didn't have a relationship with them yet. I went to Cavalli the day before and purchased those jeans and thank God they worked. Aaliyah wanted to look hood hood. She was like, "I'm with DMX, we are in the Bronx, I need to look like I belong." The sweatsuit is my favorite honestly. It was a very New York thing to wear jeans underneath the sweatsuit. She is wearing jeans, but she has a name belt. And the whole point of wearing the jeans is so she can wear her name belt and have the sweats swag. So she has on jeans with a name belt that's unbuckled slightly to give that I don't give a f  kind of attitude. And then she has the baggy sweatpants over the jeans with Timbs. That's classic New York Bronx style. 
In "We Need a Resolution" we see Aaliyah start to get sexier. You've talked about the dress and the snakeskin outfit, but what about that blue look? 
This was a costume designer, Linda Stokes, who made stuff for TLC. I came with some fabric and was like, I want this made for like a futuristic kind of a thing. And, boom, she made it for me. And I customized the jeans in the dance scene.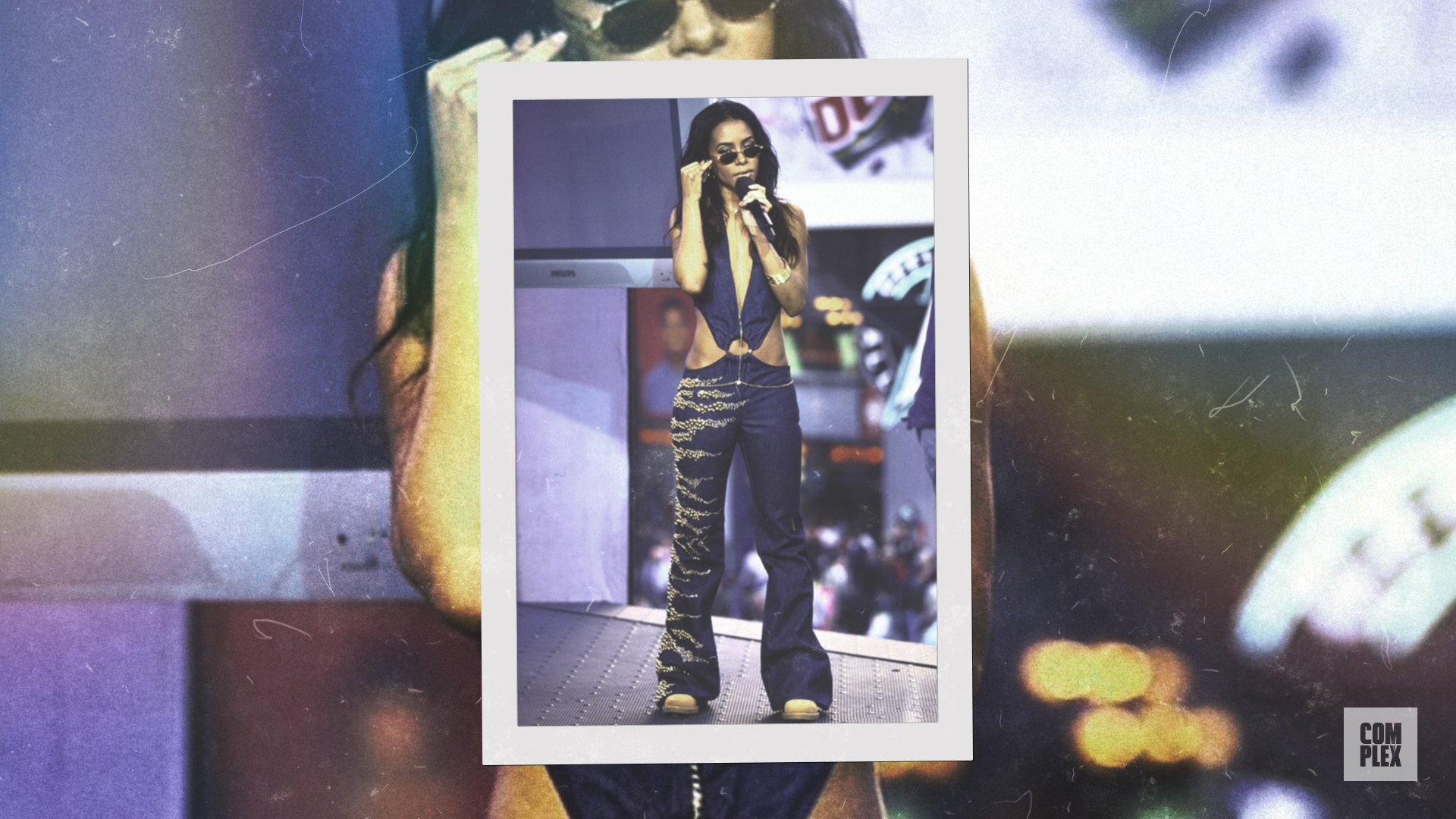 This look she wore on TRL. The denim one-piece. It was so good.
That's Cavalli too. That was fire. No one knew that was even coming. I didn't even know that was coming. I got lucky with that one because it could have gone either way. I really, really wanted her to wear it, but it was a very revealing outfit. But it worked on her. I only bought a couple of options, but that look was my focus. And once you pair it with some Timbs, she relates to it more.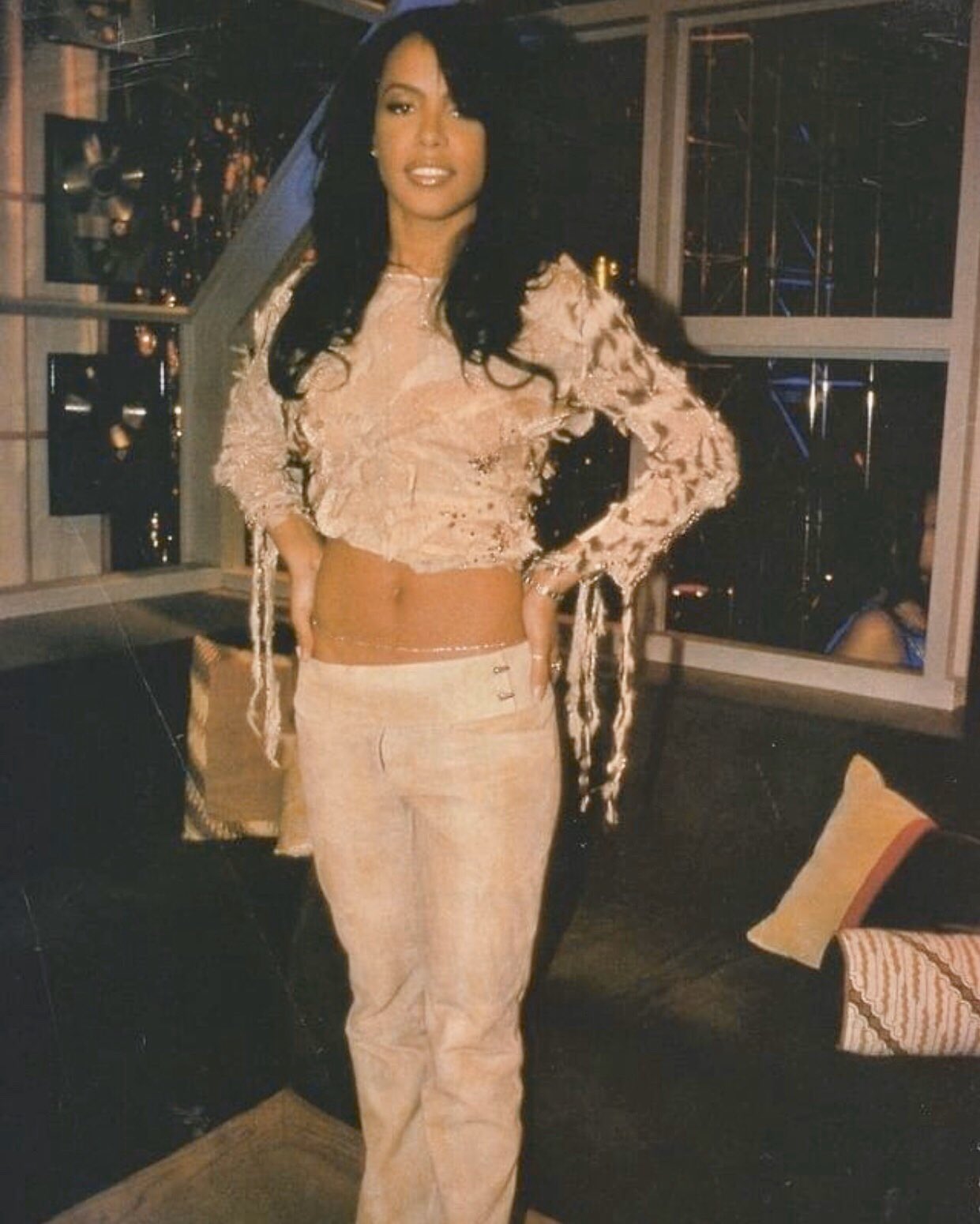 What about this look? I believe Carrie [Bradshaw] wore it as a dress in Sex and the City.  
I remember cutting that. It was a sweater or something like that, and I cut it. Most of the times when you see her in short stuff, I ended up cutting. So I would buy designer stuff and I would just cut it up and make stuff out of the other pieces. I'd make headbands, or I'd make gloves or boxers or something like that.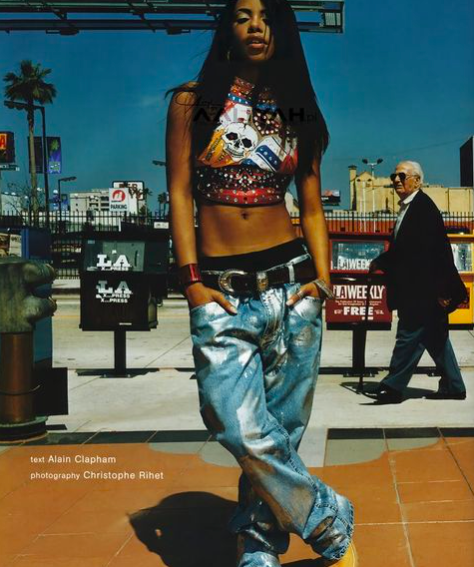 Can you talk about this look?
The top was by my boy Ronnie. He ended up being a big designer but at the time he worked in a random store on Melrose and he was just making pieces as a side gig. I saw him and I was like bro, I need a one-of-a-kind T-shirt. I made those jeans. I did that often with her jeans and her pants. I made most of them. 
You did a lot of DIY customization.
It was kinda my thing. It was either I couldn't find pieces with the right mixture of aesthetics that I needed, or the designers wouldn't give it to us. So I would either knock it off or buy the style and make something else with it. And honestly, I just smoked a lot of weed and sat up in my house in sunny California and hammered shit out.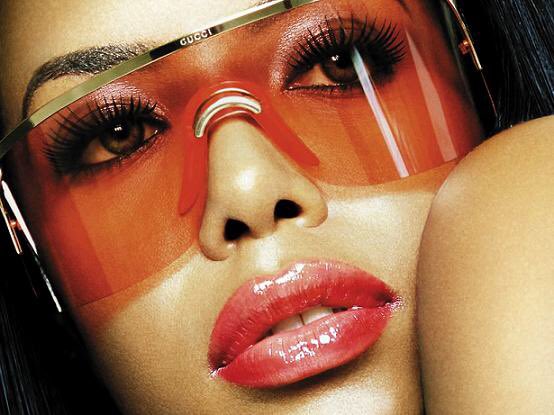 People talk about these red Gucci frames a lot. Any backstory on these?
Those were mine. I never wore them after she wore them. I still have those. I collected sunglasses at the time. So I would always collect stuff that I thought would age well. And those to me will look good forever.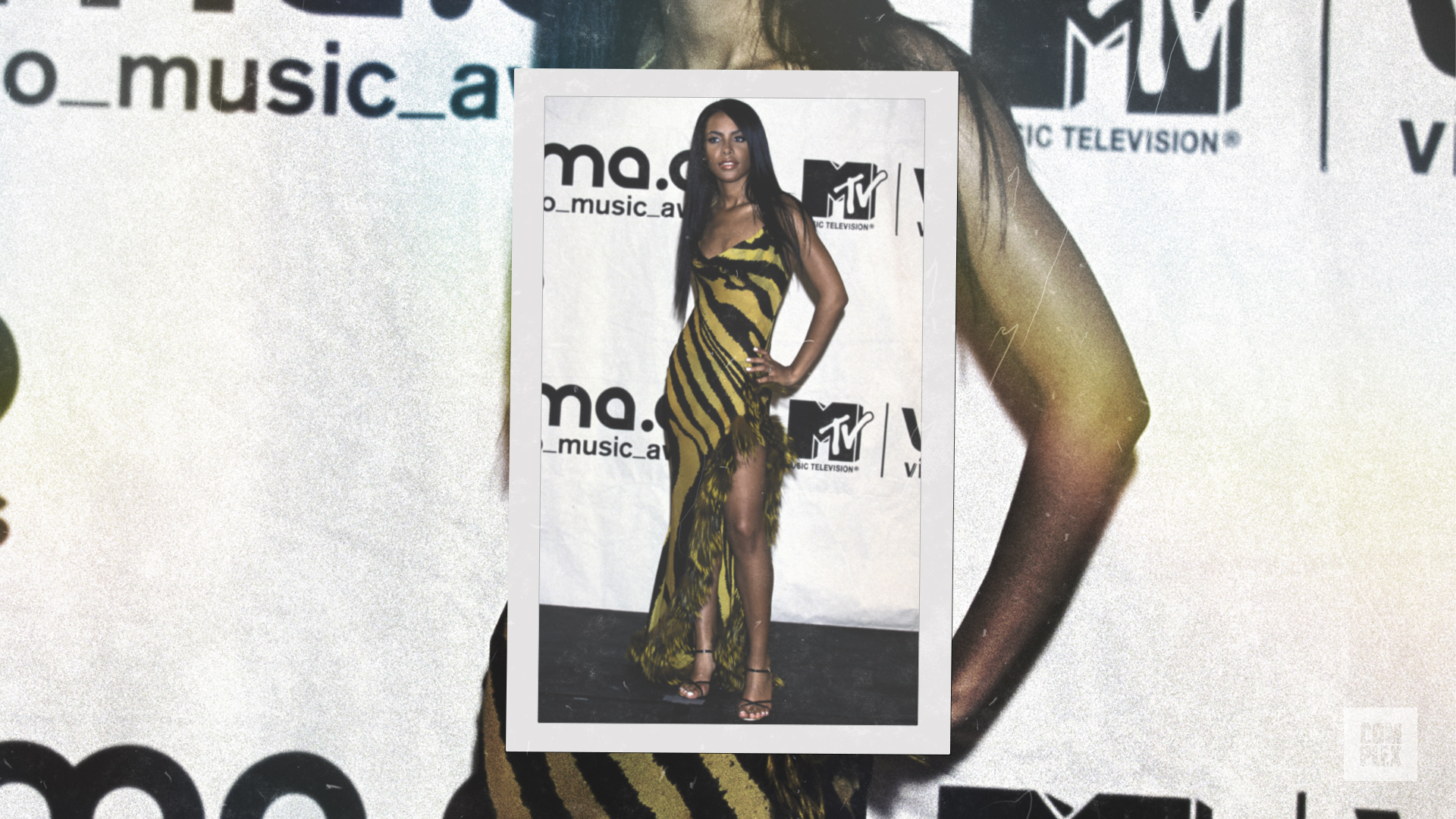 You've talked about this dress before, but I have to mention the Roberto Cavalli tiger print dress that so many people have worn.
Yeah, that was dope. I was actually in Italy on vacation when she called me about that. So I had to call up Cavalli and be like, 'Yo, I need you to send her this.' Then I had an assistant who went and picked it up. 
How do you feel about so many people re-creating her looks? I know you spoke out when Bretman Rock claimed he was wearing Aaliyah's same exact dress. 
It doesn't bother me. But it's funny because with her body shape and her swag, it doesn't read the same on anyone else. I saw Kim Kardashian in the Dolce look and she looked great, it just doesn't read as hard as when Aaliyah wore it. Aaliyah's look was young and tough. She wasn't trying to be sexy. 
Can you talk about what she wore in the water scene for "Rock The Boat"?
Hype [Williams] said, "We're doing this water scene and the look needs to have a lot of fabric so it can seem like she's floating." And I knew Norma Kamali, because she had been a friend of my mom since I was a kid. Because to be perfectly honest with you, Norma Kamali jumped off streetwear way before anybody else did. In the '70s she was doing sweatsuits on the catwalk and puff coats. I remember always liking it growing up because little brown kids like sweatsuits and stuff like that. So I got the Norma Kamali swimsuit and then I just went to get some fabric to elongate it. That's how that came about. 
"The only person that I would have wanted to work with [outside of Aaliyah] was Lenny Kravitz, but he does well on his own." -Derek Lee
Prior to Aaliyah passing, Lee says they were starting to talk about where they wanted her style to go. Lee was leaning toward making Aaliyah look like an anime character, but in a way that read "modern superhero badass" as opposed to costumey comic book character, and mixing those references with elements of Afrofuturism. 
"She was really into that because she was into Japanese culture at the time and liked the idea of looking futuristic," says Lee. Aaliyah was also working on a Japanese-inspired fashion brand called Dolly Pop with her close friend Kidada Jones, Quincy Jones' daughter. 
I ask Lee if he would ever use that concept for something else and he immediately says no. 
"It was well thought out and it was ready to go. And it was for that one particular person. And since that one particular person isn't here, it went away," says Lee.
BET documented the making of "Rock the Boat" in the Bahamas for its Access Granted series not knowing this would be footage of Aaliyah's last days. There's a scene when she and her glam squad, which included Lee, Foreman, and makeup artist Chris Maldonado, are enjoying some off-time by the pool, laughing with Aaliyah as she showed off her yellow bikini and tie-dye sarong. "I'm eating it," says Aaliyah. While Maldondo and Foreman joined Aaliyah and six other people (​​Anthony Dodd, Scott Gallin, Keeth Wallace, Gina Smith, Douglas Kratz, and the pilot, Luis Morales.) on the small aircraft that would crash, Lee decided to stay behind for a few days. He remembers learning the news while riding around on his scooter and thinking it was a joke. 
"I couldn't believe God would take away this many people that I loved at once without me feeling it. You would think that you would know the moment it happened. Like something would leave your body. And it didn't happen like that and it kind of haunted me," says Lee. "I was driving on my scooter and they said, 'Yo bro, the plane just crashed.' And I was just like 'Fuck you. There's no way.' I even said it out loud. And they were like, 'Nah, man it's true.' And I was just like 'Yeah, whatever.'"
He thought getting back into the swing of things would distract him from grief, so he took a job styling Christina Milian for the "Get Away" music video with Ja Rule, which was shot in Paris. But he quickly realized he wasn't ready to style again. "As soon as we started shooting by the Eiffel Tower and after getting her dressed and trying things on and being in the trailer, I just kind of broke down. I was like this is too fresh and I need a break," says Lee.

Eventually he moved to New York to be closer to family and partied to cope with the pain. "I took it out on myself for about two years and I had all my friends around me to help out. I moved back to the LES into a nice apartment with a backyard. So the party was always at my place. It was a lot of fun, but it was debaucherous," he says. But he eventually transitioned back into working by trading shifts with his mother on B. Smith's television show, B. Smith Style, which is where he met Lil Kim, who he worked with for her La Bella Mafia album and "The Jump Off" video. Lee says he was trying to make her look less designer-oriented and move her into more custom looks. He worked with Joe LeGrand on pieces like the the Adidas jumpsuit she wore, which they made from an extra large men's leather sweatsuit. He says he dropped the ball with a pink knockoff Gaultier look. "I can admit I failed on that one," says Lee.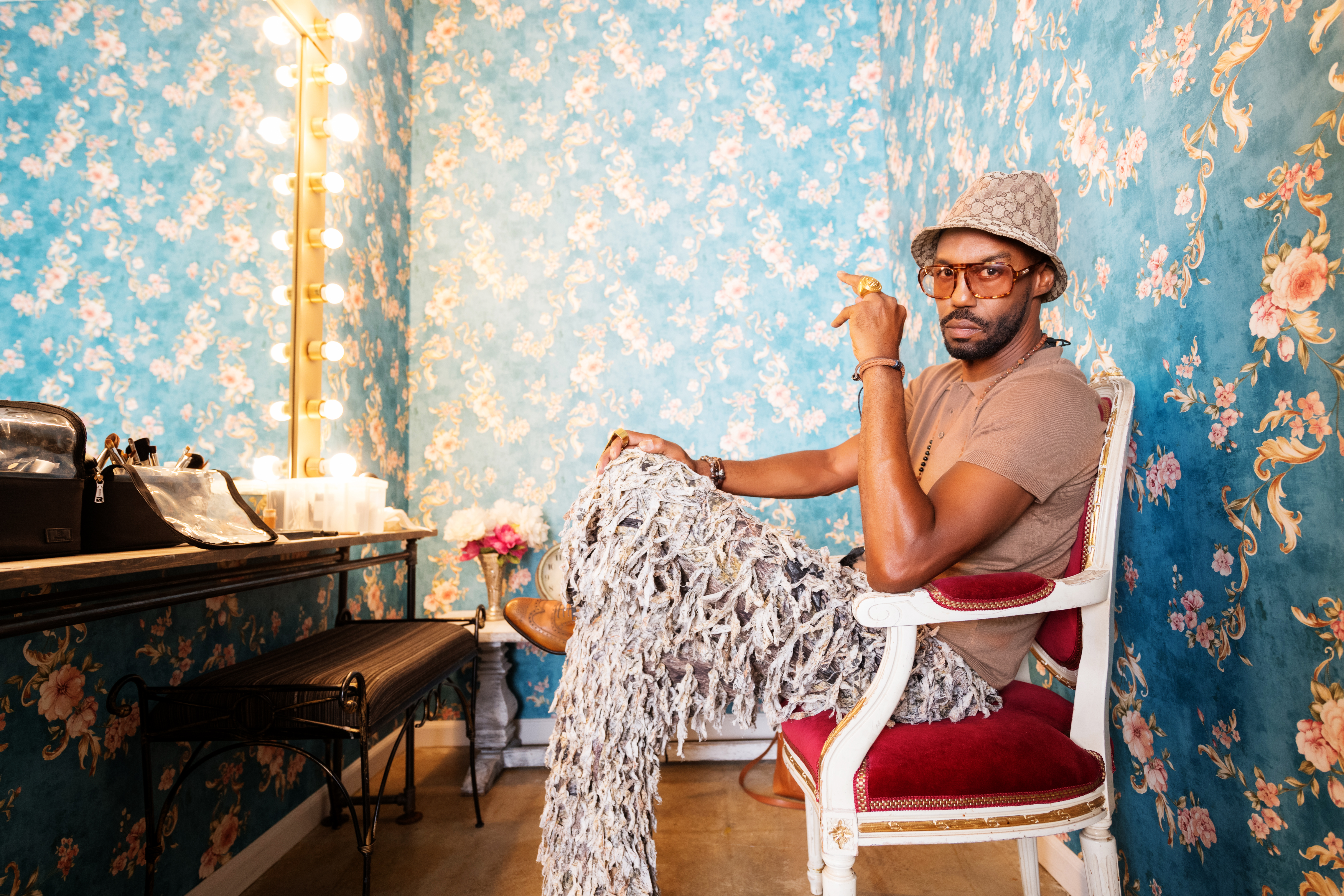 Lee now lives in Los Angeles with his wife. He says post Aaliyah's death, styling started to feel more like a job than a hobby and he would sabotage himself from taking certain jobs to avoid doing it. He did one-off jobs and worked with Usher for a little, but eventually decided to focus on commercial styling because it was lucrative and easy. But he never had the desire to get back into celebrity styling.
"The only person that I would have wanted to work with was Lenny Kravitz, but he does well on his own," says Lee, who does aspire to do costume design for film. "But I've done all of that stuff. I'm not the kind of person that feels like you have to grind that shit out for the rest of your life. That's how you get corny and played out."
Lee speaks about his work in a very casual way. He understands it's resonated with the industry and generations who weren't even born when Aaliyah was alive, but his main concern was to make Aaliyah happy, not influence the way people dress. Despite that, many of the looks he worked on with Aaliyah two decades ago still feel relevant. So I close out our conversation with this question:
Why do you think her style has endured through the years?
It's survived so long because it was organic and obtainable. It never looked costumey, except for that blue outfit in "More Than a Woman." And that was pushing it for Aaliyah. But that girl that Aaliyah embodied will always be present, no matter what's happening in fashion. That girl may not have that much money so she's wearing some baggy jeans and she tries to make it cute by cutting up her shirt and rocking some sneakers she can afford, that's Aaliyah in a nutshell. Now girls nowadays do the sexy cutout, bottom boob, that stuff is here for now, that stuff was there back then, too. It will go away, and it will come back again. But that girl that Aaliyah is will always be present. She's always there because it's always referenced. It gives you a bit of street cred. It's organically street without any apologies. And it was without trying to attain this thing from these other people. It was, I'm doing this for me and my people. That's why I think it will always be relevant.