With the whole androgynous thing a trend as of late, it was only a matter of time until fast fashion behemoth Zara got in on the action. After they put out a unisex product at a digestible price point—compared to its high-fashion inspiration, from which the trend found its feet—it was necessary for us to see what the hype was all about. We sent both of our Complex Style interns (one female and one male) shopping for the same pieces of the new ungendered line at different Zara locations in New York City, had them self-style, and review their pick-ups. These are their thoughts.
Though I never cared for the concept of women's clothing on a bro bod, I was curious to see what Zara would turn out. At the store, I found myself perplexed upon receiving the "are you an idiot?" side-eye when I asked a salesperson about the unisex line. Maybe I was the dummy for calling it by the wrong name—it's actually called "ungendered"—but the associate probably would have offered the same answer even if I had used the correct term, since she then went on to tell me about the store's layout consisting of separate men's and women's departments and where I could find each. Of course, this didn't help me find the line, but I took off on my own, assuming there'd be some sort of obvious floor placement or signage to aid me, as this was a new initiative for Zara. Without directions or in-the-know associates to guide me, I made my way to the women's section to a rack of clothing that looked to fit the bill.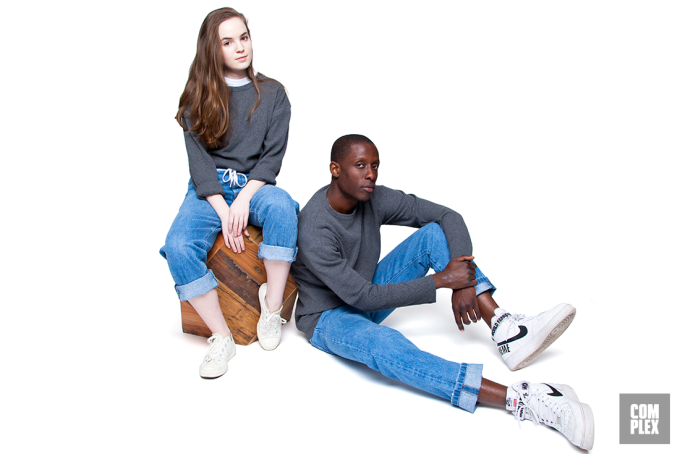 Turns out, that was where the ungendered collection was displayed. I left the hoodie and joggers behind as I picked up the white t-shirt, grey thermal, and lighter-washed denim. After a credit card swipe and signature, I made my way back home and went full-white-lab-coat, gearing up in the new threads in an attempt to form a real opinion on them. I found that the white t-shirt was of a pretty good value, as it only ran me about $16 and was more wearable as a standalone piece when held up next to an undershirt (duh). It was also significantly cheaper than a comparable American Apparel T-shirt. The fit was a little boxy, which was to be expected, as I imagine its intended design leans more towards an oversized fit for women. I can say that it was moderately thick; it wrinkled fairly easily in comparison to a thinner more "flowy" T-shirt option. As for the thermal, it took me a bit to decide on the proper size. I tried a large looking for a more dramatic look (wider collar and longer sleeves), but the body still had a taper to it. I never got the full oversized boxy shape I desired and ultimately opted for a more fitted medium. It was also pretty thin, which I can't be mad at, considering that it's a spring piece.
The denim was sized the same as the t-shirts and thermals (xs-xl), as opposed to traditional men's waist and inseam sizes. Since I'm on the trimmer side, I managed to get into a medium, although they were somewhat tight on the hipbone. Outside of that, they fit as one can expect a pair of dad jeans to fit; wide leg, no taper, short inseam, with the added flair of slight distressing at the hem. They weren't of the highest quality, as you can imagine, but were only $49.50, offering the whole boxy pant look without having to rummage through the racks at your local thrift shop or the nearest Ralph Lauren (am I the only one to notice that's the Ralphy fit?).
Post-experiment, I found my hypothesis confirmed: This unisex line benefits women a lot more than men, which is fine. From a male standpoint, the collection was a bunch of clothing we already own. For ladies, however, they no longer have to sneak out of their boyfriend's apartment wearing his t-shirts and hoodies post Netflix and chill. This really alludes to why the product was placed in the women's department to begin with. I'd like to thank Zara for their attempt at considering our feelings and including us in this whole thing, though. It's fair to say that the line could have very well been called the women's boyfriend collection, with similar effect. But shoutouts to their marketing team's "No Dollar Left Behind" initiative. —Javin Busby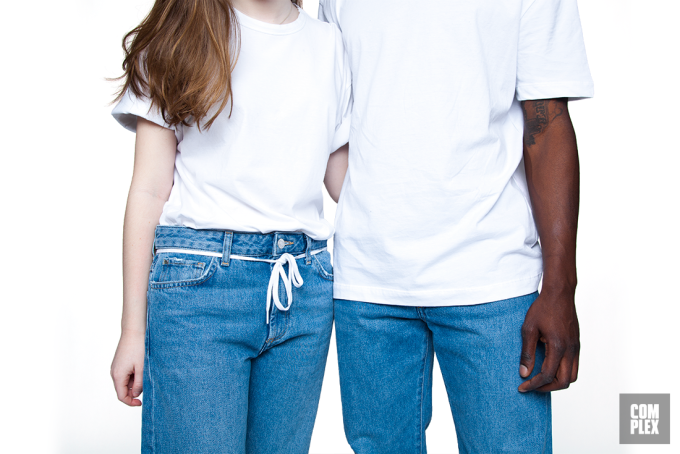 To be completely honest, I've never been a Zara fan, but the idea of an ungendered line was really appealing to me, considering I'm prone to wear men's clothes rather than women's.
Getting the clothes was a way more difficult process than I imagined. I went to three different Zara locations in NYC, and each time I asked someone to direct me to the ungendered or unisex clothing line, I was hit with a look of total confusion, followed by, "I have no idea what that is." So, I got out my phone and showed the dressing room associate in the women's department the pictures, and since the model was a man, I was told the pieces were men's clothing. But, fam, gendering the clothing is completely missing the point. So, I had him look the SKUs up anyway, and once I got the employees to understand the nature of the line, they were kind of helpful. Honestly, if I didn't have the SKU numbers, this probably would never have happened.
The jeans were definitely the piece I had to warm up to the most. They're sized small, medium, large, and to me, it made no sense to only make three sizes of jeans meant to cater to all genders. I need you to understand—I am a really tiny person and have no butt, so the baggy nature of the jeans scared the crap out of me. The waist was too big for me for sure, but it was easily fixed with a belt. The bottoms were incredibly wide, so I cuffed them to make them look decent on my twig legs. I still would have preferred something a little more fitted because I tend to wear tighter pants with looser tops, but they were really comfortable and easy to move in.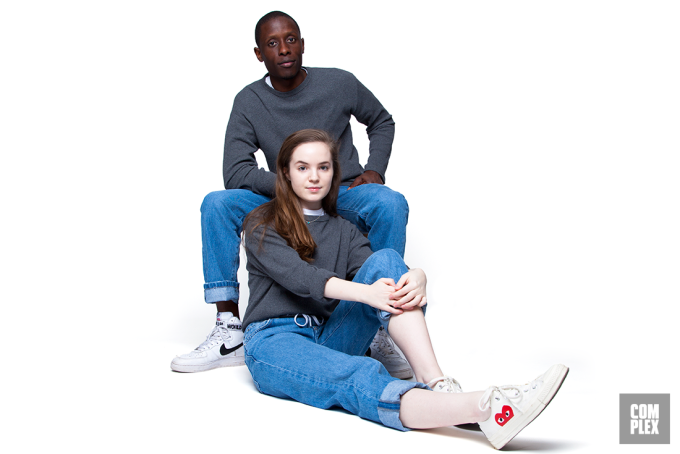 For someone who doesn't shop Zara, I have to say I was pretty happy with the quality. The white tee, in particular, was incredibly soft and not transparent, which is always my fear with white tees. I bought a medium primarily because they were out of smalls, but I liked the fit of the medium: It was perfectly oversized, and I can definitely wear it with anything in the future. Considering the low price, I'd say it's definitely a good staple for anyone's wardrobe.
I typically don't wear long sleeve anything unless it's a hoodie or a sweatshirt, but I made the grey thermal work. It's pretty stretchy, so I had no problems rolling up the sleeves, which I think looked a lot better. I'm always a fan of a raw hemline, which is one of this shirt's best features. I attempted to layer it and wear it as a sweater, but I think it's best as a stand-alone shirt.
All in all, I'd say the line is worth checking out and is a good idea. However, it really is "men's" clothing that also fits women. It wasn't anything too revolutionary, so I'd love to see Zara take the idea further—like a lot further—in the future. And maybe keep their associates informed. —Hannah Smith