Hedi Slimane is one of the greatest designers of our time. There, I said it. But, it's not just hype. The man—​through his tenure at Dior Homme, and now with his time at Saint Laurent complete—​ignited business at once-stagnating Parisian houses. He established his own distinct, hard rock-aesthetic and (stubbornly, and somewhat boldly) upheld one of the '90s most iconic, dangerous movements: heroin chic. But for all the controversy that has surrounded Slimane and his strong opinions, he's a proven commercial boon. As both casual and ardent fashion followers were bombarded with news about Slimane's departure from Saint Laurent, it's just the latest reminder that he is one of the few major movers in the world of the runway fashion. From celebrities to day-one Slimane fiends, there's no denying that the designer has earned his spot in the modern-day menswear pantheon.
Born in Paris, Slimane's earliest interests centered more around photography than men's design. While he had initial interests in becoming a reporter, he eventually turned toward menswear, working at first on a centennial project for Louis Vuitton, before securing the position of menswear director at Yves Saint Laurent in 1996. When he presented his "Black Tie" collection for the F/W 2000-01 season in January, Slimane unofficially launched the signature super-skinny silhouette that would define his designs from then on. Abdicating from YSL and moving to Dior Homme in the same year, it became clear Slimane was just warming up.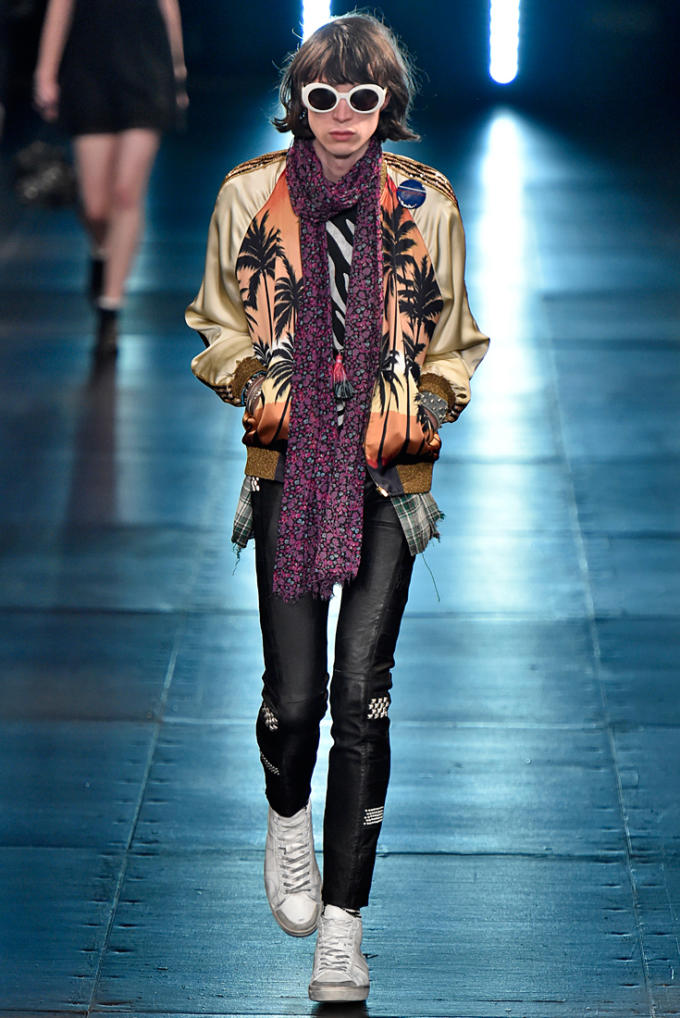 While Slimane earns points for launching Dior Homme's first fragrance in 2001—and inspiring the once-overweight Karl Lagerfeld to lose over 90 pounds in order to fit into his designs—it's his Dior Homme denim that truly takes the cake (sorry, Karl). Introducing the 21 cm, 19 cm, and 17 cm jeans (named for the measurement of the hem of the jeans when laid flat), these are arguably his greatest contribution to Dior Homme—and if you ask some fans, menswear as a whole—with his denim still obsessed over well after his departure from Dior Homme in 2007. It's an open secret that Kanye West designed his A.P.C. collaboration jeans as a loose reinterpretation of Slimane's 19 cm style. Ye also named a song after the brand's "denim flow."
One look at Slimane's collections, and his connection to music is apparent. Harkening back to his initial interests in photography, the designer migrated to Berlin from 2000-2002 to document the return of the underground indie rock scene and to find models. When he published the results from his residency in Germany, titled Berlin, it was clear that his time among rockers had left an impression, favoring tatted-up, ultra-skinny, pale models above all else. The love was mutual among rock royalty, with style icon David Bowie presenting the designer with the first-ever CFDA "International Designer of the Year" award in 2002. As indie rock began to evolve as the 2000's carried on, artists like Franz Ferdinand, Mick Jagger, Jack White, and The Libertines would tap Slimane to design on-stage outfits. Slimane was becoming ever-more unstoppable, but he did not renew his contract with Dior Homme in 2007. He dropped out of fashion design altogether and migrated to Los Angeles, alighting concerns that, like Helmut Lang, fans would be forced to shop on eBay for any leftover Hedi Slimane designs.
He was relatively quiet after that, turning much of his focus back to photography, curating California-centric art exhibitions at Almine Rech Gallery in his native Paris, and at MOCA in his newfound home of L.A. in 2011. But that year turned out to be a more eventful year in fashion than anyone could have anticipated, when John Galliano found himself out of the job as creative director at Dior after some drunken anti-semitic remarks at a bar in Paris. With the fallout from that wild incident consuming the fashion world, Slimane was rumored to be a favorites to replace Galliano. In the end, it was another former employer, Yves Saint Laurent, that would welcome Hedi back into the fashion fold as its creative director. His first collection debuted in September 2012.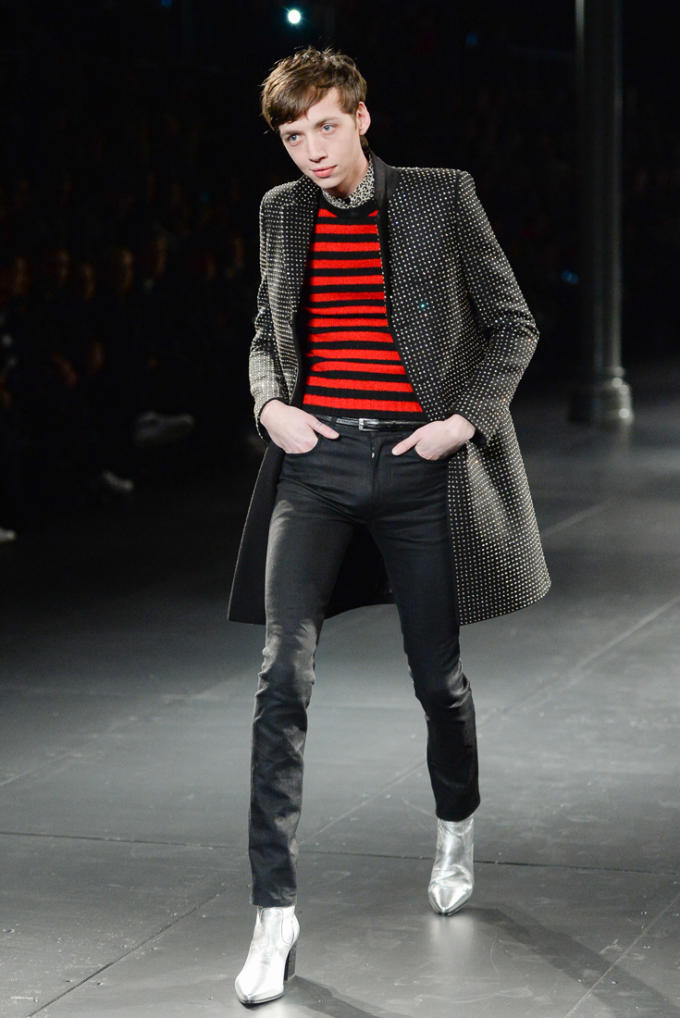 Like his time at Dior Homme, Slimane went right to work at YSL, starting by changing the name from "Yves Saint Laurent" to "Saint Laurent Paris" within his first year, garnering significant backlash. This would be just one of the controversies that hit Slimane from the start at his new post. Highly-regarded New York Times fashion critic Cathy Horyn wrote that she was "expecting more" from Slimane's Saint Laurent designs, cementing her status on Slimane's no-fly list. Among the many targets hit with jabs from Kanye West on Yeezus—his artistic detractors, croissants, and skeptical fashion investors, to name a few—Ye admitted in an interview with Zane Lowe that Slimane inspired "I Am a God" after he told West that he could only attend his debut Saint Laurent show if he declined invitations from all others. Summing up his anger to Lowe, Kanye infamously cried, "Rap is the new rock 'n roll. We the rockstars. It's been like that for a minute, Hedi Slimane!" There was a bit of irony and an inevitability to the fact that Kanye West and Slimane, two of the only people who can create such a firestorm in the fashion world, had turned their attention toward one another.
While some designers who create controversy often find themselves out of the job, Slimane proved that under his stewardship, Saint Laurent was big business. Even though he shifted the label's design studio from Paris to Los Angeles, no minor task, the executives loved Slimane. Under his reign, Saint Laurent sales rose and rose. Kering, the company that owns Saint Laurent, says it's the fastest growing label in its portfolio. From runway looks that have rappers inserting Saint Laurent into their rhymes, to the coveted SL/10H sneaker finding a place as a luxury item in and of itself, Slimane showed he knows how to make products that have Los Angeles indie rockers, rappers, and sneakerheads alike lining up outside their local Saint Laurent boutique. And honestly, what other designer can gather Justin Bieber, Lenny Kravitz, Lady Gaga, Ellen DeGeneres, Zac Efron and Sylvester Stallone to sit among indie rockers and cool kids for a fashion show, as Slimane did at his L.A. runway presentation this past February?
Love him or hate him, Slimane's design visions have extended far into the 21st century, in some ways by looking back at what came before and expertly executing it to fit within his singular vision. From skinny jeans to "SLP," we have Slimane to thank for impactful changes to how men dress and how we talk about fashion. While Slimane's next move will not necessarily inspire as much ink as his last, one thing is for certain: No matter where he ends up, if he remains in fashion, you'll know his handiwork the minute it hits the runway. And you might be among the many people rushing out to buy it, too.