Travis Kelce Is Ready for What's Next
We recently chopped it up with all-pro tight end Travis Kelce about his love of fashion, styling in the NFL, the Super Bowl loss, this new season, and more.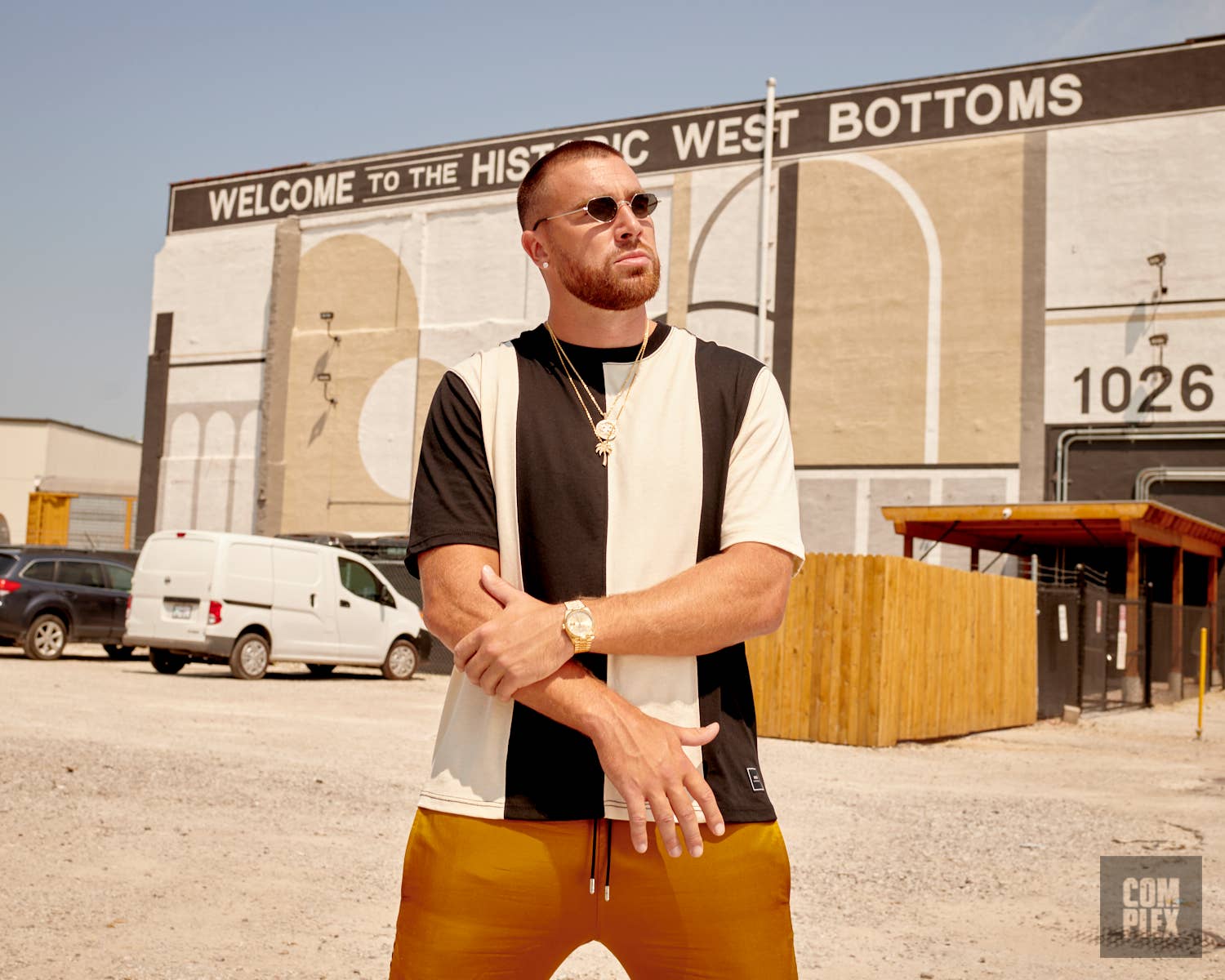 Complex Original
Image via Complex Original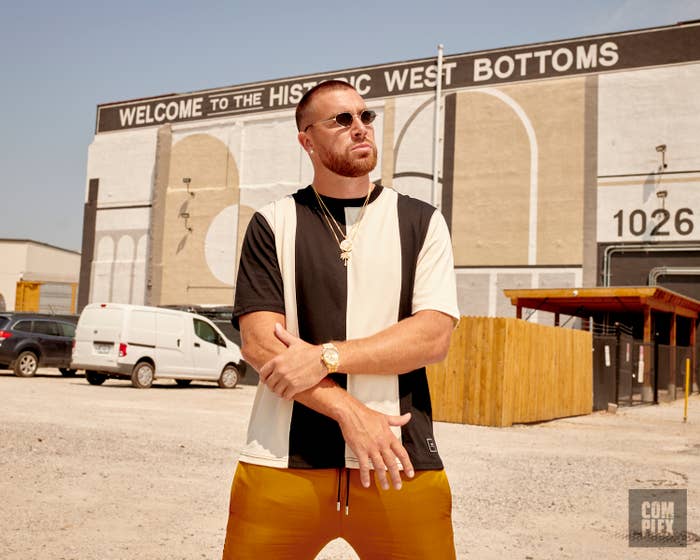 Sometimes things just happen or fall into place. Maybe it's just the way the universe works. Stars aligning and all that. You really never know when an opportunity might pop up and, in these Covid times, you really don't know what to expect on a daily basis. You sort of just go with the flow and roll with the punches, as they say.
I mention all of that because of the completely random way this interview with Travis Kelce, one of the best tight ends in NFL history, came together during a small Mercedes-Benz party in Augusta, Georgia, for the Masters earlier this year. It really was as random as it sounds. There was a country music performance and everyone was drinking really bright cocktails and wearing fancy hats. Kelce was there with Patrick Mahomes, and they were enjoying the atmosphere just like everyone else. As the tequila ran through me, I said, "The hell with it, I'm going to try and lock in Kelce for a big feature." Why not? If you've ever run into Kelce in a social setting, you know that he really is a man of the people. He worked the room like a pro and made everyone feel like he's known them for years. That's just who he is. Naturally, when I approached him with this idea, he was immediately into it. Ecstatic, even. 
Well, here we are. If you know anything about Kelce, you know he's not only one of the best players in the NFL, but he's a super-down-to-earth guy, always friendly and always very candid. As the premier weapon on one of the best teams in football, Kelce has probably proven just about everything he can on the gridiron. He's already 10th all-time in career yards receiving by a tight end, and everyone in front of him, minus Rob Gronkowski, is retired. It's safe to say that Kelce is going to keep climbing that ladder. But as he transitions into this next phase of his career, Kelce has an eye on life after football, whenever that starts. But defenses shouldn't get too excited, because the three-time All-Pro still has plenty left in the tank. 
We caught up with Kelce to talk about how he got over losing the Super Bowl, his shoe collection, NFL style, and much more. 
(This interview has been edited and condensed for clarity.)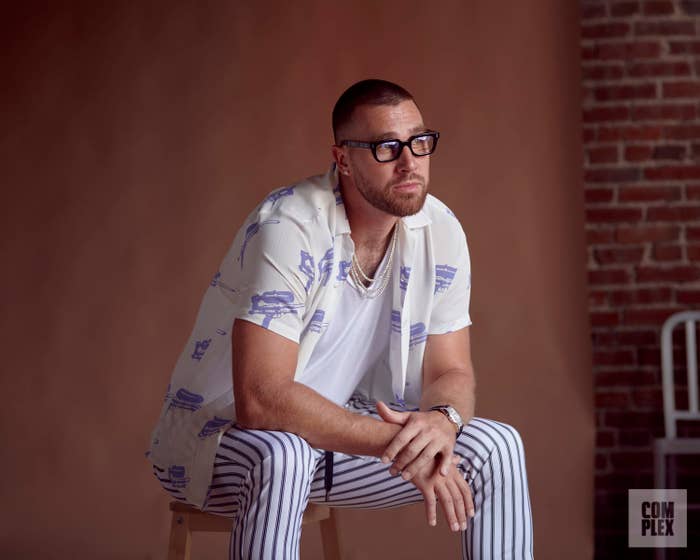 Before we get into anything else, I need you to explain this name confusion to me. 
[Laughs.] Long story short, I messed up Taylor Lewan's name and called him Taylor Leewan. And he kind of got on me about saying his name wrong, knowing that we came in the same year, we've known each other for so long, and all that. Actually, I'm pretty sure, I'm not sure if we came at the same year, but I've known him for so long, basically just butchered his name on his podcast. So I felt the need to try and kind of recover, make him feel a little better. Like, oh, man, people been saying my name wrong for forever.
Knowing that this is how I've told everybody to say my name. Everybody on my father's side says "Kelse." K-E-L-C-E is just "Kelsey," is what my father started to tell everybody, because he was too lazy to keep correcting everyone. So my entire life, I heard my father work from home, and I heard, "Hello, Ed Kelsey," every single time he answered the phone. So I just went with Kelce. I wasn't expecting everybody to just, I don't know, have my name trending and everybody really even care that much because I've gone by "Kels," "Kelsey," "Kalise." I mean the names I heard growing up have been ridiculous.
I think we can safely say you're one of the most stylish guys in the NFL. I think that's something we could easily put out there.
I appreciate that.
Have you noticed a new wave of NFL style? Sort of trying to get on the NBA-tunnel-type thing going?
Without a doubt, the NBA jumped it off because of the entrance. Right? I don't know who, I don't know what teams started to take pictures of guys walking into the facility or walking into the locker room or going from the players' parking lot to the locker room, whatever it was. I don't know who started it, but it started a wave of just fashion-forward sports players. And I think guys in athletics have been involved in fashion for such a long time. You look at a guy like Deion Sanders, Terrell Owens. I mean, let alone all the Michael Jordans that have been in the fashion world because of their shoe deals and stuff like that. Without a doubt, I think the football world is starting to kind of come around to being that fashion-forward mentality. And our game days are 16, 17 weeks, now 18 weeks out of the year.
So it's like we get almost anticipation for those big-time moments. It's almost like it's a red carpet every single week. Where in the NBA is just like, ah, it's-just-another-day-type fashion. A lot of the their playoff games, they come with a little bit more heat and a little bit more dressier look, you know what I mean? A little bit more fashionable look. But for the most part, the day-in, day-out games, the 82 games that they play, it's really just everyday fashion where the NFL is like, alright, your red carpet; if you're on an away game, you're typically in a business casual. A lot of teams make you wear suits to games.
It was just an embarrassing kind of just… I don't know. It was something that I wasn't proud of that I didn't even want to really show my face around the city. I didn't want to be around anybody.
I know in Kansas City, we have to be business casual slacks. You can't go full jeans and a T-shirt on an away game. Like, you have to actually dress business casual. So I think it's a little bit more of a red carpet on the week-to-week and regular-season games in the NFL. And I don't know, it's just been a whole lot of fun kind of being in the mix of all that.
So when do you lay out your fits for the week? Because I know you're not just coming up with it on Saturday night.
You're right, dude. Sometimes it's Sunday morning.
Really?
I swear, man. I will say this, I'll know I have a bunch of stuff in the closet that is––I don't have a stylist. I never really, I mean, unless it's something I did with a brand like, last year with the suits. Years prior to that, I made sure I had five to eight suits from a Gentleman's Playbook. I'll make sure that I have looks especially for the away games, because you can't just throw whatever on. I could throw a really cool jumpsuit and some sneakers on for a home game and look, like, streetstyle fresh. But [if] it's for an away game, there has to be a little bit of thought that goes into it before the night before. But, honestly, it just depends on what I'm feeling when I wake up, and typically I'll wear the same thing whenever we go on an away game. I'll have a suit for the travel day and then, as well as game day, I'll have the same exact suit.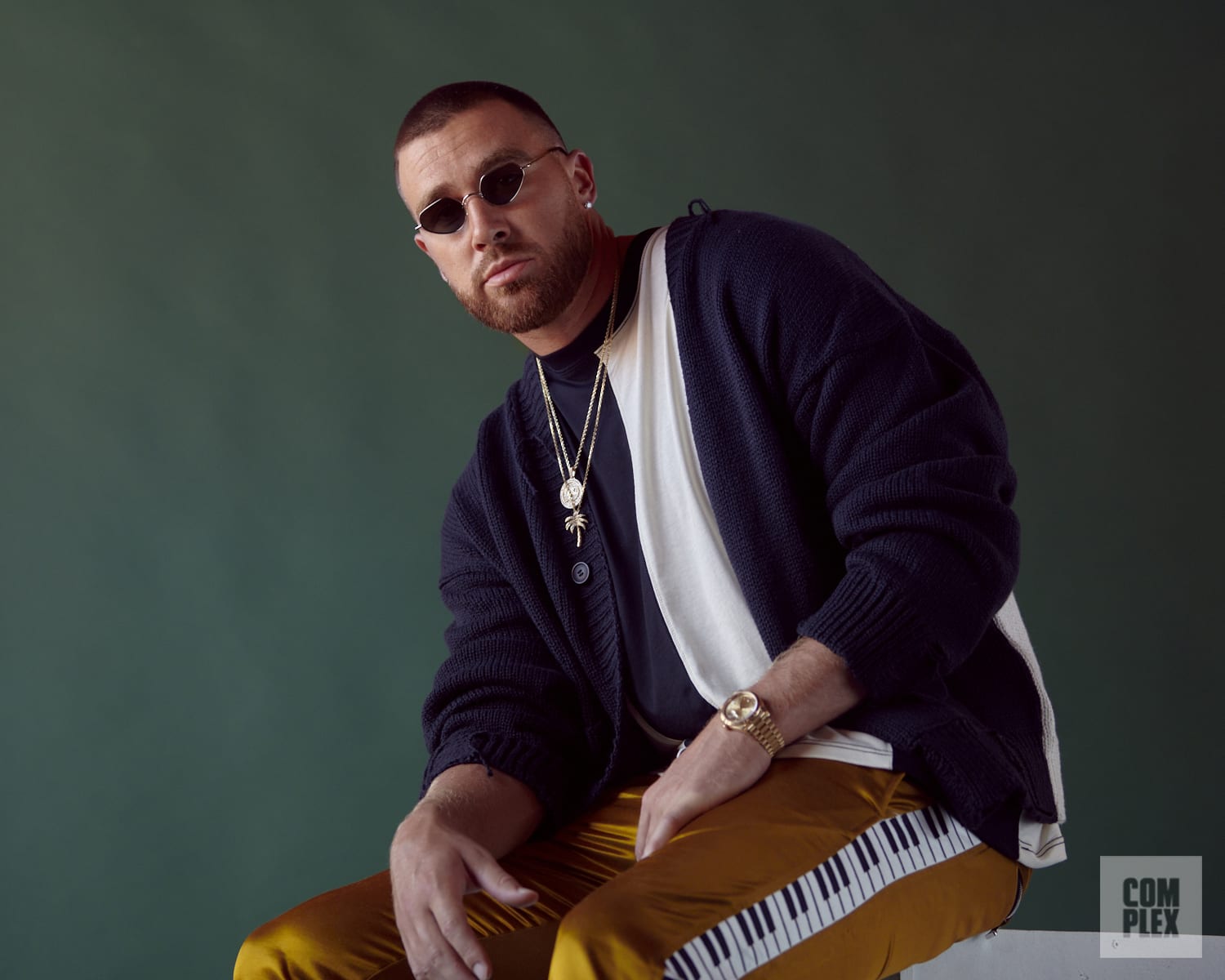 You mentioned once that you have around 300 sneakers. Has that collection grown? Is it 500 now?
I mean, it's probably still right around 300. I've gotten rid of a lot of them. A lot of them are wear and tear and I've given them away.
What's your favorite sneaker right now? What's your rotation?
Man, low-top Dunks right now are just my favorite summertime shoe. You can just throw them on.
Dunks seem to be everybody's favorite right now.
Yeah. They're awesome. You can literally throw them together with everything. If I were to think of something that's a little bit different, I like the low-top [by] Rhuigi [Villaseñor]. Kicks that came out not too long ago. I was actually just wearing those today in the shoot. Man, I'm trying to think. I'm such an old school, '90s basketball lover that I wear Js, Barkleys, and the Ken Griffey Jr. old-school, 24 on the strap. I wear such old-school kicks because I like to wear vintage tees and take it back to the '90s and early 2000s.
What's your favorite Jordan?
Whew. Initially, it was the Bulls 6. It's just a white and red 6s. They came out with [an] infrared pack with—you had the black suede with the infrared 6, is actual black. I think it's suede... No. It's black suede with the red bottom and then the clear actual bottom instead of—and then they had the white pair with the red, was initially my favorite Jordan. I mean, since I've started to really get into it, the classic Jordan 1 has just taken over. I just, I absolutely love the silhouette, what it means. 
So let me ask you this: What was it like the day after the Super Bowl loss to the Bucs?
Man, trying to take me back.
I'm sorry. I'm sorry.
No, no, no, no. You're fine. I have erased everything from that game other than what I learned from it. I think I just turned my phone off and I was to myself. I don't think I really did anything. I think I just laid around the house, and once I went to the facility, we had our exit meetings, and that was that. I didn't really do much. I know the weekend after, I mean, me and my girlfriend, Kayla [Nicole], jumped ship to Puerto Rico just to get away and have a weekend to ourselves, but the initial day after, man, I didn't watch the film until probably a couple of weeks after, or at least a week.
It was just an embarrassing kind of just… I don't know. It was something that I wasn't proud of that I didn't even want to really show my face around the city. I didn't want to be around anybody. I didn't want to talk to anybody about it. There was nothing to talk about. Everybody saw exactly what happened, right? So I don't know.
It was a helpless feeling, but looking back on it, you start to find things throughout the game, throughout the first half, that could have gone your way. 
How focused are you guys right now on bouncing back from that? You and Patrick Mahomes seem especially locked in. 
Yeah. You have to be. You have to be, and to be honest, I think that was something that we felt very confident going into the last game. We knew who we were. We knew the type of game that we were capable of having and we didn't really think that losing 30-9 was even in the fucking picture, excuse my language, but we didn't. It wasn't even a thought in our mind. We thought, "Oh, it's going to be a good game." If anything, we would lose in—you know what I mean?—not to say that if we were to lose, you know what I mean? Just in your mind, it's going to be a great game or we're going to blow them out like we did in the regular season, or we're just going to run away with it like we did in the first game that we played that season.
Getting blown out was never something you thought of. 
It was never even a thought, and sure enough, everything happened rapidly. I mean, we got down 21 to, I think, 6 or 27-6. I forget what happened in the first half, but we got down real quick and from that point on, it was just an uphill battle that we couldn't—the hill just kept getting higher and higher on us. We couldn't get to the top of it to start to get some momentum to come back down and it was a struggle, man. It was a helpless feeling, but looking back on it, you start to find things throughout the game, throughout the first half that could have gone your way. 
I could have made a play here or there that could have gave us some momentum that could have made everybody feel more at ease, taking a little pressure off of the offensive line, taking a little pressure off of Pat, feeling like he has to be Superman out there. There's certain points of the game where it's just, like… And sure enough, you got to communicate that. You got to talk to the guys about that. Guys know, "Hey, man. You're not out there alone." And I felt like in a sense, Pat, in times, felt like he was out there alone because of the situation that we had and the defense that they were playing. That was a great defense. Absolutely phenomenal defense. Did we move the ball on them? Yeah, but we got to put up touchdowns in the Super Bowl. We can't put up three points. And it was just once we got down, it was tough. It was tough to get back on a great defense like that.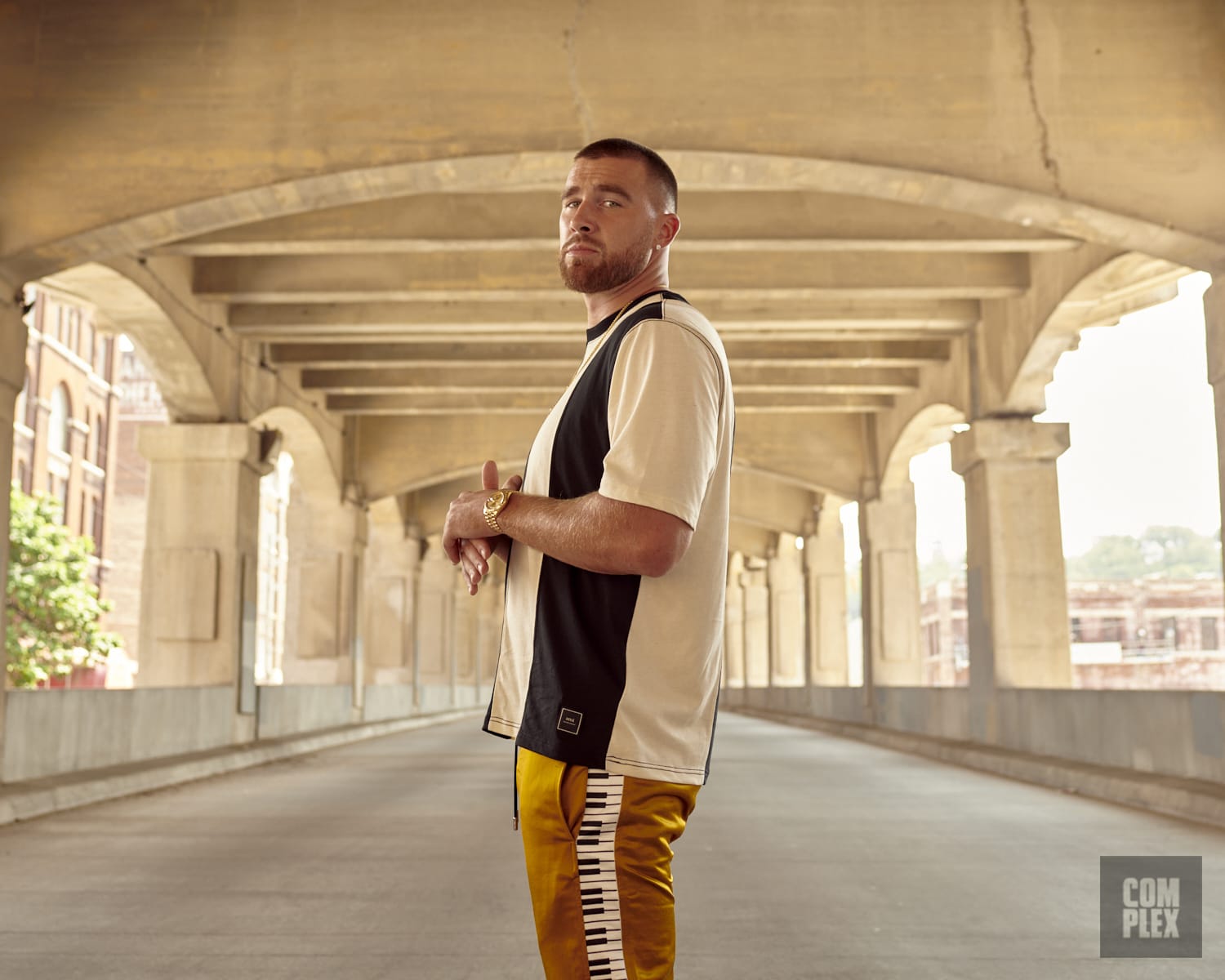 Was there anything where you were like, "Tom Brady again? Really? This fucking dude?"
No, no. You don't think about stuff like that, just because you know how great of a player he is, but you also know we have no control. As an offensive player, I have no control over what that side of the ball is doing.
That is true.
I have no control over that. So everything was based off of this defense, the matchups that we're getting, how do I get better, versus those matchups and the guys that they were matching me up. And going into this year, I'm confident that I'll be that much better and have that much better of a game moving forward.
At this point in your career, do you even worry about individual stuff? You're already a first-ballot Hall of Famer. Or is it just team goals?
I feel like the individual stuff is… It's fun to put goals up on the board and say, "I want to do this. I want to do this. I want to be the leading receiver in the National Football League." It's fun to do that, but again, this game is so team oriented, and that's what I really learned over the course of my career, is that all the individual stuff is just hoopla, man. It really is. Because I don't break the tight end receiving record without a great offensive line, and Pat Mahomes back there, Tyreek Hill taking off and grabbing so much attention. There's so much that goes into me being a good football player that I think it's silly at this point in my career to try and focus on the individual accolades. It's who I've learned to be and the type of leader that I want to be and the type of player that I want to be. All that stuff is going to take care of itself.
Coach [Andy] Reid is going to dial my plays up, you know what I mean? I'm going to get the opportunities. I just have to take it a play at a time to go out there and just be the best player I can for the guys on the field. Yeah. It is what it is, and I've just been fortunate that I've been healthy enough for the past however many years to keep playing a full season's worth of games.
This kind of comes in with the TE University thing you guys did, but do you ever reflect on what you've done for the position? Has that hit you yet?
I'll tell you what. It hit me out there. Listening to guys talk to me about the things that I've helped them with. Just hearing guys like Greg Olson, a guy that I've looked up to my entire career. I call him Dad because he's such a fun guy to be around and he's very much willing to teach the guy next to him, to be that lending hand. And to hear him talk about my career and how far I've come, that was pretty cool. So stuff like that is what makes me sit back and be like, "Oh, alright. I am doing the right things."
But I think the biggest thing that I've done in terms of change the game is take advantage of the opportunities. In practices, the things that people don't see is the opportunities that I present for myself in practice: the way I run routes, the way I talk to Coach Reid, the way I talk to the quarterbacks. I'm not demanding anything. It's just a genuine conversation that, "Hey, if we do this, I'm pretty sure I can get open. It's your call. If you want to try it, I can put a stamp of guaranteed on, you know what I mean?" But it is what it is. It's always just a conversation, and that's what really makes it fun and that's what makes it develop for everybody. Instead of just saying, "Oh, hey, I'm going to run a corner on this route. I'm going to run this route on this specific play. Throw it to me," it's more of a discussion so everybody can visualize it and everybody could feel comfortable with it.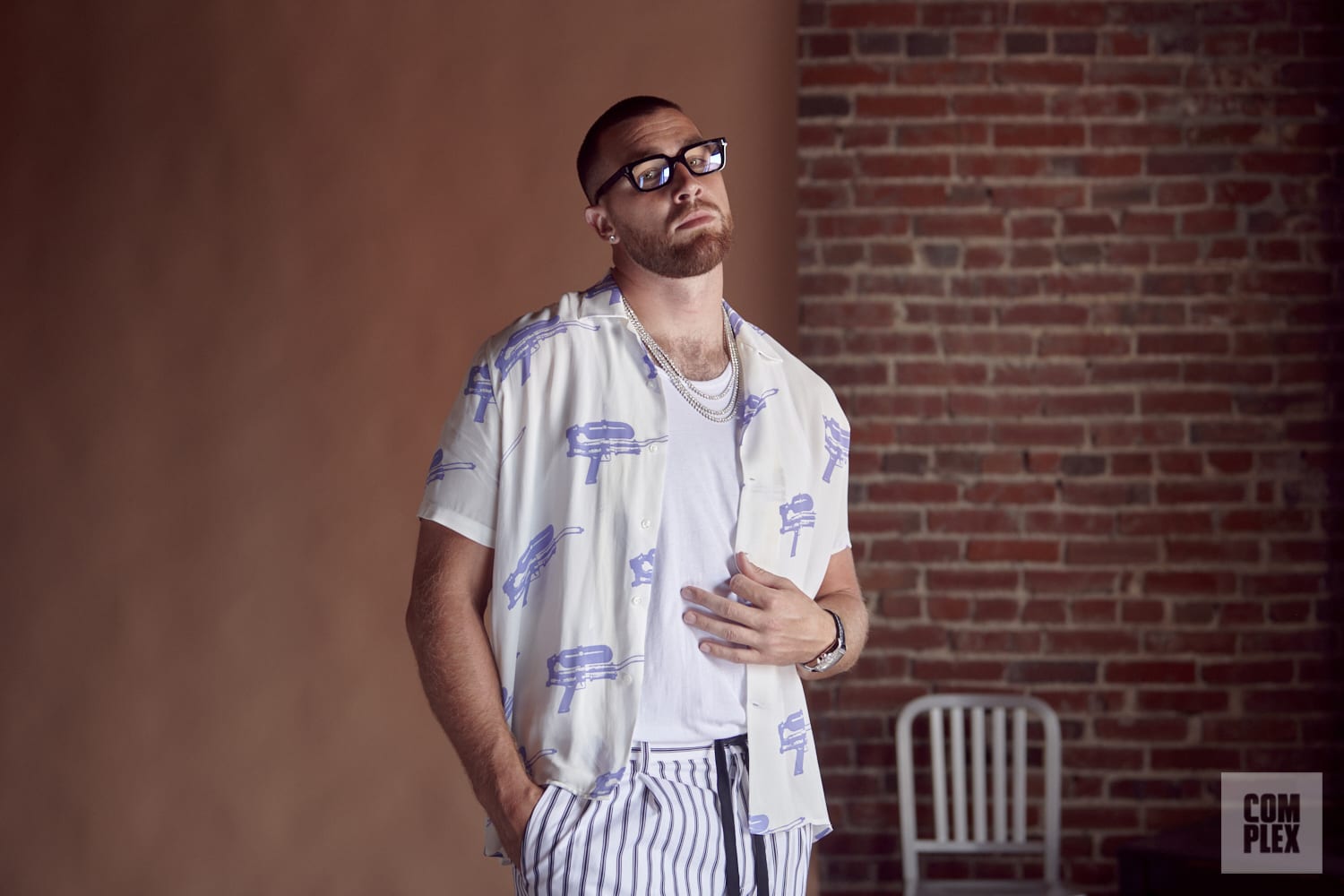 We talked about NFL fashion compared to the NBA, but another thing sort of happening is this player empowerment movement. Do you think the NFL could ever get to the NBA level in terms of that?
Well, without a doubt, you hit it right on the nose. I think that has been something the NFL has been chasing really since before I was even born. You could probably date it back all the way to when the ABA and the NBA combined and all the things that the African American players had to go through just to get treated the right way, the right pay, knowing that they were the stars of their sport and they were stars of their attraction. Right? So I think that without a doubt, they've started at such an earlier time, and their faces are so much more recognizable because they're not under face masks. I really do believe that the NFL has been trying to catch up to the NBA and the MLB, if you want to throw them into it. But, really, the NBA has done a great job of not only showcasing their stars, but giving their stars the platform to showcase their brand and who they are as a person.
Do you think it can work on the same level? Or is it not possible with the way the NFL is set up?
I don't think it will ever be. I don't think it'll ever catch up to the NBA, strictly because there's more players. More players means there's more attention going elsewhere. The NBA is, everybody's talking about Giannis [Antetokounmpo]. It is what it is. You can't not talk about the guy. When you talk about his team, that's who you typically talk about. When you talk about the Chiefs, you could talk about Tyreek Hill, all the offensive line that we just picked up. It can go all over the place. I think that's just the nature of the beast. But I do think that the NFL is trying the hardest and the NFLPA has helped out a lot with that in terms of getting guys out from under the face mask and into your living room and even into your communities.
Have you put a lot of thought into your post-NFL life and career? Is that something on your mind? 
I feel like I'd be silly to say that I don't think about it. I think it's the smart thing to do, to get the ball rolling and get a headstart on it. I recommend that to all the players that come into the league. Make sure… you just don't know what this life has for you, has planned for you. You just don't. So to [plan] for the future, or at least have a plan B, I thought that was always the right move. Even when I was in college, I always had it in the back of my mind, what other sport was I going to try?
Thankfully enough, football ended up working out for me and I didn't have to try baseball or try and go overseas in basketball or whatever the heck I was dreaming up in my head. Whatever. I just feel like you always have to have that, because you never know what life is going to present.
I think about it every now and then. Really just the offseason, for the most part. A lot of my investments and stuff like that, that's something that I've always wanted to really get into, just because… why not have the money that I don't use daily to make more money? It's a smart idea. It's a smart thing to do. I learned that from the 30 for 30 on ESPN, about being broke in the league.
I don't know. So you got to do it that way. Then on top of that, being in the community and being out here being a friendly face. It's just who I am. It really is, man. I don't know any other way to put it. I was raised to lend a helping hand, and from there, just being a genuine person and trying to do that. But I don't think about the future in terms of after football much, but in the offseason, I tailor my offseason to get comfortable or get acclimated in certain areas that I might have interest in, like the booth or acting or…
I was about to say, would you act or would you do the booth? Do you think that's something that could be in your cards?
Both of those things I've enjoyed when I did them. The acting thing, I did the Moonbase 8 deal on Showtime. That was extremely fun. I don't know if it was so much for me as it was an extremely cool opportunity that I just had a blast being around John C. Reilly and Fred Armisen and them. You know what I mean? Because you're going to want to have passion behind it. You're going to want to have a grasp and turn it into your own art.
I feel like that's my next stage in life. I have to find that love for whatever it is. I don't necessarily know if I found that yet. I think being in the booth is something that I do have fun with. I've been being a silly knucklehead, making fun of commentators my entire life. Maybe I'll be one of those guys that get made fun of here. I don't know, man. But I know it's something that I'm comfortable with and that I do feel confident that I could be able to do if I focused in on that craft.