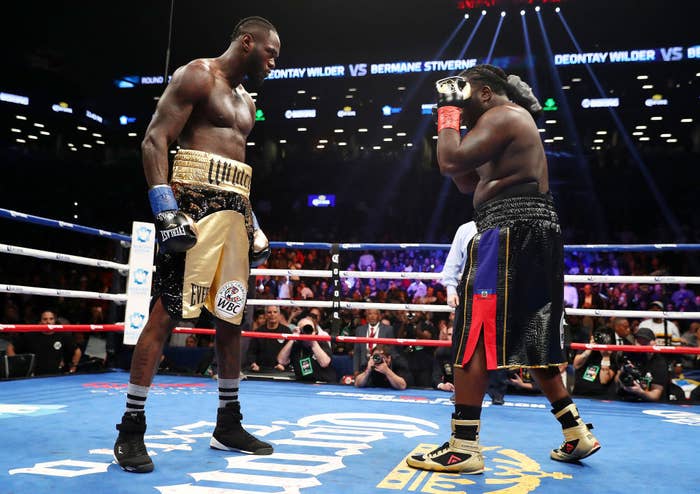 By the standards of previous generations, Deontay Wilder is a perfectly awful fighter.
His 6'7", 225-pound body is athletic but gangly. He has an impressive wingspan—at 83'', it a whopping five inches longer than Muhammad Ali's—but often flails around like someone trying to kill bees with a sledgehammer. His footwork can be awkward, even clumsy, and his boxing technique would embarrass the legends of the sport. Although he is 32 years old and a veteran of 39 professional fights, he very much resembles a guy who took up boxing late in life, and as an afterthought, which is exactly what he did.
And yet, Deontay Wilder is the man most likely to become the first undisputed heavyweight champion of the world in 15 years. Because despite being unschooled, undisciplined, and at times unwatchable, Wilder has so far also been unbeatable.
The reason is simple. Even if Wilder can't, in the classical sense, fight, "man, can he punch"—to borrow the words of Mike Tyson after watching Evander Holyfield knock out Dwight Muhammad Qawi in 1987.
"I have had to do some catchup in my professional career,'' said Wilder, an all-around athlete who turned to boxing to help pay the medical expenses for his daughter, Naieya, who was born with spina bifida. "But I think I'm where I want to be. People see me swinging wild and all that but they really don't understand that I do that just because I can get away with it. It's entertainment. And I give them what they come to see, and that's a knockout. And it ain't just that I knock you out, it's the way I knock you out.''
That is what makes Wilder—who defends his WBC title for the seventh time, against Luis Ortiz, on March 3 at the Barclays Center (Showtime, 9 pm)—the odds-on favorite to be the last man standing when, and if, the heavyweight division ever consolidates its rather modest collection of talent into a single, definitive showdown.
But Wilder is not the only big man to reckon with in boxing's glamour division.
While the heavyweights of today cannot match up with those of the Golden Age between 1964 and 1990, when Ali, Frazier, and Foreman ruled, followed by Holmes, Tyson, and Holyfield, and with challengers like Jerry Quarry, Ken Norton, George Chuvalo, Oscar Bonavena, and Ron Lyle waiting in the wings, what the current division lacks in quality it makes up for in quantity.
And that makes the makes the current heavyweight division, if not exactly transcendent, in its own way resurgent.
Aside from Wilder, there is an unbeaten Englishman, Anthony Joshua, fighting an unbeaten New Zealander, Joseph Parker, on March 31 in Cardiff, Wales, and an unbeaten Cuban émigré, Luis Oritz, challenging Wilder this weekend in Brooklyn.
Eventually, the two winners will meet in what is likely to be the most anticipated heavyweight matchup since Mike Tyson challenged Lennox Lewis—the last man to hold the title of undisputed champion—in 2002.
The hope of fight fans—and the promoters who stand to reap a windfall from it—is that the showdown will match Wilder and Joshua, the division's 1 and 1A, who in terms of skill are no Ali and Frazier but are likely to mesh well style-wise.  
Where Wilder is wild, Joshua is technically sound. Wilder is explosive, Joshua deliberate. Wilder can be loquacious to the point of braggadocio while Joshua is soft-spoken and polite. Although Wilder's size has been a huge advantage over most of his opponents, Joshua will be able to look him in the eye: He is 6'6", has an 82'' reach and routinely fights at around a chiseled 250 pounds.
And although Wilder's highlight tape is a procession of spectacular KOs, often of the one-punch variety and nearly always courtesy of his right hand, there is no fight on his résumé quite as impressive as Joshua's title-winning performance against Wladimir Klitschko last April, an 11th-round TKO that he had to climb off the canvas to accomplish and earned fight of the year honors from many boxing publications and writers. 
Joshua is a king in his own realm; his fight against Klitschko drew 90,000 fans to London's Wembley Stadium, a crowd reminiscent of the days when Jack Dempsey routinely pulled 100,000 into makeshift wooden stadiums in the Roaring '20s, and his first defense, against Carlos Takam in October, brought 80,000 to Cardiff's Principality Stadium. His fight against Parker, a more formidable foe, likely will do even better.
But he has yet to fight in the United States, the most likely site for a unification bout against Wilder, and there is still some doubt about how well-known he is to American fight fans and how strong a box office draw he will be outside the U.K.
"People see me swinging wild and all that but they really don't understand that I do that just because I can get away with it. It's entertainment. And I give them what they come to see, and that's a knockout. And it ain't just that I knock you out, it's the way I knock you out.'' — WBC HEAVYWEIGHT CHAMPION DEONTAY WILDER
Behind the big four is a six-pack of second-tier talents, all of whom are in some way or other damaged goods: Russia's Alexander Povetkin, a loser by decision to Klitschko in 2013 who was supposed to fight Wilder in 2016 but failed a drug test and is now 38 years old; Dominic Breazeale, a 32-year-old Californian who has already been stopped by Joshua; Dillian Whyte, an Englishman who was also stopped by Joshua; Kubrat Pulev, a Bulgarian knocked out by Klitschko in 2014; David Haye, a former British sensation who also lost to Klitschko, laid off for four years and is attempting a comeback at age 37, and Tony Bellew, who lost twice as a light heavyweight, but is 9-0 since moving up to heavyweight. One of those wins was a TKO over Haye, with whom he is scheduled to fight a rematch in May.
Plus there are a couple of unbeaten youngsters—Brooklyn's Jarrell (Big Baby) Miller, who has come into the ring carrying nearly 300 pounds on his 6'4" frame but was a relatively-svelte 283 when he stopped Mariusz Wach in his most recent fight in November, and Adam Kownacki, a transplanted Pole fighting out of Brooklyn who is 17-0 with 14 KOs. Either, or both, has the potential to develop into something to watch.
And there is always Tyson Fury, a colorful 29-year-old blowhard who beat Klitschko in a dreadful fight in 2015 and seemed headed for an interesting bout with Wilder but hasn't fought since. He pulled out of a scheduled rematch with Klitschko after spraining an ankle, subsequently was suspended for testing positive for cocaine, and has spent much of the last three years battling depression. Although he periodically announces plans for a comeback, his boxing future is very much in doubt despite his 25-0 record.
All of that is good for boxing if only for one elementary reason: In combat sports, size matters. It's wonderful to be a killer among featherweights or welters or even middleweights, but it's something else to be the ass-kicker among ass-kickers. Throughout history, that man has always been the heavyweight champion of the world, something boxing hasn't really had since Lewis retired following an unexpectedly difficult win over Klitschko's big brother Vitali in 2002.
"The heavyweights have always been the shine and glory of boxing,'' said Wilder, who, with some luck—along with a stroke or two of his right hand—could bring some of that back to sport that desperately needs it.