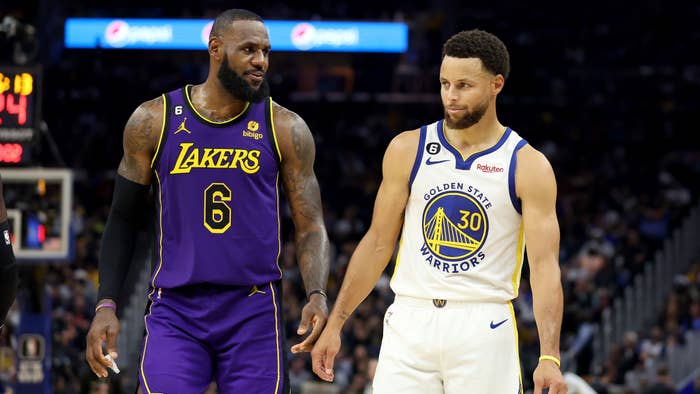 It's not often that the basketball gods align the playoffs in a way for two players like LeBron James and Stephen Curry to match up in the early rounds but here we are. We're witnesses to another chapter in a series between these two Goliaths. After leading their respective teams to upsets of higher-seeded opponents, both Curry and James look to continue the momentum from the first round. The shared history between the two from their repeated clashes in the NBA Finals with LeBron as a member of the Cavaliers to the anxiety-inducing Play-In game in 2021 as a member of the Lakers has enough pages to write a book about alone.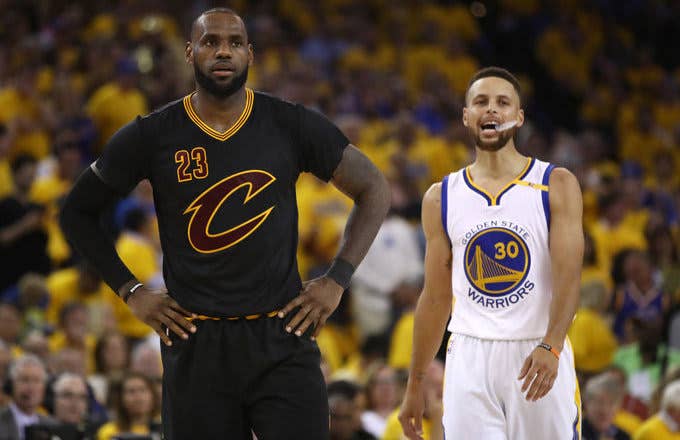 The story includes captured championships even after the hallowed Cavs-Warriors Finals matchups. 
The Lakers collected a championship after landing Anthony Davis in a blockbuster trade, adding a fourth trophy to James' resume while Curry notched a fourth for himself last season in a masterful Finals series against the Boston Celtics.
These entries into the logs of NBA history don't just live on the court either. Both players boast voracious fanbases who have the capacity to debate and defend the legitimacy of their favorite players' championship for hours on end. Depending on which social avenue you decide to walk down, you are bound to find endless threads of fans arguing about injuries to Kyrie Irving and Kevin Love, Draymond Green's Finals suspension, or the competitive balance destroyed by the recruitment of Kevin Durant. In the end when you've made it through the sludge of hypothetical arguments, a familiar word begins to appear repeatedly.
LEGACY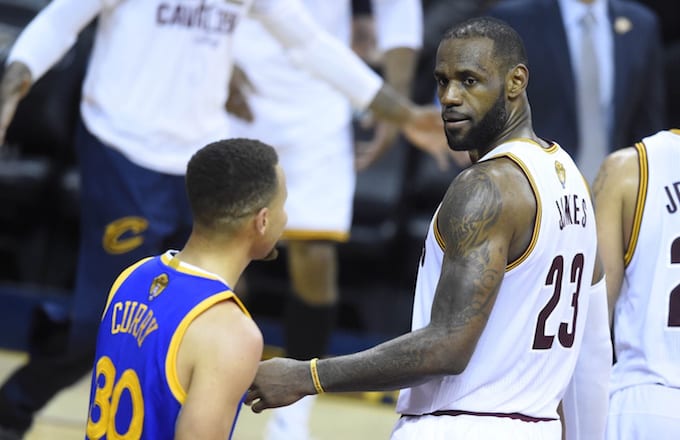 For both Curry and James, the conversations about their individual legacies are tied together as much as they are unique to themselves. With James solidifying himself this season as the all-time scoring leader in NBA history and Curry becoming the all-time leader in 3-pointers made the season prior, both have accomplished feats once thought to be impossible. The actual discourse around the players could not be more different. When it comes to LeBron, the usual sentiment is that either you have him as the greatest of all time or second to only Michael Jordan. 
With regard to Curry though, the conversation seems to be more complex.
Curry's individual record breaking accolades on top of four championships, All-NBA considerations, and pivotal moments in the playoffs should have his name among the greatest to play the game. Steph has a worthy claim to being the best ever at his position as well (or at least the second best at minimum).
But even with his extraordinary accomplishments, there is always a convenient context that naysayers will present. For two championship seasons, the specter of Kevin Durant is credited heavily. For his first championship, the immediate counterpoint of injuries to Kyrie Irving and Kevin Love are tabbed. Even during his most recent championship journey, every round of success is challenged by a player from the opposing team missing due to injury. For other superstars injuries are part of the game and improving the roster is happenstance but for Steph Curry they are blemishes on a legendary career.
That is why this second round showdown between Curry and James means more to the bay area superhero and his loyal supporters.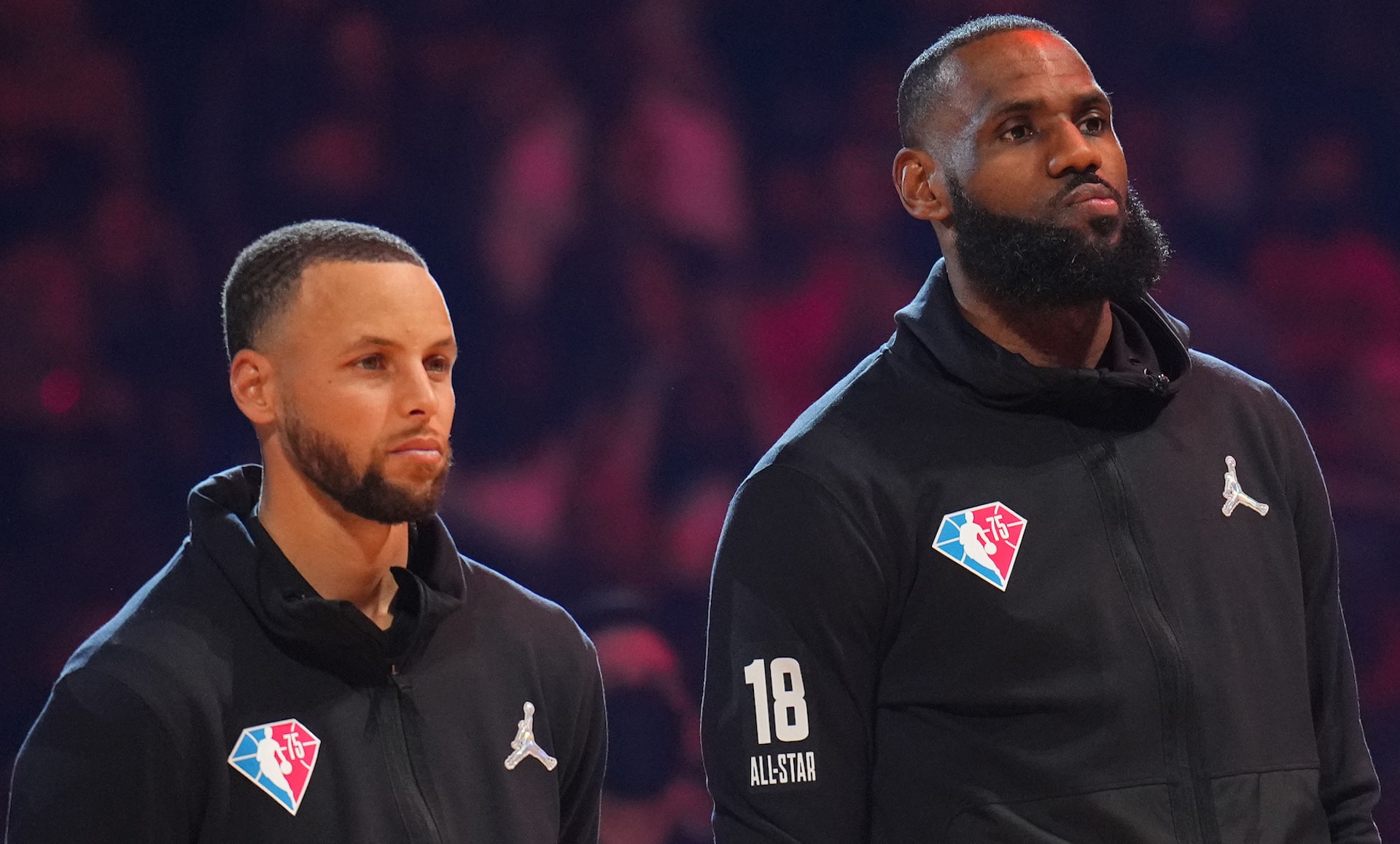 Curry's sharpshooting from distance, constant motion, and rugged toughness has dismissed many perceptions about the viability of winning a championship with a player his size. Steph's success on the court has emboldened a brand of stars to fearlessly fire from distance and catapulted the importance of shooting ability when it comes to player evaluations. Curry's impact can be seen both as the leader on his team as well as across the league.
What else could possibly be left?
There has been no player more willing to embrace a skirmish with a titan like LeBron James. More than that, no player has come out of those forays with more success than Curry. Even after a disastrous Finals collapse, Steph has continued to succeed at the highest level. For Curry, if the respect for his accomplishments won't come in the form of accolades then another series win against James may mean that much more.
A series win against James functions as another moment in the history between the two where he bested him. It's an opportunity to yet again kick down doors of conversation about the best player of an era. As legacies are constantly written, another playoff series win against James would further Steph's claim to be higher up the all-time player rankings.
This is clearly not an ordinary second round series. 
It is an epic bout between two battle hardened foes.
It is a clash of titans.
And for Steph Curry and legacy, it is deeper than basketball.