Why NBA Statisticians Have a Way Harder Job Than You Think
The life of an NBA scorer is much harder than most think. Brooklyn Nets veteran scorekeeper Herb Turetzky and other insiders shares insight on how assists are really tallyed and why keeping score is a thankless but necessary job.
USA Today Sports
Jan 5, 2017; Houston, TX, USA; The scoreboard shows the Oklahoma City Thunder guard Russell Westbrook (0) scored 49 points against the Houston Rockets in the second half at Toyota Center. Houston Rockets won 118 to 116 .Mandatory Credit: Thomas B. Shea-USA TODAY Sports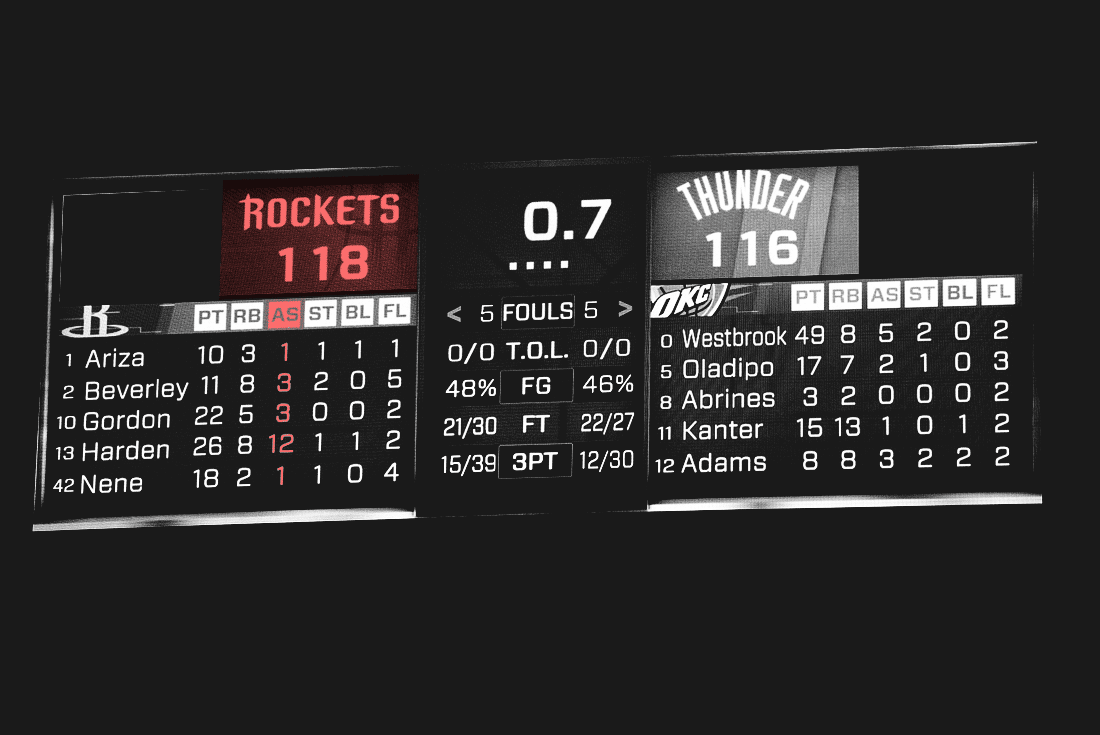 Unprompted, he brings up Anthony Mason. After spotting an inscrutable T-shirt—featuring the late bruiser, most famous for his days with the Knicks and his unique buzzcuts—the man sitting in a wheelchair with white hair and matching mustache has a story to tell. 
"The thing with Mase," Herb Turetzky begins with a smirk, "was that when he was trying out with us he was wearing all the big jewelry. I said to him, 'Mase, you got a better chance of someone picking you up in this league if you get rid of all that crap.' He did, he got rid of it. Then he shaved the thing in his head. It was the greatest." His glee at the memory is genuine.
It's remarkable Turetzky could see enough of the shirt to even make the connection, but he's someone who pays attention for a living. As the Nets' resident scorekeeper, he's been tallying up the details of the team's game since they were known as the New Jersey Americans of the American Basketball Association (ABA).
Herb's wife, Jane, who has accompanied him to every Nets games since before they were married, sits to his right, their connection explicit in the their closeness. The Nets are a couple hours from tipping off against the visiting Memphis Grizzlies. Arriving journalists shuffle past us as we talk, but we might as well have been alone as Herb recounts a half century of keeping score in eight different arenas, two leagues, and two states.
He initially got the job because the team didn't have anyone to keep score during their inaugural game in 1967. After a car accident waylaid him for all but a few games of their second season, Herb took the reins for the next five decades, missing just four games in that time.
One was for the birth of his daughter in 1973. Two came during the 1984 postseason when the Nets surprised everyone by making the playoffs. Herb had agreed to bring a pro-am team to France that summer, and hadn't expected them to win 19 of their last 27 games to get the 6-seed.

Craig Robinson played on that travel team Herb went with to France. Most might think of the comedic actor when they hear that name, but it's actually Barack Obama's brother-in-law. That's just a sliver of the crazy connections you find sprinkled throughout every Herb Turetzky anecdote. He's a fount of facts, figures and OG names long forgotten.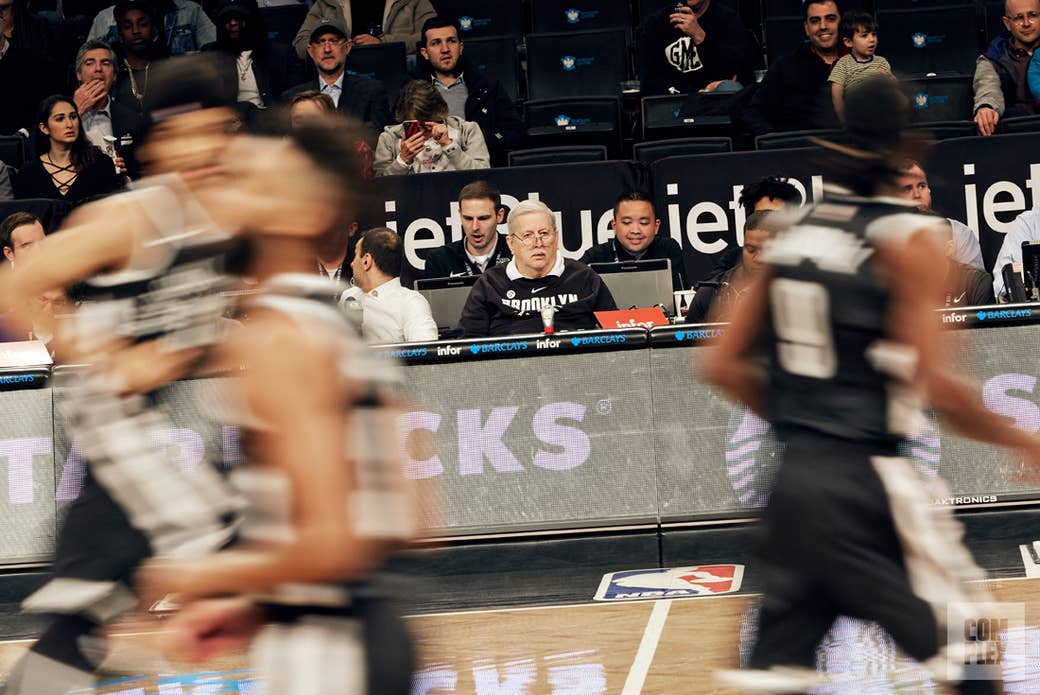 Like his humorous explanation for why Drazen Petrovic never caught on in Portland. Herb and "Draz" were close—the Croatian All-Star used to give his sneakers to Herb's son, David, because they both wore size 12. But Drazen wasn't automatically an All-NBA selection. According to Turetzky, when the 6'5" baller first came over to the NBA from Croatia, Portland "didn't accept him" because he was "not using deodorant."
Or the time Shaquille O'Neal signed a pair of sneakers for Herb's son with a message that read: '"David, stay out of the way of falling baskets.'"
Turetzky's son had been under the stanchion as a ball boy when O'Neal broke the whole basket support in his rookie year. You could see David's feet when Reebok did a marketing campaign around the busted backboards. Shaq is good people, so of course Herb knows him.
Up close, Herb has seen every ABA star until the league merged with the NBA in 1976, and every NBA star in the modern era. Julius Erving, Dr. J, "put on a show" and electrified people" Herb says, before he went national in the NBA. Herb also fondly recalls getting drenched with champagne celebrating the 1976 ABA title in the locker room after what would be Dr. J's last game with the Nets.
For a man who has seen prime players like Kareem Abdul-Jabbar, Magic Johnson, Larry Bird, Hakeem Olajuwon, Isiah Thomas, Michael Jordan, Kobe Bryant, LeBron James, and everyone in between, most would be taken aback by his response when asked about the single biggest shift he's seen over a half century watching pro hoops.
"You want to be fair to the guys, but you also don't want to be a stat padder."
"The biggest change was Steph Curry. Steph Curry changed the game of basketball. At every level." His answer comes so quickly and forcefully, you know he's been asked it before. It's an astute answer.
"Steph Curry literally changed the game where no one ever shoots. The last ABA game we had, Brian Taylor was 2-for-6 on 3-pointers and that was it—no one else took a 3-pointer in the NBA. And yet, the NBA used to laugh at us: Red, white, and blue ball, who gives three points for a shot? They laughed and laughed.
"Once Steph Curry started shooting 35 and sometimes 40 feet, without even thinking, and looking good at it, all of these guys started practicing that shot."
Herb knows the game as well as anyone, even if keeping score is just a part-time gig where his only compensation at first was "two free tickets to the game." Because of Herb's ubiquity at the scorers table since the inception of the Nets franchise, he's the perfect person to talk to about keeping score.
"About 15 years ago, I stopped calling everything out," Turetzky says about his role these days. "And they had four people who could go back in the machine and change things." Herb still keeps score, but he leaves the details to the statisticians behind him. Specifically, subjective stats like assists. "I don't join the conversations about it. That's their job and I'm okay with it."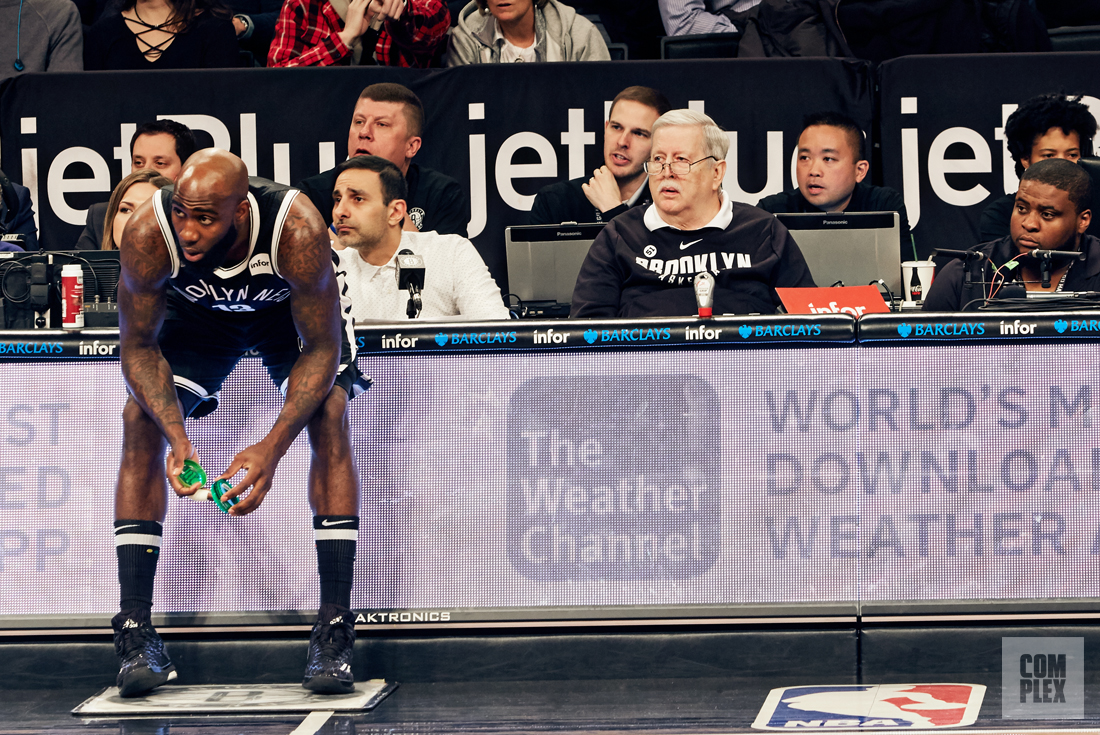 Three seasons ago, the NBA started releasing the Last Two Minute Report because Commissioner Adam Silver wanted more transparency in officiating. The NBA isn't as clear about how they keep stats. Suspicions about assists arose earlier this year when Lonzo Ball, and others, were credited with some questionable dimes. It was enough of a story, Rachel Nichols discussed it on The Jump.
But, this isn't the first time NBA statisticians have been accused of bias. One claimed in 2009 there had been a league-wide scorekeeping partiality and that he'd unfairly awarded 23 assists to Nick Van Exel in a 1997 game. More recently, Simon Fraser University professional sports analytics researchers Matthew van Bommel and Luke Bornn published a detailed quantitative report showing scorekeeper bias in NBA box scores.
Statistical chicanery like this has a monetary benefit beyond simple fan bias. The Wall Street Journal reports that the two largest daily fantasy sports operators in North America, DraftKings and FanDuel, awarded $800 million in prizes across sports in 2014. It's only gone up since then. Despite this incentivization of stats, the NBA's statistics aren't as clear as you'd think considering the rush with the refs.
What instructions are the statisticians given by the NBA, or the teams that employ them? Does the process open them up to the possibility of prejudice? And for the more intuitive elements of the game, like assists, who decides and how? It turns out, quite a few people do now. Does Herb—who marked stats with ink, a bit of derring-do similar to filling out Friday's New York Times crossword with a pen—think there's an issue with the way assists are called now?
"No. The game has changed," he says. "This is a whole different game now. You can't compare this game to what I started watching 50 years ago."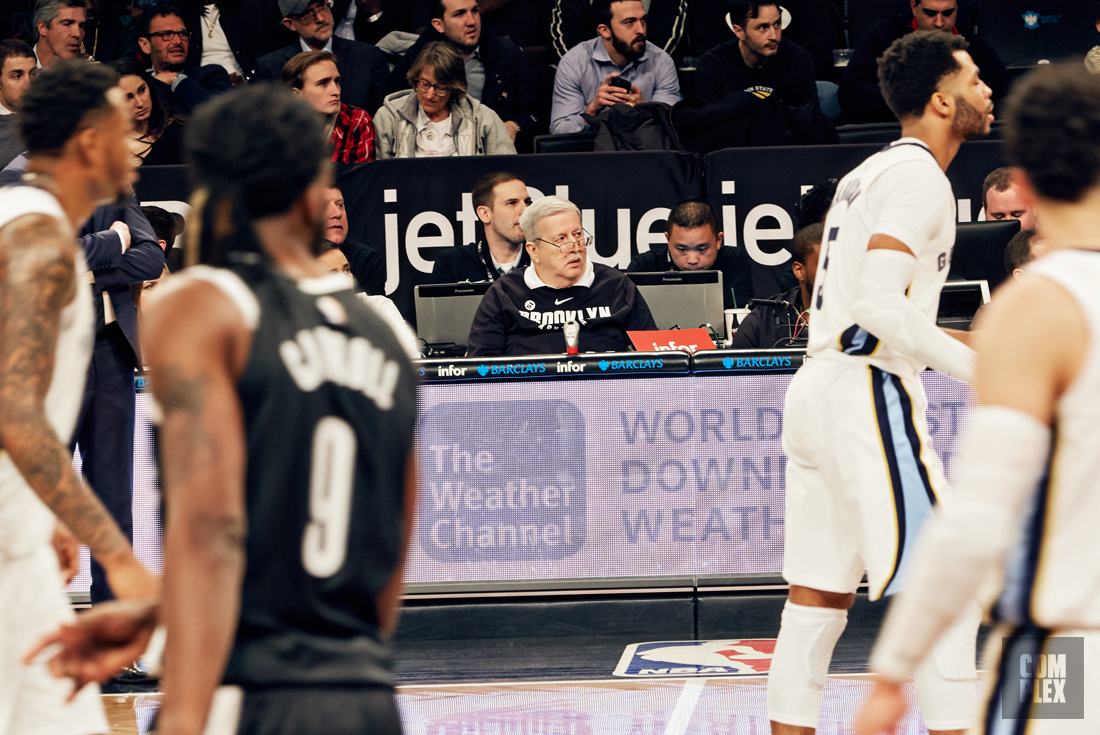 NBA statistician is still a part-time gig. It's also a thankless one (they typically take home just $50 for a night's work). But because stats are now recorded by a group, when someone gets something wrong, "it's good to have our crew, our secondary crew, looking at things," one of Brooklyn's 10 statisticians says.
Turetzky's colleague spoke to us anonymously due to Brooklyn's team policy of keeping their statisticians'  names private. After keeping score at the college level for five years, he spent his first season as an NBA scorekeeper with the Oklahoma City Thunder in 2012. He was still in OKC last season during Russell Westbrook's triple-double bonanza, too.
"[The Thunder] never said anything to us about 'give Russ this assist,' or 'give Russ this rebound,'" the statistician says. "Teams are not supposed to tell us to do anything. And they can't." This is true, despite the fact teams hire the statisticians, not the league.
The four-man statistics crews is divided into primary and secondary inputters and callers. The primary caller does just that: calls out each play using numbers instead of names. The primary inputter marks "a touch screen of a basketball court," the Brooklyn statistician says. That screen is connected to the screen of the secondary inputter, who edits mistakes and double checks iffy plays. The secondary caller works the DVR, and they're connected to NBA headquarters in Secaucus, NJ. That connection to Secaucus during the game is new this year, as is the mandate that every arena have four statisticians for a game.
Despite that connection, it's still up to the discretion of the statisticians to decide an assist. The primary inputter makes the first read, but if the stat is unclear "it's kind of a consensus, majority rule," the Nets' statistician explains. The NBA says that they audit every stat, and they've always done it that way since they went digital in the late ​'80s; this season they're just connected during the game.
"The game has changed. You can't compare this game to what I started watching 50 years ago."
The statistician we spoke to admits assists "are subjective," and "I disagreed with a lot of those Lonzo calls. You want to be fair to the guys, but you also don't want to be a stat padder." The NBA says they've reviewed the Ball assists, like they do every stat, and they're accurate.
The murkiness still remains because an assist is particular. Brooklyn's statistician says an assist is "not a bright line," but the NBA says that they provide all their statisticians with training and a manual that does outline what constitutes an assist. They provide video examples, too.
Brooklyn's statistician, who is a lawyer when he's not keeping track of stats, likens assists to what Supreme Court Justice Potter Stewart famously wrote about pornography in a 1964 obscenity case: "'I know it when I see it' because I've done so many games." Expertise plays a role.
"I feel like most fans don't have a great grasp on what an assist is," he continues. The NBA assess their statisticians, too, and works to email about even the smallest mistakes that somehow got through all the checks in place. The BK statistician can't remember ever receiving one.
One of the four games Herb missed in over a half century as the scorer for the Nets came in 1978 when he was a principal at P.S. 137. He had to stay late on a game night, which meant Mike Becker, who Herb says "had been keeping score at high school games in Queens," would be the replacement.
Becker botched it, telling the Hawks they had one more timeout than they did, inadvertently costing them the game. "Steve Hawes [the uncle of Spencer Hawes, Herb notes] passed the table and he just took the towel and threw it right in Mike Becker's face," Turetzky says.
"I felt so bad for the guy. "Nothing he could do—he made a mistake. Mistakes happen."
They do. But in today's culture Mike Becker would have been trending. Mistakes still happen, but the NBA's stats aren't very likely to be one of them.