The San Antonio Spurs Are Out But Not Down
Swept from the playoffs by the Golden State Warriors, the Spurs can still hold their heads high. Their return to the top next season is solely up to them.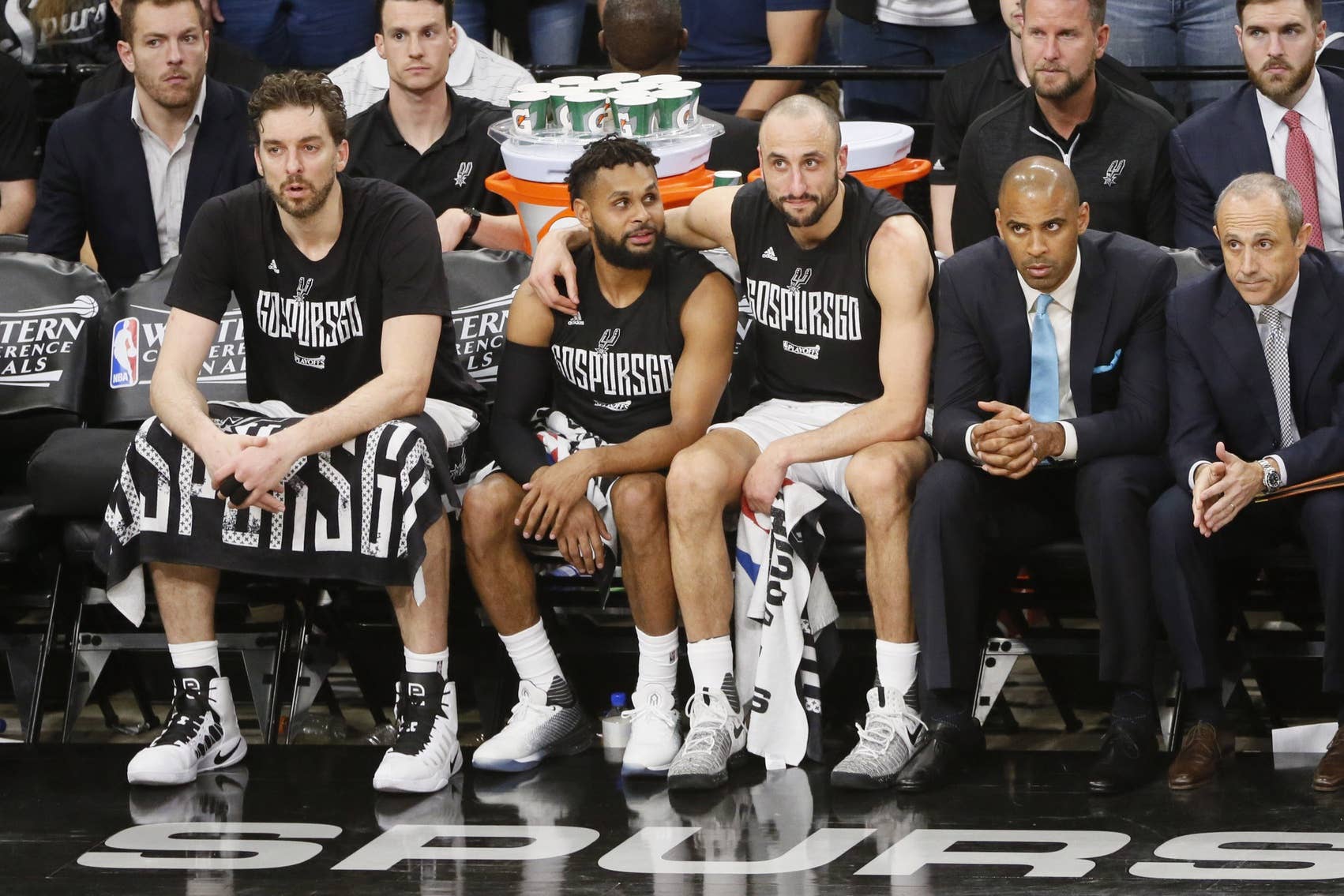 USA Today Sports
San Antonio Spurs shooting guard Manu Ginobili (20) heads to the bench during the second half in game four of the Western conference finals of the NBA Playoffs at AT&T Center.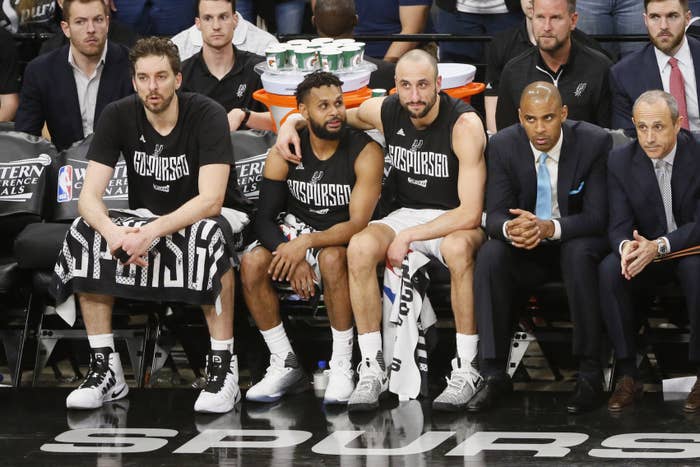 The San Antonio Spurs are gone, swept out of the playoffs for the first time since 2010. In their first season without Tim Duncan, they won 61 games and advanced to the Western Conference Finals (for the 10th time under Gregg Popovich). They were swept, yes, but when MVP candidate Kawhi Leonard went down with an ankle injury in Game 1 it was a result that seemed inevitable. But if we've learned one thing about these Spurs over the last, oh, 20 seasons, it's this—they will be back.
This year's Spurs team was different—Duncan and Matt Bonner retired, there were seven new faces—and next year's will be different still. Nothing is official yet, but Manu Ginobili, who started last night for the first time since 2014 and left the court to chants of "MAN-U, MAN-U, MAN-U," turns 40 in July. His days as the league's premier sixth man and bat killer may have come to a close. If this was indeed his final game, it was one to leave on—15 points on 6-of-12 shooting, 7 assists, 3 steals and just 1 turnover in 32 minutes.
The series against the Golden State Warriors should not be taken as a referendum of any sort, no victory of new-style, high-powered offensive basketball against an older, more measured style. The Spurs way has been consistent, but it is in no way old. In fact, the Spurs way is more a philosophy than a style of play anyway—the reason stars as different in technique as Duncan and Leonard could fill the same role. It's their approach to the game more than the way they actually play it.
And as long-term players step out—Duncan last season, perhaps Ginobili this year, and Tony Parker, who celebrated his 35th birthday last week, sooner rather than later—that approach won't change. It's something that's bigger than any individual player, and always has been. Duncan accepted that when he came in, as did Parker and Ginobili. Leonard has as well. As long as that continues, the Spurs will also. It was something set in place by Popovich, to be sure, but it's also something that can continue after him. If Ginobili retires, there is Danny Green, 30 years old with 95 playoff games under his belt.
The Spurs way has been consistent, but it is in no way old.
So as the Warriors advance to their third NBA Finals in as many years, the Spurs go home not to rebuild, but to recharge. Leonard and Parker (who missed the final eight games with a quad injury) will heal, Ginobili will make his decision, as will 36-year-old Pau Gasol, who has a player option for next season. And the next generation, they'll get better—Dejounte Murray, Dewayne Dedmon, Kyle Anderson, and Jonathon Simmons. They can and should look back, but they should mostly look ahead.
Even LaMarcus Aldridge, who had a horrific series, finishing the final game with just 8 points on 4-of-11 shooting, can and should expect better things. Leonard's injury—and Parker's—made things more difficult for everyone, but mostly Aldridge, who became the offense's focal point without the spacing he needed to operate effectively. All he really needs to do is buy in.
So-called dynasties in sports don't last all that long. Reigns on the top are short like leprechauns. Stars retire, rules change, styles go out of vogue. The Spurs have managed to defy this. Whether they will continue to do so is up to them.