 Donald Trump is one impressive dude.
His hair has probably been scrutinized more than anyone else's in the history of mankind. According to Forbes—though we don't know for sure since he refuses to release his tax returns—he's worth an incredible $4.5 billion. And, as he'll be the first to tell you, he's been responsible for the construction of many (many) beautiful buildings. But perhaps even more impressive has been Trump's ability to win a major party presidential nomination and the support of roughly half of America despite vomiting racist, sexist, and generally insensitive comments nearly every time he opens his mouth. Well done, Donald!
His recent call for Republicans to exercise their Second Amendment rights against Hillary Clinton (in plain language: assassinate her) and his statements about Barack Obama founding ISIS are just normal days at the office for The Donald. And while it may be difficult for many to envision a guy who once appeared in a Bobby Brown music video for the Ghostbusters 2 soundtrack as commander-in-chief, he does possess all of the characteristics and qualifications necessary to succeed as a top heel in the WWE. He's a bully, he's charismatic, he's racially insensitive, he thirsts for power, his verbal onslaughts are legendary, and he's already taken a stunner from Stone Cold Steve Austin himself at WrestleMania 23!
As a member of the WWE Hall of Fame, Donald Trump has more experience in the wrestling business than he does in politics. But sometimes, to paraphrase The Rock, Trump's mouth writes checks that his ass can't cash, and it's finally time for him to face the consequences. Ahead of this Sunday's SummerSlam, we decided to send Trump back into the squared circle one last time. 
---
Randy Orton—RKO
​Randy Orton gives Donald Trump an RKO out of nowhere.
---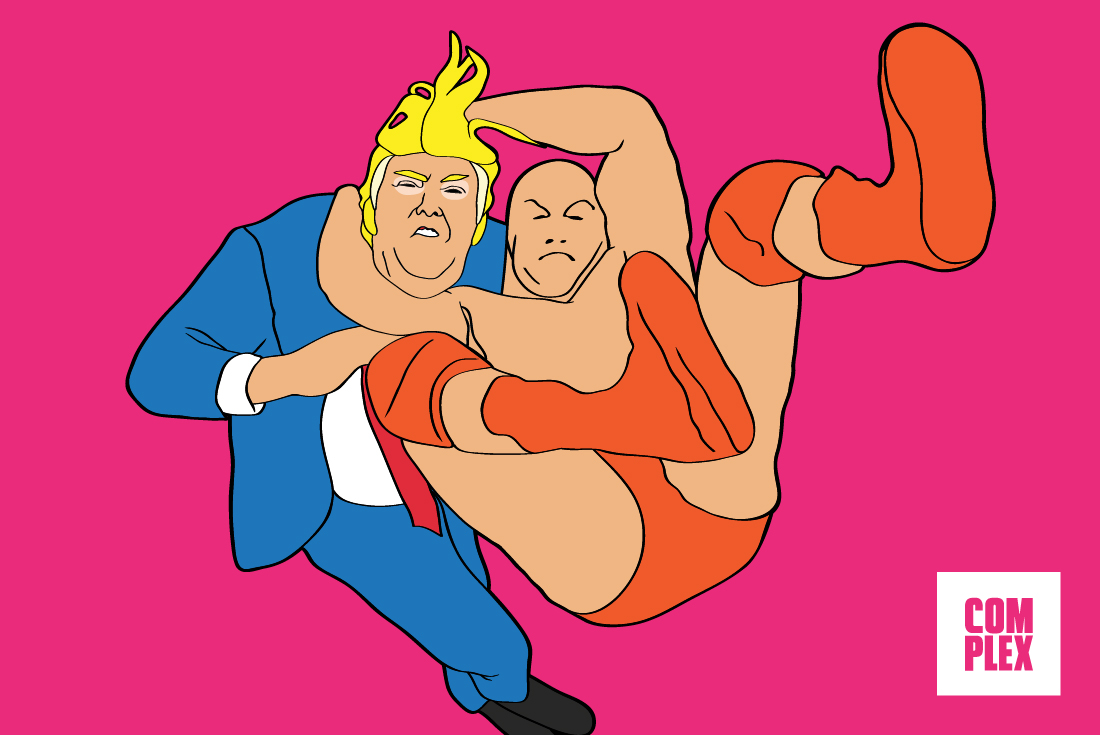 "When Mexico sends their people [to the US], they are not sending their best. They are bringing drugs, they are bringing crime, they're rapists. And some, I assume, are good people."
---
Finn Bálor—Coup de Grâce
​Bálor jumps off the top ready to stomp on a frightened Donald.
---
"This very expensive GLOBAL WARMING bull**** has got to stop. Our planet is freezing, record low temps."
---
Brock Lesnar—Suplex City
Donald Trump gets taken to Suplex City courtesy of Brock Lesnar.
---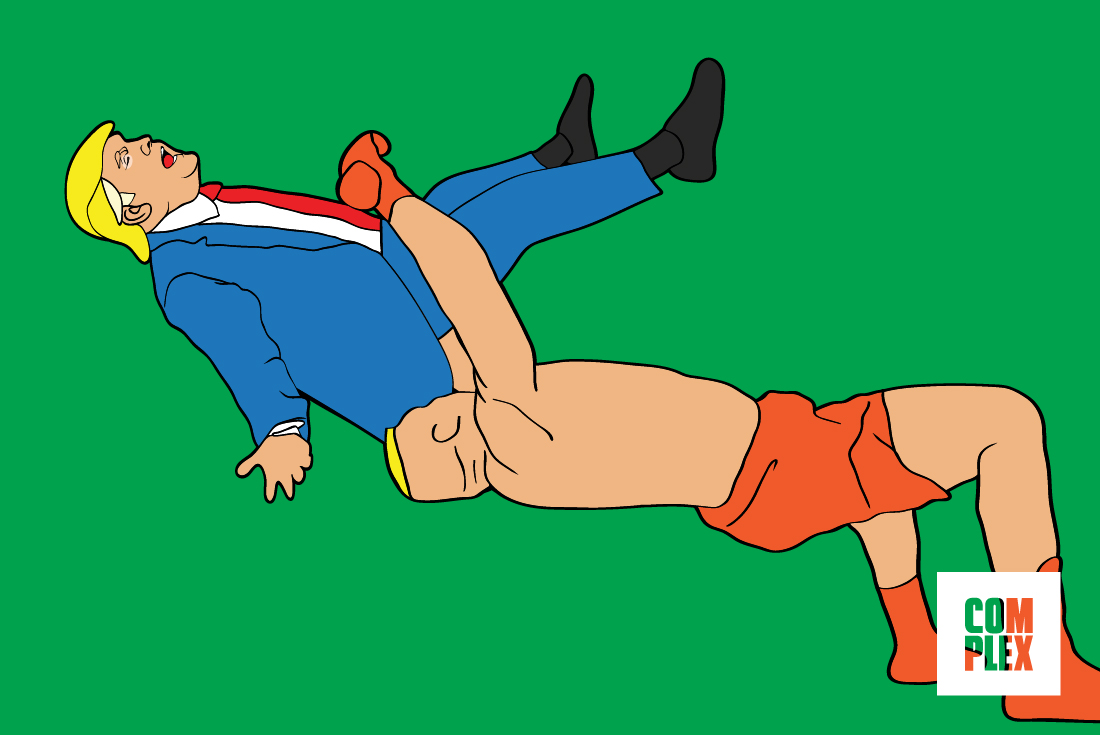 "ISIS is honoring president Obama. He is the founder of ISIS. He's the founder of ISIS. He's the founder. He founded ISIS. And I would say the co-founder would be crooked Hillary Clinton."
---
The New Day—Midnight Hour
Big E holds Trump in place while Kofi leaps from high.
---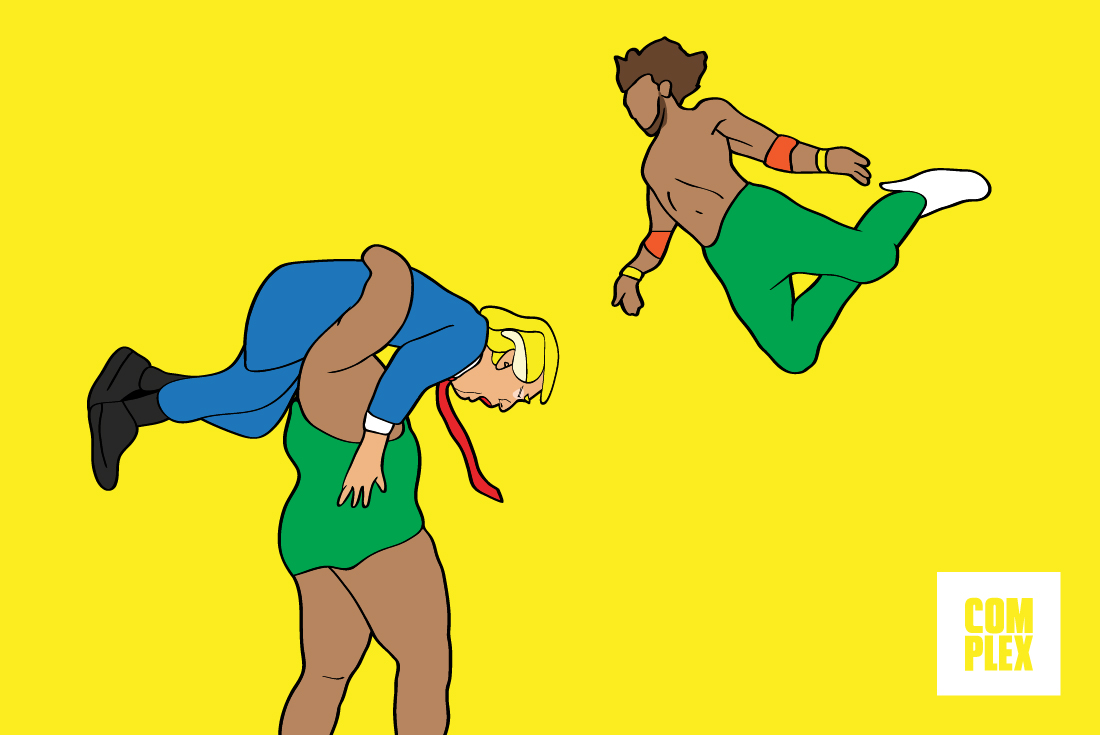 "I have a great relationship with the blacks. I've always had a great relationship with the blacks."
---
Triple H—The Pedigree
The Donald in mid-air before getting slammed face first by The Game.
---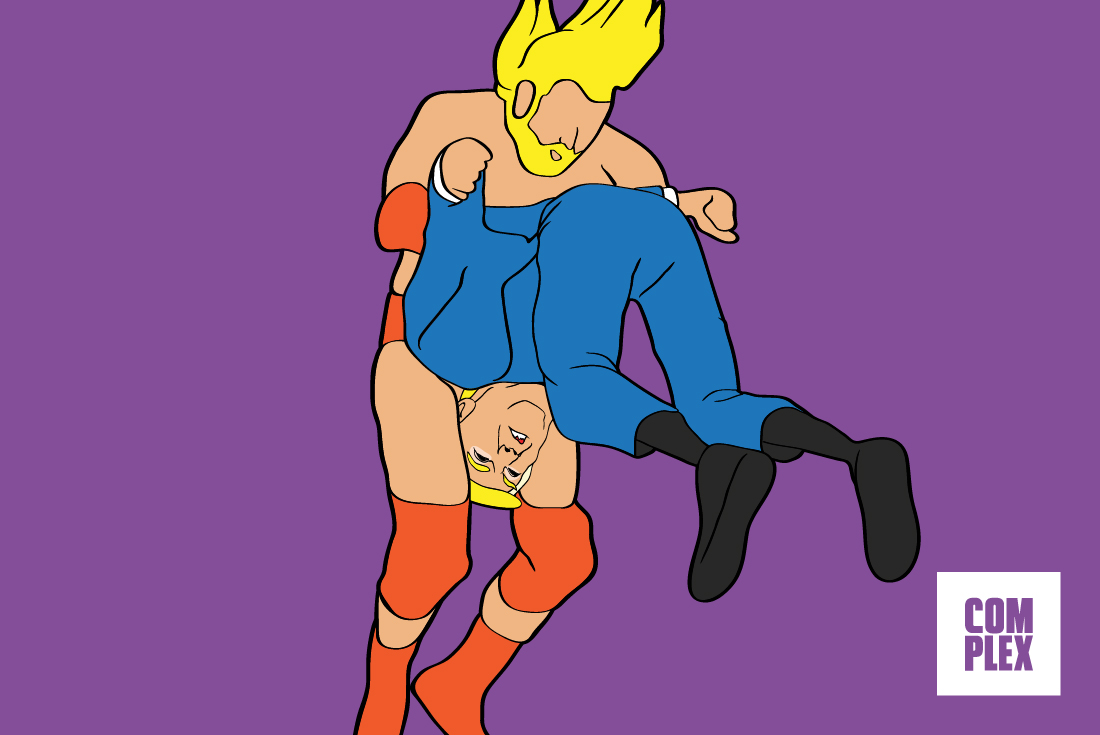 "Sorry losers and haters, but my IQ is one of the highest—and you all know it! Please don't feel so stupid or insecure; it's not your fault."
  Want to experience Complex IRL? Check out ComplexCon, a festival and exhibition on Nov. 5-6, 2016 in Long Beach, Calif., featuring performances, panels and more. For ticket info, click here.