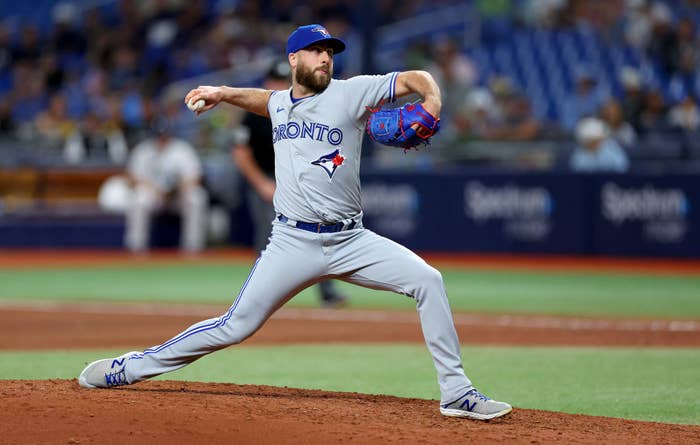 Toronto Blue Jays pitcher Anthony Bass is once again at the centre of controversy after he shared a post on Instagram advocating for the anti-LGBTQ+ boycotts of Target.
City News reports that several Twitter users screenshot parts of the video Bass shared that explained the "Biblical reason Christians should Boycott Target." The poster, dudewithgoodnews, compared members of the LGBTQ community to an obscure form of darkness and implored his viewers to stay away from the company that has been promoting "evil" and "demonic" things.
Over the past few weeks, Target has been under fire for selling Pride-themed merchandise. This controversy comes after a similar one with Bud Light in which the company partnered with transgender influencer Dylan Mulvaney.
This isn't the first Bass has found himself in hot water. Back in April, the pitcher took to Twitter to complain that a flight attendant forced his pregnant wife to clean up after their kids' mess.
After being ridiculed for the post in April, people on social media have once again begun criticizing the pitcher.
One user said that, given his stats this year, Bass had been "boycotting targets all season long."
Someone else questioned whether he'd protest the team's upcoming Pride Night in June.
Eric Koreen of The Athletic said the Jays should just release him.
Another user said that people sitting near the bullpen should let Bass know how they're feeling when he's warming up.
Someone noted that the Jays had previously suspended Kevin Pillar and Yunel Escobar for using gay slurs.
After Bass' post, the Blue Jays issued a statement to BlogTo.
"Individual player sentiments are not representative of the club's beliefs," while maintaining the team's commitment to "providing an inclusive and welcoming experience for all," the team wrote.
The story is no longer available to watch on Bass' Instagram, though BlogTo reports that he had removed it. It's unclear if he did that on his own or if the team had told him to.
In an update from BlogTo, Blue Jays fans have begun donating to LGBTQ+ organizations in the pitcher's name.