One of the things about being a pro wrestling enthusiast of a certain age is that if you pay attention and watch long enough, magical things can start to happen. Growing up as an avid Saturday afternoon WWF viewer, it was rare to see two Black guys wrestling each other in the main event, let alone holding the company's biggest championship. Fast forward three decades, and we've progressed to the point where Big E, who's been grinding in the WWE since he signed with the brand in 2009, becoming their second NXT champion in January of 2013 (back when he'd beat his opponent so bad that he'd demand a five-count as opposed to the standard three-count). Over the years, Big E's won over the entire WWE universe...and the pro wrestling industry in general. Don't believe me? Run back to September 13, 2021, when the timeline erupted after Big E cashed in his Money in the Bank contract to end Bobby Lashley's WWE Championship reign at 196 days. 
As a part of The New Day, Big E has entertained while stacking championships; those who keep score say that he's now the WWE's thirty-third Triple Crown champion, and this WWE Championship win (his first) puts him in the rarified air of being an African American WWE heavyweight champion. Much of this was due to the work he put in over the last calendar year as a singles performer; his work netted him an Intercontinental Championship win to celebrate during the 2020 holidays, as well as garnering him the Money in the Bank contract win back in July (making him the first African American to win the briefcase) that he used to get this win.
Less than 24 hours after winning the WWE Championship, Big E hopped on a call with Complex to discuss the historic event, from what he was doing in Gorilla before cashing in to how he spent the rest of Monday night. He also speaks on being the WWE Champion during this important time for representation for Black pro wrestlers specifically, as well as his first thoughts on what he'd like to see happen during his reign as chamopion. He even gives us an update on Our Heroes Rock! and shouts out some of his current favorite Black pro wrestlers. The next chapter for Big E starts NOW!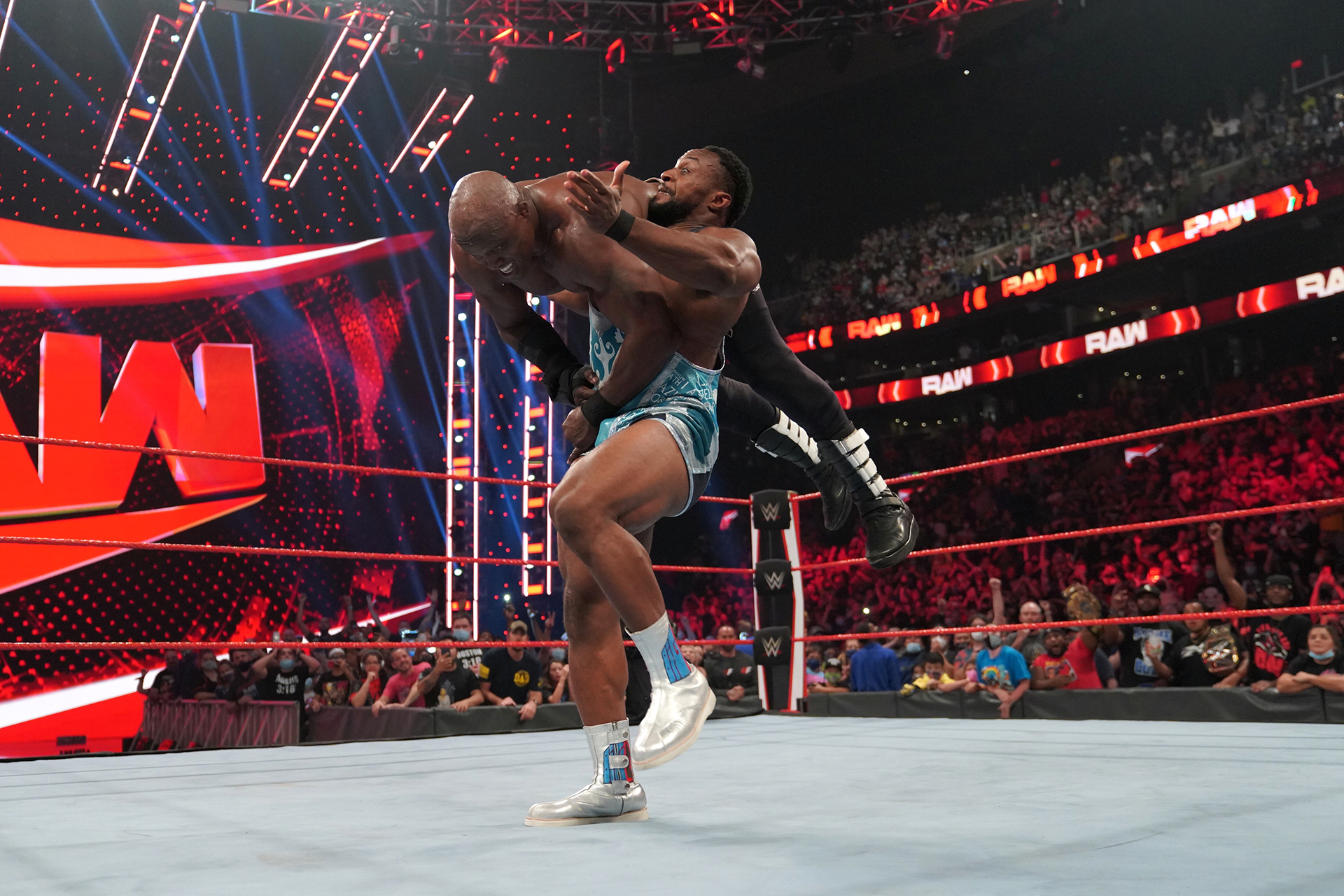 It was interesting to see you announce on Monday afternoon that you would be cashing in your Money in the Bank briefcase on Raw that night. What prompted you to let the cat out the bag so early?

I think there's so many different ways to handle something like this, whether it be the element of surprise or saying, "Hey, on this date, this will be my title match." I said, "Why not Boston?" I think the opportunity was there.
First of all, I have to give hats off to Bobby. I think Bobby's had an incredible run. He carries himself like a champion, and in many ways, he's inspirational, because—and I've told him this before—when I got signed in 2009, I was studying some older film. I was looking at more contemporary guys that I wanted to be like. I was watching Bobby Lashley film. There was a lot of Bobby Lashley films. He was a guy that, "Okay, that's a guy in a similar vein that, if I work hard enough, one day I want to wrestle like that guy. I want to be like that guy." So hats off to him for having this incredible run. This dude is in his mid-40s but looks like he's in his mid-20s. All the credit in the world to him.
But, man, I have so many… I think of Iowa. I say "no," but in many ways, I have so many connections to Boston. Both my sisters lived there for a while. My one sister just moved and she's working on her PhD, but my extended family on my mom's side, so many of them who moved to the States from Montserrat settled in Boston. My mom went to BC, Tufts. Kofi is from Boston, lived there for so much of his life. There's so much about the city of Boston and about that moment that felt right. And, too, just the opportunity to be reunited with Woods and Kof. Why wait any longer? It's just one of those moments where you kind of look at the landscape and say, "Why not today?"
Take us to the moment in Gorilla. Lashley and Orton were putting on a command performance at that match right before you came out, a pay-per-view caliber match itself. Take us through your mental state while you were waiting for that right opportunity to go out there and cash in.

I remember I'm sitting in Gorilla and I tell Kof, and we talk about this often, but some of my favorite moments in wrestling are when we're mid-show, whether it's in the middle of the match, or after a match, but the show is currently on. Those moments the three of us just have a moment to get together and kind of talk or huddle or whatever it is. But we actually got pictures of it. This was Woods' idea to get pictures, but there's a moment where all three of us are sitting in Gorilla right next to each other. And I looked at them, and I told them, "It feels like we're in school." For some reason, it felt like we were sitting in detention or something, but we're all just sitting there watching the monitors and waiting and talking. I love those moments so much, because it feels like the last seven years, every big, cool moment I've been able to have, those guys have been right there with me. And that's the dream, getting to share the biggest moments of your life and your career with some of your very best friends on the earth. So I'm just always so grateful. It would've been really cool, obviously, to do it on SmackDown, to take the title from Roman [Reigns, current WWE Universal Champion], but to do it all with Kofi and Woods there, I couldn't ask for a better ending.
Was there anything that Kofi said specifically to you about this moment and what you were going to be stepping into?

No. It's funny. Kofi is so… Anytime, if I ever asked for advice on what he thinks, he just throws everything off and just says, "You know what you're doing. You got this," and I appreciate that. He's a humble legend is what Kofi is. So it's just being there, honestly. That's the biggest thing. I learned from Kof by watching, because, oftentimes, he's so reticent to say, "This is what I would do," or "Here's the advice that I would want to give." He leads by example.

After you won the title, I was getting ready to go to bed, but I had to make sure I caught your victory speech, and seeing all of the images and celebrations going on on the timeline. What was it like for you afterwards? Was it hard for you to go to sleep last night?

It's always hard for me to go to sleep after a show, just because you still have adrenaline going. But, of course, this was especially difficult. But, after the show goes off, I was joking with people that on Monday nights, I'm usually in bed. I'll watch later, but I'm in bed early. Sometimes 8:30, I'm out. So this was a bit of a stretch for me as far as staying awake and alert. But I think it ended up afterwards, I believe between taking pictures and doing some interviews backstage and just even trying to catch up with just a sea of incredible people who reached out to me, I was up for a bit just trying to have the adrenaline come down. It was about 3:00 AM I was finally able to get some sleep and then I was up by seven something, and now I'm in a car. It's really been a whirlwind, and I'm still waiting for the adrenaline to kind of wear off, but I'm still on cloud nine.

I'm glad you mentioned the fact that on Monday night you're normally asleep, because you've pretty much upended your entire routine. You're going from the end of the week to the beginning of the week. You're going from holding a contract for a championship match to now being the man on that brand. Have you been giving any thought to the challengers that are coming your way?

Oh yeah, man. The first thought that comes to mind is The Hurt Business. I want to see them back. I want to see them together. Man, just the opportunity to go out there. The story is already there. The history is there, but I beat Bobby, and now Bobby needs to back up and [get] his two cast-off brothers back again. I got two brothers of my own. There are so many opportunities. And, same thing, I look over at SmackDown, it's Roman and The Bloodline. I am someone who loves that. You look at The Hurt Business, you look at The Bloodline, and those that might be in those two great, incredible passions with really talented performers. But imagine The Hurt Business coming back together to do battle with The New Day. All kinds of incarnations; singles matches, tag matches. Man, there's so much that we can do there.
So that's the first order of business. I saw Cedric's tweet, too, and I sent him the "mount up." Let him know: bring your boys, get the troop together, because that's what I want. And I don't think Bobby is ready to go quietly into that good night. I think he's got some more fighting. So I want to see him with his troop, and let's get this thing cracking again.