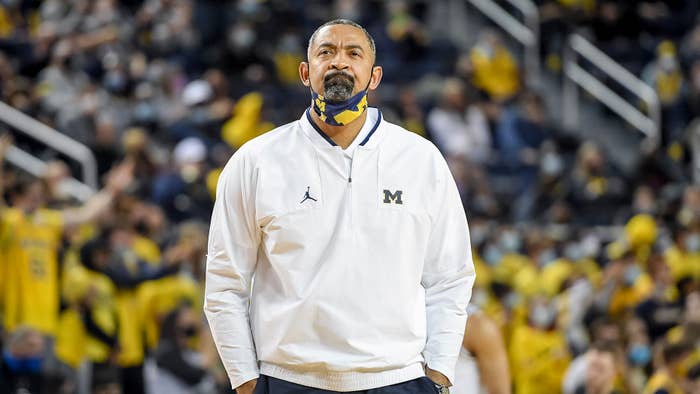 The University of Michigan will suspend men's basketball head coach Juwan Howard for the rest of the regular season following his physical altercation with Wisconsin coach Greg Gard and assistant coach Joe Krabbenhoft after the Wolverines' 77-63 loss on Sunday, Yahoo Sports' Dan Wetzel reports. 
The punishment amounts to a five-game suspension, if he's allowed to return to the team for the Big 10 Tournament. 
Footage of the incident shows Howard and Gard exchanging words in the post-game handshake line before things escalated and the Michigan coach made contact with Krabbenhoft's head with his open hand.
"I addressed with the head coach that I will remember that, because of that timeout," Howard told reporters. Gard called a timeout with Wisconsin ahead 76-61 and only 15 seconds remaining. Howard was slow to arrive to the handshake line, and said, "I'll remember that" to the Wisconsin coach when they finally crossed paths. 
Gard inexplicably tried to stop Howard by putting his hands on him, which seemingly caused tensions to boil over. "And for someone to touch me, I think that was very uncalled for him to touch me as we were verbalizing and communicating with one another. So that's what ended up happening. That's what escalated it," Howard continued. 
Howard's actions towards Krabbenhoft forced players from both teams to get involved, and it only got worse from there with several players swinging at each other. 
Gard said he called the timeout to "reset the 10-second call" because Wisconsin "only had four seconds to get the ball over halfcourt." However, if the Badgers were to commit a turnover and leave the Wolverines with, say, 11 seconds left, it was likely that Michigan would've either dribbled out the remaining seconds of the game clock or try to score only to give the ball back to Wisconsin for them to run out the last few ticks.