Fan Filmed Striking Cardinals' Kyler Murray in Face, Sparking Police Probe
Las Vegas police are investigating an incident involving Kyler Murray and a fan in the stands after the Cardinals' overtime win over the Raiders.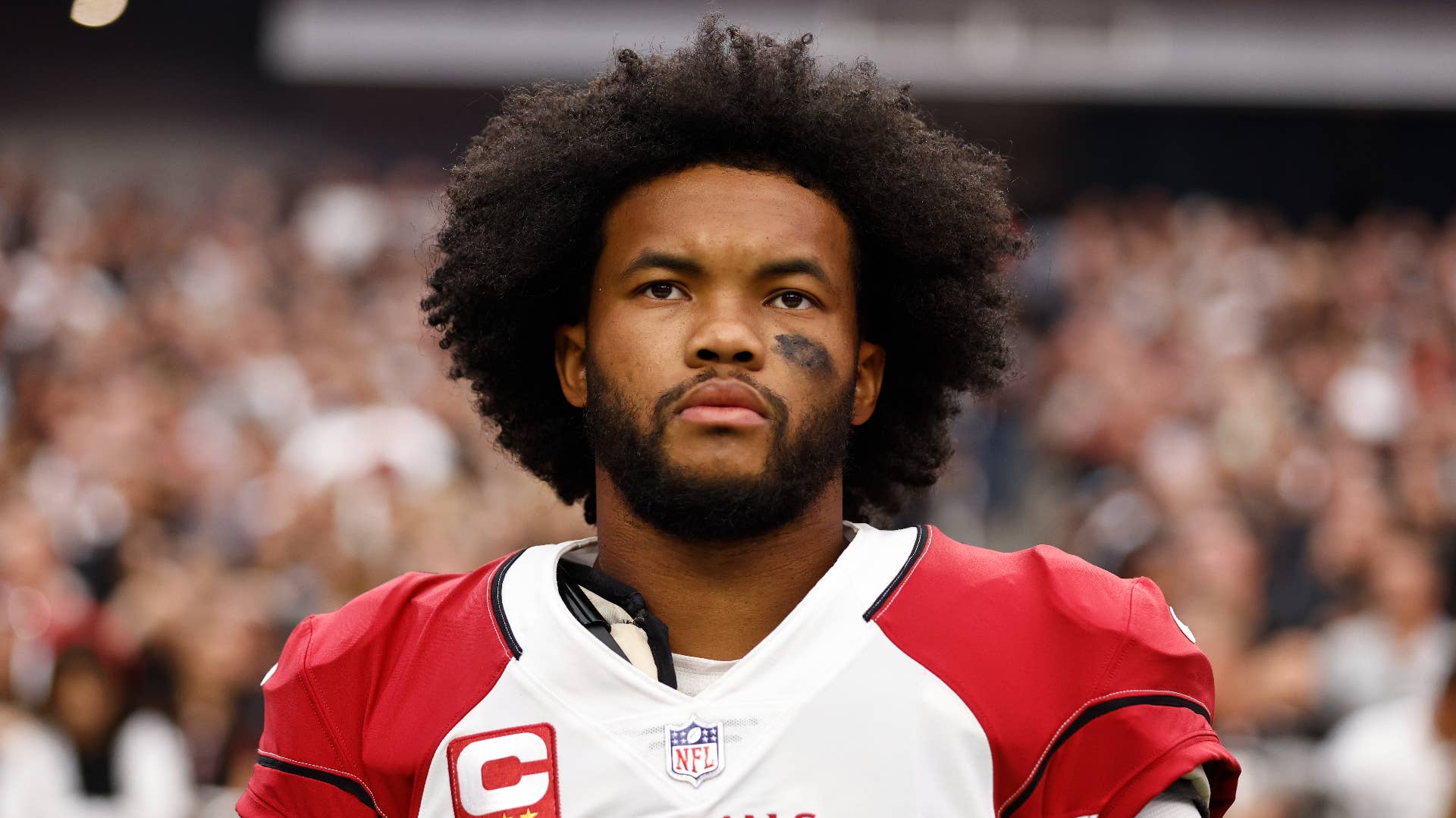 Getty
Kyler Murray #1 of the Arizona Cardinals looks on during the national anthem prior to a game against the Las Vegas Raiders.
Following the Arizona Cardinals' 29-23 overtime victory over the Raiders in Las Vegas on Sunday, quarterback Kyler Murray was celebrating with people sitting in the first row in a section of Allegiant Stadium when someone slapped his face.  
Murray can be seen in footage immediately trying to confront the person who hit him before two of his teammates step in and pull him away. 
According to ESPN, Las Vegas police spokesperson and officer Larry Hadfield confirmed on Monday that a battery complaint was made following the conclusion of the Raiders/Cardinals game. Hadfield declined to disclose who reported the incident, but stated the allegation stems from "a spectator at the stadium struck a professional football player." 
Here's a slowed down version of what happened between Kyler Murray and a fan after Sunday's game in Las Vegas:

Great work by

@CamCox12

who captured the entire ending on video.

Police are investigating.

pic.twitter.com/OfmM1lVqMF
Cardinals spokesperson Mark Dalton redirected any questions regarding the incident to the Las Vegas police, while the Raiders said they are aware of what occurred and are cooperating with authorities. 
Murray has not publicly discussed the incident, although he celebrated the win on Instagram and Twitter.
When asked about the incident earlier today, Cardinals head coach Kliff Kingsbury said he had not yet seen footage, but believed the person deserves a significant punishment for their actions. 
"I was just told about it,'' Kingsbury said. "But I think that guy's a lowlife, whoever did it, and I hope they arrest him, he gets fired, and can never go to another game."