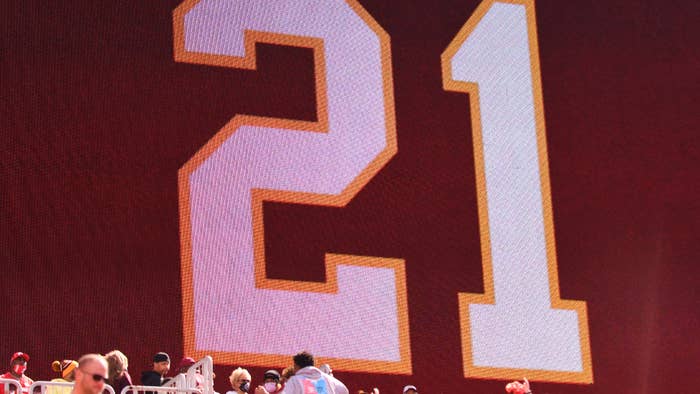 Kansas City Chiefs quarterback Patrick Mahomes will be forced to answer for his brother Jackson's questionable behavior for the second time in less than a month. 
The younger Mahomes shared a video of himself dancing on TikTok prior to Sunday's game between the Chiefs and Washington Football Team at FedEx Field. But the are in which he danced has drawn ire from fans and observers.
The clip shows Jackson in a barricaded section on the sidelines with Patrick's fiancée Brittany Matthews, and Travis Kelce's girlfriend Kayla Nicole. The area happened to be the location of the Sean Taylor memorial logo, which Patrick was dancing on top of.
The Washington Football Team held a retirement ceremony for No. 21, which was worn by Taylor for four seasons before his untimely death at the age of 24 in 2007. He was fatally shot when four intruders entered his Florida home and opened fire. 
When the organization confirmed Taylor's retirement ceremony on Thursday,his younger brother Gabe admitted he was notified just a few days prior. "No, I have not heard about it for a while," Gabe said in a radio interview Friday. "I found out probably, I'll say like four days ago."
Washington Football Team president Jason Wright issued an apology, admitting they "screwed up the execution," and chose to make the same-week announcement to "focus the message on Sean and his legacy."  
It's unclear if Mahomes, Matthews, and Nicole chose to stand in that area or were ushered over there, but many felt that Jackson's actions were disrespectful, much like when he poured water on Baltimore Ravens' fans who taunted him after the Chiefs' 36-35 loss late last month. 
Amid the backlash, Mahomes apologized for his actions. 
"I want to sincerely apologize for accidentally being on the Sean Taylor #21 at FedEx Field," he tweeted. "We were directed to stand in that area and I meant absolutely no disrespect to him or his family."