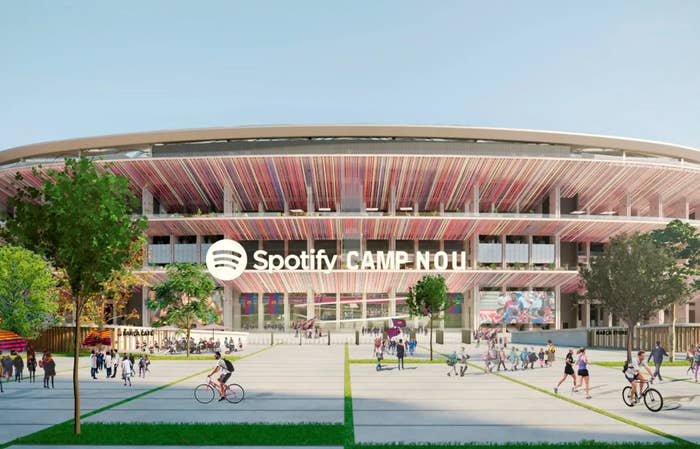 Streaming giant Spotify is partnering with one of the world's biggest football clubs, FC Barcelona, in a long-term sponsorship deal which is expected to begin this July.
The partnership has been put in place to extend the football club's iconic stadium, Camp Nou, which will be officially renamed 'Spotify Camp Nou' by the summer. This deal will see Spotify become the official streaming partner of the club—it's also the first time in Barcelona's history that will see it change the name of its ground.
"We could not be more thrilled to be partnering with [FC Barcelona] to bring the worlds of music and football together," Spotify's Chief Freemium Business Officer, Alex Norström, said in a statement. He added, "We have always used our marketing investment to amplify artists, and this partnership will take this approach to a new scale. We're excited to create new opportunities to connect with FC Barcelona's worldwide fanbase."
Barcelona's stadium is currently the largest in Europe, housing nearly 100,000 people on match days. The partnership will begin this July at the start of La Liga's 2022/2023 season, with Spotify also taking over branding on the team shirts for four seasons, and on the training jerseys for three campaigns on both the women's and men's teams.
How much the deal is worth is currently unknown, although the Associated Press have reported that it could fetch anywhere between €50-€60m per season. The partnership lands a year after Spotify's CEO, Daniel Ek, tried and failed to purchase Arsenal for £1.8bn.