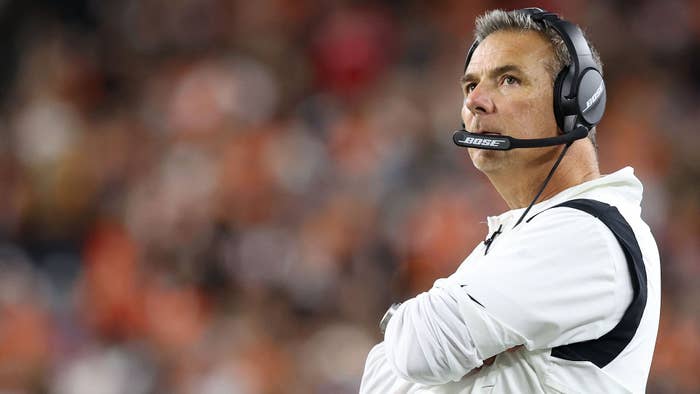 Urban Meyer and the Jacksonville Jaguars skipped the honeymoon phase as the head coach's era has featured turmoil and controversy.
Poor play on the football field is just part of his problems. There's turmoil in the locker room after a video circulated on social media recently showing the Meyer at a bar dancing with a young woman. The now-viral video has brought even more unwanted attention to the coach as the situation in Jacksonville is reportedly described as reaching a "crisis point." 
The Jaguars have started the season with an NFL-worst record of 0-4. In addition to a lack of wins, there have been rumblings that players and staff alike have grown resentful towards Meyer because of his fiery coaching style. The head coach reportedly belittled the team during preseason games, lashing out in unhinged outbursts in the locker room. Now there's an embarrassing off-field controversy they must deal with. 
After leading a successful Ohio State program to a national championship in 2014 and maintaining a winning record over his six years there, Meyer's already had a lot of eyes on him when it was announced that he would be coaching on the pro level for the Jaguars this season. Replacing former head coach Doug Marone—who led Jacksonville to their franchise-worst record of 1-15 during the 2019-2020 season—it wasn't like Meyer's had colossal shoes to fill entering his first NFL season. Yet, as soon as he was hired, controversy immediately followed. After being fined $100,000 in July for violating practice rules during organized team activities, Meyer dropped his coaching debut against the Texans, the beginning of what would be a rough four weeks for the team.
With Urban Meyer's time in Jacksonville possibly numbered, here's a timeline of everything that has happened since he was hired as the new head coach for the Jaguars.
Urban Meyer Hired as New Head Coach for the Jaguars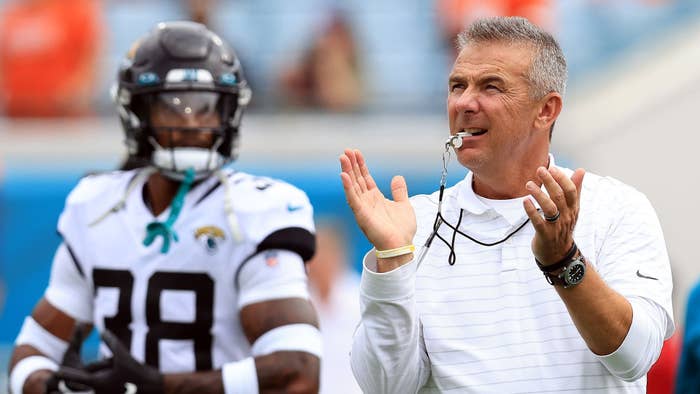 Meyer Questioned for Hiring Conditioning Coach Accused of Racism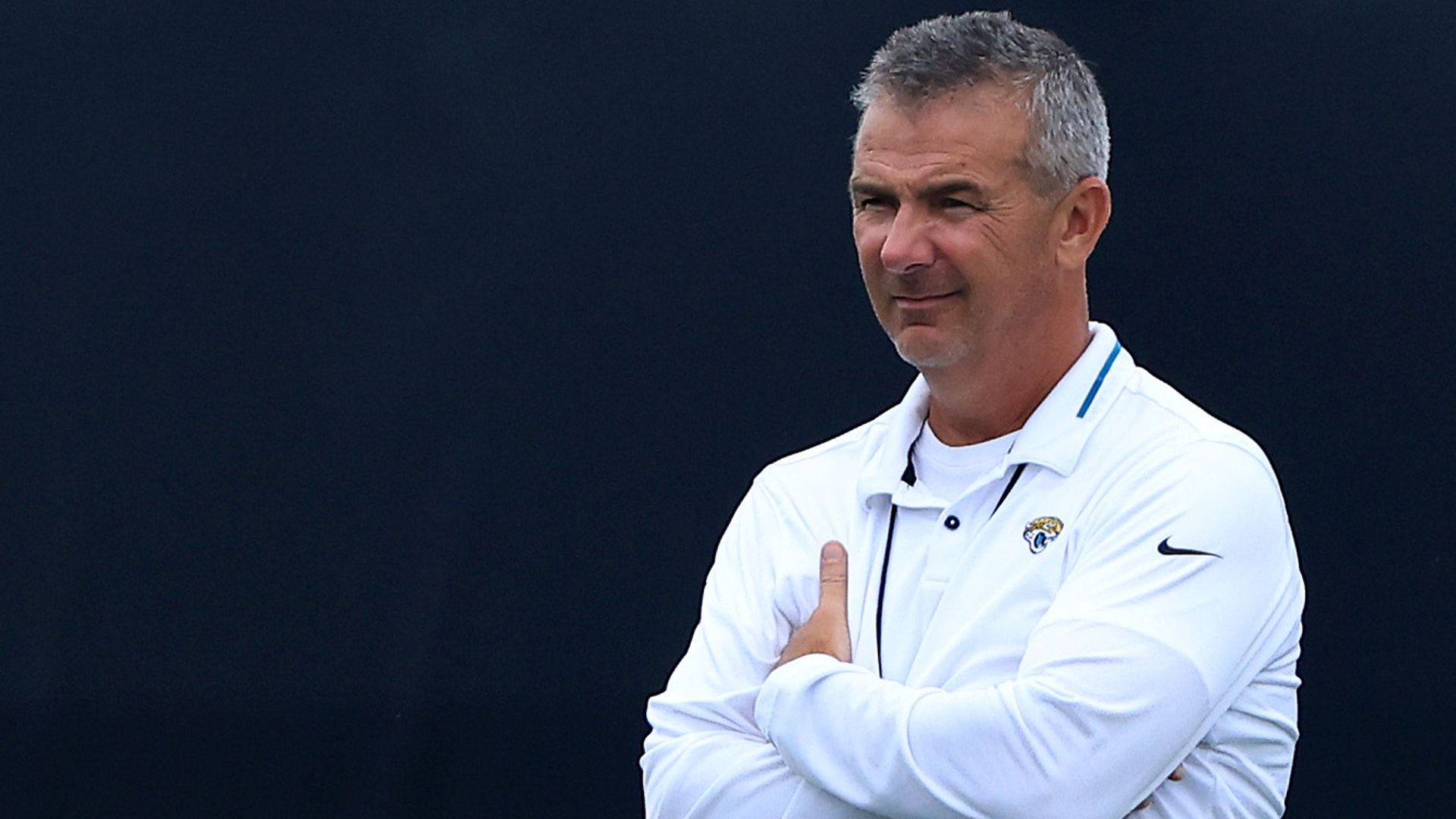 Back in February, Meyer hired former Iowa State strength and conditioning coach Chris Doyle as the Jaguars' new director of sports performance. The latest addition was met with immediate criticism because Doyle was placed on administrative leave and eventually reached a separation agreement with Iowa due in large part to allegations of racism and bullying.
In a press conference following news of the hire, Meyer defended his choice by talking about how long he has been friends with Doyle.
"I've known Chris for close to 20 years. Our relationship goes back to when I was at Utah and he was the No. 1 strength coach," Meyer said. "I vetted him thoroughly along with our general manager and owner. Feel great about the hire, about his expertise at that position. So we vetted him thoroughly and sports performance is going to be a high, high priority."
Many were not satisfied with the coach's comments, mainly because he did not directly address the allegations of racism against Doyle, instead emphasizing how long he had known the trainer.
Tension Begins to Brew in Jacksonville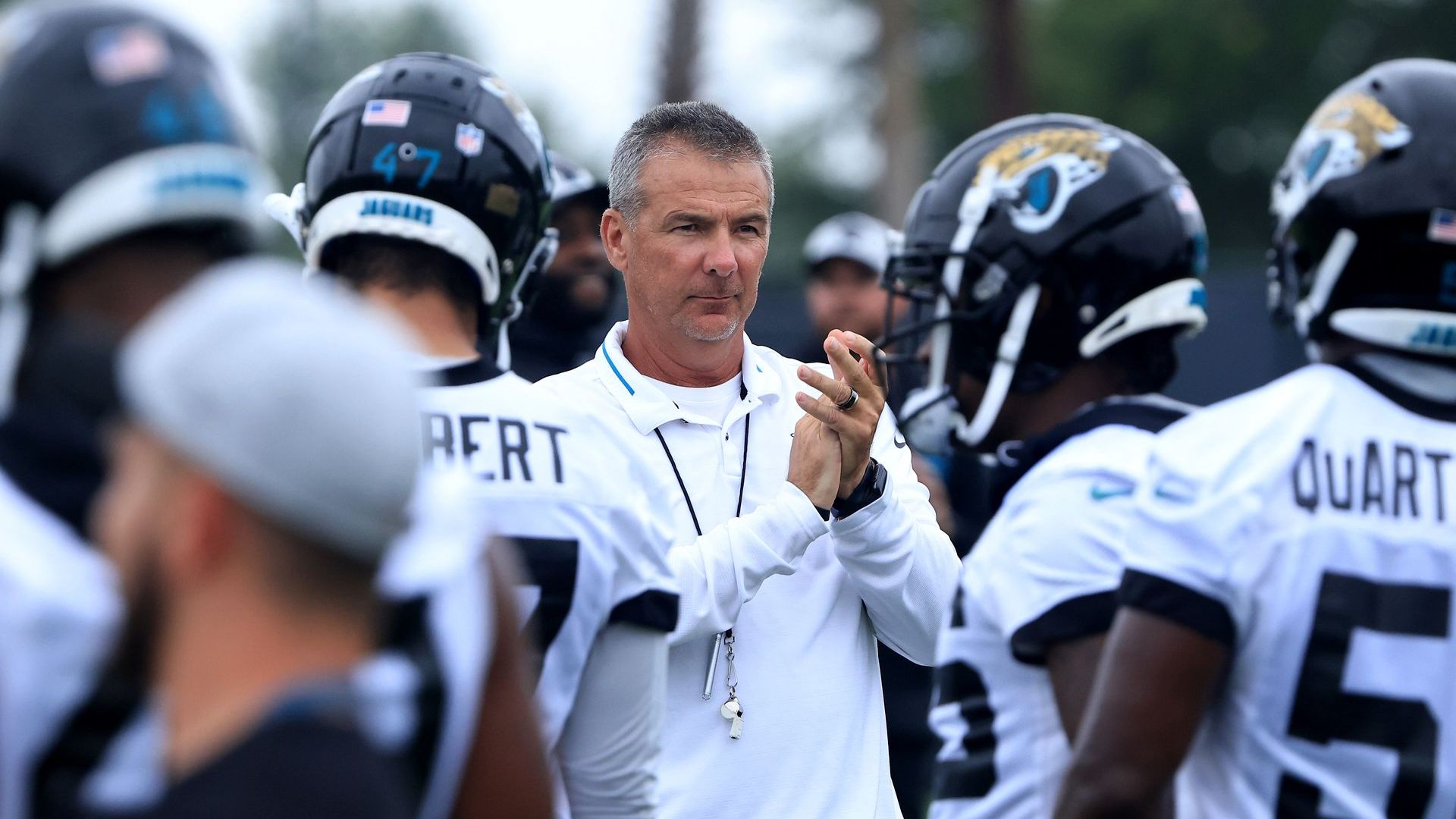 The Jaguars Start the Season 0-4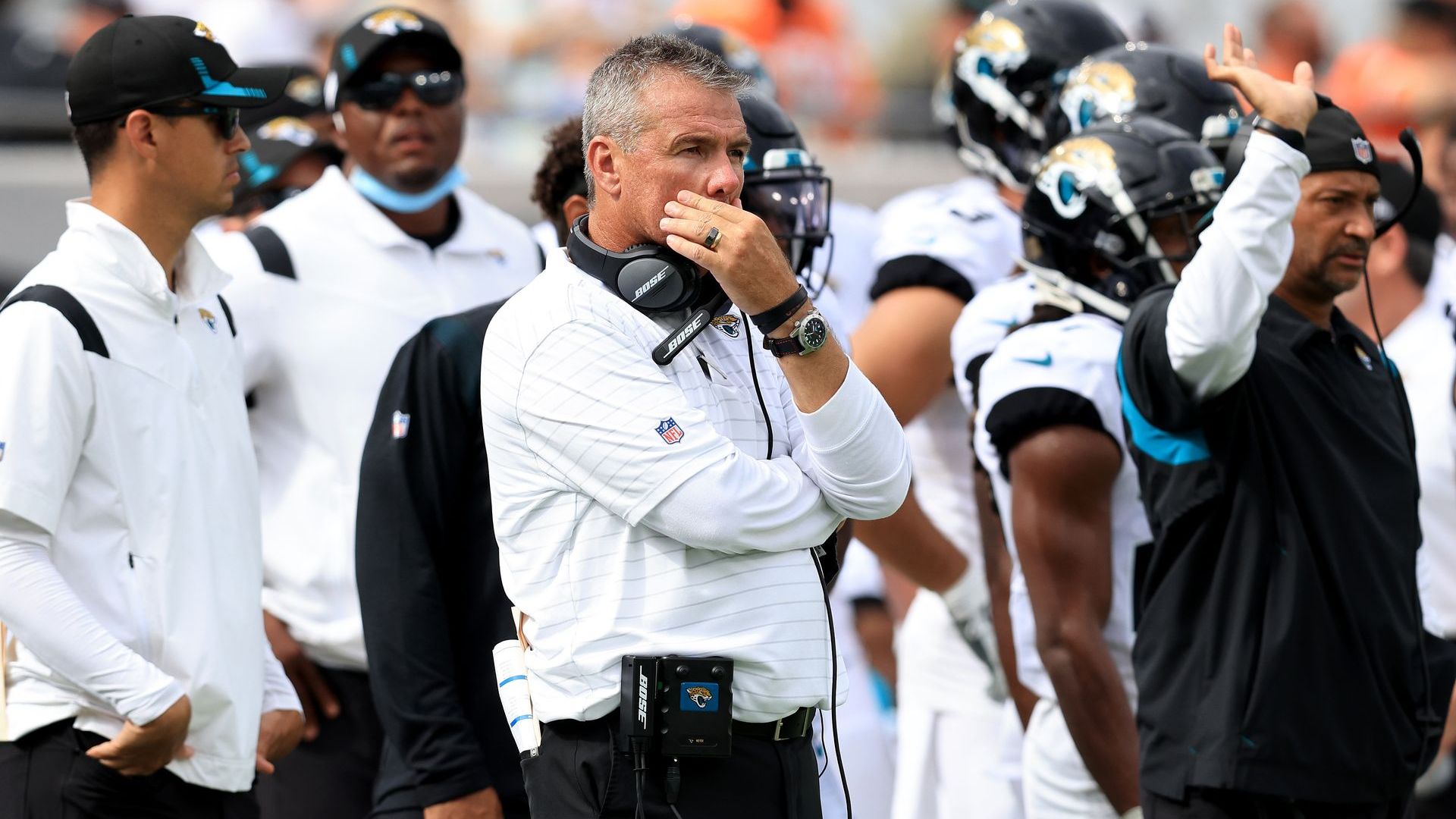 Viral Video Surfaces of Urban Meyer Dancing With Woman at Bar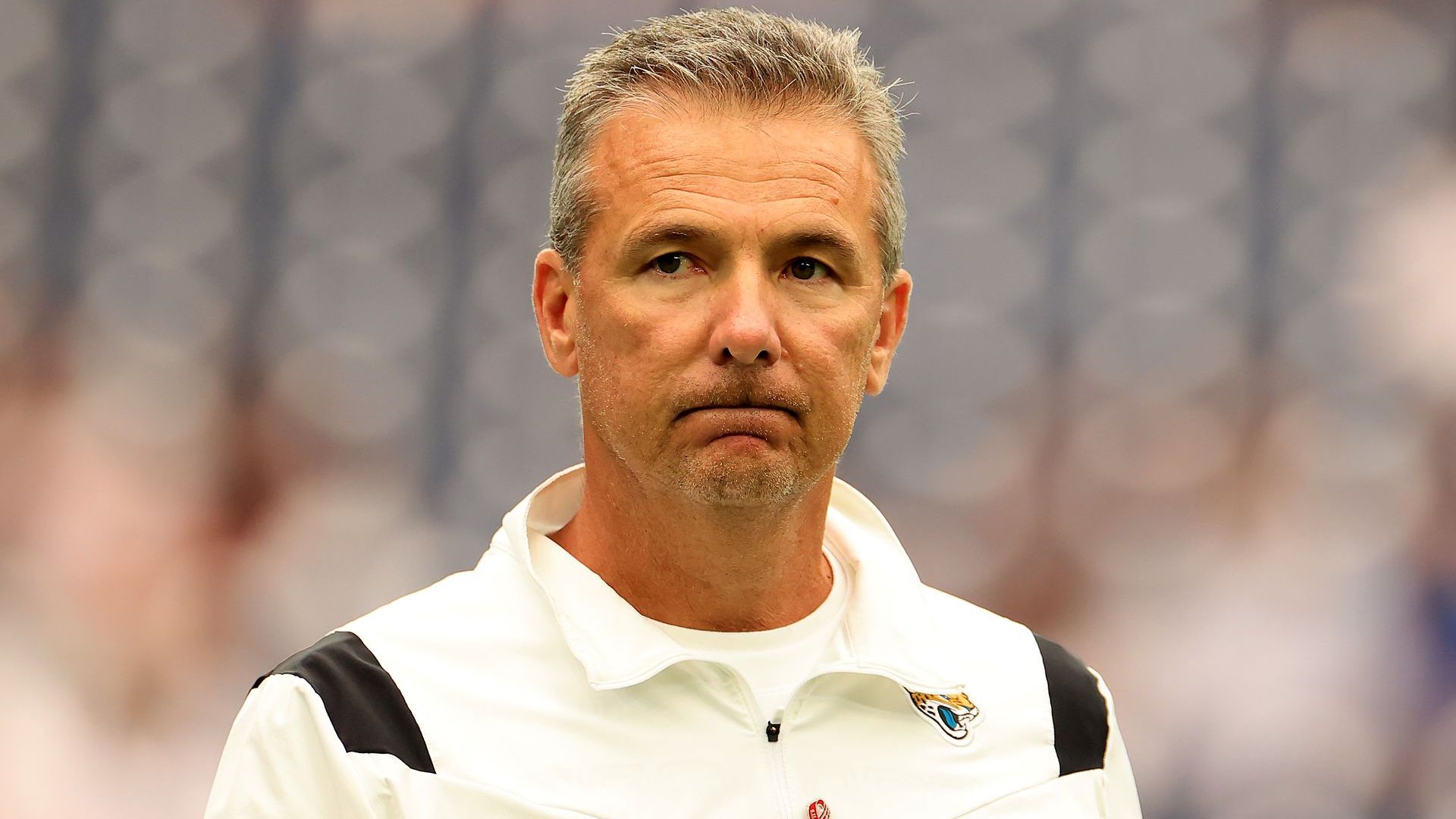 To add insult to injury, as the Jaguars deal with the worst start in the NFL, a video of Urban Meyer dancing with a woman in a bar this past weekend went viral, dropping the head coach in even more hot water.
In the video, Meyer, who has been married to his wife Shelley Meyer for 35 years, is seen dancing with another woman in what appears to be the Pint House in Short North, Ohio. The clip began to go viral on social media as more fans pointed and confirmed that it was, in fact, 57-year-old Meyer in the video and not a lookalike.
The coach has since apologized for being a "distraction" to the team and how he shouldn't have put himself in that situation in the first place.
Meyer's Situation in Jacksonville Reaches 'Crisis Point'
The culmination of on-field woes, off-field controversy, and possibly losing the locker room has brought Meyer's era in Jacksonville to a "crisis point" before even reaching the halfway mark of the NFL season.
According to reporter Michael Silver, some players on the team believe Meyer has "zero credibility in that stadium," and that he had "very little to begin with."
Amidst the media hailstorm caused by the viral video of Meyer in the bar this past weekend, Silver cites that players were upset that the coach canceled Monday's team meeting. "He even canceled the team meeting," one player reportedly said. "He was too scared."
The explanation that Meyer also gave the team for the video also didn't suffice, with many laughing after he left the room, creating a deeper rift between the head coach and his team.
With this latest controversy inserting a new wedge between Meyer and the Jaguars, there have been talks around the league that he might be fired. While none of these rumors have been confirmed, Meyer needs to lead the Jaguars to at least one victory in the coming weeks to get out of the hot seat.