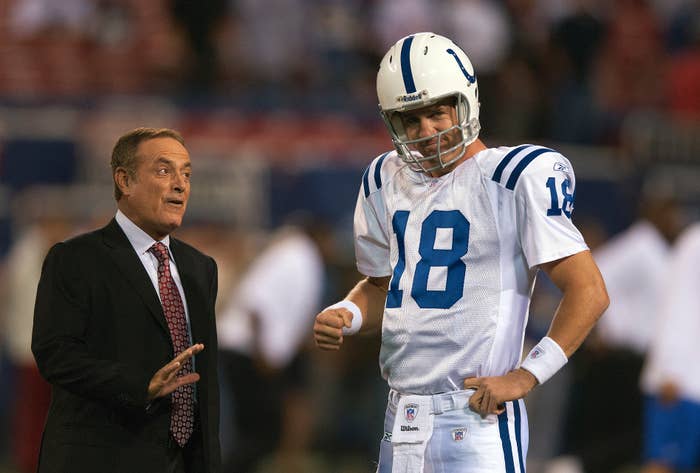 UPDATED 3/10, 10:15 a.m. ET: The New York Postis reporting that NBC has declined ESPN's trade offer for Al Michaels. "
"We look forward to Al completing his contract and calling Sunday Night Football games on NBC," NBC Sports spokesman, Greg Hughes, told the outlet. 
See original story below.
ESPN is reportedly trying to trade for broadcasting legend Al Michaels, who currently calls NBC's Sunday Night Football alongside Cris Collinsworth. According to The New York Posts' Andrew Marchand, the plan is to pair Michaels with Peyton Manning, who its reportedly seeking to be the color commentator for Monday Night Football. 
Manning is the network's top choice for the analyst role, at least now that Tony Romo has signed a massive 10-year deal to stay with CBS. If ESPN is unable to get Manning to fill that position (which was the case last summer) then it reportedly may try to convince Philip Rivers to take it instead. The 38-year-old Rivers is still active, and has said he intends to continue playing even though the Chargers (a.k.a. the only NFL team he's ever played for) have moved on from him. 
In an example of things coming full circle (...or something) Michaels was previously "traded" from ABC to NBC for a cartoon rabbit we're going to confidently state you've never heard of. That happened in 2006, around the time ESPN acquired MNF.
As it currently stands, Michaels still has two years left on his contract, which means NBC could just ignore all of this. 
The current Monday Night booth consists of Joe Tessitore and Booger McFarland.
ESPN had previously planned to try and pair Romo with Michaels if it were able to convince the ex-Cowboys QB to switch sides. This idea to land an announcing dream team is reportedly part of a larger scheme that would make ESPN/Disney look better when the upcoming NFL rights negotiations kick off. Disney, who owns ESPN, is seeking to get more NFL games and a Super Bowl for ABC/ESPN in the future. 
Anyway, if Manning and Michaels joined forces, it would be quite the dream team. Here's how people reacted to what could be the biggest trade of the NFL season.