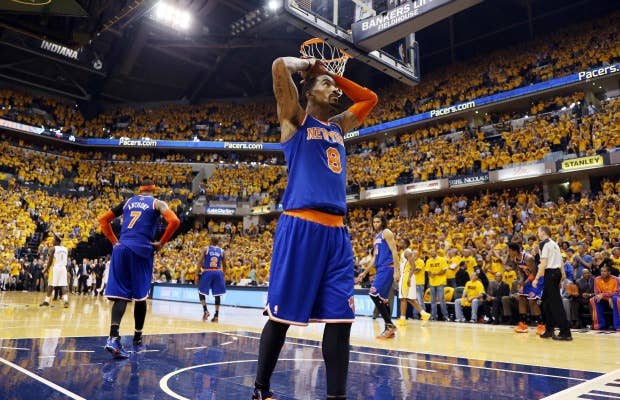 As it turns out, Rihannamay be have wrong. According to an ESPN New York report, hangovers and too much clubbing were not the reasons J.R. Smith struggled so much during the Knicks' second-round playoff series against the Pacers. Rather, Smith reportedly suffered from pain in his left knee caused by a buildup of fluid. The knee pain may have started during the Knicks' first-round series against the Celtics. But Smith did not undergo any treatment for it and never mentioned it to anyone in the media.
That being said, Smith is expected to get some treatment on the knee during the offseason and may need to get it drained within the next couple of weeks. It's still unclear as to what else he may need to have done to it. But Smith struggled with knee problems at several points during the 2012-13 NBA season.
If Smith's knee really was bothering him during the playoffs, then it explains a lot about why he struggled so much against Indiana. Hopefully, Swish will be back and better than ever after getting some rest (and signing a new contract!) over the summer.
RELATED: The 25 Biggest Fails in New York Knicks History
[via ESPN New York]