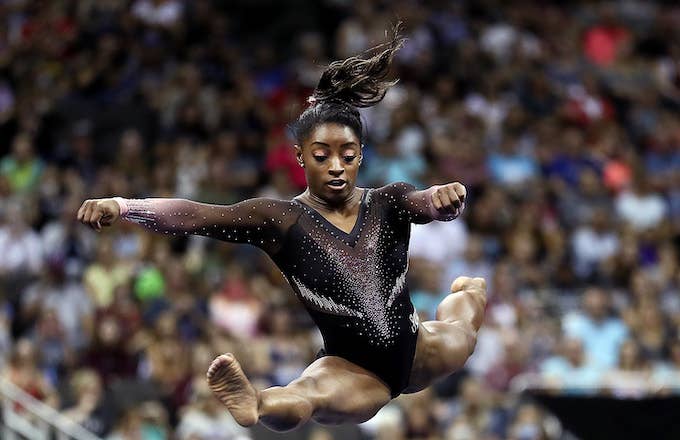 Simone Biles has not at all fallen off after introducing herself to the world at the 2016 Olympics. She's still out here winning competitions and pulling off never-before-seen feats.
Her latest triumph came at the U.S. national championship. Friday, she became the first person to ever land two twists and two somersaults (a double-double) from a high beam. The preposterousness of it is best captured in slow-mo.
Though the sight amazed many, Biles told reporters she was disappointed basically for not being perfect. On the floor exercise preliminaries, she tried out the triple-double—a triple twisting-double somersault—but had to use her hands to prop herself up upon landing.
"I'm still really upset about floor," she told USA Today. "I did end on a good note, so that makes me happy. But I'm still disappointed about floor."
Outside of her standards, she was fine. Biles made history again Sunday when she became the first woman to successfully land the triple-double in competition. Obviously she wasn't pissed about it this time around.
Biles finished on top to grab her sixth female U.S. national championship, tying the mark for most all-time set by Clara Schroth Lomady in 1952. The number of times the words "history-making," "first," and "all-time" has been attached to Biles' performance has many considering her place in the GOAT debate—not just for gymnasts, but also for athletes full stop. Read the reactions to what's essentially a prelude to the 2020 Olympics below.
In case you missed the Greatest Of All Time (G.O.A.T.) making history, here she is: Simone Biles 👇🏼

https://t.co/YiaQxE92jc
How often do we get to see someone do the thing they are quite literally the world's greatest at? Simone Biles is such a treasure.
Simone Biles is the greatest gymnast in history — she's 22. 🥇🥇🥇🥇🥇🥇🥇🥇🥇🥇🥇🥇🥇🥇— 14 gold medals at 22!