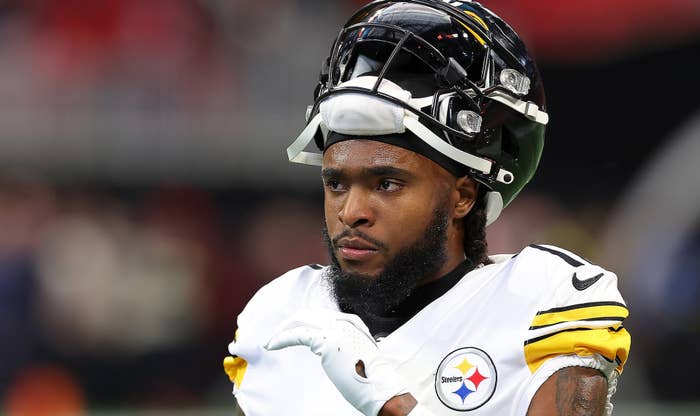 Pittsburgh Steelers wide receiver Diontae Johnson took to Twitter on Friday to deny a report that he punched quarterback Mitchell Trubisky during a dispute earlier this season.
The report was unveiled Friday on WFAN's Boomer & Gio, with Boomer Esiason's co-host Gregg Giannotti claiming a source told him Johnson punched Trubisky in the face leading up to the Steelers' Week 4 matchup with the New York Jets. According to Giannotti, Diontae got physical with his teammate because he hadn't been getting the ball enough. 
"That's part of the reason Trubisky ended up getting benched, because there was this horrible interaction between the two of them," Giannotti added. 
Once Johnson caught wind of Giannotti's accusations, the All-Pro wideout hopped on Twitter to shut down the rumor.
"Fake news," he responded to a video posted by the Boomer & Gio show's Twitter page.
Minutes later, he seemingly shared another reaction to the report, writing, "damn shame," alongside a pair of crying laughing emojis.
The news comes months after the Pittsburgh Post-Gazette published an article in October that shed light on an alleged "heated confrontation" that took place between Johnson and Trubisky.
Johnson denied that report as well, telling reporters at the time, "We're both passionate about the game. Stuff happens during football. We're fine, we talked about it. We made up, better over the whole situation. No hard feelings towards each other. That's still my guy at the end of the day."
Steelers head coach Mike Tomlin reiterated Diontae's remarks, saying, "The things that happen among competitors from time to time is normal business. Everyone wants to win. If it transpired, good. That probably means there are a couple of guys that want to win. If it didn't transpire, it probably means that it should have because we are aggressively pursuing victory. Sometimes that's emotional."