Trae Young Reminds Knicks Fans They're Mad at the Wrong Person
We caught up with the sharpshooter who will be an All-Star for the second time this weekend about why Knicks fans should direct their anger at somebody else.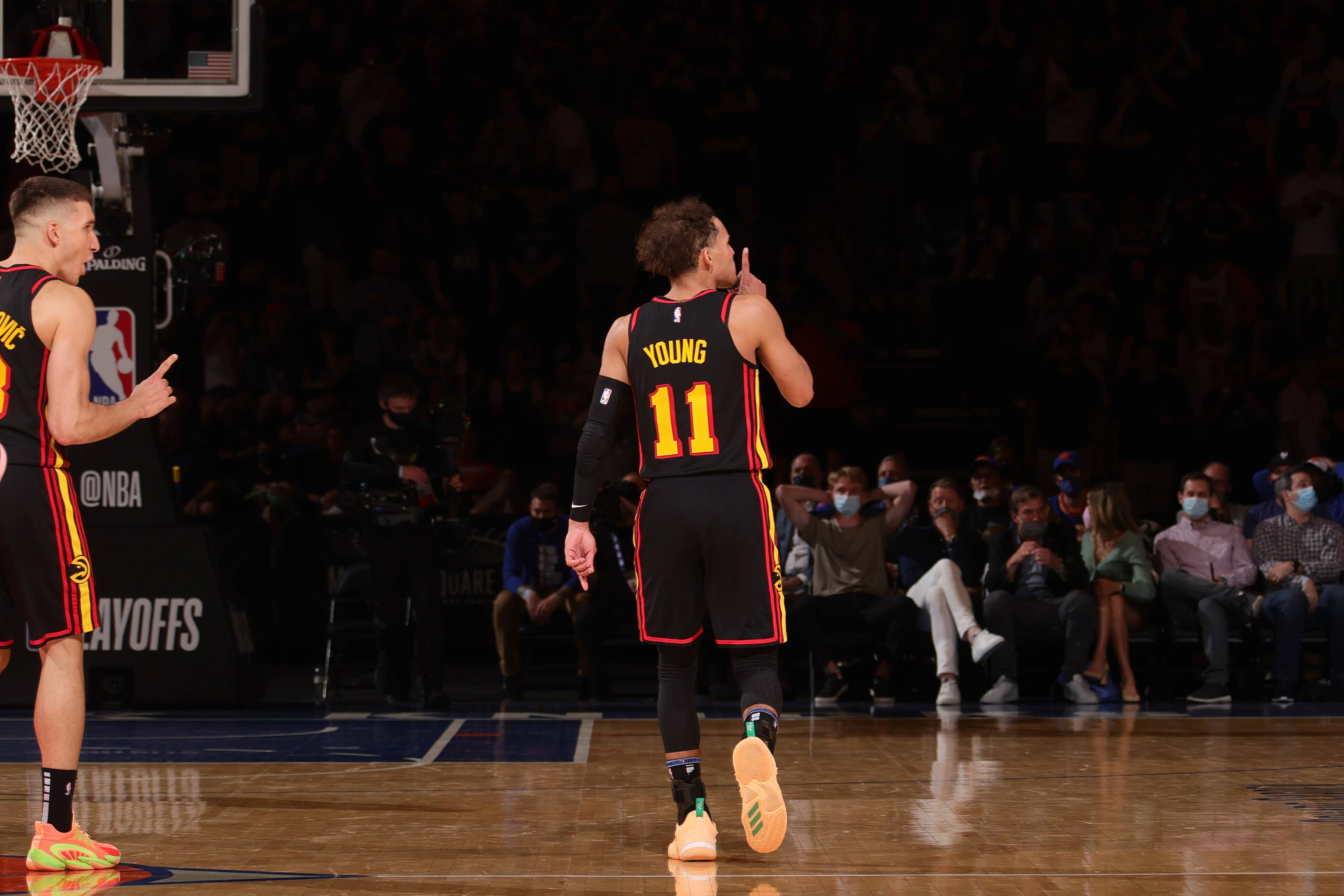 Getty
NEW YORK, NY - MAY 23: Trae Young #11 of the Atlanta Hawks celebrates after hitting a game winning shot against the New York Knicks during Round 1, Game 1 of the 2021 NBA Playoffs on May 23, 2021 at Madison Square Garden in New York City, New York. NOTE TO USER: User expressly acknowledges and agrees that, Copyright 2021 NBAE (Photo by Nathaniel S. Butler/NBAE via Getty Images)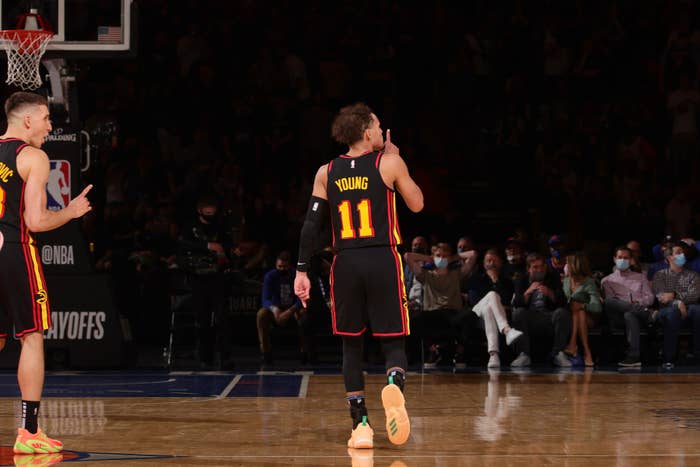 Trae Young can talk trash with the best of them on any NBA court.
But what about off of it? And what if the smack talk was directed toward basketball royalty after Young—who has drawn obvious comparisons to said royalty—accomplished something the living legend never did? 
It's a hypothetical posed to the Hawks point guard who will be in Cleveland for All-Star festivities this upcoming weekend, including an appearance in the 3-Point Contest. It'll be Young's second shot at winning one of the weekend's premier events and should the assassin from outside capture the title, he could easily rub it in the face of Reggie Miller, who appeared in five of 'em during his days in the league without a victory. But Young's too good of a dude and has way too much reverence for the Hall of Famer to do that.  
"Oh, I mean, I got to make a lot more 3-pointers before I start talking trash to Reggie Miller," says Young. "But if I win one I'll be able to say I have at least one thing over Reggie Miller. For sure, that will be cool." 
Young and Miller, of course, have way more of a connection these days after Young took the torch as the most villainous athlete in New York basketball from Miller. Young's epic performance in last year's first-round series, when he was talking all kinds of trash to players and fans alike as he silenced a raucous and ravenous Madison Square Garden and bounced the Knicks out of the playoffs, was reminiscent of Miller's performances from three decades ago. 
Considering Young caught a stray in that hilarious Sidetalk video of Knicks supporters going berserk outside MSG after their season-opening triumph over the Celtics, Young continues to live rent-free in the minds of Knickerbocker fans. And you know New Yorkers can't wait to serenade Young when he makes his return to the Garden in March after missing the Christmas showdown. The way Miller used to be with Knicks fans, Young has become persona non grata at the Garden. But Young thinks they need to redirect their anger at somebody else. 
"Knicks fans want to be mad at me, they're really mad at the wrong person," jokes Young.  
We caught up with the sharpshooter who will be an All-Star for the second time this weekend to talk about his trash-talking proclivities, why Knicks fans should be pissed at New York's former mayor and not Young for last year's playoff performance, and his latest project with BodyArmor. 
(This interview has been edited and condensed for clarity.)
I'm talking to you from New York, Trae, and obviously you missed your return to Madison Square Garden on Christmas so I wanted to ask you a few New York questions and have some fun with it. Can you do me a favor and rank New York among your favorite NBA cities? 
It's definitely up there as one of the top cities. Definitely a place whenever you know you're going there, you want to put on a show. It's one of the places with the brightest lights, everybody knows that. I think it's fun just being a part of that. 
I know you're aware you received a vote in the mayor's race this past November.
[Laughs.]
At least one person in NYC loves you. And you're a guy who likes to trash talk. How do you incorporate that into your trash-talking repertoire when you make your return to the Garden later this season?  
Ah man, nah. I don't even think about that. Last year the mayor said something to me. 
The former mayor. New Yorkers hated Bill de Blasio and we're glad he's gone. The audacity of Bill de Blasio talking shit to you was on a different level.
Knicks fans want to be mad at me, they're really mad at the wrong person. They should be talking to the mayor. He started a lot of the stuff. 
You have the phrase "Always Remember" tatted on your arm. What memory stands out to you when you think back on that series with the Knicks? 
Ah man, I don't know. There were a lot of moments, a lot of great moments, in that series for me. I remember going to halftime and one of the players on the Knicks bumped me—Nerlens [Noel]—and I like just knowing I just had my brothers with me going back to the locker room. It was a big thing about the series and I liked it. 
Why do you thrive so much in that kind of environment?
I thrive on being an underdog and doubted and taking that as a challenge to prove people wrong. Not a lot of people thought we'd win that series to begin with. And as the series happened, and the fans started saying what they were saying, it added fuel and made it fun.
So it's fun being the most villainous basketball player in New York since Reggie Miller? 
Oh yeah. It's fun. That's what makes it fun to go there and play in the Garden. Everybody not wanting you to succeed and having that challenge, I just like taking those challenges on.
Reggie called you "borderline cocky" during last year's Eastern Conference Finals—in a good way, not a bad way. How would you describe yourself?
For me, I just let the game come to me. If people say things to me, whatever, you want to get into a verbal battle, I can talk trash, too. But I can also let my game do the talking. I've grown up playing up and older guys, so for me to get my respect, being the smaller guy, every time I do something I would make sure they knew about it. I could really go both routes—talk trash or just let the game do the talking. I just let the game come to me and if people start it up and want to talk trash, I can do that, too. 
Do you have a trash-talking mentor or was there someone you grew up watching that you tried to model your trash talking after? 
Man, I looked at everybody from growing up in Oklahoma and seeing Russ [Westbrook] yelling and Kobe [Bryant] and AI [Allen Iverson]—AI being a small guy—Chris Paul. Chris Paul's been known to be a big trash talker. I think I just watched the game and I'm a student of the game. 
What's the latest with you and BodyArmor?
Yeah, I got some things coming. Just doing a shoot out here. My little brother's going to be a part of it and so it's going to be cool and it's something big. It's a big partner of mine. To have my brother be a part of this shoot is going to be awesome. 
When you're talking big, can you give me a little bit of a hint of how big?
Man, I don't give away my secrets. 
I noticed on Twitter that you still have a tweet pinned thanking Kobe Bryant—who was a BodyArmor investor—for all he did for you. Looking back, what sticks out the most from the lessons you learned or the conversations you had with him? 
For me, what I think about is the role model part. More than basketball, what he did and was for everybody, including me. Just the few conversations we had, just talking about continuing to be a role model and inspiring people is what really sticks out to me.