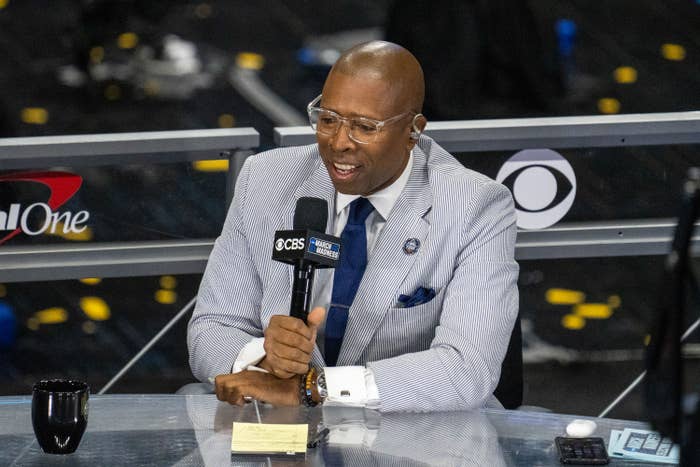 Kenny Smith bleeds Carolina blue. Through and through. So ask him if he thinks his alma mater—one-half of the greatest rivalry in college basketball—erred by not honoring Mike Krzyzewski during the coach's final visit to the Dean Dome last month, and the broadcaster laughs.
Not because he's anti-Coack K. Smith, as you'll read, has plenty of respect for the most successful coach in Division I men's history who is retiring at the conclusion of the season. Rather, the Inside the NBA fixture laughs because the controversy, stirred by some Duke supporters who were reportedly upset when North Carolina didn't do something special before the Feb. 5 Duke-Carolina tilt in Chapel Hill, is preposterous. 
"If you name me another ACC school that honored him, maybe we should've, but there wasn't," says Smith, laughing. 
Technically, a number of Duke's conference cohorts did in various forms, like announcing a donation to Krzyzewski's non-profit organization before the game. But making a big effort to give Coach K a sendoff to remember in their house? Smith's point still stands. Would the Yankees honor the Red Sox skipper in the Bronx? Fuhgetaboutit. Would the Jets air a tribute to Bill Belichick before his final game in the Meadowlands? Are you high? Did every ACC school make a big deal about Coach K's final season? The answer is no so if any Duke supporter is still smarting from North Carolina's supposed snub, they're just going to have to get over it. 
We're talking college instead of the pro game with the man whose brand is most closely associated with the NBA because Smith will be back in the studio this week—along with hosts Ernie Johnson and Greg Gumbel and analysts Charles Barkley, Clark Kellogg, and Wally Szczerbiak from the CBS Broadcast Center in New York—for NCAA Tournament coverage.
This will be Smith's 11th time covering the greatest postseason in sports and ahead of Thursday—what's still considered the first day of the NCAA Tournament, even though the big dance technically tipped-off Tuesday in Dayton, Ohio with the First Four—we caught up with the former Tar Heels guard who played in four tournaments and reached two Elite Eights. Via the good ol' telephone, Smith chatted about all things March Madness, including the players he's most excited to see ball on college basketball's biggest stage, who he'd pick with the No. 1 selection in June's NBA Draft, what cliché no longer applies to the NCAA Tournament, and a temperature check on the Duke-North Carolina rivalry.
(This interview has been edited and condensed.)
So this is year 11 for you doing the NCAA Tournament with Turner and CBS—it feels like it's been way less—but for a guy whose brand is so closely associated with the NBA, tell me why you love doing the NCAA Tournament?
College basketball, the one-and-done, that mentality is so different from anything else. The best doesn't always win, you know. It's not the NBA where you have 4-out-of-7—it's 40 minutes. Can you sustain things for 40 minutes? You don't have to sustain things for 10 days. That makes it fun. The other thing is they're not professionals—they're student-athletes. The things they're doing on the court, if I'm watching a pro game, the ball moves over there, it moves here, I'm like, "Oh, that's going to go in." Here, it's like, no, these kids are full-time students. It doesn't automatically mean it's going to go in. That's part of the excitement of it—everybody has an opportunity. The other part of it, 99 percent of the players, I always realize, this might be their last time playing in a big spotlight. That's fun to see these kids get an opportunity, because a lot of them will never play basketball again after this.
There are a lot of clichés that get thrown around when it comes to the NCAA Tournament. Is there one you think that no longer applies?
There's no such thing as a mid-major. There's basketball programs around the country and Power 5 doesn't mean anything other than you have a bigger budget.   
"My teams that I like are UConn, UCLA, and North Carolina. People are going to go, 'Man, they made a run that I didn't think they were going to make.'"
What is the best, most interesting storyline heading into the tournament?
Parity of teams is exciting to watch. There's been numerous No. 1 teams throughout the season. Nobody's been able to hold that mantle for a long time. And obviously the end of an era with Duke.
Which I wanted to get to. That storyline will probably be the biggest one during this tournament. I know you're a North Carolina guy, but do you have a great Coach K story you like to tell?
I think the one thing we saw Coach K create in Durham was when I first got to North Carolina, the rivalry wasn't Duke. It was North Carolina State. That was the rivalry. Carolina or State. He said the rivalry will be between us. To me, the architect of building a program, we got to see it in a modern era and that's what we respect more as Carolina guys. Because they weren't really the rivalry. [Laughs.] It became the rivalry. And now it's the greatest rivalry in college basketball. No one ever thinks about that.
So let me ask you this question as a Carolina guy—that controversy about Duke supporters reportedly being upset North Carolina didn't honor Coach K during his final game at the Dean Dome. Should UNC have honored Coach K?
I don't think that's our responsibility to honor him. It may mean a lot to the fans around the world. I don't think that's our place to honor him. It's Duke's place to honor him. No other ACC team honored him. If you name me another ACC school that honored him, maybe we should've, but there wasn't. [Laughs.]
Player you'll be keyed on during the tournament?
I'm interested to see the freshmen—Chet Holmgren at Gonzaga, Paolo Banchero at Duke. These talented freshmen, the hardest thing they have to do is focusing on the team when this is also about focusing on draft picks. A lot of them over the years have not been able to separate the two. You have to be all-in to win the NCAA Tournament.
How underrated is it for a freshman, or highly touted player, to put aside what the tournament can do for your draft stock and be all-in for the team?
It's easier if he's a junior or senior. It's harder if you're a sophomore or freshman. Because a junior or senior is like, "I want to go out on a bang. I've been here before. I know what this means." A young guy, he might go, "I don't know what this is about. I'm trying to go to the league, anyway." I'm interested to see the super young guys and how they respond because they're super talented, like my guy in Auburn, Jabari Smith. Just how they respond when everything's on the line.
If you had the No. 1 pick in the draft and you had to pick between Chet Holmgren and Jabari Smith or maybe even Paolo Banchero, who are you picking?
It definitely would depend on what team I am and what personnel I have. Because all three of those guys have different skill sets. If I'm the Clippers and I have Kawhi Leonard, there's no reason you need my guy in Auburn. I think they have such unique skill sets and none of them are Shaq or change the dynamic of any franchise from Day 1. I don't know if any of them are generational players, but they're very good basketball players.
Are you generally concerned about Holmgren's frame? Skinny hasn't really been a problem for skilled guys heading into the NBA.
No. I mean, he's been thin his whole life and he's still been dominant. [Laughs.] He's going to add strength even if he doesn't put on weight. [Holmgren's] skill set is so unique, being able to handle the ball with that fluidity translates into a more open floor than college, which zones you up more, you don't have multiple guys who can really score, don't have guys who can come off the bench and create double teams. He's going to play with a whole unique set of guys. And his length allows him to be such a great shot blocker.
Is your Final Four set or are you still trying to fill out your bracket?
Still trying to fill out my bracket. I always look at the 5 seeds and the 8/9 seeds. Usually those are teams on an upward trajectory. Like, they were that good and went from possibly not being in the tournament to a really good seed. I love the Huskies, after they beat Villanova when Assistant Coach Kimani Young showed what he could do. He's probably a hot assistant for some jobs. You have my Carolina guys who have won nine of their last 11 games. And one of those teams that people have forgotten about is UCLA. Before [the Omicron wave], they were [ranked high] and then COVID hit and they took a month off and faltered a little bit, I thought based off the fact they weren't playing enough basketball. Now they're about to get back to it. My teams that I like are UConn, UCLA, and North Carolina. People are going to go, "Man, they made a run that I didn't think they were going to make."