Jermall Charlo Wants Canelo Alvarez in 2019, Asks, 'How Long Do You Make Boxing Fans Wait?'
The flashy and boastful middleweight contender from Houston wants a shot at the best pound-for-pound boxer in the world next year.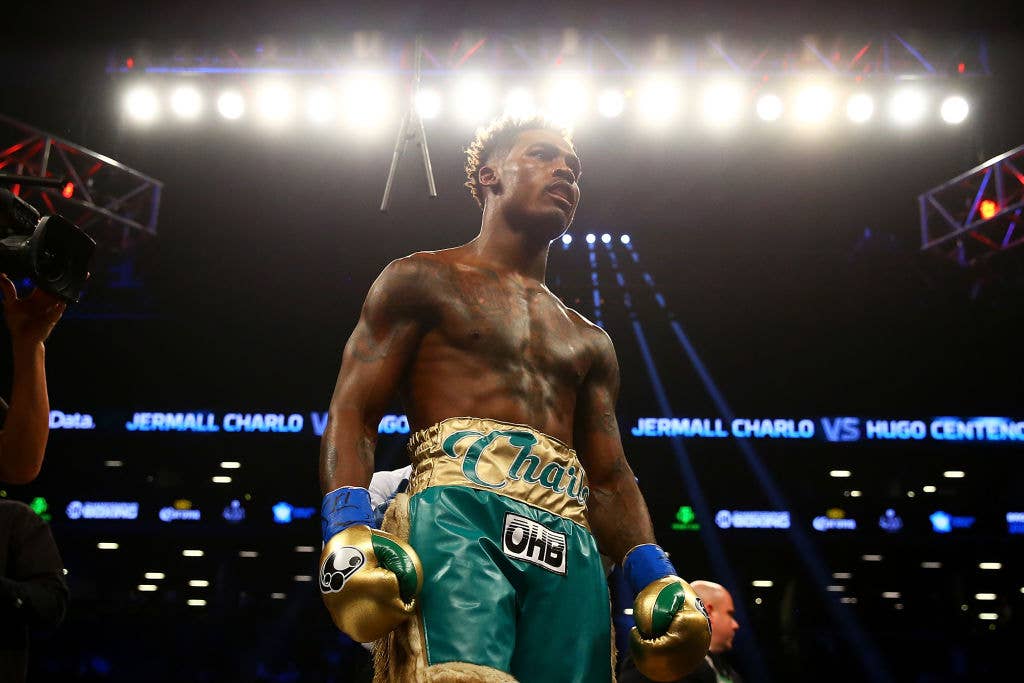 Getty
NEW YORK, NY - APRIL 21: Jermall Charlo celebrates after knocking out Hugo Centeno Jr. in the second round to win the WBC Interim Middleweight Championship at Barclays Center on April 21, 2018 in New York City. (Photo by Mike Stobe/Getty Images)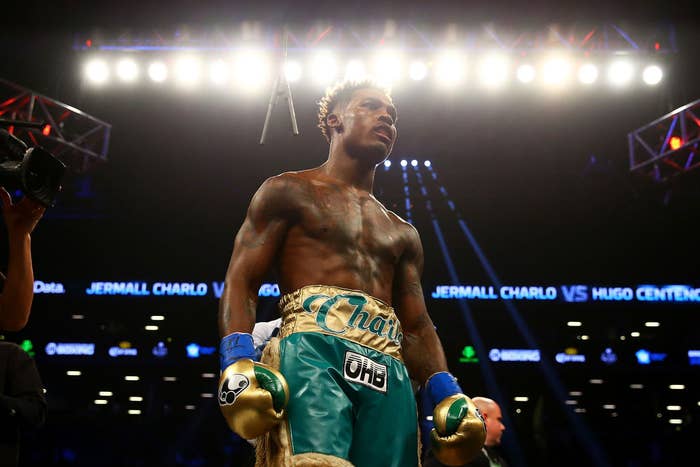 The formula is pretty simple for Jermall Charlo.
"Only way to be a star is to beat a star," says the middleweight contender from Houston.
So even before half of the highly regarded Charlo Twins—his brother, Jermell Charlo, is a 154 pound champion—enters the biggest spotlight of his career Saturday, the middleweight contender has his sights set on the sport's biggest superstar: Canelo Alvarez.
"The fans want to see it so how long do you make boxing fans wait for a fight they want to see?" says Charlo.
If you don't know who Jermall Charlo (27-0, 21 KOs) is, or haven't seen him fight, the flashy and boastful 160-pounder is considered a rising star in one of boxing's best and deepest divisions. He hopes his turn as the co-headliner of Saturday's PBC on Fox showcase at Barclays Center in Brooklyn will do the trick and continue to put pressure on the sports' power brokers to line him up for a showdown with Alvarez, arguably the best pound-for-pound boxer.
"I'm one of the best middleweights in the world," says Charlo, nicknamed The Future of Boxing. "I train harder than a lot of these middleweights. I didn't take the easy route. It hasn't been easy for me to get fights. I have skills they don't possess."
Before he hit up the Rockets-Jazz game earlier this week where he planned to challenge P.J. Tucker for a pair of sneakers—"We're going to play for the Fear of Gods," Charlo joked—we chatted with him about the pressure he's feeling ahead of his bout with Matt Korobov, Floyd Mayweather's influence on his career, and Charlo's choice for sneaker of the year.
(This interview has been edited and condensed for clarity.)
You're going to be in front of a new audience so for those who haven't really seen you fight so give them an idea of what they can expect.
If you haven't seen me fight, just expect a fight. I'm a clean boxer. You don't have to worry about any dirty tactics. I'm fighting a bully now. If you've ever been bullied, you can see how to operate around one and use your dominance, and your skills and your power. You can expect some flashy stuff. We are the flyest boxers in the world. You can expect a knockout because we do knock people out. We are knockout artists.
How much more pressure do you feel coming into this fight compared to all the others?
Enough pressure just to go in and impress the fans the way I normally do. It's not so much pressure for the fight, but pressure to make a statement.
Is it more about impressing, is it more about style, is it more about substance in this fight?
It's to show the fans that I deserve to be in that top caliber to be [matched up] against those top fighters that the fans want to see me against. In order to get to that level I have to take this obstacle the way I do.
You and your brother have talked in the past about showing fans that, but what do you really have to show in order to get the respect you feel you deserve?
We just have to show our dominance and our importance in the ring. It's a new level, it's a new age, it's a new era. We have to continue to show we're on top of this new era and continue to have great fights and great turnouts.
We know there was a late change in opponents, I doubt that really changes that much for you, but does it all make things screwy going into fight week?
It definitely changes a lot. Fighting a different opponent, I feel like he's a better opponent. I still feel comfortable and I'm confident that I'll deliver a statement.
The goal for you is to take aim at becoming the top middleweight in the world, and you haven't been afraid of calling out Canelo.
I mean, that's one of the fights that the fans want to see. There's a lot of fans that think he can beat me, but there's a lot fans who think I can beat him.
Do you realistically have a timeline or ideal goal of when that fight could happen, because it's not an easy fight to make?
Man, he's been a lot more active lately. The company that he's with right now…if one day we can get this fight on before it's too late, like the fans want to see it so how long do you make boxing fans wait for a fight they want to see? I'm definitely intrigued about him and he looked good in his performance [last weekend vs. Rocky Fielding], and I would look nothing like the guy he fought. With that being said, it's a fight the fans want to see, a fight they deserve. I'm here for whatever he has to bring, whatever he has to offer. It's not a fight I've shied away from.
It's the business. But is it frustrating that it could be another two fights away for before you guys would even start to talk or have negotiations about making the fight happen?
That's why I need to keep delivering statements. Maybe by me delivering statements, I'll get the fight I deserve. And the only way I can deliver that is keep fighting top competition and being explosive. Sooner or later it should happen.
If you take care of business Saturday, what is the next logical step? Do you have that mapped out already?
I wish I could tell you who the next possible opponent is. I have to let some middleweights shake themselves out. But of course I want to be in there with the best in the world but it's not always easy to get the best in the world. Honestly, [Gennady] Golovkin isn't signed with anybody. He hasn't signed with the little boy band thing going on over there overseas. We might be able to get something staked out. It is what it is. I've got to get it. I'm 28 years old and I feel the strongest I've ever felt in my life. Experience is on my side. Time is on my side. This is the time I want to fight.
Just to be certain, you're talking DAZN, the new streaming service that's the broadcast home for Canelo Alvarez and other fighters, being the little boy band overseas, right?
Because everybody's joining the club, being a follower of a couple of non-leaders, you know? Sometimes you can be different and it gets more done. I've had offers from [fighters} but it isn't an offer I want to accept because it has nothing to do with me. I don't want to be tied to something that has everything to do with them. That's what I get out of their contracts and their people. The money isn't bad on my side, so why go ahead and change and make somebody else happy? Right now it's about me and my twin brother's legacy. And they're not designed to do that.
And Al Haymon has been good to you guys.
Awesome. He's changed lives. He's changed lives with some of those guys who's over there with DAZN. Nobody's really talking about it, but there's not as many undefeated, real natural legacy made fighters over there. A lot of those fighters have taken losses and are onto plan B. So they took plan B, because [DAZN] is offering crazy money to fight on a network a lot of people won't get a chance to see. If they end up looking back, nobody's seen it anyways.
I'm doing good where I'm at. If something ain't broke, why fix it? Everything's going great at this moment. They're going to have to put up some big numbers, some outrageous numbers, which I haven't gotten none of that. I've gotten, "Come be part of my flow over here." Nah. We want to be the main event everywhere we go. I'm not talking bad about those fighters. But man, look at the biggest fights like Tyson Fury vs. Deontay Wilder. They didn't need to be online. Showtime is doing a great job. Everybody is doing great. It's not necessary for us to jump ship because some new dude is coming in and start branching out money to a lot of people. [DAZN] spent a lot of money on Canelo. [DAZN] didn't spend a lot of money on everyone else.
You guys had Floyd Mayweather come by your workout last week. Talk about the influence Floyd has had on your career.
I watched Floyd growing up and I never thought I'd be able to meet Floyd. I've been on some of his undercards and I've watched his skills, watched his demeanor. Floyd is one of the best fighters to ever step in the boxing ring. That was awesome [of him] to come out to my city of Houston on a random day. He said he would come months ago. and we didn't have to remind him. That showed me and my family and Houston that we have Floyd on our side and that was amazing.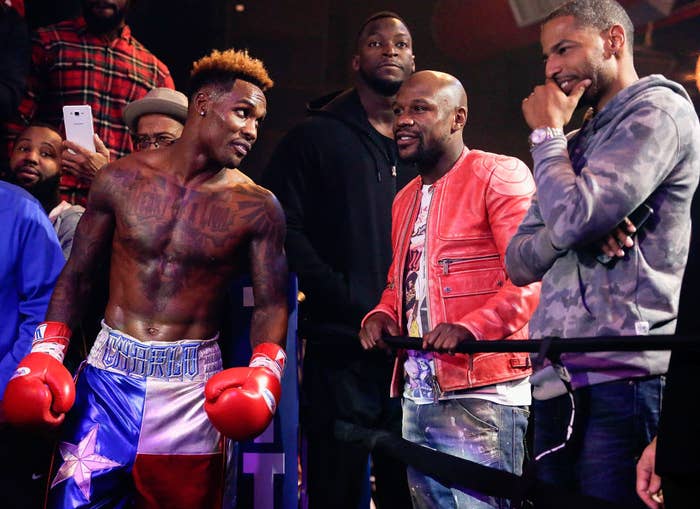 What's the best piece of advice Floyd's given you?
The best advice I want to say is keep winning. Floyd always says keep winning. And that's what we've been doing.
Favorite fashion collab this year?
Dior x Kaws. But the real major one this year was Off-White and Nike and that took over 2018.
What's your sneaker of the year?
That's hard. Man, maybe the Off-White Prestos when they re-dropped. That was probably the coolest, most comfortable, agile sneaker.
Deontay Wilder came out with the crazy ring entrance two weeks ago. Do you have anything similar planned?
I don't do the diamond crown, mask, or whatnot. To be honest with you, I'm trying to stay focused for this fight. There's a lot going on. I don't know if I'mma have any of that. Just know that we always fly. We always in the freshest gear. We're the swaggiest boxers ever.
You would light up the Internet if you came out in Supreme boxing trunks.
Man, if Supreme could collab with us for sure I would rock some crazy Louis Vuitton x Supreme, any of that collab that was off the charts I would definitely do it.