Matthew Berry Tells Us How To Win Your Fantasy Football League
The ESPN fantasy football expert answered our questions about how to emerge victorious in your league this season and which sleepers you need to snatch up.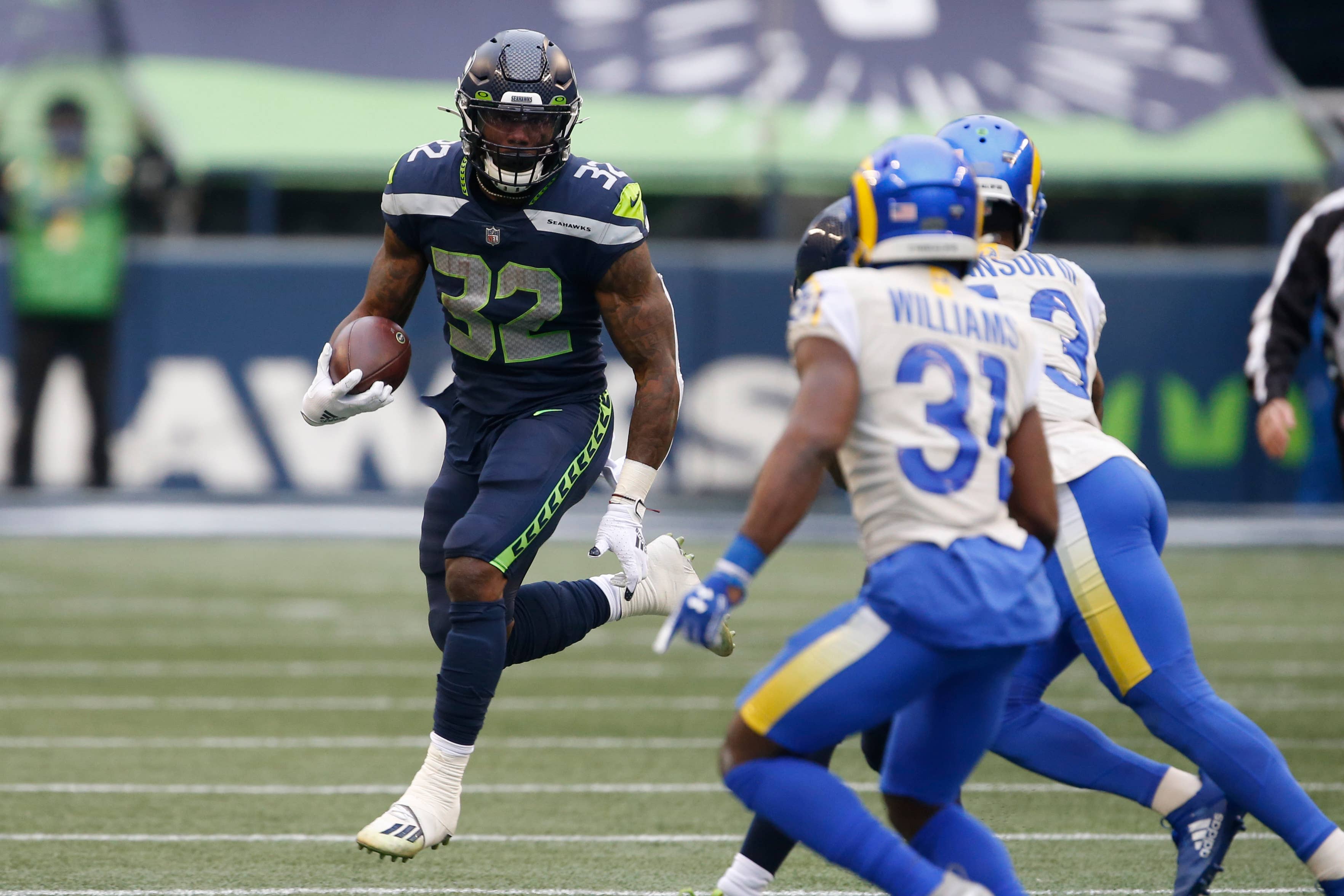 USA Today Sports
Jan 9, 2021; Seattle, Washington, USA; Seattle Seahawks running back Chris Carson (32) runs the ball during the second quarter against the Los Angeles Rams at Lumen Field. Mandatory Credit: Joe Nicholson-USA TODAY Sports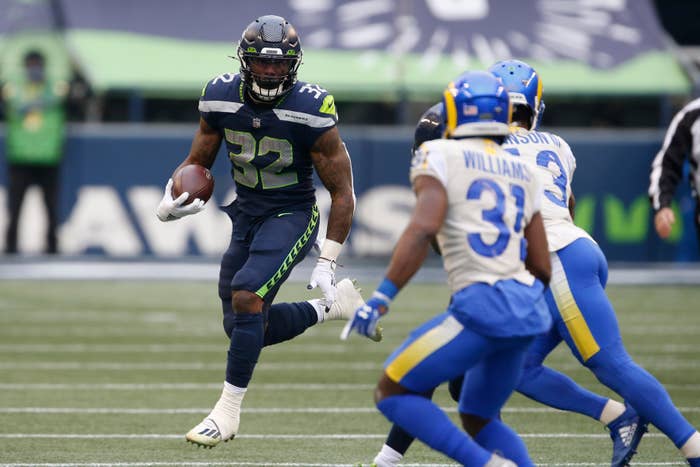 The scope of fantasy sports has exploded. Once a fringe hobby exclusive to sports super nerds (myself included), it's now everywhere . And you don't need to be a big sports fan to have a team. Chances are you've even probably found yourself saying "I'm in way too many fantasy leagues" as you shamelessly agree to join another. 
The implications aren't just social; they're economic. Fantasy sports is now a lucrative component of the sports industry and will play a key role in its future. And among fantasy sports offerings, the NFL far outpaces all other leagues.
No one's profile has corresponded with the surge of fantasy football more than Matthew Berry's. The humorous ESPN writer and TV personality started his career as a Hollywood writer before launching his "Talented Mr. Roto" persona online.
Today, if you're looking for a leg up on your fantasy opponents everyone knows which expert to consult. Forget the rest; go for the best.
Ahead of the 202 NFL season, we spoke with Berry about his projected sleepers and busts for this year, favorite team names, continuing to relish his craft after all these years, and his partnership with Buffalo Wild Wings. 
(This interview has been edited and condensed for clarity.)
Let's start with the question on everyone's mind. Who's the fantasy sleeper this year you love the most, and why?

Give me a position. How deep do we want to go?
Let's talk running back.

Among obvious names, I think Chris Carson and Myles Gaskin are being underrated among more well-known names. Deeper, I really like AJ Dillon. I like the guy he's replacing, Jamaal Williams in Detroit, I like him quite a bit. I like Trey Sermon in San Francisco. As we go deeper, I'll mention Tony Jones in New Orleans; I think he's going to replace Latavius Murray as the No. 2 behind [Alvin] Kamara, and I think they'll be run-heavy.
So, what do you like about Chris Carson?

What don't I like about Chris Carson? Here's the thing about Chris Carson. I think there were always two questions about him. No. 1 is, is he the guy? Well, he got paid this offseason, so that's the indication. And the other thing about Chris Carson is, can he stay healthy? Well, here's the thing: he's played 41 games over the last three years. That's more than Saquon [Barkley], more than [Christian] McCaffrey, more than Dalvin Cook, that's one fewer than Aaron Jones, more than Joe Mixon, all guys who have been drafted well ahead of him. I understand with McCaffrey, it's basically one season, but Barkley's missed time in multiple years. So, Carson gets banged up a lot, he runs to contact, he's a hard-charging runner, so I get it, but I think he's more durable and tougher than people give him credit for. I'll give you some stats: He had eight different games last year with 14 or more touches, he averaged 16.7 fantasy points per game, he was actually top 15 among running backs in both receptions and receiving yards per game—I don't think he gets a lot of credit for his passing game usage, but that's improved every single year he's been in the NFL. He actually had four receiving touchdowns last year. Entering last year, he had three in his entire career. He averaged almost 5 yards a carry. I personally think the Seahawks are one of those offenses this year that are really going to take the next step, that could really explode. We always joke about "let Russ [Wilson] cook," but new offensive coordinator Shane Waldrin—who comes from Sean McVay—was part of the Rams' system, now he's in Seattle calling the plays, I think he may actually let Russ cook. If you read between the lines in terms of what they're talking about at training camp and how excited they all are about the offense and how much it can do, it feels like they could be a special offense. And Chris Carson is a bell cow running back, so he's a running back whose current ADP on ESPN is in the 17-20 range—I have him at 13, I think he's currently going as RB19 or something like that. To get a guy who gets that much work on a really good offense, I think he's a borderline RB1 and he's being drafted as a low-end RB2.
Who is the well-regarded fantasy pick this year who you're projecting as the biggest potential bust, and why?

"Bust" isn't a word I'd use, but I have concerns about Saquon Barkley going in the top 5 overall on ESPN. Still don't know if he plays Week 1, if his touches will be limited early on, if he will have his explosiveness back—big plays are an important part of his fantasy value—and there are real issues on the offensive line. Prior to getting hurt last year, he had 34 yards on 19 carries. That's a lot of red flags for a guy going top 5 overall. I have him as RB9 and a second-rounder, much lower than consensus.
Obviously at this point of the year it's all a best guess based on the evidence we have. When you look back on this time last year, who do you now see as your best pick and worst pick?

Plenty to choose from in both categories. I was high on Logan Thomas in the preseason last year, and everyone called me a homer because I'm a big Washington fan—I'm very public about that—but Logan Thomas finished as a top 5 fantasy tight end. So, I'd say Logan Thomas from last year would certainly be one of them. I liked DK Metcalf last year as well, speaking of Seattle, that went really well; I liked Chris Carson last year, by the way. He's always underrated. He was RB11 on a points-per-game basis. In terms of picks that didn't go well, Daniel Jones, I was so in on Daniel Jones last year, and it was awful. Now, did I expect Saquon Barkley, the focal point of their offense, to go down in Week 2? I didn't. Obviously that affects things quite a bit. But Daniel Jones was terrible. I really thought he was going to have a big, big year, and he did not. So that was a bad call. Also, [a good pick was] Brady—which seems dumb to say, but everyone was like, new team, shortened preseason, he's washed up, he's 43, he doesn't run, no way Tom Brady's a good fantasy QB this year. And I'm like, you guys are insane. Look at the weapons he has, he's got Bruce Arians, who always loves to throw. And of course Brady ended up not only winning the Super Bowl but being a top 10 fantasy QB and being a value to anybody who drafted him.
You've said you discovered fantasy sports at 14. What has it been like to watch fantasy explode in the public consciousness?

It's been nothing short of amazing. I knew it would always get popular. It's fun and easy to play (but hard to master), so as more people became aware of it it would grow. But to think we'd ever get to a place where ESPN would devote 28 straight hours to it, like we just did with our sixth annual Fantasy Football Marathon…never in my wildest dreams. Amazing. 
You've been at this craft a long time. What still excites you about fantasy football?

The competition. I still want to win. Every league I'm in. Still wanna trash talk my buddies. I like the challenge of DFS, I like new formats like "Vampire" leagues and "Guillotine" leagues. I like the challenge of staying ahead of the curve on content and continuing to push the envelope in how I present my podcast, my column, Fantasy Football Now and The Fantasy Show with Matthew Berry on ESPN+. 
How many leagues are you in?

Sixteen, but there are about 10-12 other leagues I have to keep track of for celebrities and athletes I help out with their fantasy teams.
Be honest: How'd you fare last year?

Pretty good. Made the playoffs in 12 of 13 leagues and came away with the title in six. 
Tell me about your partnership with Buffalo Wild Wings and the promotions they're running this year.

I'm excited to partner with them because they get it. They are a company that is fantasy-friendly. They cater to fantasy leagues. When you hold your draft there, it's not like, oh, here's a couple tables we shoved together in the corner. They make a big deal of it. They understand. They have specific specials just for fantasy drafts. If you hold your draft at Buffalo Wild Wings, commissioners get a free appetizer every Sunday of the NFL season, so when you come back to watch the games at B-Dubs with your league, the commish gets a free appetizer. They have beer specials, they have wing specials. So I just like the fact that they get it. Literally, you go to Buffalowildwings.com, and there's a link for fantasy draft. You go to Buffalowildwings.com/fantasy and it's got all the offers there for you. Even if you're at home because of COVID or for whatever reason you're holding a home draft, they have all sorts of packages they can deliver to you. I'm just doing it because I've done drafts at Buffalo Wild Wings, they always do a great job, it's fun. I hear from my audience all the time how much they enjoy it. My oldest son literally has his fantasy draft on Sunday at a Buffalo Wild Wings here in Connecticut. So I'm thrilled to partner with them, because like I said, as a company they're fantasy-friendly.