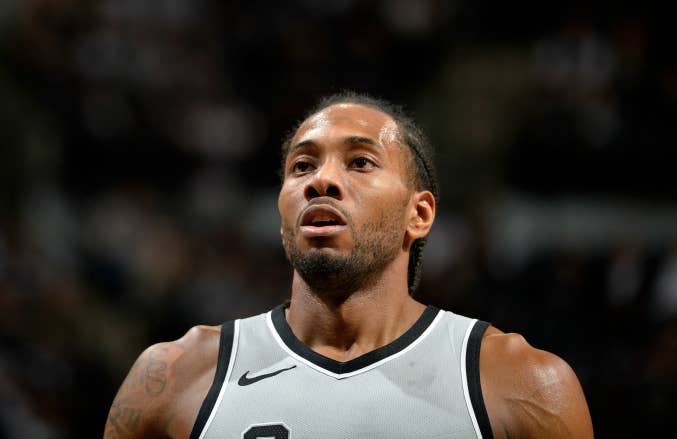 One of the best players in the NBA has been a non-factor all season. Kawhi Leonard, the stoic San Antonio Spurs swingman, has played in only nine games this year. Drama has engulfed Leonard since he first went down with a quad injury, as rumors have swirled that he's been unhappy with how the team has handled his recovery and that he wants out of San Antonio. Leonard, however, has said he wants to finish his career with the Spurs.
Regardless of whether the rumors hold any truth, NBA fans are anxious to see Leonard get back on the court—and the Spurs, who are currently fighting for a Western Conference playoff spot, are desperate to get their star back. There was recent optimism that Leonard would return as soon as Thursday, when San Antonio will square off against the New Orleans Pelicans, but Yahoo's Shams Charania is reporting that Leonard is still rehabbing his injury and is expected to sit out.
"External optimism had built for Leonard's potential return this week, but he is expected to be remain out and will continue to evaluate his injury for a possible comeback before the season ends, league sources said," Charania reports. "Leonard has worked hard to play again, seeking multiple opinions on his quadriceps and working with the Spurs to ensure a healthy return to the court, league sources said. A firm target for his return has yet to be determined."
Ramona Shelburne added that Kawhi is feeling "much better."
Kawhi Leonard will NOT play Thursday vs the Pelicans, per source. He's feeling "much better" but still not quite ready to return but there's still optimism he can return before the end the season.
Leonard recently said he hopes to get back soon, but he didn't identify an exact date for his return. He's averaged 16.2 points, 4.7 rebounds, and 2.3 assists per game in his limited action this season.
The Spurs currently sit in a three-way tie for the No. 8 seed in the West, which means Leonard can't get back soon enough.