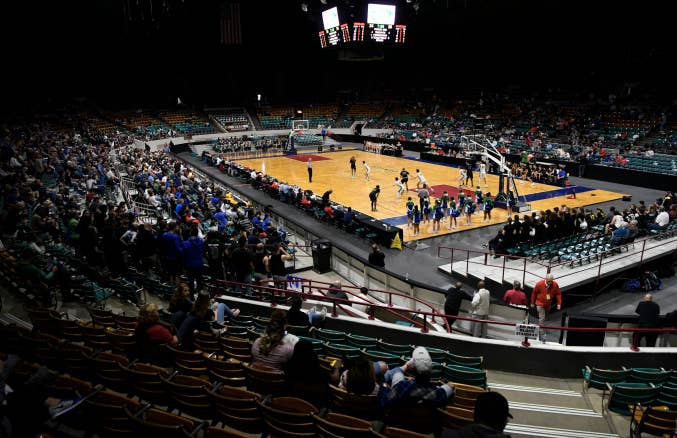 Many twentysomethings find themselves reminiscing about their high school sports "glory days". Seemingly once every few years, however, one of these nostalgic, past-their-prime former athletes takes things a little too far and actually attempts to compete with high schoolers.
The latest installment of this narrative: a high school hoops star in Dallas has had his real identity revealed, per the Dallas Morning News.
Sidney Bouvier Gilstrap-Portley, a 25-year-old man, enrolled at Skyline High School in Dallas in August, posing as a 17-year-old named Rashun Richardson. He claimed he was a Hurricane Harvey refugee, based on the school district's track record of welcoming hurricane evacuees.
DISD says 25-year-old Sidney Gilstrap-Portley passed himself off as a freshman, attending Hillcrest High for the last year and playing basketball. Investigators say he claimed to be homeless after fleeing Huricane Harvey, using the fake name "Rashun Richardson". (

@NBCDFW

)

pic.twitter.com/rAU6uJGTcH
"He took that as an opportunity to gain access to our schools," said Dallas ISD spokeswoman Robyn Harris, per the Morning News. "He was fairly savvy to be able to utilize that type of position, knowing that we were accepting Harvey students."
Gilstrap-Portley then transferred to Hillcrest High School, where he enrolled as a freshman and joined the hoops squad. Unsurprisingly, he tore up the competition en route to being named the district's offensive player of the year.
The craziest part of this whole story: this dude actually dated a 14-year-old while he was "in high school," according to the girl's mother. The girl reportedly thought he was 17.
The girl's mother, who was concerned about her daughter dating a 17-year-old, said teachers and coaches told her Gilstrap-Portley "came off as much older than 17-years-old."
He was arrested Friday and faces a charge of tampering with government records. He has been released on bond from the Dallas County Jail.
Gilstrap-Portley once played college hoops at Dallas Christian College. One of his former coaches at his old high school saw him playing in April and alerted the Hillcrest coach.
Another of his former coaches called him a "good kid." So much for that.