Deontay Wilder likes to joke around that he gave Tyson Fury a concussion in their first fight since Fury has struggled to explain how he got up from the vicious combination that dropped him in the 12th round.
Whether it was divine intervention that lifted Fury from the canvas or not, he got up from a knockdown everyone thought ended the heavyweight clash. It was dramatic, it was unprecedented, and even though Fury rallied in the 12th to rock Wilder, it's worth debating whether the lineal heavyweight champion will be the same fighter in the pair's highly anticipated and historic rematch Saturday in Las Vegas (9 p.m. ET, ESPN+/FOX PPV).
The 12th round knockdown was Wilder's second of the evening and when arguably the hardest puncher in history of the sport is the one handing out the punishment it usually reverberates. In his two previous rematches, Wilder has KOed his opponents well before reaching the championship rounds. So citing a popular theory in boxing, and taking into account the Gypsy King's most recent performance, it's within reason to wonder if Fury will be the same Fury at the MGM Grand Garden Arena. You know, one of the top heavyweights in the world who wants to be aggressive, should out-box Wilder, and can somehow, someway survive another knockdown. Or two.
"We've been hearing that from a long time: We never leave the fight the same as you entered the ring," says former welterweight champion Shawn Porter. "I think that holds true."
There are numerous cases where celebrated boxers, even future Hall of Famers, have looked like different fighters the next time out after taking a beating, suffering a knockdown, or worse, a loss. Mike Tyson was never the same after Buster Douglas knocked him out in 1988. While his age (37) is certainly a factor, after two wars with Canelo Alvarez, many are wondering if GGG will ever be the same fighter again. His last bout, a unanimous decision win over Seregiy Derevyanchenko in October that easily could've gone the other way, was eye-opening for the punishment he absorbed.   
.@Tyson_Fury is dipping his fists in GASOLINE every day before his fight with @BronzeBomber.

Deontay says all that won't matter. 😂

Listen on @ApplePodcasts & all streaming platforms: https://t.co/ec3udlVTEy pic.twitter.com/APED8QurkN

— Complex Sports (@ComplexSports) February 18, 2020
It should be noted, however, that Fury won his two tuneup fights leading into the rematch with Wilder. His first performance came against Tom Schwarz, a lightly regarded heavyweight who he dispatched in two rounds last June. His contest against Otto Wallin, this past September, was—no pun intended—eye-opening. Fury came out flat and took a left from the 10-1 underdog that opened up a nasty cut over his right eye that required 47 stitches to close. He had to keep Wallin at bay through most of the fight before eventually earning a unanimous decision. Fury deserves all the credit for taking care of business. He might deserve an Academy Award, too, since he told us he didn't feel Wilder's power. 
"Really in a boxing fight, you don't really feel the punches, especially with a massive puncher," Fury said. "You just get hit with them and wake up on the floor or whatever. You don't feel power in the fight. And if you do, you're probably in the wrong game because you're thinking about it too much."
Flash knockdowns are a thing in boxing, but Fury didn't appear to suffer one of those. And he's just the right amount of cocky, crazy, and charismatic (or divinely blessed) to say he didn't really feel Wilder's hammers for hands. One thing we know for sure is that Fury, a trash-talking savant, is as self-confident as ever heading into the biggest fight boxing has seen in almost 20 years.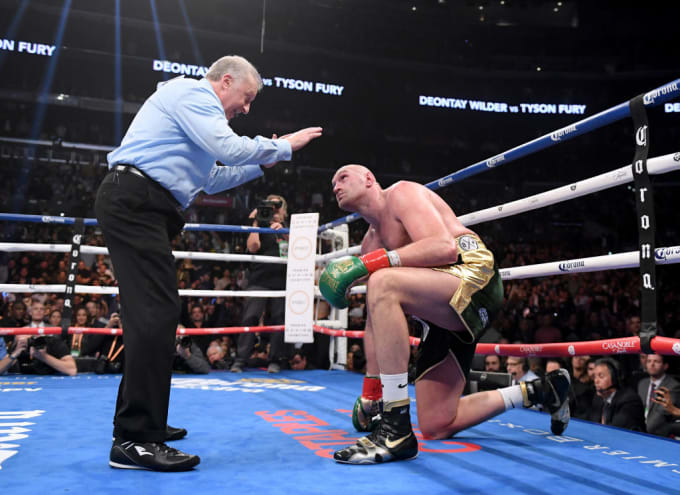 "I think when you come back, you come back in a way where it depends on how much self-belief you have," says former two-division champion Paulie Malinaggi. "Getting knocked down like that will take away some self-belief. But if you've not lost any self-belief, it comes down to that."
A gifted fighter despite his massive frame, Fury brought his A-game against Wilder only six months after he returned to professional boxing following a tumultuous two and a half years away. He clearly out-boxed Wilder and if not for the two knockdowns Fury would've been crowned the new WBC heavyweight champion of the world. But what do we make of his last two performances, especially the early struggle against Wallin? 
"Eighty percent of his fights he doesn't really look like all that," says Malinaggi. "He tends to step up to the level of opposition. He did that in the Wladimir Klitschko fight. And if we're really going to go by the level of opposition here Wladimir Klitschko is the best fighter on [Wilder & Fury's] records. And Fury dismantled him easily." 
Fury brought in a different trainer compared to the first fight against Wilder and has boasted that he will "knockout the knockout artist." He even predicted that he would put Wilder down in the second round. That seems far-fetched since Wilder has proven to have a pretty good chin. The last time Wilder was dropped was 2010 in his 13th professional fight and while Fury's biggest punches in the first fight did rock the Bronze Bomber, they never put him in serious danger of dropping to the canvas. 
We all know if anyone's going to be knocked out in the rematch, it's likely going to be the Gypsy King (29-0-1, 20 KOs) after eating leather from the Bronze Bomber (42-0-1, 41 KOs). The majority of people picking a winner in this fight are choosing that option. Saying screw your popular theory, somebody who really knows the sport doesn't think you should point back to the first fight if that happens.
"If Wilder knocks out Fury I won't blame that on the first fight," says Malinaggi. "I'll blame it on the fact Fury got himself caught."