Forty-eight minutes after the Rockets rolled out their radical basketball philosophy for all to see, it'd be foolish to brand what went down Thursday night at Staples Center as a revelation.
But you can't deny that Houston's version of small ball—where nobody taller than 6'7" saw any action—worked in its impressive 121-111 victory over the Lakers in downtown Los Angeles. Led by Russell Westbrook, who went off for 41 points and looked like vintage Russ, the Rockets rolled to a fourth straight win and will now have NBA observers pondering whether Houston can morph into a serious contender with its vertically challenged roster.
Houston is trying something very different than just about any team in modern NBA history these days after Rockets GM Daryl Morey shook things up before the trade deadline. He sent center Clint Capela packing in a four-team trade Tuesday, which brought back coveted wing Robert Covington. The belief is that a Houston rotation comprised of guards and small forwards who can space the floor, hit outside shots, and drive more easily to the basket just might have a better chance of playoff success than the Rockets squads we've seen flame out of the playoffs the last three seasons.
"Anytime you try something different, these guys have to believe in it," Rockets coach Mike D'Antoni said after the game. "This helps. This helps a lot. You come in here and get spanked and we're all little and it's all like, 'Oh, maybe we can't do this.' So they're all fired up. Regardless, it's only one game and all that. But the confidence for the guys is good."
"We allowed Russ to get into the interior and then we gave them 19 threes as well. You can't give up both." — LeBron James
One big road win over the best team in the Western Conference does not all of a sudden make the Rockets a serious threat to the two conference juggernauts located in Los Angeles. Many NBA observers are going to have a lot of reservations and ridicule small ball's sustainability once the rough and rugged postseason rolls around. Bigger, brawnier teams like the Lakers and Clippers, convention would tell you, should have their way over a seven-game series against a smaller squad like the Rockets, bullying them and making life miserable. But the experiment kicked off a week ago when Capela was injured and the results are interesting, to say the least. 
"We just have a weird kind of team and we try to figure out how to play them the best we can and we think this is it," D'Antoni said. 
So it's up to D'Antoni, the 68-year-old coach who has always been obsessed with offense and ambivalent about defense, to make small ball work. He was given another tool to use in Covington who can defend and hit threes and will probably soon be starting. It was completely comical, though, when Danuel House Jr., listed at 6'6", was the tallest player in the Rockets starting lineup Thursday. D'Antoni joked before the game that the team got bigger with the addition of the 6'7" Covington. Harden, listed at 6'5", took the opening tip against JaVale McGee, listed at 7'. Do I have to tell you who won it?
But in the grand scheme of things, what does D'Antoni have to lose going small? Considering he's in the final year of his contract and most likely not returning to coach the Rockets for a sixth season next fall and the Rockets have failed to reach the NBA Finals doing it traditionally the past three seasons.
"I can survive this," D'Antoni joked. "It just presented itself when Clint got hurt. We have Russ, who is a unique talent. I think we need to play to his talents."
More than anybody else, small ball will allow Westbrook to be the best version of himself. D'Antoni says new philosophy is geared perfectly to his skillset and that was on full display against the Rockets. Westbrook eschewed shooting threes—which we all know he struggles mightily to hit—and instead he consistently drove to the basket, got to the free throw line, and pushed the pace. He also facilitated and found his teammates in spots where they could launch, tying Covington for a team-high 8 assists. 
"If the front office and coaching staff believe in me, I'mma make sure I do my part by competing every night," Westbrook said.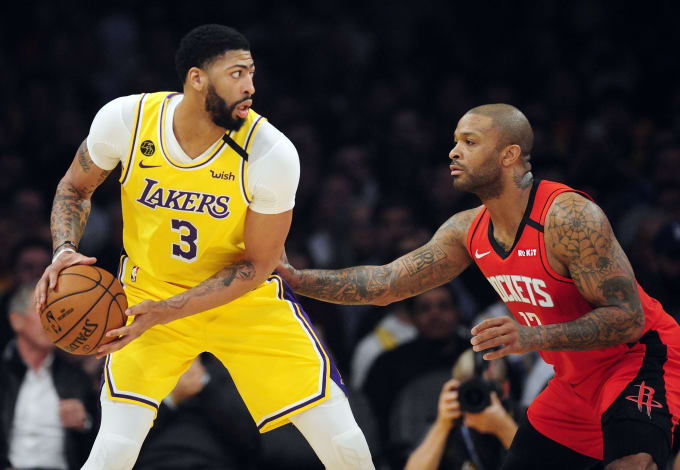 Houston ended the night connecting on 19-of-42 3-pointers. They also hit their free throws (16-of-18), only allowed 13 points off of 16 turnovers, and low-key shutdown the Lakers in the fourth quarter when LA mustered just 18 points. It was a stellar team performance as Westbrook and company picked up the slack for Harden, who only had 14 points.
"You have to control Russ's ability to get into the paint, which he did a lot, but you also have to control their perimeter shooting," LeBron James, who finished with 18 points, 9 boards, and 15 assists, said. "We didn't do a very good job of both. We allowed Russ to get into the interior and then we gave them 19 threes as well. You can't give up both."
Maybe you despise that Houston's going small because it's anything but traditional, but there just might be some low-key brilliance in it that isn't obvious. D'Antoni will tell you that while his rotation might not be tall, "we're stout." Harden said they may not have size, but they have heart. He along with Westbrook, Covington, Eric Gordon, PJ Tucker, and the rest won't be pushovers and won't shy away from contact. Some of those guys are also competent defenders and can get a rebound. As long as they bring the kind of energy they brought Thursday, height will be just a number. Despite the Lakers' distinct size advantage, LA barely had the advantage on the glass (+1). Sure, Anthony Davis went for 32 points, and had success posting up. But the Rockets made the Lakers adjust to their style of play, not the other way around.
And maybe, just maybe, the small ball Rockets will be so small that teams try to absolutely bludgeon them in the paint and shoot less threes. With the way Houston can stroke it from deep, they'd gladly exchange twos for threes on the other end of the floor. The Lakers out-scored the Rockets by 22 points in the paint, but Houston hit 10 more threes than LA. The alternative, of course, is the Rockets can shoot themselves right out of any game since they're only 21st in the NBA in 3-point percentage—behind Philadelphia. We all know there will be nights when the threes just won't go in, when Houston will stubbornly kept shooting and shooting, refusing to change their ways. It's cost them some high profile games before. But Houston was way better than their season average of 35 percent Thursday, hitting over 50 percent from deep in the first half. 
"It's a big win for us, definitely," Westbrook said. "But we know what our ultimate goal is and it was a step in that direction."
In the extremely early phase of this grand small ball experiment, the win over Los Angeles was a statement and certainly a step in the right direction. But finding anyone not associated with Houston who thinks this can work all the way to a title will be rarer than seeing a 7-footer taking the opening tip in a Rockets jersey.