2 Chainz basically gets to live every hoops fan's dream.
He sits courtside at any NBA game he wants, he's boys with superstars like LeBron James, and he texts owners of his hometown squad about who they should draft and pursue around the trade deadline.
But the Grammy-winnning rapper is about to take things to another level now that he's been announced as one of the co-owners of the Atlanta Hawks' new G League affiliate, the College Park Skyhawks.  
"My job from day to day will be reaching out to different foundations, and my son actually picked out the mascot for the Skyhawks," says 2 Chainz. "We already working on my end, as far as getting the job done. I can't lie, I've been smiling for a week."  
Starting play this fall, the Skyhawks will lace 'em up at the all-new Gateway Center in South Atlanta, close to where 2 Chainz grew up. He plans on being hands-on, joining an ownership group featuring principle owner Tony Ressler and Hall of Famer Grant Hill, and already has a few innovative ideas to raise the Skyhawks' profile in the city. 
"We reached out to 2 Chainz immediately after getting the franchise. He's been a friend of the Hawks franchise for years, both performing at games and as a regular, sitting courtside supporting the team," Atlanta Hawks CEO Steve Koonin said in a statement. "He's as passionate as they come."
We caught up with 2 Chainz before the announcement dropped to talk about how he's living out the ultimate sports fan dream, the role LeBron James really played in the release of his latest album, Rap or Go to the League, and why James Harden is his MVP pick.
(This interview has been edited and condensed for clarity.)
So what does it feel like to be an owner?
Definitely surreal and a dream come true is the thing that stands out the most. I'm from College Park. That's just one thing. Then it's like I love basketball, and I love sports, love the Hawks. For me to get this job opportunity makes it surreal, because I'm inside the building and I can lead by example or by actions. I don't have to give these kids this long, drawn out speech about what it used to be or what it could be. I can show them an active timeline of where I came from—footsteps can be followed, fingerprints can be traced—so for this to come to fruition is a dream come true.
Did he make a beat? No. Did he get on the album? No he didn't. But LeBron—LeBron James—was in my sessions, listening to my songs first, giving me his ideas and his opinions on certain songs.   
How involved are you going to be as an owner?
My primary goal is not really a job description—it's to inspire. Use my platform to tap into the youth to bring awareness, to bring job opportunities. Create different pathways and streams not just for my friends, but people in the community to reap the benefits off of this from this $40 million establishment that we're getting. College Park has been growing since the late '90s. I was part of a complex that actually had to vacate because of the expansion of the runway for Hartsfield [International Airport], so I feel like I'm connected. The streets run through my veins. My job from day to day will be reaching out to different foundations, and my son actually picked out the mascot for the Skyhawks. We already working on my end, as far as getting the job done. I can't lie, I've been smiling for a week.  
Every sports fans plays that hypothetical "If I was the owner…" Now that you're knee deep in it, has it met those expectations of what you thought it would be like?
It's still early in the process, so I can't say that it's stressful or not stressful. But I enjoy what I do for a living, period. Or I wouldn't do it. So this is just something else that I add to my workload that I will enjoy doing. The G League is really tapping into the youth. Whether it's merch or actual players trying to get to the next level, it's right there in the spot that it's tapping into the youth, and I want to be a part of it.
So one of your jobs with the club is going to use your profile to help raise the profile of the G League and allow people to see that it deserves more respect and attention.
Oh, absolutely. I think that'll be super authentic, though. I'm not going to be posting an ad. I'm going to have a shirt that I'll design, and I'm going to be with family at the game, and I'm going to have a foundation that we'll celebrate. But nobody's going to tell me to post it. It's going to be a way to influence people either directly or indirectly because you put ownership… you know, we talk about ownership very, very loosely sometimes. And this is just super, super tight when you talk about the College Park Skyhawks.
Do you have any innovative ideas for promotion that are rolling around in your head?
Absolutely. And I'll just keep some of those ideas to myself [laughs]. This has been going on for a couple of years. We didn't come up with it the last game of the season. This has been going on for two or three years. Yes, I have some ideas.
Are you going to have to make sacrifices from music, from your schedule, taking on this new role?
Well, I think I know how to definitely make it work. The owners don't go to all the games. I'm sure I won't be at every single G League game, but I'll be at most of them.
We've seen you sitting courtside at NBA games a ton and know you're a huge NBA fan. Is being an owner going to change how you watch basketball games?
It's funny that you say that, but when I talk to any of the owners of the Hawks team I always speak like I'm part of the team. I would always express my... like, the night of the draft I was texting Grant Hill, and I can't tell you what I was texting him, but I was texting him the whole night of the draft. And sometimes they don't text me back. Like, what the hell does he know? I get that a lot. When it's time for the trade deadline, I'm it. It's like, "Man, you might want to try him." I don't have to call assistants or secretaries. We have direct lines with each other. As soon as they talk about this person in a trade, I'm like, "Hey, let's try it." Yeah, it's good to be on the inside.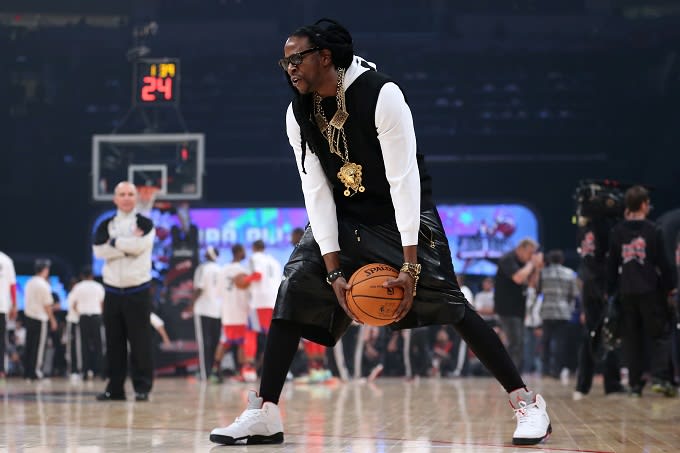 You declared back in February that James Harden would be your MVP. Are you still sticking with Harden as your pick?
Yeah, this is my problem: Are we talking about the MVP of the regular season, the whole season, the playoffs? People get these short memories. I like Giannis [Antetokounmpo]. Giannis is a beast, right. I ain't gonna lie. And he's on a good team. But I'm still sticking with James. It's effortlessly with James. And you know what he's going to do. And it's not like Giannis is shooting outside the free throw line. James' shots are cold. I'm with James.   
Around your album release, you said people would be shocked to know how much input LeBron had on Rap or Go to the League. How vital was he to helping you finalize the album the way you wanted it?
LeBron was very important because 1) He was LeBron, 2) He was LeBron, 3) He was LeBron. It's LeBron James, you know? For him to take time out of his schedule and be in the studio with me and actually go over concepts and to actually listen to songs before they [were] not even just arranged, but he listened to songs before they were mixed and mastered, before verses were changed. He had a Dropbox full of my songs. So it was good to have somebody who I feel is a natural hip-hop historian, someone who organically listens to everyone's music. He listened to mine early to get my direction of where I was coming from in Rap or Go to the League and having the undertone and alignment of the same thing that he was representing about being more than an athlete. It was cool to have him in there. Did he make a beat? No. Did he get on the album? No, he didn't. But LeBron—LeBron James—was in my sessions, listening to my songs first, giving me his ideas and his opinions on certain songs. Just when I say that right now, it's almost like I can't believe I ain't live in the moment and be like, "That's amazing." Not only did he do something for me, but it's something he can put in his portfolio. It's something that he did.   
He can basically live in the music world almost as well as he can live in the basketball world.
How many of us want to play one day in the NBA or perform one day on stage? We swap roles all the time. We live vicariously through each other all the time. It was a cool moment for both of us.
How much do you get to ball these days?
I balled Monday. I'm an L.A. Fitness All-Star right now. [Laughs.] I was feeling myself Monday. I ain't gonna lie.
If you could put together your dream three-on-three pickup game, who would be there with you?
Three-on-three pickup game? Why you gonna do that? We ain't having a big man in a three-on-three game. I'm tryna think, but if you get some good jumpshots out there, that'll make it boring. If you get K.D. out there, it's over when it's three on three. You gotta get some Kyrie and A.I. You know, some penetration. That would make three on three fun. But I don't know. I've never been asked that question. I'm very informative when it comes to this league, so I be thinking. I play with NBA dudes sometimes over the summer and gauge my performance, and I'll let you know.