We're now only six months away from another major international tournament, which means English football is about to celebrate a new generation of stars. Michael Owen led the way in 1998, Wayne Rooney earned plaudits in 2004 and England fans will be hoping Euro 2016 is a breakout tournament for another star.
Some people are already tipping Dele Alli to be that guy. The 19-year-old has been a near ever-present since making his Spurs debut in the early weeks of the Premier League season and his composed performances in the heart of midfield have even earned him a couple of England caps, during which young star brushed any pressure off his shoulder to score a remarkable first international goal against France in November.
In under 12 months, Dele Alli has gone from lower league midfield battles with Fleetwood Town to lining up opposite the Galacticos of Real Madrid. The gifted teen from Milton Keynes is proof that inner city talent can find success on Premier League pitches.
As adidas unveiled the new black and white colourway for the ACE 15, Spurs' breakout star Dele Alli joined us in London to talk about sneaker culture in football, starring in a video for Meridian Dan and old MySpace photos.
Interview: @CoreyPellatt
It's already been a huge first season for you at Spurs, did you expect to hit the ground running this quickly?
I've always been confident in myself and my own ability but I can't say I expected it to go this well, I've got a lot of people to thank for that. All the boys there helped me settle in well, as did the manager and all the staff as well, they made it easy for me to go and do my thing.
You're from Milton Keynes, which doesn't get too much attention when it comes to football, so how much of a role did football play when you were growing up?
It was everything, really. In Milton Keynes, in the streets and stuff, I'd always go to the courts and play with my mates at school. Football was always a massive part of my life and I'm very thankful I get to play it each day as part of my job.
So you played a lot of street football growing up?
Yeah, all the time.
And do you think the skills you pick up in the courts are transferrable to an 11-a-side game?
Obviously it's a lot different but there's definitely a lot of elements you can take from the streets and I'd like to think it has helped me. I've always liked to express myself when I play football, the only difference now is I go out and play on a bigger pitch.
Your rise has been remarkable, though. Last year you were playing against Fleetwood Town and this summer you lined up opposite Real Madrid…
It was a great moment for me because I'd just joined Spurs and I was eager to show what I could do, that I could go out and play with some of the world's best.
You've basically been touted as England's 'next big thing'. How have you found that kind of attention?
I've got really good people around me to help me keep focussed and take the stress away from those kind of situations. I've got to keep taking each game as it comes and not get too carried away with myself.
How accommodating has the England squad been to your arrival?
Yeah, good. The set up there is really good with everyone [youth and senior squads] training at St. George's Park so you obviously get to see the players around, so when you get called up you're ready for it – the players aren't strangers. There are four Tottenham boys there as well so they really helped me out.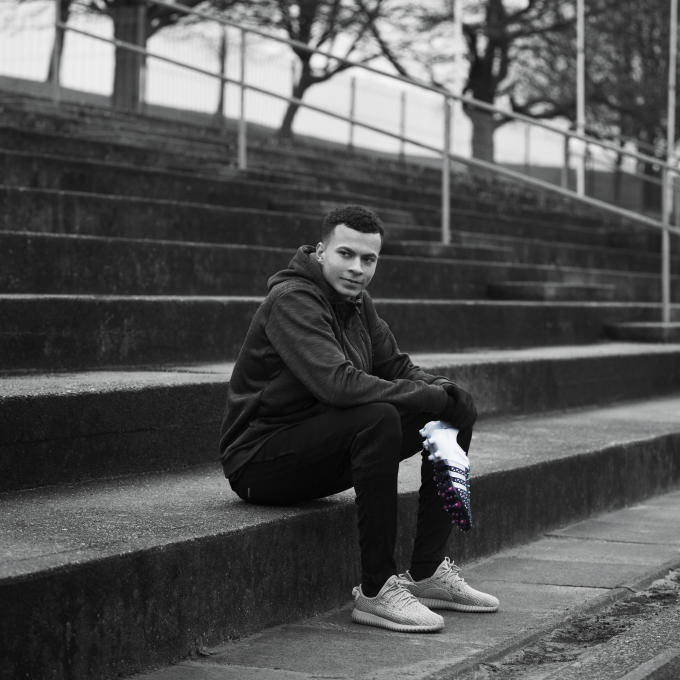 The new ACE 15 colourway is quite stripped back and goes for a classic black aesthetic – what sort of boots did you wear growing up?
To be honest, I just tried to get whatever Steven Gerrard was wearing! Other than that I went for the different coloured boots for each foot and stuff, I did get carried away sometimes…
You've been working with Meridian Dan for a video he's putting together with Spurs, how did that come about?
They just asked me if I could do it and I'm always listening to his song (sings German Whip) so it was a good experience for me and a great thing for young fans.
Is that the type of thing you'd like to be involved with anyway, regardless of whether the club organised it?
To be honest, yeah! He's a great guy and I was honoured to do a video with him. I like that sort of hip-hop, R&B – and I'm even getting into Grime now – which is good.
Is your influence on the music at Spurs pretty heavy?
When I first come to Spurs it was actually me controlling it! I got thrown straight into the deep end. The first thing I played was Drake but I've been kicked off it, Harry Kane is on it now…
Is that for better or worse?
We haven't lost since, to be fair. It must be working.
Which two players have got the tightest bond in the dressing room?
The Belgian boys are close but I couldn't believe when it when I got there, everyone gets on really well. I've made a few good friends, me and Eric [Dier] have this relationship where he sort of looks after me like a big brother.
You're rocking the Yeezy 350s right now, what's your sneaker collection like?
[Points at Yeezys] Yeah, these are sick. It's growing, my adidas collection is getting pretty big now. Danny Rose and Kyle Walker are the best in the dressing room though, they've got the most.
Finally, the big question: is it really you in that old MySpace photo?
(Laughs) The Picture! Yeah, that is me. I thought it was funny and I was gonna put it as my WhatsApp photo – or wear it as fancy dress.
Dele Alli wears the adidas ACE 15, which is available now from adidas.co.uk. Follow adidas Football on Facebook, Twitter and Instagram.