After Manny Pacquiao lost the Fight of the Century to Floyd Mayweather on Saturday night, a report emerged indicating that Pacquiao had sustained a severe shoulder injury during his preparations for the match. He hadn't listed the injury on a pre-fight evaluation. But when he was asked about it during a post-fight press conference, he admitted that he did have a shoulder injury that was bothering him.
"It's part of the game," he said. "I don't want to make alibis or complain or anything [but] it's hard to fight one-handed."
And as it turns out, he wasn't simply making an excuse for his loss when he talked about the injury. Late last night, the medical form that his team filled out prior to Pacquiao's fight with Mayweather was released. It didn't indicate that Pacquiao was suffering from a shoulder injury: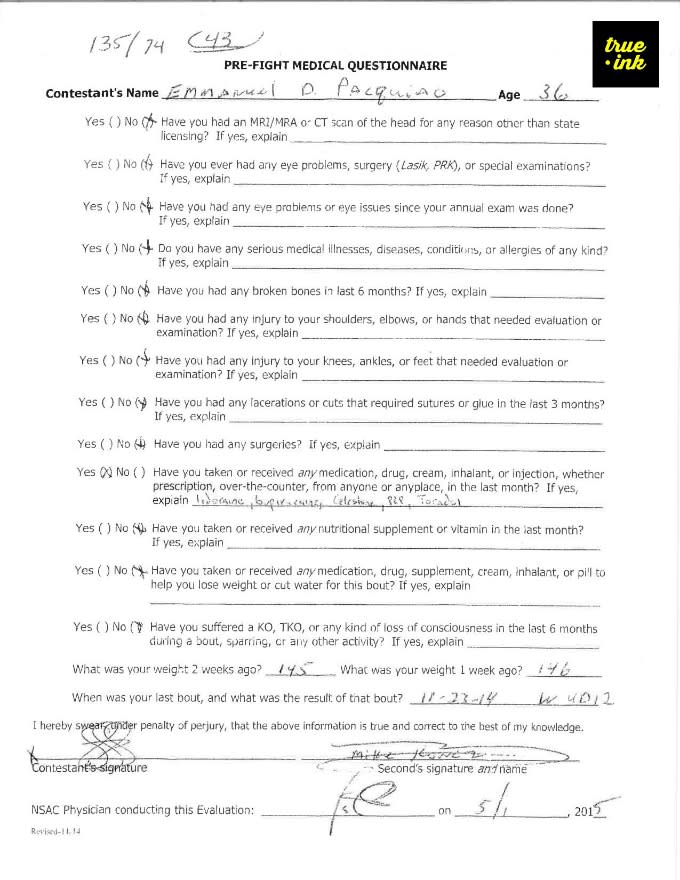 But orthopedic surgeon Dr. Neal ElAttrache spoke with ESPN.com late Monday and revealed that Pacquiao is scheduled to undergo surgery on his right shoulder later this week to fix a "significant tear" in his rotator cuff. It will keep him out of the ring for nine to 12 months.
"After speaking with the doctor, it was determined that the best method and approach is for Manny to have surgery," Pacquiao's advisor Michael Koncz said after ESPN.com published their report. "Manny is doing OK."
Manny might not be OK for long, though. As you can see on the pre-fight evaluation, fighters are required to tell the truth on the form. And because Pacquiao and his team obviously didn't do that, Pacquiao may face perjury charges in the coming weeks.
"Disclosure is a big thing for us, and honesty," Cisco Aguilar, the Nevada Athletic Commissioner chairman, said late Monday. "The commission at some point will have to discuss [Pacquiao's medical questionnaire]. I've got to run through the process with the [Nevada] Attorney General [Adam Laxalt]. But they do sign that document under the penalty of perjury."
Stay tuned to see if the state of Nevada decides to press charges against Pacquiao.
Send all complaints, compliments, and tips to sportstips@complex.com.
[via ESPN]