Adidas Confirms Plans For Yeezy Relaunch
After much debate, the remaining Adidas Yeezy stock will finally release.
Via Adidas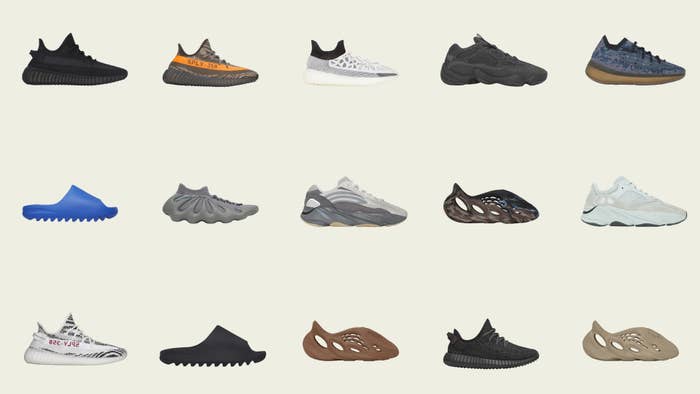 CEO Bjørn Gulden said at last week's annual shareholder meeting that Adidas planned to sell its remaining Yeezy sneakers, and now the brand is providing details on the upcoming restock.
According to a press release, an initial launch of the leftover inventory will land in late May, and a "significant amount will be donated to selected organizations working to combat discrimination and hate, including racism and antisemitism."
Adidas has been exploring options for its remaining inventory following the 2022 termination of Kanye West's partnership. According to its first quarter financial results for 2023, the German sportswear brand lost $441 million in the year following the messy Yeezy breakup. That figure could have climbed to $772 million in operating losses had it elected not to repurpose that remaining stock.
"Selling and donating was the preferred option among all organizations and stakeholders we spoke to," Gulden explains. "We believe this is the best solution as it respects the created designs and produced shoes, it works for our people, resolves an inventory problem, and will have a positive impact in our communities. There is no place in sport or society for hate of any kind and we remain committed to fighting against it."
There was no mention of what would happen to West's royalties, to which he's reportedly entitled to 15 percent of sales, based on their previously agreed upon contract.
The press release didn't list specific models and colorways, but the provided image includes popular sneakers such as the "Zebra" Yeezy 350, "Analog" Yeezy 700, and "Geode" Yeezy 700v2. The sneakers will launch exclusively through Adidas.com/yeezy and on the Adidas Confirmed app.