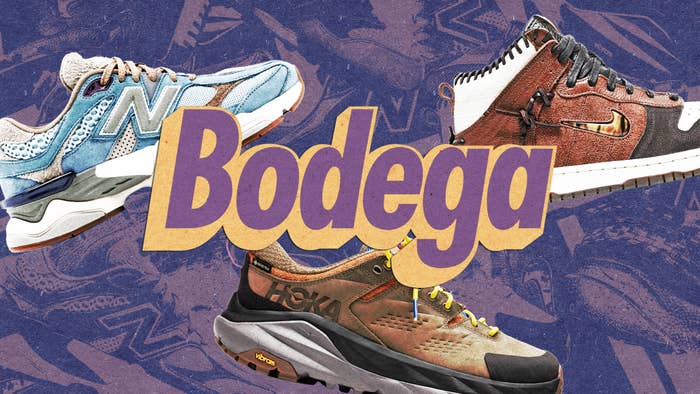 On a weekly basis, the average sneaker consumer is inundated with new collaborations. Boutiques, musicians, luxury brands—the rules to who is given the keys to put their own spin on a sneaker truly don't exist in 2022. 
One of the veterans in the space is Boston's Bodega, a sneaker store that has churned out plenty of projects with what seems like every major footwear brand since opening up shop behind the secret vending machine door back in 2006. In just the past two years alone, it has worked with Nike on a Dunk High that managed to set itself apart from the endless sea of Dunks we see nowadays, helped Saucony bring back retro runners like the Grid Azura 2000 in fresh new ways that help give the silhouette some extra cultural relevance, and even helped its Bostonian neighbor New Balance debut the 997S. The release was so well-received that they ended up dropping two additional colorways of the same model throughout 2020. 
And you can't forget about older releases like its three-pack of Nike Footscape Wovens from 2011, or 2013's "Hyprcat" New Balance 577 that took cues from Super Nintendo games like Star Fox.
These shoes are celebrated and bolstered Bodega's status in the industry, but there isn't always as bright of a light shined on the people helping bring these projects to life. Currently, that's lead product designer Drew White, who started with the company as a marketing intern back in 2012. 
"I feel like part of our duty, like a DJ with music, is to go out on a limb sometimes and break a record or be the first one to take that step. It might not hit right at that moment, but it'll influence other people to like to do it and do it better," says White. "If you can't do a New Balance 990 at a high level, I don't know. That shoe has a built-in audience. I definitely like getting a little more funky with our model selection and going a little outside of what people expect or might be used to."
Beyond the shoe itself, Bodega excels at providing an additional layer of storytelling for each of its releases. Marketing director Matthew Zaremba, who has been with the company for the past six years, helps execute these campaigns that have included Larry June posing in front of a black Acura NSX to promote blue and yellow suede pairs of the New Balance 574 Legacy or Shaun Crawford creating new artwork in his New York City studio to help unveil the "Full Bleed" Salomon X-Mission 4. In total, Bodega's collaboration team is relatively small, less than 12 people. 
"We're always answering: 'If this shoe was a person, what's its personality?' I think it's important to always have a vision of the personality of a product. You don't want to just be something flat," says Zaremba. "Some people don't believe that a story can sell a product. Other people are very much affected by a story. I think the most important thing you can do is deliver both of those things to the audience to create a quality project."
We sat down with White and Zaremba below to hear about the inspiration behind some of the designs and campaigns for a handful of Bodega's biggest sneaker projects spanning the last decade. They've each shared some of their thoughts below.
Nike Air Footscape Woven Chukka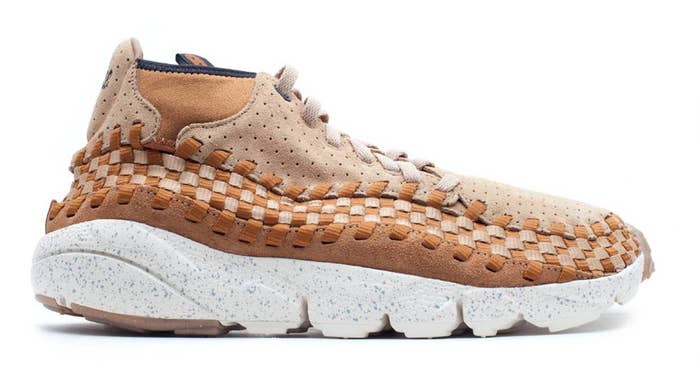 New Balance 577 'Hyprcat'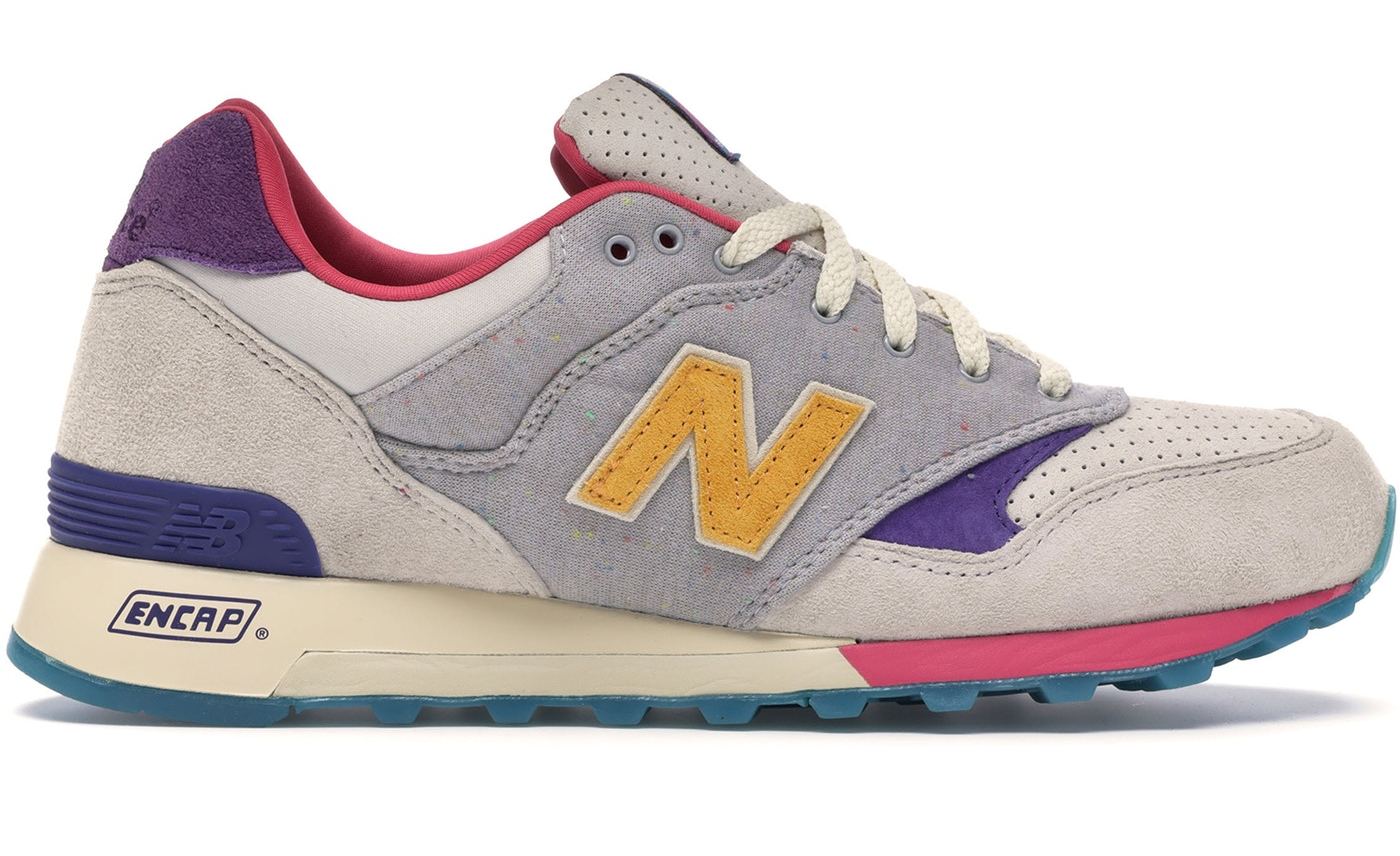 Reebok 'Shanghai' Pack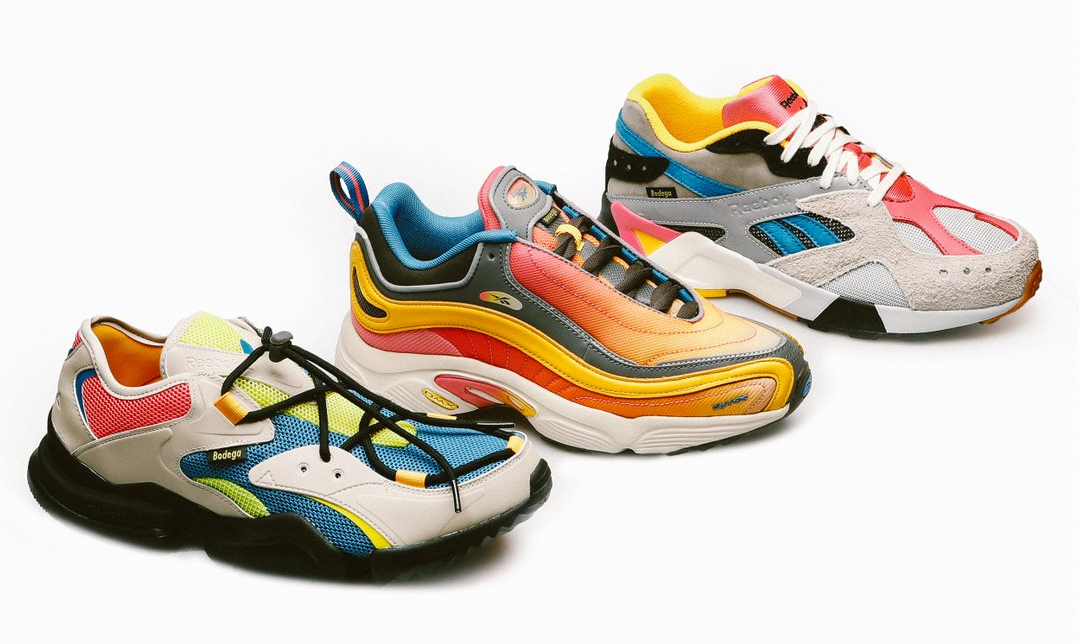 New Balance 997S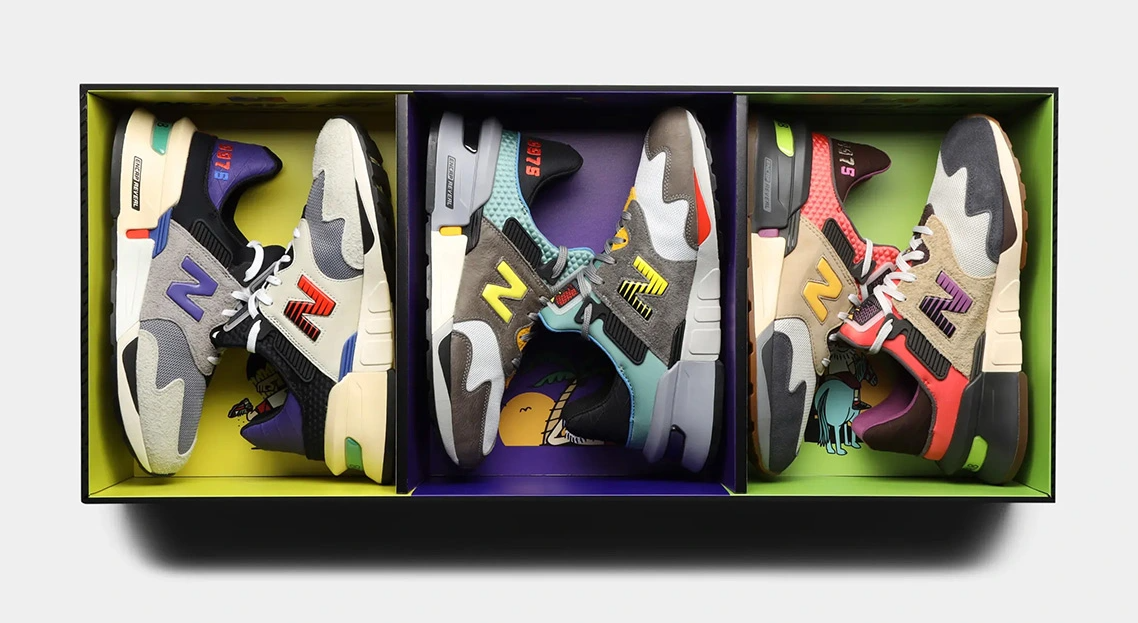 Release Date: September 2019-September 2020
DW: "It was planned to be a one-off and then the traction it got made us like, 'Oh shit. We could drop more.' It was organic. It wasn't part of some bigger plan to do three and do it over a year and a half. Once we did the first one, we had data to support that we could do it again and maybe again after that if we had the right designs. And we felt like we did. We just underestimated it. The other two releases were previous samples in the process of landing at the first one.
I feel like it's one that got away from a lot of people. We hadn't worked with New Balance for six or seven years. It was also on the early side of the New Balance really catching on. [The 997S] was disruptive. It was a new model, but it looked retro."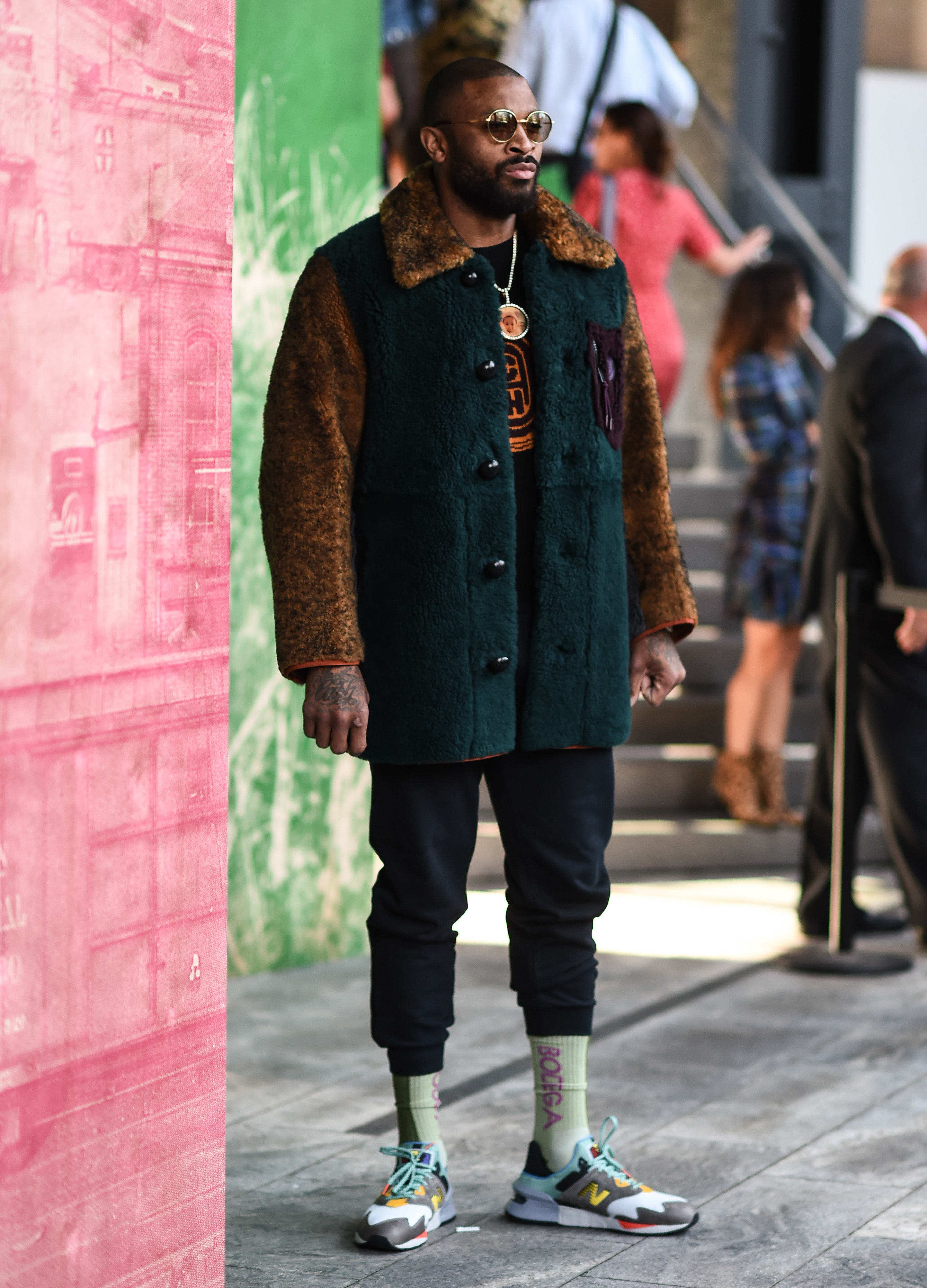 MZ: "I think that the first one was a learning lesson. I think that was the first shoe that crashed the site. It taught us how the industry had shifted, how demand can affect things like your website, and bots, and trying to be more proactive about fighting that and give the average consumer an opportunity to have these things. 
Sometimes we'll just hit people who are fans of the brand with free sneakers, pre-release, just because they ride so hard for them. It's amazing how important the advocacy of a brand is in a natural way. You don't have to try to sell people on things if they are interested in it. You're a human and you just talk to them. You can get people pretty excited if you're accessible and willing to show how you design. That ties back to the way we do storytelling and editorials. How did PJ Tucker come out of a tunnel with those? During the rollout phase, he just fucked with them. [Laughs.]"
Saucony Grid Azura 2000 'Ever Ready'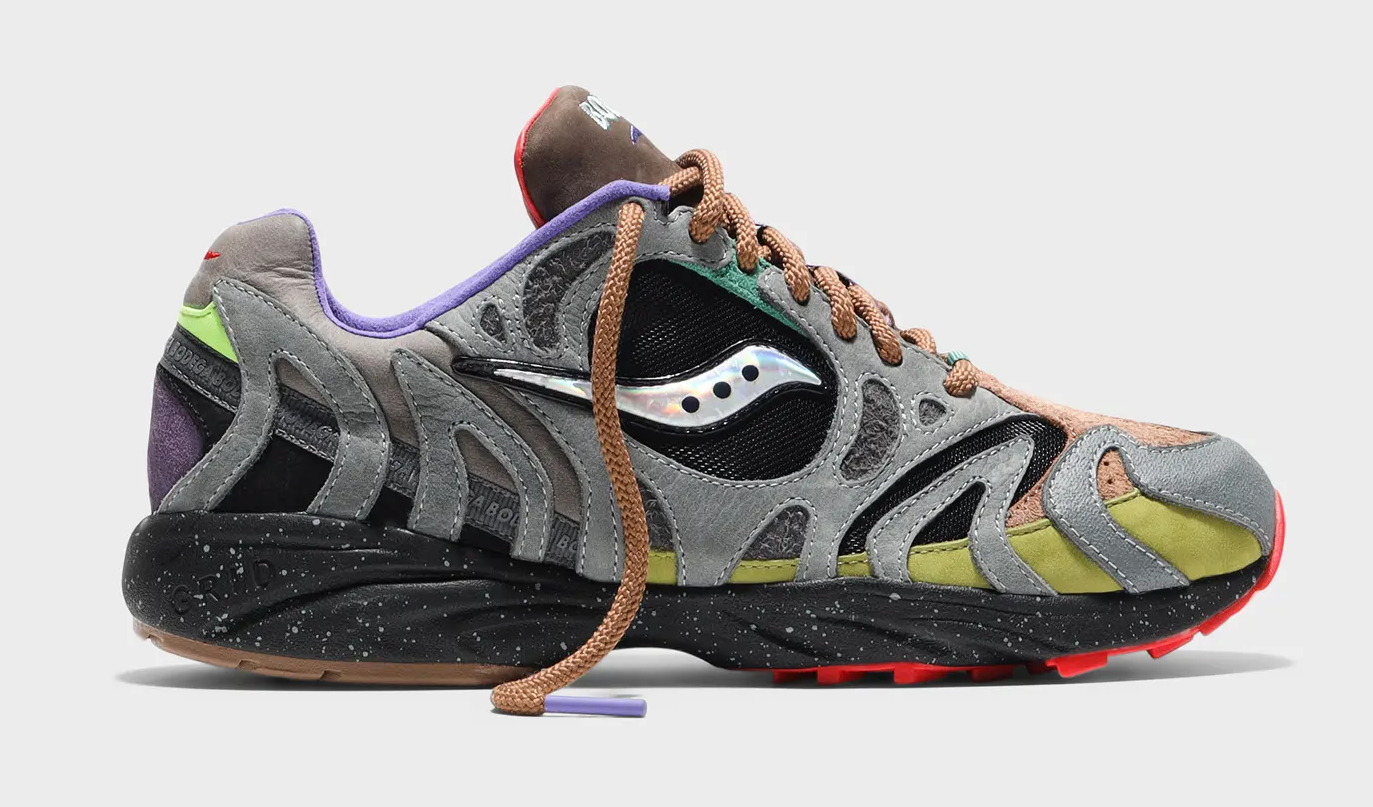 Nike Dunk High 'Legend'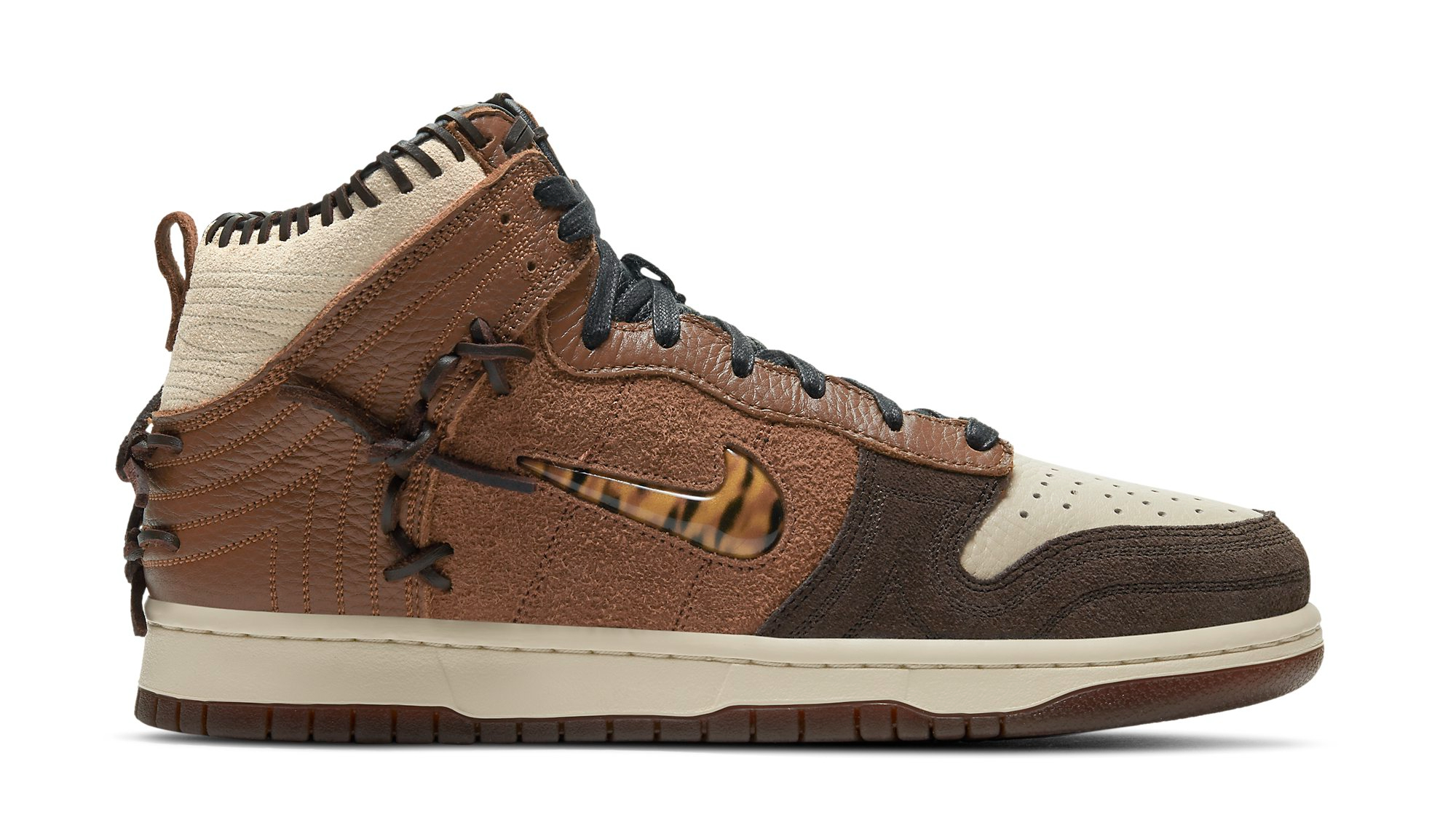 Release Date: Dec. 20, 2020
DW: "The tortoise jewel Swoosh was a thing that [Nike] was excited about. I feel like the jewel Swoosh marked such an era in Nike, mostly Air Forces and stuff. It just has that level of nostalgia and making it tortoise gives it this more luxurious feeling. It's not something [Nike had] done before. Those are the little details that excite me that I don't know if everyone catches or are even significant in the grand scheme.
We knew [the Dunks] were about to come out in every colorway imaginable. So, it was kind of like, 'How could we do something to change the mold?' We know people are going to do fire colors on the Dunk, but we wanted to do something that is tough to place what era it came from. What this shoe represented in my head was almost like an early prototype of the Dunk. It was like the Dunk before the Dunk. It was bespoke, handmade, like a moccasin almost. That's where the Western cowboy boots stuff comes in as well."
MZ: "I think the design was so radical for what it was. It was very much a product story. And then we just went nuts on the narrative story components to celebrate. I try to see everything as an outside person. There's definitely things that we do that I've been critical of. I think that's important. You have to be a little self critical to challenge yourself and raise that bar a little bit."
It definitely had a Sandlot nostalgia vibe to it. That was a keyword that Drew said to me and Austin in meetings. It's not a stretch from a design perspective. It's definitely got elements of a baseball mitt. But more than that, it was the idea of being young and being exposed to things by the older people in your neighborhood, or the folklore of your neighborhood and how that shapes you."
New Balance 990v3 'Anniversary'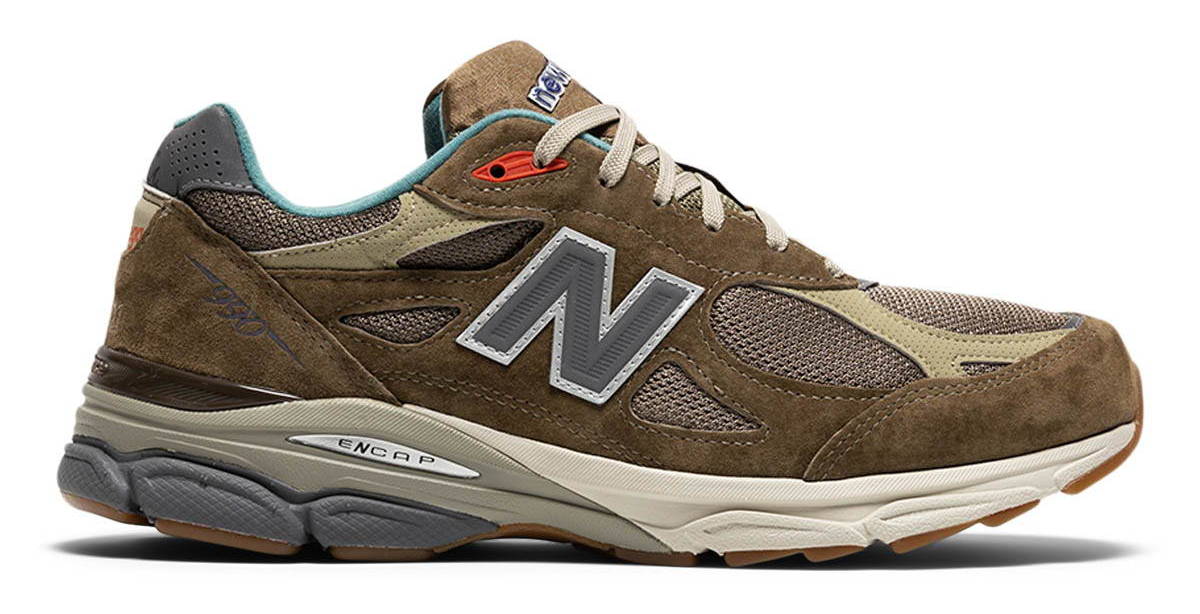 Hoka One One Kaha Low GTX
New Balance 574 Legacy 'International Classic'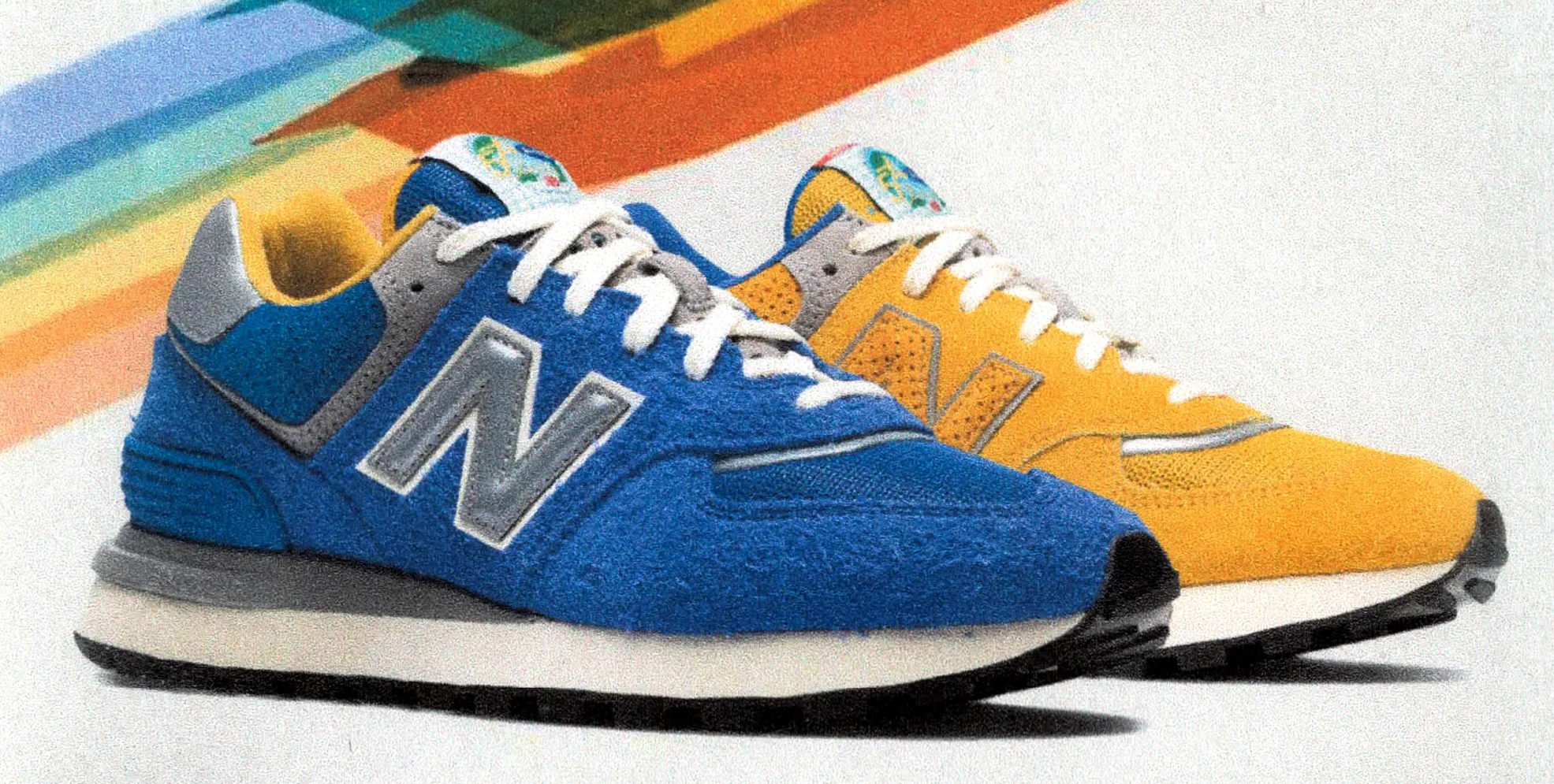 Release Date: July 15, 2022
DW: "We were amped to bring [the 574] back. A lot of people's experience with [the 574] was the whole two for $89.99 deal at the mall back in the day. When I was in middle school and high school, I just remember always being able to hit that deal. You could always get away with wearing New Balances with a plain T-shirt that matched and no one would say anything. It was very affordable and accessible. The 990 was one of the first $100 shoes. It was like a flex. You had to have some money to have those. Whereas the 574 represents the opposite almost. A bunch of people can afford to wear a product that is still great quality.
The whole international aspect was just how it caught on differently in different areas, the hotbed being like the Baltimore, DC, Philly area. It's different in different places. I guess that's how Larry June came into it too, just thinking of an international classic. I definitely think he's someone who was underappreciated early in his career, but now he's getting a lot of attention. It's like this slow maturation and appreciation that's happening, similar to the 574 as a model."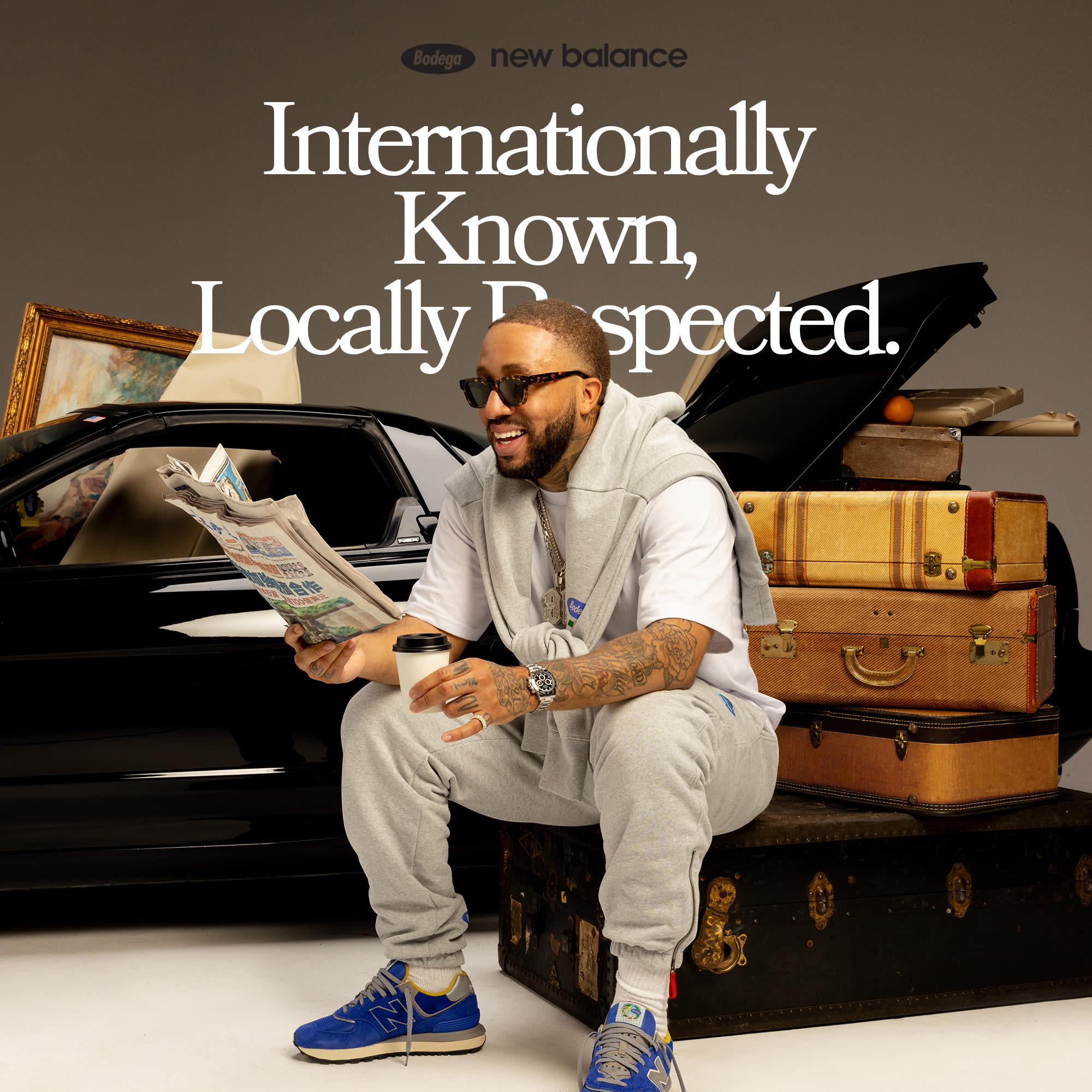 MZ: "When you have them in hand, they seem so much better. The 574 Legacy is one of the few shoes that a brand has brought back and it's actually like a better shape. It's more comfortable. It is an improvement on the OG, which I thought was an exciting part of it. I think we were the first to work on the 574 Legacy.
It's fun to see how shoes, or any trend, manifest in different regions. I think that was fun to think about with the 574. What did it do in like the upper East Coast versus Asia? At what time did it hit and for what reasons? What does it mean to be an international brand, an internationally known product? Self reflecting on Bodega, it started in Boston, it's in LA, but it's global through online."
Salomon X- Mission 4 'Full Bleed'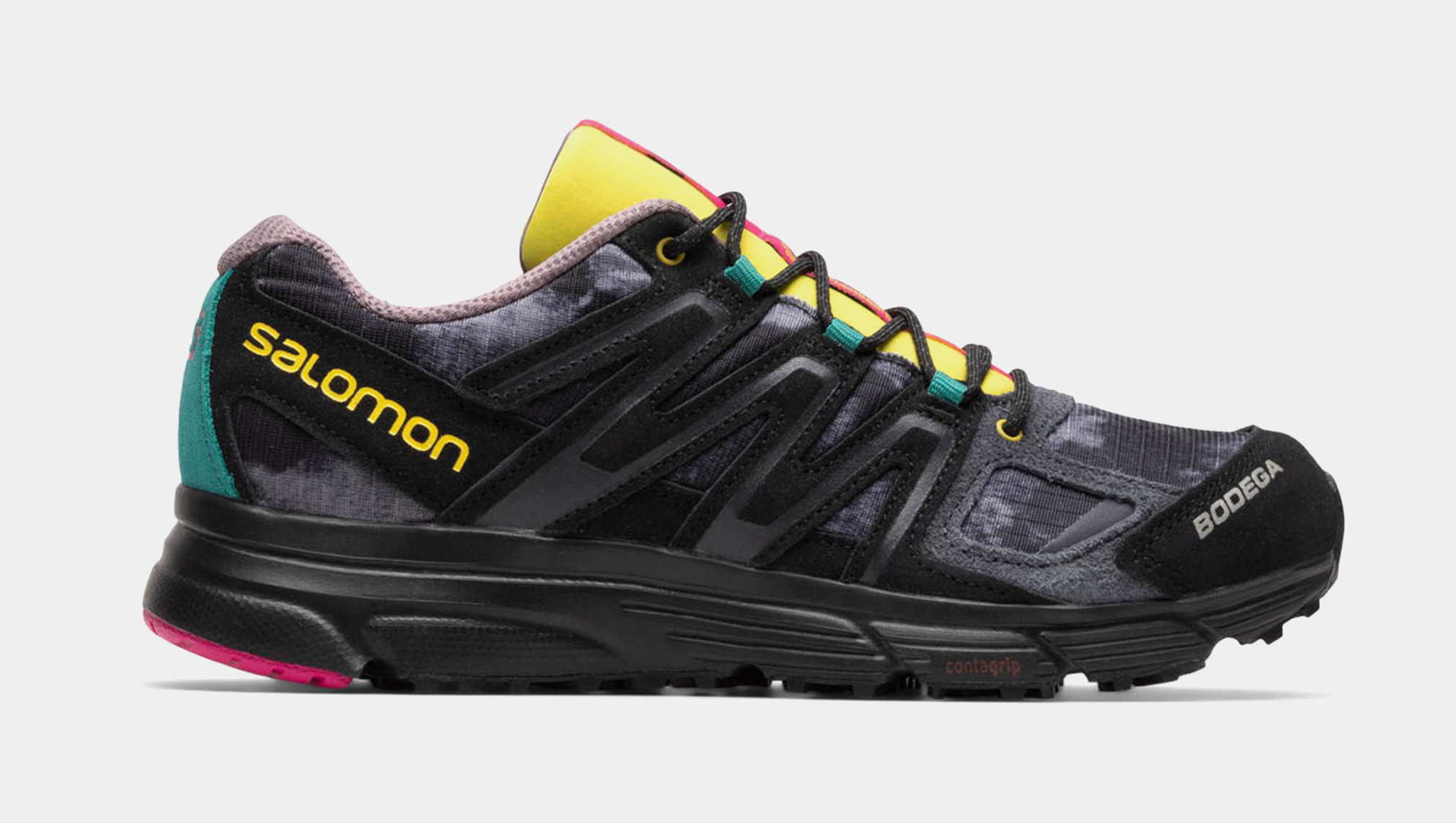 New Balance 9060 'Age of Discovery'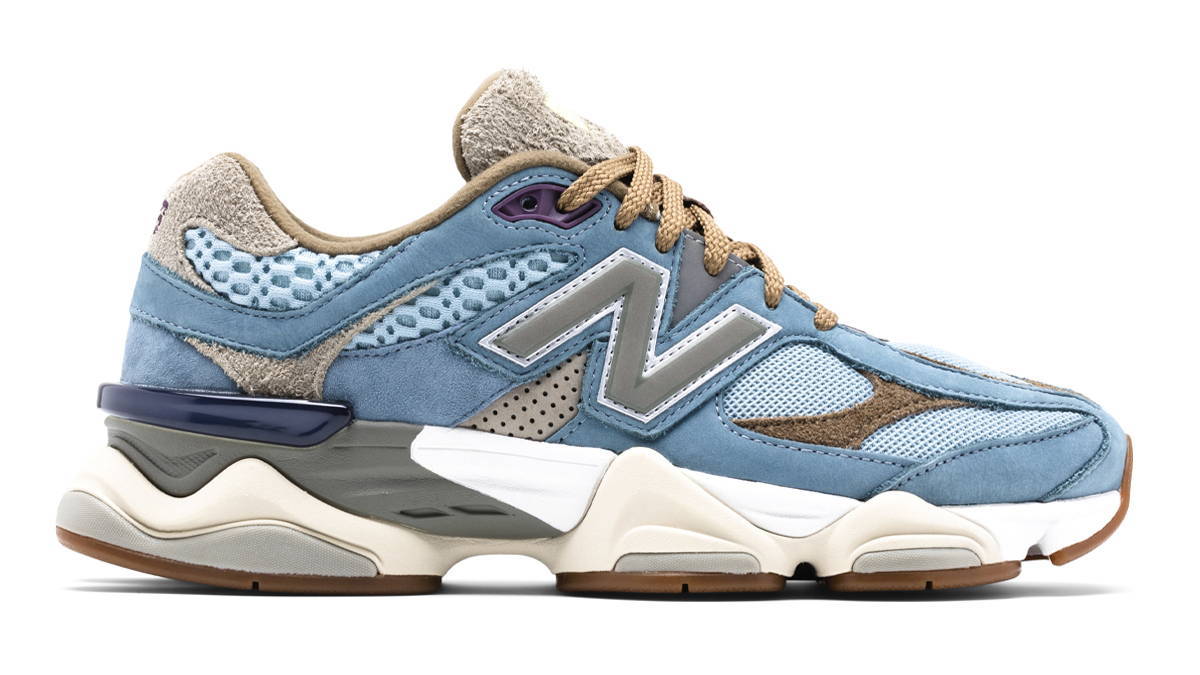 Release Date: Dec. 10, 2022
MZ: "I always fool around with this idea of burying things and re-digging them up like a year later as an art project, photographing them, and making modern artifacts. That was kind of the idea behind these. What if someone was running across a field and trips and looks back to see what they tripped on and pulled out is this 9060 that looked like an ancient artifact. That's really where the name 'Age of Discovery' came from. There's a time period in society that was called the Age of Discovery, but that's not actually what it's named after. If anything, this is about the Renaissance. And it's really anchored by this painting that our friend George Thompson did for us.
And then we dropped the editorial with Aminé. He's kind of like this modern renaissance person. He's part of the New Balance family. This is someone that's producing, performing, doing creative things. He has a very strong creative vision and is very independent. His projects are really owned by him. This is somebody that embodies a lot of the ethos of what New Balance is about. And we have this storyline of this modern renaissance. Multi-hyphenate is like the new renaissance man, right? So, we came up with these vignettes like music, culinary arts, just a play on what the modern renaissance person could look like."