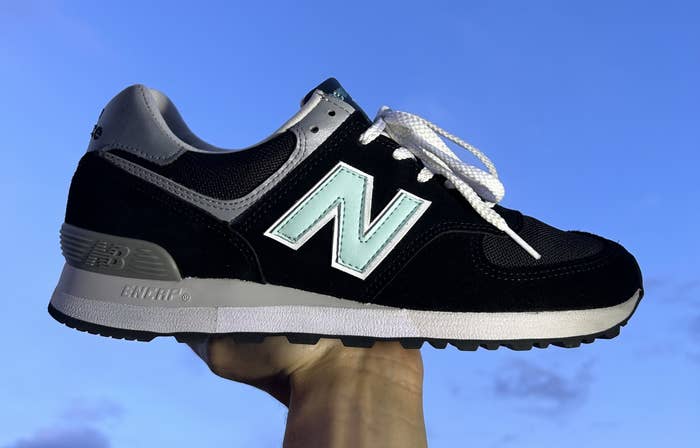 The upcoming sneaker collaboration between New Balance and French-Algerian model Younes Bendjima could have been coughed up by a wave in Corsica or squeezed through the Strait of Gibraltar. Its blues split the difference between Europe and Africa. The shoe comes from none of those places, but everywhere in between. Its story owes to the sea.
"The connection is the Mediterranean Sea," explains Bendjima on a warm evening in Paris. "You will find North Africa right in front of us, and the separation is this beautiful sea that connects us at the same time. On this shoe, I really wanted to make the Mediterranean Sea a symbol of unity, not division."
The sneaker is a black New Balance 576 enlivened by sections in blue: a deep turquoise on the tongue, a bright aqua on the side N logo. Unconnected to its storyline and design inspiration is England's flag on the tongue, as the model was made in New Balance's Flimby factory in the UK.
The 576 is the second project from New Balance and Bendjima's brand, Studio FY7. The Studio FY7 x New Balance 576 is priced at €220 and will arrive via an online release in limited quantities on the Studio FY7 website on June 23.
Bendjima traces his awareness of New Balances back to his childhood, when his friend group knew about them only as "the N shoes," which were unattainable then due to their price.
His latest New Balance project is meant as a letter from the Mediterranean but also a celebration of the shifting seasons. "Your summer just got better" was the promise in the first teaser. Bendjima wanted to make a colorway that would make sense in the warm weather.
It's an understandable desire given that his first New Balance shoe, a 992 in Saharan suede, arrived late in 2020, when pandemic lockdowns had dissolved the notion of seasons and rolled all of them into one amorphous stretch. A proper summer shoe is also a necessity for his lifestyle—when we spoke, Bendjima was preparing to cross the sea to the south for a friend's birthday party in Ibiza.
Before unveiling the shoe this weekend, Bendjima spoke about how his New Balance sequel came to be, his journey to the factory where the shoes are produced, and what he wants his new collaboration to represent. The conversation has been lightly edited for clarity.
What was the conversation with New Balance after the first sneaker? And when did they ask you to work together on another one?
They were really happy with the first one. It wasn't a shoe that was just based on cool colors. It was really deep and I think that's what people liked.
And it looked so different from what was going on with the 992 at that time. There were a bunch of 992 projects, but yours really wasn't in the same vein as the rest of them.
Exactly. We were really trying to make a difference. Look, the colors were really inspired by the storytelling. So, it's not like we took one color we liked and then another one. No, we really used the color of North Africa, which was the sand color of the Sahara, and the architecture over there, and the brown inside tongue based on my mom, where she's from, her city—they're the best when it comes to producing dates. New Balance was super happy with the shoe. I mean, the shoe has one of the highest resale prices right now.
They resell for over $1,000.
They resell for over $3,000 now. [Editor's note: StockX's resale data puts the most recent secondary market sale at $2,346.] It was kind of crazy for a shoe that we were selling for $220.
We spoke with Joe Grondin about doing the second shoe, but I really wanted to deal with the first one and appreciate it and take my time. And then, once we were ready, we spoke, during COVID. I mean, it was a mess. And we started designing the shoe during that time—already had that idea of connecting it to those colors for this model. And then, we actually confirmed it early 2022. We confirmed the model and the colors early 2022. It took some time because I really wanted this shoe to be a summer shoe, and we found the perfect time, which is coming out end of June.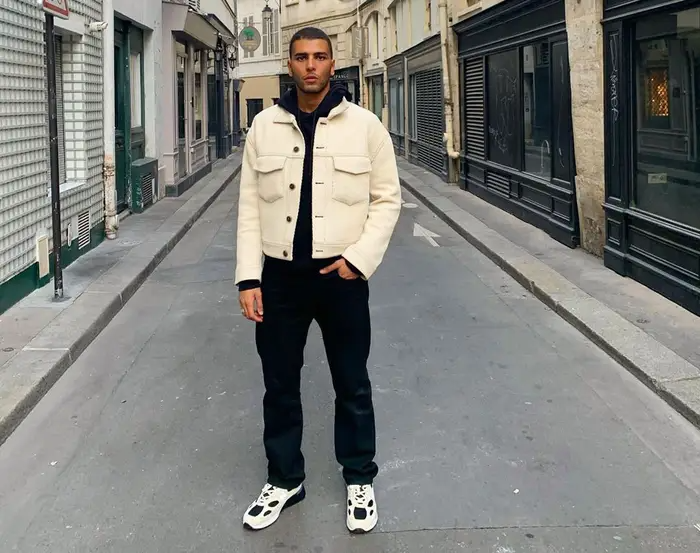 The first collaboration, all my inspiration was based on my North African roots. And for this one, the connection is the Mediterranean Sea. You will find North Africa right in front of us, and the separation is this beautiful sea that connects us at the same time. On this shoe, I really wanted to make the Mediterranean Sea a symbol of unity, not division. That was the main inspiration for this next shoe coming out.
Do you have early memories of the sea? I've heard stories from Tunisia, for example, of people looking across the Mediterranean and being able to see the lights of Italy and what that represented for them.
I'm originally from Algeria, but Tunisia and Morocco are right next to us. It is definitely a dream for, let's say for the closest people to me, like my family in Algeria, to come one day to France. And being able to make a living here, and have a job, and build a family, and get a place. It is definitely a dream.
But we also have a beautiful country. So, let's say it's a 50-50. Some dream about the European dream; in Europe, we dream about the American dream. So, to each his own dream. But, yeah. I definitely saw a few of my cousins being really interested to come on our side in Europe and have the experience of a European citizen.
Another part of the shoe is that it represents summer escapes with the watery blue parts. Where are you going for those kinds of excursions?
Man, south France has beautiful water, beautiful hiding spots where you kind of walk 20, 30 minutes and find this tropical blue water. It literally feels like you're in the Bahamas or the Maldives.
And that was it, this blue. So, we have two tones of blue. On the tongue, you will find a more of a deep blue, a dark turquoise blue. And on the N logo is an aqua blue. And we wanted these two shades because of the colors that you can find through that hiding spot that really make you feel like, "Oh, summer just started."
So the South of France you have. From where I've been, even near Corsica, which is all the way south in France. You have near Italy, obviously beautiful spots. Spain, all the south and coast has this kind of spot. And obviously also right in front of us, in North Africa. For example, in my country, in Algeria, you have beautiful spots with this kind of different shades of blue.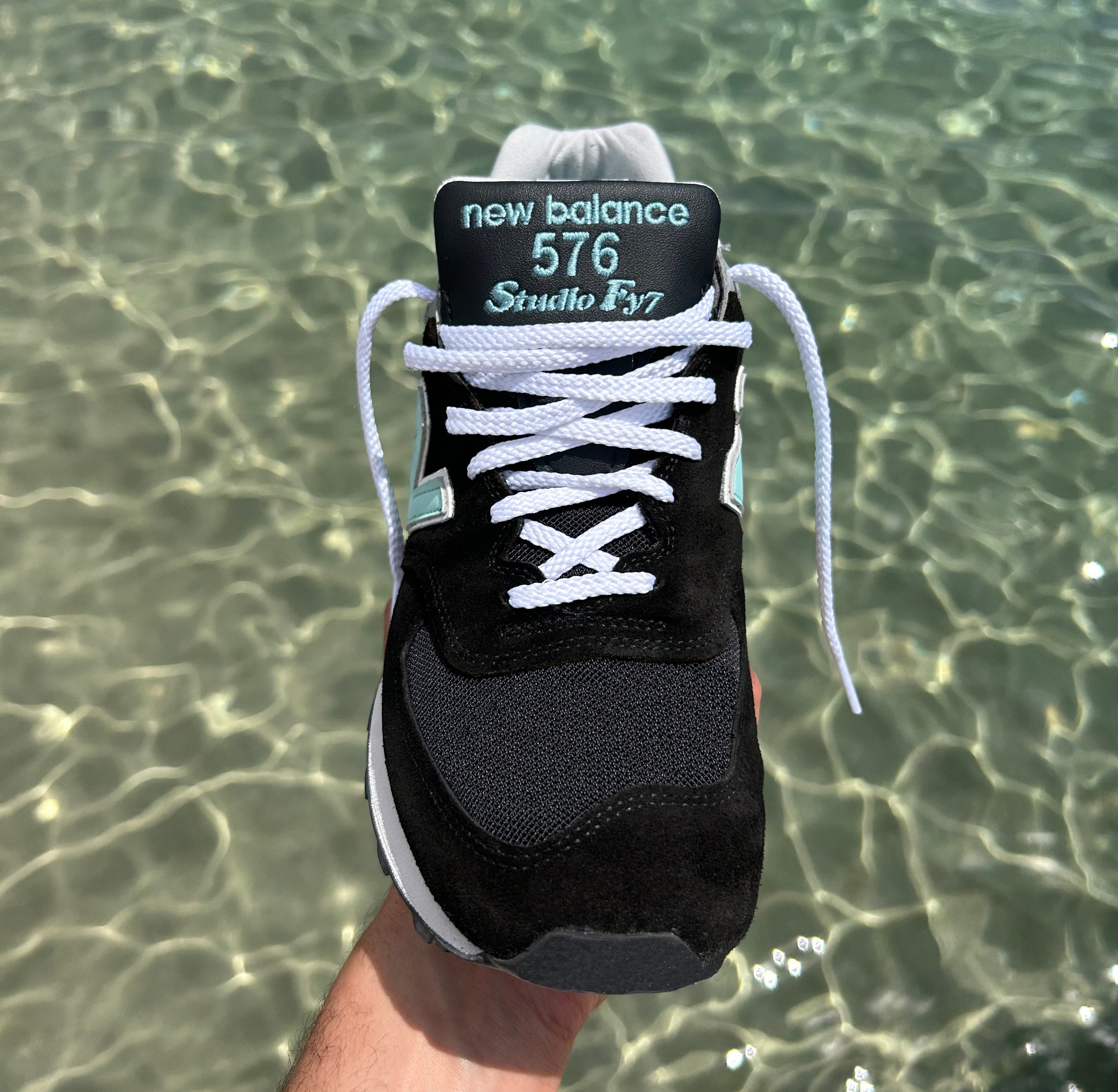 Is there any Tiffany to it? That specific hue you used feels like their blue as well.
I mean, I know Tiffany has used the specific blue since forever. My first shoe was really inspired by North Africa, and the second one I still wanted the connection to it. So, no, I don't think it's a Tiffany Blue. I feel like the aqua blue is connected to the water, and people can maybe attach it to that brand since they have used this blue forever. But this was really connected to the water for us.
Are there current events that the shoe ties to? You've said you wanted to show the Mediterranean as a symbol of unity. Are there specific things happening that you feel like that message was important right now?
I feel like the notion of borders is centered in the news, making this division between countries, "both sides," and having all those people that try to come to Europe, and everyone looking down at them. I just really wanted, once again, to connect both sides and make a statement that instead of having this beautiful water, which is in the middle, divide us, I really wanted to make it a symbol of unity and not division, really bringing people together. Those are my origins. I was born in France, but my origins are out there. So, for me that's just bringing both sides together.
Did you have freedom to pick the silhouette? Because when you did the 992 it came in this moment of New Balance bringing that shoe back and it feels like the timing is similar with the 576.
Yes. Yes, I did. I did have the choice over a few models and I picked the 576 because I think it's such a dope shoe, such OG shape.
It's a totally different shape from the 992 as well, it's from a different era. You have different panels to work on.
Exactly. I just didn't want to pick a model that everyone already is used to. We are the first studio to re-design the 576 since 2018. So, it's been five years. That was already something that I really liked when the New Balance team in the UK—because it's a made-in-UK shoe—told me that it's been five years. I was like, "Challenge taken. I take the challenge. Let's do it."
Have you been at all to New Balance headquarters, or have you been to the factories in the UK where they make the shoes?
Yes, of course. I flew to Flimby. We flew to visit the factory. So, it was exactly…June 2022. So, it was a year ago. We flew a year ago to Flimby. We spent two days there, visited the factory, met the people there. It was really a great experience and we picked a few options, like the reflective on the back of the shoe.
I'd imagine that makes the process so much easier because you get to actually see the materials in person versus looking at a picture on a computer.
So much easier, so much easier. You get to pick the exact Pantone, you have your shoe on the screen. Everyone is there. That was a beautiful experience also, to just visit the factory and see how the shoe, and every New Balance made in the UK, is properly made. It gives more meaning to the process.
Especially when you get to see the people who are physically building the product.
Exactly. To meet them was great. To meet them was really cool.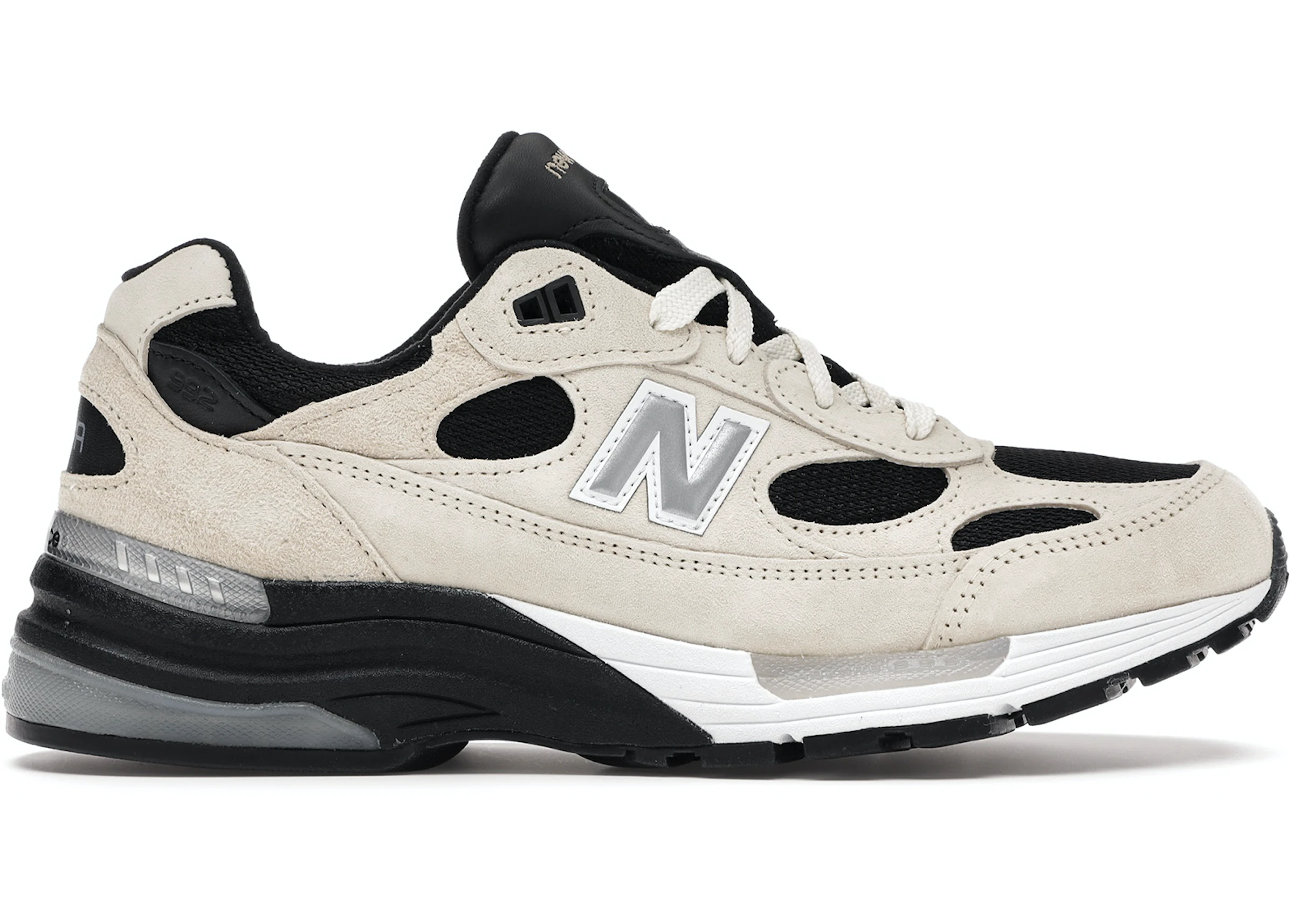 How much extra work have you done on the e-commerce side to make sure things go smoothly this time around?
Wow. We've been working on that for two months. So, the release is only happening online. I'm not doing a pop-up in Paris, because even though it's my city, I really want the shoe to touch the world. I just wanted to sell it online and to be able to spread the shoe as much as possible. The shoe comes in a limited amount that we will announce at some point. But, yeah. Very limited. So, I really wanted everyone in the world to be able to have his own chance.
Is this one more or less limited than the 992?
Less limited, but still very limited.
From the 992 to the 576, you're drawing this geographical line. Your first New Balance project was about your family's roots in Algeria and now we're going north across the Mediterranean. It feels like the natural progression for the next one will be that we land in France.
I mean, we'll see. We'll see. I get inspired every day in my life. Every day, I wake up with something new in my mind. So, we'll see. Life comes day by day, so will the design of the next one if it happens.