Sneaker culture as we know it has its roots in the 1980s, but it wasn't until the 1990s that it became the phenomenon it is today. Back then, the two main roads into the culture were hip-hop and basketball—a third entry that was often overlooked was skateboarding.
The rise of grunge and streetwear in the '90s elevated skate culture to the forefront of the mainstream, and with that came a decade of collectible skate shoes that defined an era for rebellious teens. In an effort to serve this community more of what they needed, streetwear and sneaker savant Angel Cabada founded Supra in 2006. Launched in collaboration with professional skaters Chad Muska, Jim Greco, and Erik Ellington, Supra shoes have always featured skate-first specs. However, by employing a keen mix of both elaborate colorways and ambitious designs—most notably achieved with their now legendary Skytop model—the brand attracted cosigns from superstars the likes of Jay Z, Justin Bieber, Lil Wayne, and Justin Timberlake, thus propelling Supra to mainstream heights previously uninhabited by even their most successful competitors.
Fast-forward to 2018, all boats have benefited from Supra's rising tide, and skate brands are now releasing some of the most lauded and cutting-edge sneakers on the market. Although we just experienced a trend of retro runners, it seems the industry has shifted to bulkier, more durable shoes—a sensibility arguably borrowed from skate design's earliest days, as skate sneakers have always been built to withstand the punishment of the pavement.
Hypebeasts currently chasing after high fashion "dad shoes" are often the same folks who saw the rise of skate shoes as casual wear over 20 years ago. While the culture plays catch-up, attempting to scratch that itch, Supra has pivoted to a new model, once again redefining what it means to design a mainstream skate shoe.
The brand's latest collection and coinciding sneaker, the Titanium, takes a much more traditionally athletic approach to streetwear than expected.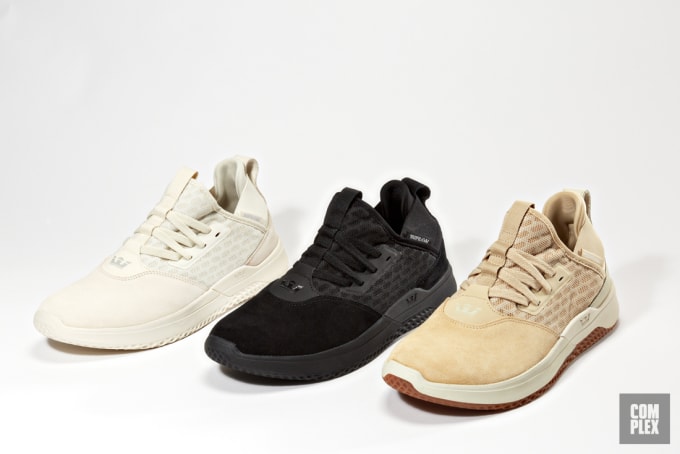 With this sleeker, more contemporary design, a rubber cupsole maintains the shoe's low profile, offering the perfect base for a gum outsole, while boasting a grip texture keeping the mold thin and light. The combination of both textile and suede upper panels on the shoe allows each piece to play to its strength—suede on the toe to take a beating on the board and bounce back, with mesh on the rest of the upper allowing to shoe to feel dynamic, light, and breathable.
These elements are reflected in the apparel that Supra is dropping in 2018, as well. The Wind Jammer jacket manifests the same athletic inspiration while maintaining sharp and stylish colorways. Shorts, pants, hoodies, and crewnecks are all designed to work seamlessly together with the new shoes as full looks. Upon their return to prominence, Supra has constructed the perfect blend of sport and style with all the history of skate culture intact.
It's impossible to overlook Supra's impact on the larger sneaker community, as the brand has enjoyed so much mainstream success. Supra's latest release shines as a reflection of the evolving interests of their base, offering a take on skate sneakers that's at once both trendy and unexpected.
Peep the photos below for a detailed look at each colorway of Supra's brand new Titanium model.