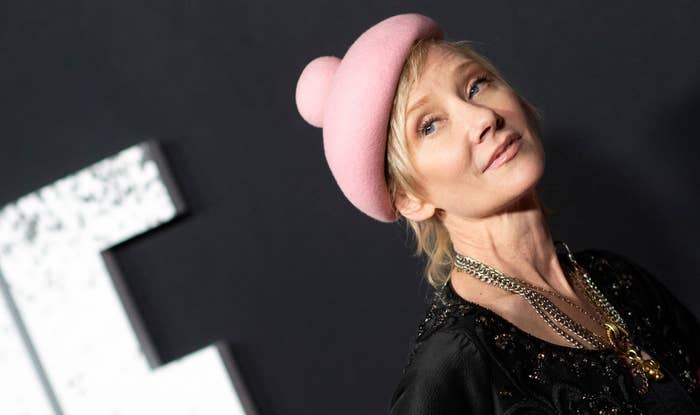 UPDATED 8/18, 12:35 a.m.: The L.A. County Coroner has determined Anne Heche's official cause of death was smoke inhalation and thermal injuries. The fatality was ruled as accidental and her date of death is listed as Aug. 11.
"The Coroner notes another significant factor that contributed to her death was a sternal fracture due to blunt trauma," writes TMZ.
UPDATED 8/12, 2:40 p.m.: Anne Heche has been declared brain dead at 53, succumbing to burns and injuries sustained in her car crash one week ago in Los Angeles. While such a state is legally defined as deceased in California, People notes that "her heart is still beating and she has not been taken off life support in order to allow OneLegacy Foundation enough time to find recipients who will be a match."
A rep told the magazine in a statement on Heche's family and friends' behalf, "Today we lost a bright light, a kind and most joyful soul, a loving mother, and a loyal friend. Anne will be deeply missed but she lives on through her beautiful sons, her iconic body of work, and her passionate advocacy. Her bravery for always standing in her truth, spreading her message of love and acceptance, will continue to have a lasting impact."
Heche leaves behind two sons, 13-year-old Atlas Heche Tupper and 20-year-old Homer Laffoon.
The prolific actress made her debut on A Different World in 1987 before going on to appear in noteworthy films and shows including I Know What You Did Last Summer, Ally McBeal, Hung,Six Days Seven Nights, the '98 Psycho remake, Volcano, Wag the Dog, Donnie Brasco, Everwood, and, in voice form, The Legend of Korra.
RIP.
UPDATED 8/12, 1:15 a.m. ET: Almost a week after her crash, a representative for Anne Heche says the 53-year-old is unlikely to live.
"Unfortunately, due to her accident, Anne suffered a severe anoxic brain injury and remains in a coma, in critical condition. She is not expected to survive," reads a statement from the rep "on behalf of the family," per People. "It has long been her choice to donate her organs and she's being kept on life support to determine if any are viable. We want to thank everyone for their kind wishes and prayers for Anne's recovery and thank the dedicated staff and wonderful nurses that cared for Anne at the Grossman Burn Center at West Hills hospital."
The magazine reports the rep also stated of the actress, "Anne had a huge heart and touched everyone she met with her generous spirit. More than her extraordinary talent, she saw spreading kindness and joy as her life's work—especially moving the needle for acceptance of who you love. She will be remembered for her courageous honesty and dearly missed for her light."
UPDATED 8/11, 10 p.m. ET: Anne Heche was reportedly under the influence of cocaine at the time of her car accident earlier this week, TMZ writes.
The Los Angeles Police Department conducted blood work on the actress after she was admitted to the hospital and found the drug in her system. Fentanyl was also discovered in the test, but the narcotic can be administered by a doctor to help alleviate pain. An investigation will help figure out the timetable. 
TMZ reports Heche's condition is "dire" and hasn't improved in the days since the accident.
Despite the discouraging news, Lifetime still plans on premiering Girl in Room 13, starring Heche, next month, perVariety. Amy Winter, executive VP and head of programming for the channel, asked that reporters not request updates regarding the actress' health during a panel for the film, as part of the TCA's virtual press tour on Thursday.
"This project is important to Anne, along with each and every one of us," Winter said. "We all sought to make a film that would bring attention to this appalling issue of human sex trafficking. We hope that this film reached you and that you are just as inspired as Anne was to help us with our mission to stop violence against women." 
See original story below. 
Actress Anne Heche is comatose and in "critical condition" three days after a fiery car wreck in Los Angeles hospitalized her. She is also being investigating for hit-and-run and driving under the influence, although she is neither under arrest nor charged at this point, per the L.A. Times.
"[Anne] has a significant pulmonary injury requiring mechanical ventilation and burns that require surgical intervention," read a rep's statement to People. "She is in a coma and has not regained consciousness since shortly after the accident."
The 53-year-old Emmy nominee—whose roles include I Know What You Did Last Summer, Six Days Seven Nights, and Gus Van Sant's 1998 Psycho remake—drove her Mini Cooper into a home in the Mar Vista neighborhood of Los Angeles on Friday, causing a fire in which she sustained burns. The Times notes Heche "was captured on video crashing into a garage at an apartment building, then narrowly missing a pedestrian before striking a Jaguar."
TMZ published some of the footage, including video of Heche speeding down a residential street, and claims one photo of the star in her blue vehicle may feature a visible bottle of alcohol.
Police procured a warrant to draw Heche's blood, though TMZ was informed it could be weeks before those results are available.
Heche's friend and partner in podcasting, Heather Duffy Boylston, stated, "Her family and friends ask for your thoughts and prayers and to respect her privacy during this difficult time."
The aforementioned LAT piece cited Heche's "best known" work as Another World, the soap opera on which she appeared from the mid-'80s through 1992, winning a Daytime Emmy in '91.