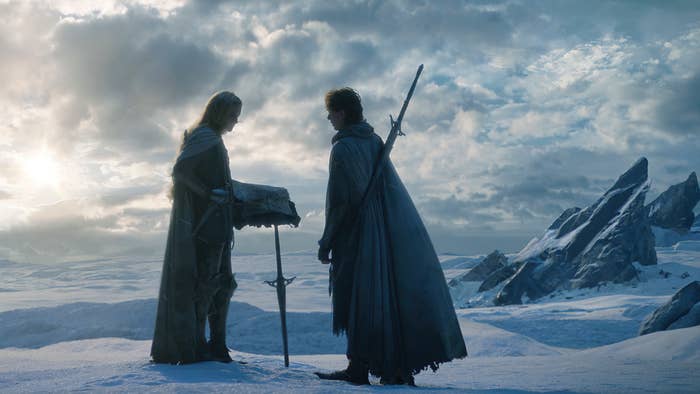 In the world of J.R.R. Tolkien's Middle-earth, a reprieve is temporary. While the forces of good enjoy periods of peace, evil gathers in secret—unseen until it's too late. Such is the landscape of Middle-earth's Second Age, where after a turbulent war, the realm celebrates a moment of bliss. But something nefarious lingers around the edges—or at least Galadriel (Morfydd Clark) believes so. As such, she's determined enough to find it. When The Lord of the Rings: The Rings of Power opens, she's clinging to the side of a titanic ice cliff, held up by only a few bits of firmly planted pieces of steel in her dogged pursuit of this hidden foe. 
Galadriel is but a spec when compared to the scale of that wall, which serves as a handy metaphor for those bold enough to adapt Tolkien's work. And yet, this monumental task is what Amazon aims to accomplish with Rings of Power. The Prime Video series is a big bet for the company, a splashy entrance into the world of intellectual property, and a chance for Amazon to land its version of Game of Thrones. The ambitious prequel series debuts Thursday (Sept. 1) at 9.m. ET, and is the first of a reported five-season plan that will chart the rise and fall of various characters and kingdoms—as told through faces and places both old and new—all while setting the stage for the prologue audiences saw at the start of Peter Jackson's Lord of the Rings cinematic adaptations: the rise of the dreaded dark lord Sauron and his creation of the titular Rings of Power, which he used to trick the people of Middle-earth.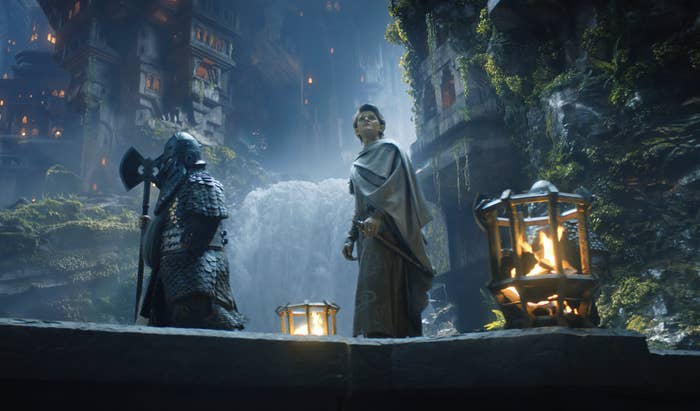 When Rings of Power begins, however, we're a far cry away from Jackson's version of the story. But those portrayals loom large in the consciousness of the series' cast. "I kind of only knew Galadriel of the Third Age [when Lord of the Rings takes place]," Clark tells Complex. "So it was really interesting to see what kind of journeys she went on. There's an element of fluidity to her character. Tolkien's idea of Galadriel seemed to change throughout his life." Clark's Galadriel is one of a staggering 22 different characters throughout the show, which has an expansive cast that features the mainstays of the writer's fantasy epic: elves, dwarves, humans, and even hobbit precursors called Harfoots. Like Galadriel, some characters will have names familiar to viewers, while others draw from typical Tolkien archetypes.
Even to the cast, those character details remained a secret for quite a while. "I didn't know what I was auditioning for," Megan Richards, who plays Harfoot Poppy Proudfellow, says. "Like a month later, I got the call that I got it. Then I was told what it was for, but I wasn't told anything about who I was playing. We only found that out in New Zealand." Nazanin Boniadi, who plays human healer Bronwyn, adds, "It's less about the secrecy than it is about protecting the journey for people." Even in the span of two episodes, that experience is extensive; audiences will travel far and wide throughout Middle-earth, from the Elven kingdom of Lindon to the fields where the nomadic Harfoots dwell. Each of these realms is wonderfully rendered in majestic splendor, making it hard to tell where the extremely detailed sets end and the impressive VFX works begin—a feeling the cast shared as well.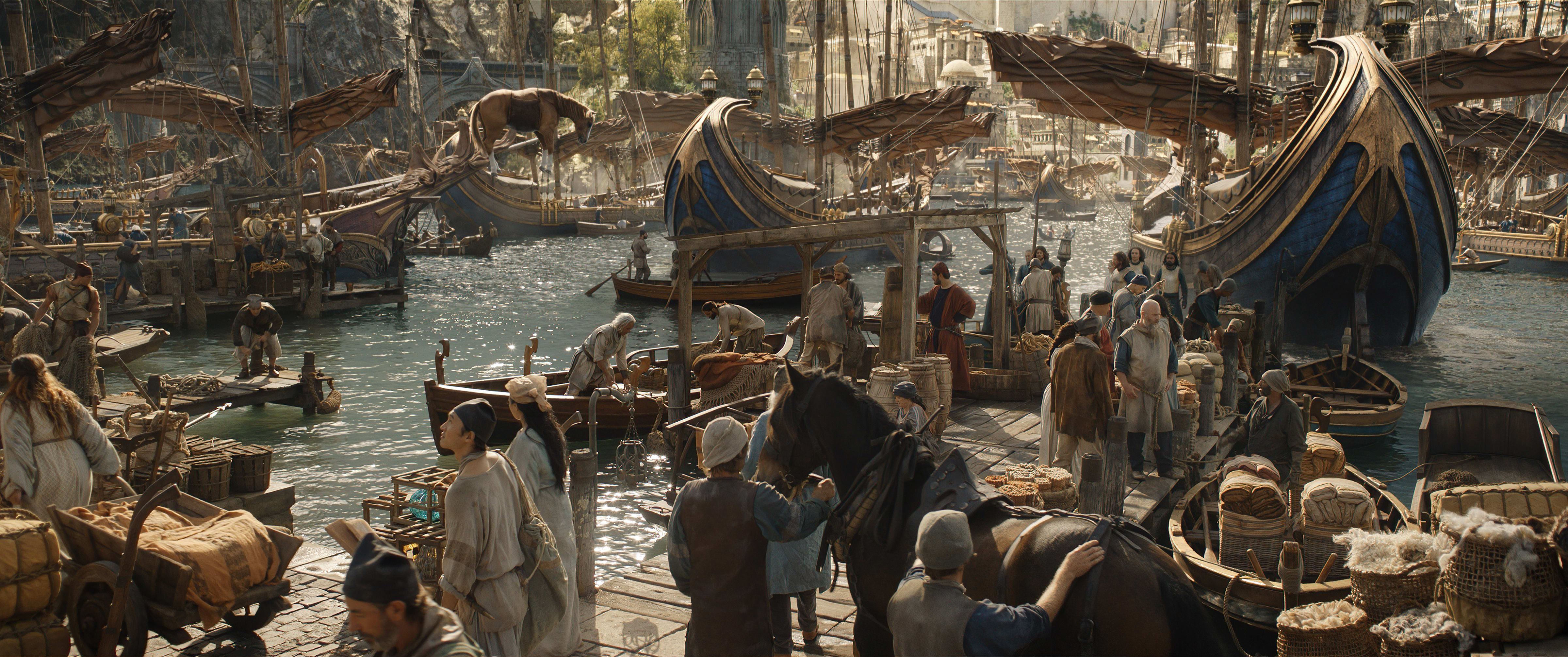 Australian actor Leon Wadham, who plays a human noble named Kemen, had familiarity with the sets, having worked in Auckland for a while. "Where there's normally a big space, they built block upon blocks of this incredible, opulent city," he says. "They've thought about everything—the centuries in which certain things were built and what impact it would have on the style of architecture. There is incense burning in the alleyways. There is a literal harbor with water [and] boats sailing on it." The experience was so immersive that Wadham joked there was "limited acting involved." Boniadi confirms this scope as well. Stepping onto the set was "magical" as she states, "I've been on large-scale productions, and nothing compares to this as far as production value and attention to detail."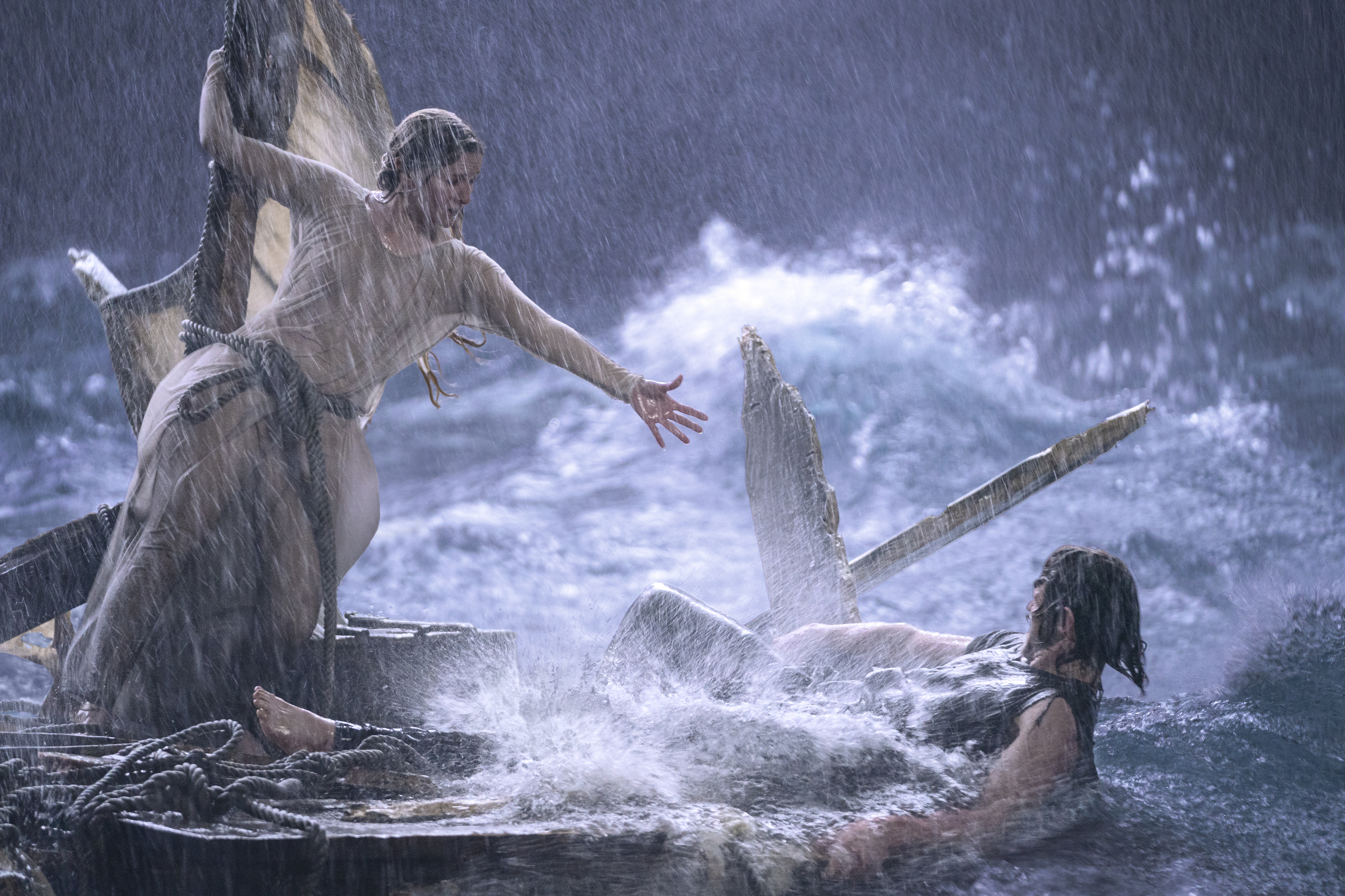 Not all of Rings of Power examines the ghosts of Lord of the Rings' future; if they are, they're done in a new way. Large swaths of the cast are original creations, unmentioned by any of Tolkien's text, but who cross paths with previously established characters. To wit: Charlie Vickers' Halbrand is a marooned sailor Galadriel encounters in the show's second episode. We don't learn much about him other than that he's running away from something. This may evoke parallels to Aragorn, but Halbrand is his own man. "There's a lot of themes that on which Hal is based, and [there] are characters in the Legendarium that influence his character," Vickers says. "It enabled me to work with the dialect and movement coaches and create something new, which was a real privilege. New, but informed by the old." These new creations are like the sample of a rap song; you may notice the source, but it is recontextualized in a brand new way.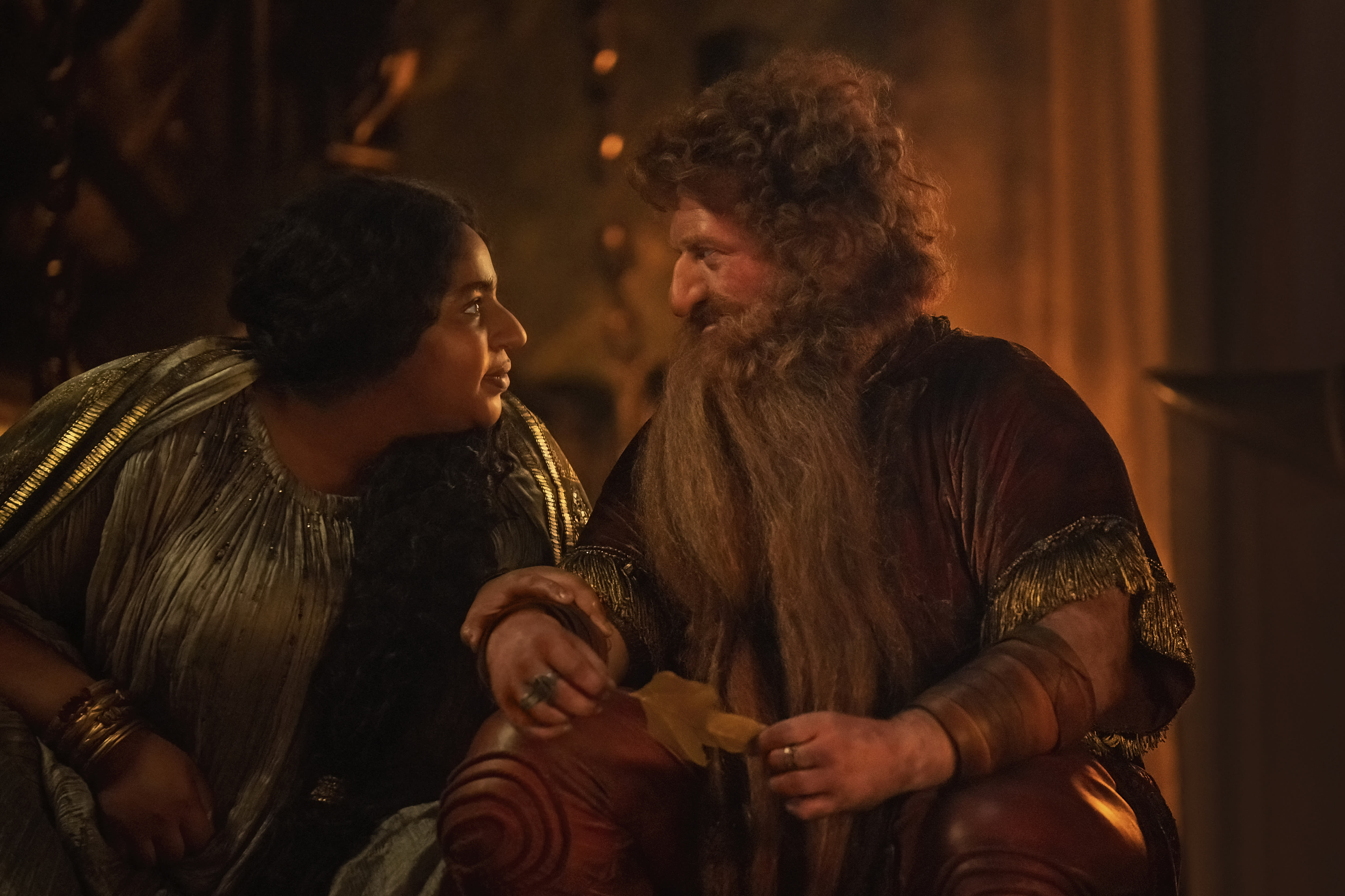 Some additions are meant to bring Middle-earth's Second Age into our modern age. Sophia Nomvete plays the first female dwarf, Princess Disa, and loves the chance to make a mark with her character. "Creating Disa with everyone was a roundtable of discussions [with] open ears and eyes, welcoming my ideas and thoughts for her—particularly in terms of her strength and position of equality for the politics of Khazad-dûm and for the world's politics—were just completely embraced," she says. "Now, we have this force of nature while we present this character to the world for the first time."
Creating something out of whole cloth doesn't just extend to micro but the macro too. While Rings of Power does have a designated endpoint, much of what comes between the start and the end of the series is the pure invention of first-time showrunners J.D. Payne and Patrick McKay. The duo worked on several projects, including an initial version of the long-gestating fourth Star Trek movie. It's here where they caught the attention of multi-hyphenate J.J. Abrams, who eventually recommended the duo to Amazon for the series.
"They both are such fans of Tolkien and have an encyclopedic knowledge of his world and have done this show with the utmost care and respect for him," Maxim Baldry, who plays Isildur, says. "They're definitely the best people for the job." Nomvete championed their creative process and gushed over how open they were to "every idea, every thought, every question, every creative narrative" that the actors wanted to explore to get into their characters. "The collaboration process has been such a special part," she adds.
Tolkien's work is often about leaving your home and experiencing the totality of the world—both the good and the bad. It's fitting for Rings of Power to explore this aspect, too. If everything goes well for the series, this will be the first step of a multiyear voyage for this massive ensemble. It's fascinating to watch this production as they set out on this experience together, bonded together in a fellowship of their own—albeit one much larger than the one of Frodo's story—as they bring this world to life for a new generation. Who knows what lies ahead? But if Tolkien taught us anything, it's just as much about the journey as it is about the destination.