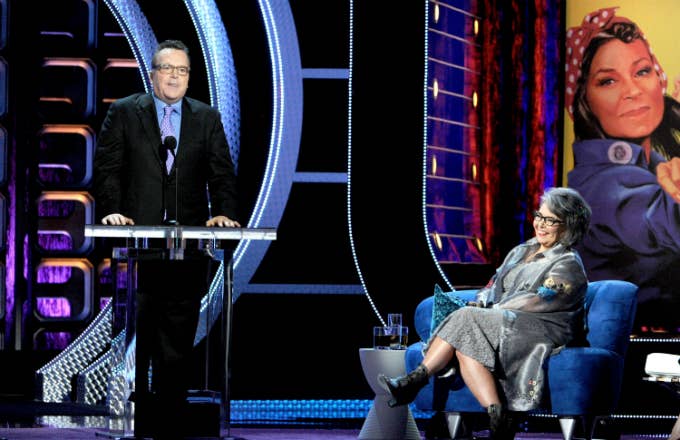 After Roseanne Barr tweeted a racist remark toward former President Obama senior advisor Valerie Jarrett, the reboot for Barr's eponymous '90s show was canceled and reruns of the original were pulled from syndication. She attempted to do damage control by saying the sleeping pill, Ambien, caused her to post the offensive tweet. Now, Roseanne's ex-husband Tom Arnold, who also wrote for the '90s Roseanne, says she purposely sabotaged herself.
"It had to happen," Arnold told The Hollywood Reporter, referencing the reboot's cancellation. "And I am going to tell you the truth, she wanted it to happen, if you saw how her tweets escalated this weekend. If it hadn't happened yesterday, this season would have been so awful for everyone every day because she would have felt like she was [being] taken advantage [of], just like when I left the show."
Arnold, who was married to Roseanne from 1990-94, said the drama could have been avoided if someone kept Roseanne's phone away from her, but nobody was successful—or, perhaps, courageous enough. "Everyone has always been scared shitless of her," he said. "She is a fucking asshole, but so am I. No one ever stood up to her like I did."
"ABC lost maybe $1 billion from this; this show was grinding out money hand over fist and they lost it all because somebody didn't say, 'Get that phone out of her hand,'" he said. "She's not going to go on TV and say these things." With a phone, though, she's "a loose cannon."
At one point Arnold tried to get Roseanne staffers to fix the problem before the inevitable happened. "I said look, someone has got to tell her that Donald Trump doesn't carry his own phone," he explained.