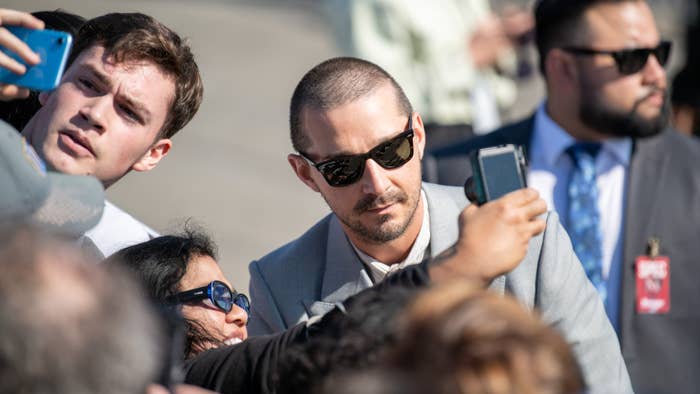 Shia LaBeouf and Florence Pugh, who individually toplined two of the best films of 2019, are linking up for a new thriller directed by Booksmart's Olivia Wilde.
Don't Worry Darling, according to the Hollywood Reporter, is described as a psychological thriller that will also star Chris Pine and Wilde. The story takes place in "an isolated, utopian community" in 1950s California and focuses on Pugh's character, described here as a housewife who makes a startling discovery about her seemingly ideal existence.
New Line is reportedly aiming to start shooting as soon as industry-halting COVID-19 containment efforts start to lift, with the original shooting schedule said to have been carved out for a late spring kickoff.
The entire main cast of the film is fresh off a brilliant 2019 run. LaBeouf's Honey Boy, a semi-autobiographical take on his own life in which he co-starred as a version of his father, was met with widespread critical adoration. Meanwhile, Pugh added the top-tier breakup epic Midsommar and Greta Gerwig's Little Women to her filmography, the latter of which earned an Oscar nomination. She also starred alongside Pine in the 2018 historical drama Outlaw King.
Wilde, meanwhile, earned comparably high praise for the SXSW-premiered Booksmart. The coming-of-age instaclassic marked Wilde's directorial debut and currently holds an 84 percent average on Metacritic. Reflecting on the experience of bringing the story to the screen, Wilde explained to Deadline that the longtime Black List entry was ahead of its time in terms of how it addressed a "discerning" audience.
"I feel that what we were able to tap into was the intelligence of this demographic, who felt like they wanted to see a story about their lives," Wilde said back in December. "They wanted to feel represented onscreen but no longer put in a box of a superficial obsession with boys, or assimilation to pop culture."
Go watch Honey Boy, Booksmart, Midsommar, and Little Women if you haven't already. If you have, curb social distancing woes by watching them all again.