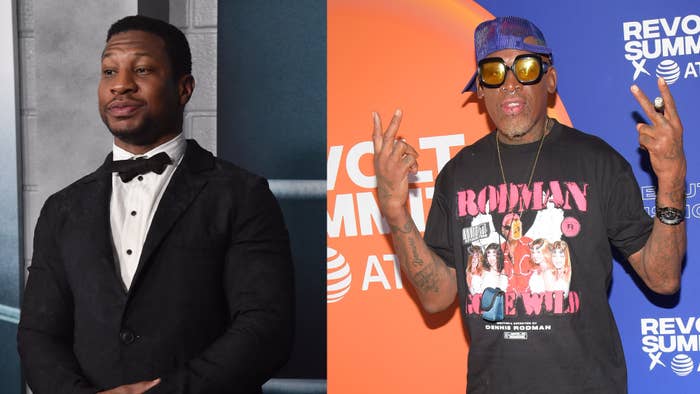 Jonathan Majors is understandably "excited" about potentially playing Dennis Rodman in an upcoming film focused on a notorious Vegas trip made by the NBA star.
In a recent interview shared by the Associated Press, as seen below, Majors spoke about the "slow and steady" process behind the part. He also noted the importance of pushing himself in this particular role due to Rodman's repeatedly proven individuality.
"Hopefully I get to sit with him and chat with him when we get closer and try to get the script right; all these things, all these industry things," Majors said. "I never really put a ceiling on myself but this is definitely a role where I'm definitely going to make sure I'm pushing that ceiling out. Because he demands that. You know, he's such a full individual so he's going to demand a lot. I've got to figure out how to get that."
Majors, who can currently be seen in Michael B. Jordan's Creed III, was first reported to be in talks about taking on the role back in September. An official announcement has not yet been made, although it appears Majors is indeed nearing preparation mode for the project.
The film, tentatively titled 48 Hours in Vegas, boasts a script by It's a Wonderful Binge writer and director Jordan VanDina. In August 2021, Variety and others reported that the feature—inspired by Rodman's 48-hour Vegas throw down amid 1998 NBA Finals festivities—had been given the go-ahead by Lionsgate and Lord Miller.
Per VanDina, the script was penned during "an insane fever dream-inspired daze" while he was getting over COVID-19 in 2020. When addressing the latest news surrounding the project this week, he shared an always pertinent reminder that "no one knows anything" when it comes to what will and won't work creatively.
"A lot of people told me not to write this script!" he said on Twitter. "It couldn't get made! Never listen. No one knows anything!"