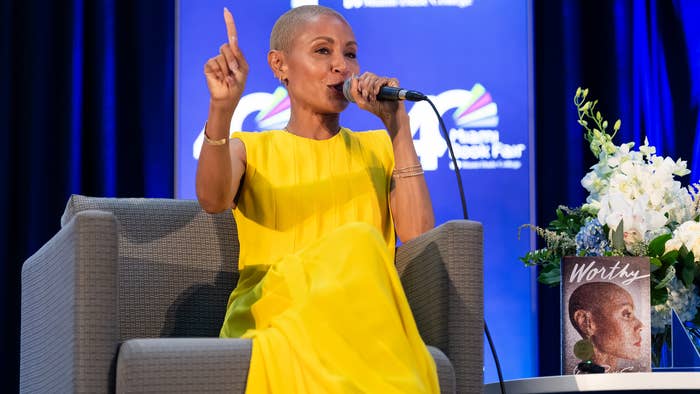 Jada Pinkett Smith says she and Will Smith are taking legal action in response to "ridiculous" claims about Duane Martin.
As previously reported, Brother Bilaal, who claims to have previously been employed by Will as an assistant, alleged during a recent interview with Tasha K that he once walked in on the Oscar-winning King Richard actor and Martin "having anal sex."
Smith's rep later issued a statement to TMZ saying the story was "completely fabricated." Meanwhile, a source "close to the situation" said the actor was considering taking legal action in response to the claims.
In a Breakfast Club conversation on Wednesday, Jada confirmed that legal action was being taken.
"Let me just say this. It's ridiculous, right? And it's nonsense," Jada said. "This is a person that tried a shakedown, a money shakedown that didn't work. We're gonna take legal action, because it's one thing to have your opinion about somebody versus just making up salacious, malicious stories."
Asked to elaborate on the alleged "shakedown" at the center of the claims, Jada said it stems from Will's recently released memoir.
"It's based around this person's idea that they, in some way, were doing business around Will's book, and that they spent money or what-have-you, and that they needed to be compensated," she said. "So he already tried to do this money shakedown. Will was willing to give him a certain amount, and he didn't take it. So this whole situation is based on that."
Still, Jada added, Will was able to "find the funny" in the situation.
In a separate clip, this time captured by a TMZ paparazzo, Jada could be seen offering a more succinct take on the claims.
"We suing," she told the camera, as seen below.
Complex has reached out to reps for Jada and Will for comment. This story may be updated.