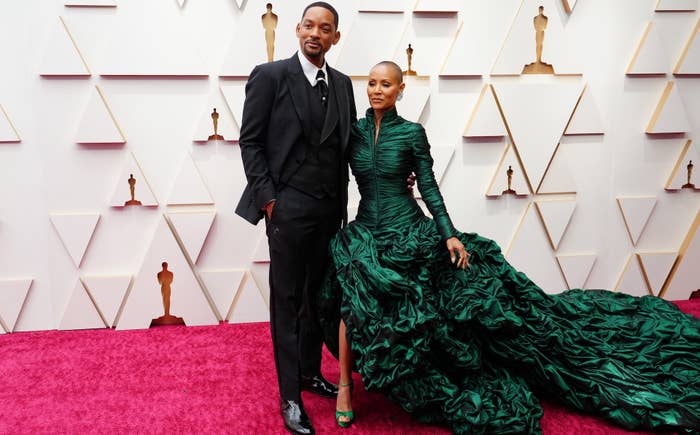 Footage now making the rounds in connection with the still-under-discussion Oscars slap is being claimed to show Jada Pinkett Smith laughing after the moment in question, which indeed saw her husband Will Smith slapping comedian Chris Rock.
The clip, highlighted byEntertainment Tonight and others, has been widely shared on TikTok and elsewhere and shows the King Richard actor returning to his seat after the slap. As Rock is heard making some initial comments about the incident (i.e. "Will Smith just smacked the shit out of me"), Jada is seen appearing to laugh, as do others at the ceremony. The laughter in the room is heard diminishing once Smith tells Rock to "keep my wife's name out your fucking mouth."
See the ET-cited clip in question below. The same footage was also posted on TikTok by actor and comedian Michael Rapaport, who has shared a number of questionable Oscars slap-related posts in recent days. Meanwhile, additional recent social media-shared clips show Rock looking stunned after the incident.
The days since Sunday night's slap have been largely comprised of an endless slew of takes, as well as a smattering of updates from those involved. Smith, who won the evening's Best Actor award, issued an extended statement to social media apologizing to the Academy and Rock. The latter, meanwhile, quickly addressed the slap during a recent stand-up performance and suggested that he would have more to say on the matter soon.
Amid the ongoing discourse have been repeated mentions of how the Academy and other institutions have handled prior industry controversies. The Game, for example, mentioned both Harvey Weinstein and Roman Polanski in a recent IG note about the investigation into the "lul ass slap."