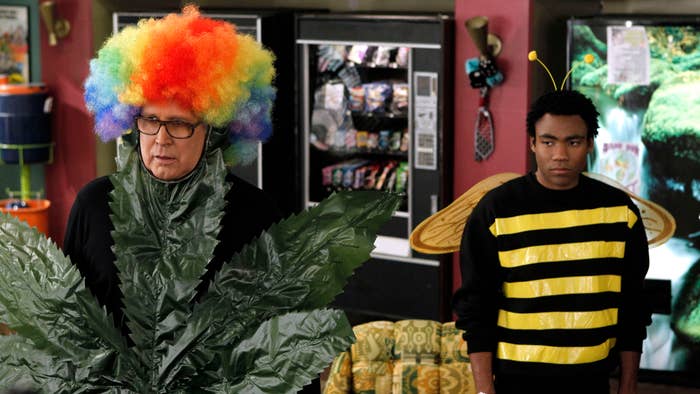 As longtime Community obsessives will note, the circumstances surrounding the exit of Chevy Chase after four seasons on the cult comedy have remained a source of headlines for more than a decade now.
In a recent interview with Marc Maron, Chase was asked about his turn as Pierce Hawthorne on the Dan Harmon-created series, spurring the Season 1 SNL breakout comedian to declare the show not "funny" or "hard-hitting" enough for him.
"Oh, I kinda forget about that," Chase said around an hour and six minutes into Episode 1473 of the WTF podcast when asked about originally joining the show, which debuted on NBC in 2009. "They wanted me so I said okay."
Maron then pointed out that the series saw him working with "a talented bunch of people." Chase, however, said he "honestly felt the show wasn't funny enough" for him.
"Well, I felt a little bit constrained a bit," he said. "Everybody had their bits and stuff and I thought they were all good. But it just wasn't hard-hitting enough for me."
Asked to clarify whether he was a fan of his character, Chase said he "didn't mind" Hawthorne but was ultimately not thrilled by the ensemble experience.
"I didn't mind the character," he said. "I just felt happier being alone, in a sense. I just didn't wanna be surrounded by that table, every day, with those people. It was too much."
While Chase didn't specifically mention any of his castmates or other Community collaborators, aside from stating he has "no idea" if things between himself and "pisser" Harmon are good these days, it's well-documented that it wasn't exactly a smooth ride behind the scenes during the comedian's time on the show.
In October 2012, Deadline's Nellie Andreeva reported that Chase had used the n-word during an "outburst" on the set. Here's how the initial report worded an account of the incident, which was followed one month later by Chase leaving the show:
"It appears that the tirade was not addressed at Black cast members Donald Glover or Yvette Nicole Brown. People close to the situation say that Chase had been increasingly frustrated and uncomfortable with the direction of his character, Pierce, who is a bigot"
Things between Chase and Glover, specifically, have also received intense attention in subsequent years. In a 2018 New Yorker piece from Tad Friend, Harmon said Chase was jealous of his co-star and would expresss this jealousy by trying to "throw Donald off" when shooting. Glover, meanwhile, suggested Chase was struggling to accept that his time at the top had passed.
"I just saw Chevy as fighting time—a true artist has to be okay with his reign being over," Glover said at the time. "I can't help him if he's thrashing in the water."
That same year, Pete Davidson—himself a breakout SNL star—called Chase "a genuinely bad, racist person" during an appearance on Howard Stern's SiriusXM show.
"Fuck Chevy Chase," he said. "I hate that dude."
In his recent WTF appearance, however, Chase disagreed that people in the industry have long viewed him as a difficult presence.
"I don't know what my reputation was. … I just always assumed I was okay," Chase told Maron.