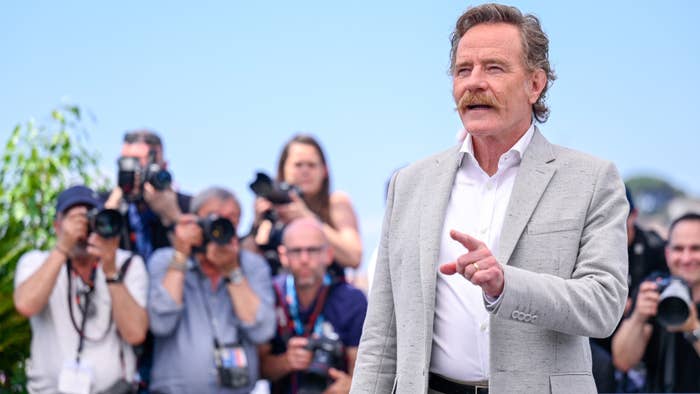 Bryan Cranston says he's three years away from hitting "pause" on a decades-strong acting career filled to the brim with beloved characters and acclaimed performances.
In a new cover story interview with British GQ, the actor—who later this month will be seen in Wes Anderson's Asteroid City—spoke decisively and candidly about what he intends to have in motion by 2026. According to the piece, Cranston—who will be 70 by then—is closing down his production company. Additionally, he's aiming to sell his half of Dos Hombres, the mezcal company he co-founded in 2019 with fellow Breaking Bad alum Aaron Paul.
From there, Cranston says he and his wife, Robin Dearden, are planning to move their lives to a village in France for at least half a year.
"I want to have that experience," Cranston told writer Anna Peele. "I want to go for day trips and have the fire in the fireplace and drink wine with new friends and not read scripts. It's not going to be like, 'Oh, I'll read and see what I'm going to do.' No, it's a pause. It's a stop. I won't be thinking about [work]. I'm not going to be taking phone calls."
A driving force behind the decision, as the actor himself explained, is his desire to acknowledge that Robin has had to "adjust her life" due to his.
"I want to level that out," he said. "She deserves it."
Following this month's Asteroid City rollout, Cranston still has a few confirmed projects on the horizon. First is the spy thriller Argylle alongside Henry Cavill, Sam Rockwell, and Bryce Dallas Howard. Everything's Going to Be Great with Benjamin Evan Ainsworth and Allison Janney, meanwhile, kicked off principal photography back in April.
A possible Malcolm in the Middle reunion is also on the horizon, though it's unclear exactly what form that will take.