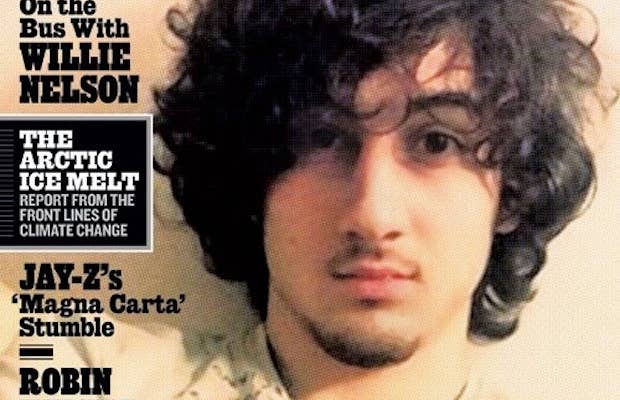 Rolling Stone's cover story on Boston bomber Dzhokhar Tsarnaev—which hit newsstands this week—is no doubt a hell of a well-reported, compelling read. Unless you judge a magazine by its cover, in which case, it's a trashy, exploitative, poorly conceived read.

It's hard to know where to begin with this one.

Do we start with the fact that it looks like Rolling Stone has turned Tsarnaev into a celebrity? Or the fact that the headline, "how a popular, promising student was failed by his family, fell into radical Islam, and became a monster," seems to strip him of blame?
This kid is accused of—by the courts, but also, the rest of America—bombing a city marathon. Along with his brother, he injured over 250 people and killed three. And as a result, he's now on the cover of a major national publication? Looking like a 70s-era Teen Beat heartthrob? 
That's just a cheap ploy to sell magazines, and Rolling Stone is no rag. They're above that kind of exploitation just to get attention. It's true that Charles Manson was on the cover in 1970, but at least in that case, he didn't look like a rock star. There were other photos of Tsarnaev to choose from—the magazine didn't have to go with the one that makes him nearly indistinguishable from the other musicians and celebrities they normally have on their cover.
As far as that headline goes—whatever the circumstances of how Dzhokhar Tsarnaev went from a normal teenager to radism Islamist, he still stands accused of a crime that left hundreds injured, and three dead. The way it's worded—that he was "failed by his family" then "fell into radical Islam"—makes it sound like we should be empathetic for him, because his life was so messed up, and that's why he became a terrorist. There are millions of other people whose families fail them, and they don't turn to terrorism. There are no excuses for becoming a terrorist.
Since it was unveiled online last night, the cover's received a ton of (unsurprising) backlash on the Internet, particularly Twitter, with most criticizing the magazine's decision to put a terrorist on the cover at all. Rolling Stone senior editor, Christian Hoard, responded to the backlash on his Twitter this morning:
Rolling Stone also published a preview of the article, including five revelations from reporter Janet Reitman's extensive research into Dzhokhar's life. The rest of the piece can be found in the issue. Whether or not anyone will pick it up from a newsstand for fear of being seen with it is another issue entirely.
UPDATE: National pharmacy chain CVS has made the decision to boycott the issue, and has released a statement on their Facebook page:
Similarly, Tedeschi Food Shops—a New England-based convenience store chain—is also boycotting the issue. In a statement on their Facebook page, they explained: