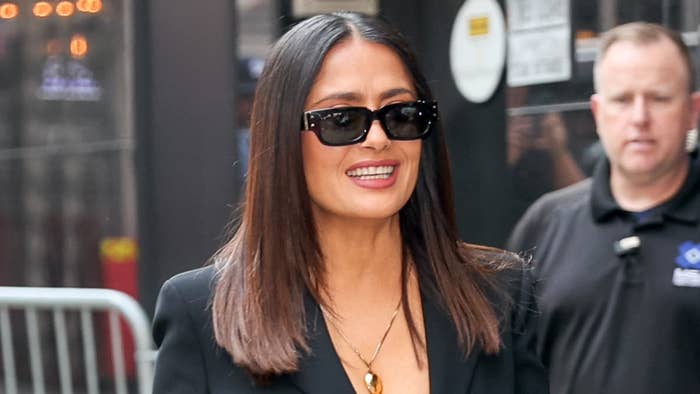 Salma Hayek was in a celebratory mood for her 57th birthday, and she took to social media to reflect on her special day.
On Saturday, the actress posted to Instagram photos of herself wearing a red bikini and enjoying the sun at a beach. In her caption, Hayek revealed how grateful she is to see a new age while thanking her family and friends for keeping her going the distance.
"I'm so happy to be alive and so profoundly grateful for all the blessings," she wrote. "🎂My beloved family, my precious friends, my health, my work that keeps me going, my empowering team, my relationship with animals & nature, and the love of all my loyal fans. Happy 57th birthday to me!!! 🎉"
The Desperado star shared another post of herself going out for dinner and enjoying a birthday cake with candles at a restaurant.
"Thanks for all the birthday love💕," she wrote. "Gracias por todo el cariño de cumpleaños 💕."
Some of Hayek's celebrity friends chimed in the comment sections including, Viola Davis, who wrote, "Happiest of birthdays," while Anthony Hopkins said, "Feliz Cumpleaños Salma We love you."
Priyanka Chopra-Jonas also wrote, "Happy birthday gorgeous."
In a conversation with W Magazine last month, the 57-year-old recalled a sticky situation involving her first kiss that led to her home being infested by ants.
"[It was in] Coatzacoalcos, in my little town in Mexico," she said. "It was very memorable, for a very stupid long story. I wanted to taste good, so I kept putting honey on my lips. And I said, 'What did it taste like?' And he said, 'Like honey,' but it's the cliche—that's what they say."
She continued, "And so I kept putting honey on my lips and I burned my mouth and I had an infestation of ants in my bedroom. And something that started real romantic turned out to be kind of disastrous."