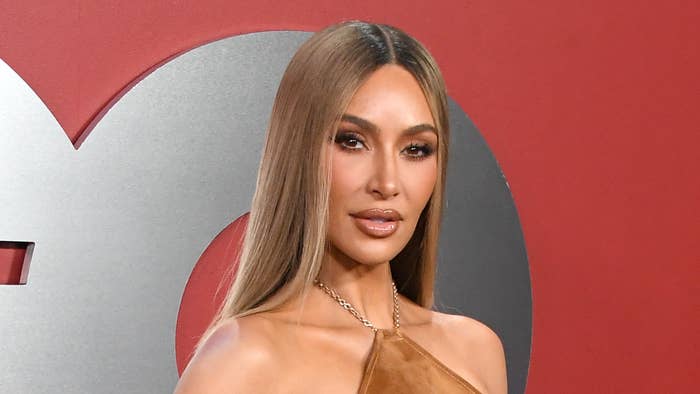 UPDATED 11/26/23, 6:46 p.m. ET: Kim Kardashian's new comedy film, The 5th Wheel, has been picked up by Netflix, according to Variety.
There was a bidding war amongst several studios to carry the film including theatrical distributors and streamers. However, two out of the five backed out of discussions leading Kardashian and co-writers Paula Pell and Janine Brito to sign a deal with Netflix.
Netflix's purchase of The Fifth Wheel is reportedly one of the first huge sales following the SAG-AFTRA strike, which was settled earlier this month.
See original story below.
Kim Kardashian will be crossing over to the film space now that she's been tapped to star in and produce a new film titled The 5th Wheel.
According to Deadline, the film is a female-driven comedy written by Paula Pell and Janine Brito. Kim K will produce alongside Pell, with five studios said to be fighting for the rights to the film, with Kim reportedly pitching it acrossd town. The keen interest is there, despite her limited experience as an actress.
Kardashian voiced Delores in the Paw Patrol film, and guested in the latest season of FX's American Horror Story. Pell, on the other hand, is a Saturday Night Live alum with ties to Tina Fey, Amy Poehler, and Judd Apatow, having wirtten the film Sisters, which starred Fey and Poehler.
While she's getting ready to hit the big screen, Kim is also keeping up with her duties as a mom. In a new interview with GQ, Kim revealed she had to do damage control when she found out her daughter, North, was scamming people at her lemonade stand.
"She gets a huge pitcher and fills it, puts it in her wagon, and goes down to the corner," Kim said of North's weekend lemonade stand operations. "She has a table and chairs, and fans to keep herself cool. She makes signs. She stays there hours and hours."
According to Kim, North also enlists the help of her friends, with whom she splits the money they make from selling lemonade. The pricing model, however, can vary.
"If a random person stops, she will charge them only $2," Kim told GQ. "If she knows you, she will fully scam you. I'll get calls from my friends saying she charged them $20 for a lemonade. She'll grab their $20 and say, 'I don't have any change.'"